Brother Jack takes us from the Rubber City down to New Orleans — home of the world's greatest piano players and the gonzo king who ruled them all, James Booker.  Jack also gives us a few basic tips on how to play like Booker.
Growing up in Akron, there wasn't much chance to hear live jazz piano, but Dad had some records.  Not the spacey bop stuff.  He listened to players like Erroll Garner who had a strong sense of melody.  This was a style I could relate to… On the Sunny Side of the Street
One guy who played locally, Pat Pace, was a major talent with a singular style.  I used to get real close to watch him play, wondering what the heck he was doing, until he would give me that "get lost" stare.  At one gig, he transformed a classical piece — Pavane for a Dead Princess by Ravel — into a jazz improvisation.  It was stunning.
Our uncle Joe lived in New York City.  He claimed it was the best place to hear jazz piano.  Joe's favorite was Dave McKenna, who was quoted as saying "I play saloon piano — I like to stay close to the melody."
New York was the epicenter of jazz piano, but New Orleans was home of an engaging style closer to the roots of jazz.  You could hear it in the pop music of the day, most notably Fats Domino.  If you were listening closely to everything on the charts, your ears might have perked up to the organ solo recorded in 1960 in New Orleans by a 20-year-old James Booker on a funky single, Gonzo. Gonzo
The song hit the charts in November and remained there for seven weeks.  This was two years before the organ-driven Green Onions by Booker T & the MGs was a huge hit.  The word "gonzo" wasn't used to describe the journalism of Hunter S. Thompson until 1970… Booker was ahead of the curve.
Booker was a great organist, but he is best known for his piano playing.  Actually, what you thought was Fats Domino playing piano on a record might have been Booker.  Fats was too busy touring to spend much time in the studio, so Booker would lay down the piano tracks and have them ready for Fats to add the vocals to when he got back to town.  Booker also toured posing as New Orleans legend Huey "Piano" Smith because the real Smith hated to tour.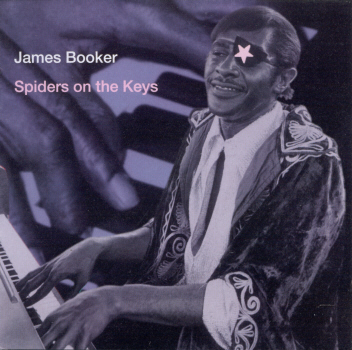 I just missed seeing Booker live.  I was in New Orleans around 1981 when I heard that an incredible player had a regular gig at the Maple Leaf Bar.  I had to go and hear that.  Unfortunately, I heard nothing.  Nothing that I can remember.  The Booker I saw was dazed and confused.  The man playing was not Booker, but the remains of Booker after a life of drugs and alcohol.  He died shortly after that of liver failure in 1983.
When I finally picked up a Booker CD, I was amazed.  What took me so long to find him?  Here was the music I was looking for.  Here was the master of the New Orleans piano tradition, and a lot more.  He loved Erroll Garner and knew his solos by heart.   Here is his take on Sunny Side of the Street.  Compare it with the clip above and you can hear the influence of Garner.  But also hear this:  Garner has a bass and drums; Booker is playing solo and keeping the rhythm with a powerful left-hand stride. Booker Street
Booker could play so it sounded like two pianos.  By himself, he could juggle as many riffs as the boogie-woogie duo Albert Ammons and Pete Johnson pounded out together.
As you would expect from a New Orleans pianist, he had Professor Longhair down.  But his other influences put him beyond that.  He was classically trained and had a big repertoire of classical pieces that he could play.  In performance he improvised on them in the New Orleans style.  Here he stretches out on Chopin's Minute Waltz in an improvisation he called the Black Minute Waltz. Black Minute Waltz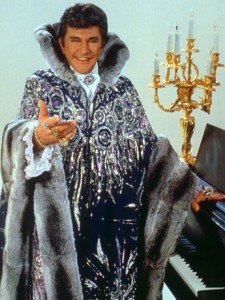 Among his influences was Liberace, that popular pianist and showman that piano players loved to hate but secretly wished they could play like.  Liberace would string together medleys in an entertaining fashion and could morph chopsticks into Franz Liszt in just a few bars.
Booker had memorized Liberace solos, and the influence is clear in the way he would string medleys together such as Blues Minuet/Until The Real Thing Comes Along/Baby Won't You Please Come Home from his album "Junco Partner."  On this album he plays an affectionate rendition of the Liberace theme song I'll be Seeing You.
Listen to the manic intro… I'll Be Seeing You
No discussion of Booker would be complete without a mention of his singing, which was great.  His crackly vocals gave an emotional edge to songs that a more refined performance might lack.  Here's a perfect example of Booker's unique vocal style… Black Night
The high point in Booker's career was his European tour in 1977 and 1978, including an appearance in '78 at the Montreux International Jazz Festival.  Recordings made during one of the trips were issued on "New Orleans Piano Wizard: Live!" which won the French Grad Prix de Disque de Jazz as best live album.  When Booker was feeling down, he would listen to the enthusiastic applause from this album to lift his spirits.  But although he flourished in Europe, he remained widely unappreciated in the U. S.  And the lure of drugs was something he could not escape from on this side of the pond.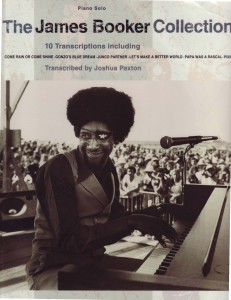 Want to play like Booker?  There is help.  The Joshua Paxton transcriptions published by Hal Leonard are excellent, and the introduction is a great analysis of the Booker style.  Since I have tried to play them I will offer some hard-earned advice.  Play lightly.  Bounce your fingers on the keys.  Use the transcription as your guide, but remember that not all notes are of equal importance.  Listen to the recordings.   It don't mean a thing if it ain't got that swing.  And remember, you'll never play as good as James Booker.
Finally, here is a youtube video of a performance from the European Tour.  Booker plays a composition of his own, Pixie.  Notice the impassive calm in his face as he rolls off one intricate riff after another.  Notice how his hands barely move.  No flying hands a la Liberace.  So many notes with seeming ease.  And then notice the delight expressed by the crowd at the end.  Here they had found the true master.
Strung Out for the Holidays… Times are still tough, especially here in Northeast Ohio.  If you can find a way to give during this holiday season, think about donating to your local foodbank.  And, if you live in the Rubber City, musician Ryan Humbert has an offer you can't refuse:  join him and his 13-piece acoustic band on Saturday, December 12, at the historic Civic Theater for a special holiday-themed show benefitting the Akron Canton Regional Foodbank.  Tickets are $20 reserved ($15 group reserved) and $15 general admission.  For more information, go here.