It's hard to imagine Saturday night in America without the corner-bar blues hero. Even harder trying to imagine said blues hero making it through the night without playing standards like Sweet Home Chicago, Got My Mojo Workin', Shake Your Moneymaker, Stormy Monday or The Thrill is Gone. In most communities, you'd violate a local ordinance by refusing to play these songs in a corner bar.
I should know. I've played them hundreds of times myself, often at gunpoint (at least it seemed that way sometimes). And I was usually backing up a weekend blues warrior in some dive in Ohio.
The best of them all was Ray Fuller. By day, he'd use his daddy's backhoe to lay sewer pipe. By night, he turned joints throughout the Columbus area into blues cathedrals – where you could worship Saints Muddy, Hooker and Reed in atonement for the various sins you committed on your hi-fi system during the week.
Some nights Ray would show up dog-tired from laying pipe all day (not in the Holmesian sense, mind you) and spend the first few songs "sittin" the blues, Lightin' Hopkins-style. But his energy level would pick up considerably by the second set, and you knew it was a good night when Ray would start playing his Strat behind his back while humping the bass drum (ya hadda be there).
We were what you'd call a "three chords and a cloud of dust" blues band, which seemed appropriate given we were plying our trade in the home of Ohio State Football. Songs with four or five chords were usually reserved for the first set, before we made too many trips to the bar. But the best part of the evening involved Ray whipping out the Oahu lap steel, our bass player Bill slappin' the standup, myself playing the most rudimentary rhythm guitar possible – all in the service of the great Elmore James. Here's Ray and company doing the Elmore shuffle, live at Stache's in Columbus… Talk To My Baby/Ray Fuller and the Bluesrockers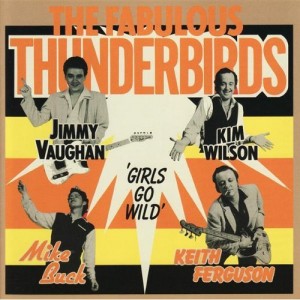 Although Ray wrote a number of solid originals, he wasn't averse to complying with city law by trotting out the old warhorses. But he always wanted to dig a little deeper by covering songs that were obscure enough to pass as originals among unsuspecting locals. And when I played with Ray back in the mid-'80s, the prototype for blues bands trying to do something a little different was The Fabulous Thunderbirds. Not the T-Birds of "Tuff Enuff"/MTV fame, but the band that recorded their first album in a day, with time left over to barbecue some pork.
For white guys who wanted to play the blues (at this point, it's important to ask the question first posed by the Bonzo Dog Band back in 1968, "Can blue men sing the whites?"), there were very few role models to choose from. Hordes of hippie shoegazers had pretty much wrung the life out of second-generation blues, and punk-rockers had succeeded in making the extended blues guitar solo almost completely irrelevant. Paul Butterfield and Mike Bloomfield were great, and Butter kept the spirit alive with his "Better Days" band in the early-'70s, but that was about it for white bluesmen. Then along came the T-Birds – a fresh breeze out of Austin, Texas.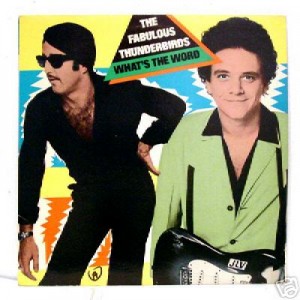 Guitarist Jimmie Vaughan looked like Gene Vincent's badass brother while playing like Buddy Guy after a three-week bender. Harp player Kim Wilson clearly worshipped at the altar of Little Walter but more than reveled in the band's punk-blues attitude, wearing see-through knit shirts and a turban on his balding head. He also was a powerful singer, mostly devoid of the "bluesier-than-thou" affectations that seemed to trip up a lot of white singers. Bassist Keith Ferguson and drummer Mike Buck made up the "Joe Friday" of blues rhythm sections – just the groove, ma'am. This was clearly something to aspire to. Here's evidence that the T-Birds could play blues with the kind of authority that few other white players could match… C-Boy's Blues/The Fabulous Thunderbirds
But the T-Birds' true genius was in the way they mined the unique sub-genre known as swamp blues (check out our recent post, "The Sound of the Swamp"). Their first long-player, "Girls Go Wild" (released in 1979), included covers of two swamp blues classics – She's Tuff by Jerry "Boogie" McCain and Scratch My Back by Slim Harpo. On this next sample, you can hear the T-Birds' version first and Harpo second… Baby Scratch My Back/The Fabulous Thunderbirds, Slim Harpo
The T-Birds second album, "What's the Word," offered even more swamp blues goodness, including a tune recorded by one of the form's mainstays, harp player Lazy Lester. Here's Lester's original of Sugar Coated Love, released in 1958: Sugar-Coated Love/Lazy Lester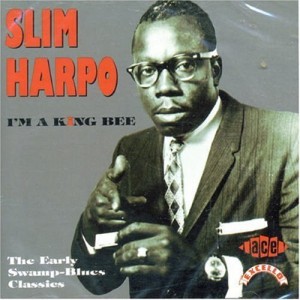 Back in Columbus, the Bluesrockers were taking the long road to the swamp by trying to crack the code on "Girls Go Wild." Inspired by McCain, Harpo and Lester, we started combing the record stores on High Street to find out where the hell these songs came from. Of course, the first reliable collection of Harpo's "hits" was an import, but it was worth the extra bucks to have his essential stuff on one slab of vinyl. Later we liked to joke that we were a Slim Harpo tribute band, having worked up respectable covers of Scratch, Got Love If You Want It, I'm A King Bee, Te-Ni-Nee-Ni-Nu and Tip On In.
Eventually, the T-Birds headed off in a more commercial direction while we dug even deeper into the source material – which became a lot easier when reissue experts like Rhino Records started putting this stuff out on CD. Ray even wrote a fine original, Oh My Cherie, that was clearly influenced by the sound of the swamp. Maybe he'll send me an mp3 someday so I can post it here.
Although we soon lost interest in the T-Birds, we remain forever grateful for their first recordings. Without them, it would've been much harder to maintain the ruse that we were a mostly original blues band.
Ray's still rockin' the blues today… If you're in the Columbus area, check here for a listing of local gigs. He plays quite a few in Reynoldsburg, where local authorities are willing to look the other way if you don't cover Sweet Home Chicago.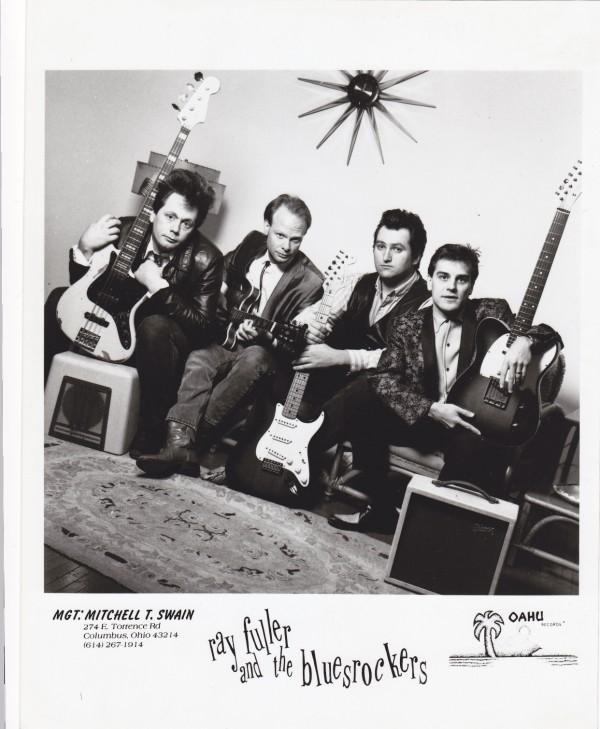 T-Birds in 1980… with their own version of Sugar-Coated Love:
Ray Fuller in 1990… opening for The Paladins at Crazy Mama's in Columbus. Basically a one-chord song – perfect for the third set. Little Walter got that "trill" effect by moving his harmonica back and forth. He found the whole head-shaking thing undignified. Maybe he was right.