My mom grew up on a farm in central Georgia. She was the youngest of 10 children, and her family spanned generations in a way that was unusual even for the Deep South. Her father, Wirt Little, was born at the tail end of the Civil War and had his first child with his much-younger wife, Kate, when he was in his 50s. Mom's oldest brother, Buddy, died in World War I from mustard gas, which the Germans used to turn the Allied trenches into killing beds.
Her other siblings were every bit as colorful as their names, which included Marshall, Kat, Sis, Bib and, my personal favorite, Longino. That name had a typically Southern origin… Kate went into labor during a horrible storm, and the local obstetrician, Dr. Longino, survived a rough trip in a horse-drawn buggy to deliver the baby, which was named Longino in eternal gratitude to the good doctor.
I loved visiting the farm as a kid and seeing all my aunts, uncles and cousins (Wirt and Kate were long gone by then), but the drive south in the early Sixties definitely had a Joad-like quality to it. The interstate was largely unfinished, so my dad would test the very limits of our Dodge station wagon – fully loaded with mom, six kids and luggage strapped to the roof – by negotiating the hairpin curves on Route 441 through the Great Smoky Mountains. It was a nerve-wracking, three-day trip, which made all of us even more delirious when we arrived at the Georgia farmhouse with the fragrant scent of boxwood shrubs along the front porch (remnants of the Victorian tastes of Georgia's early settlers). To this day, the smell of boxwood takes me back to the wonderful summers I spent in Milledgeville.
Kat and Sis lived in the farm's main house and always welcomed us by "putting the big pot in the little one," as mom would say. Fabulous southern dinners with big roasts, squash soufflé, cornbread and mashed potatoes were often followed by bowls of homemade peach ice cream with Kat's famous pound cake. Nothing in the Rubber City – not even the first-rate Italian dinners on North Hill – could compete with these feasts on the farm (although mom's cooking came damn close).
I'd wake up to the sound of a rooster and a few cows outside our small guest room. During the day we'd go down to a dock on nearby Lake Sinclair and swim for hours. If it rained, we'd sit together on the porch and listen to my Uncle Longino, his droll wife Dunk and our older cousins tell stories about the rattlesnakes and water moccasins that apparently killed hundreds of small Yankee children every year.
Milledgeville was filled with notable characters – Southern Gothic author Flannery O'Connor among them – and Longino was near the top of the list. He received a Purple Heart in World War II after taking over a troop of soldiers by default (the officers lost their lives on or just after D-Day) and getting riddled with machine gun fire. He came home with a little lead in his side and a slight limp, and spent the next 20 or so years earning a pension with an uneventful assignment at the Robins Air Force Base near Macon.
But Longino was an entrepreneur at heart. He always seemed to have two or three ventures – moneymaking or otherwise – going on at the same time. At one point or another, he ran a par-3 golf course, a teen dance club and a small restaurant. He also bought a few houses and other property throughout the area, which he would tend to almost as an afterthought. The only piece of his kingdom I wanted, though, was his WWII Willys Jeep. I may have been too young to drive in Ohio, but down south I tore through the woods in that jeep like Richard Petty's demon seed.
I spent one summer working for Longino, doing odd jobs at his various properties. He was constantly frustrated with my ham-handed approach to basic tools, like hammers, saws and paint brushes. And if I did a particularly good job of screwing something up, he'd let loose with one of his oddball Southern expressions, like "boy, you remind me of the ox that walked a mile to shit on an axe handle!" Guess that meant I took the long road to nowhere… but I never bothered asking Longino for clarification.
His most humiliating admonishment, though, was completely non-verbal. I was doing some light construction at the "clubhouse" of his par-3 course, and he asked me if I could knock a wall into place by hitting a 2×4 with the flat end of an ax – without burying it in the drywall, of course. I said sure and swung away, missing the wood by a couple of inches. Longino studied the fresh, gaping hole in his wall, looked down his nose at me, then calmly pulled a pen from his pocket and wrote my name under the hole. Ouch!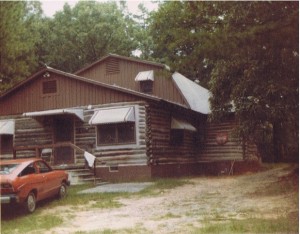 Longino gave my mom a log-cabin structure that once housed a restaurant (and whorehouse, as I found out later). Against all odds, my mom had the cabin moved down the road and onto the 50-some acres of pine forest she inherited just outside of town. Longino then went to work replacing one of its side walls and building a massive family room – and that cabin became my main summer destination, with or without my parents, throughout my high school years.
In the early Seventies, central Georgia was both way behind the curve and ahead of it. For example, the "Summer of Love" that Time and Life magazines documented ad nauseam in 1967 finally hit Milledgeville around 1972. My cousin Shep led the charge with his long (albeit well-groomed) hair and newfound prowess on his Gibson Les Paul. He also was a star on the ultimate stage for local stoners, the foosball table. His cousins and their friends from "Up North" became his hapless posse – and it's probably best that we avoid any more discussion of the summers of '72 and '73.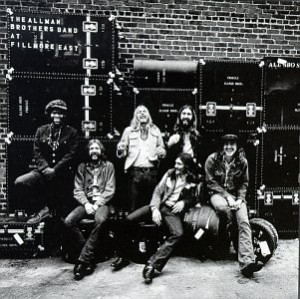 Meanwhile, 30 miles down the road in Macon, the Allman Brothers Band blazed a new trail by layering jazz-like improvisations over tight, rootsy arrangements. They had an arsenal of talent few other rock bands could match, with Gregg Allman's deeply soulful voice and Hammond organ serving up the blazing twin guitars of brother Duane and Dickey Betts. The Allmans single-handedly created, and then completely dominated, a new sub-genre labeled "Southern Rock" – much in the same way that Bob Marley cast a long shadow over the rest of reggae. Here's a little sample… Done Somebody Wrong/The Allman Brothers Band (live)
I think my mom got a charge out of the Allman Brothers – especially when they became "The Nation's Official Rock Band" after Jimmy Carter won the election of '76. By then, mom had become very active in Rubber City politics and even served as a delegate for Carter at the Democratic Convention in New York City that year. She also ran the district office for Congressman John Seiberling, became the first woman to chair the Summit County Democratic party, and helped launch more than a few successful political careers.
Mom had qualities that worked well in politics. She was whip-smart and very determined, but always masked her intentions with healthy doses of down-home charm and wit. Like many Southerners, she used a combination of sweet talk and brute force to get exactly what she wanted from unsuspecting Yankees. And she didn't take shit from anyone, from the Congressman to her kids.
In the 40-plus years she lived in the Rubber City, my mom never lost her Southern drawl. And she hung on to the same crazy-ass expressions shared by her family back in Georgia. If someone handed her a ridiculous assignment, she'd say "what do you want me to do, stand on my head and stack BBs?" Which usually led to the room-clearing "I'm so mad I could just spit!"
Over the next decade or so, we continued making pilgrimages to Milledgeville for family get-togethers at the cabin. It remained a magical place that seemed worlds removed from whatever problems we were dealing with back home. I never saw my father happier than when he stood in the corner of the big family room, holding a bourbon-fueled drink while listening to his kids play bluegrass music.
After my dad passed away in '86 – and the rest of us began raising families with their own preferred holiday destinations – the log cabin became more of a burden for my mom, who eventually sold it and the surrounding acres of pine forest to Shep. My wife and I made a bittersweet trip back to Milledgeville nearly 20 years ago, but I haven't visited since. Maybe it has something to do with the growing sense of loss as Sis, Kat and Longino passed away. Then my mom's passing in 1999 closed the book on a farm family with especially deep roots.
I know we'll make the trip back to Milledgeville someday – and it won't have anything to do with a wedding or funeral. I'm sure I'll be saddened by everything that's changed, but maybe some quality time with Shep, cousin Jane and the next generation of Littles will help fill the void.
Since this is usually about the music, I'll end with a gospel number that we sang at my mom's graveside – I'm sure Jane sang along too. Angel Band/The Stanley Brothers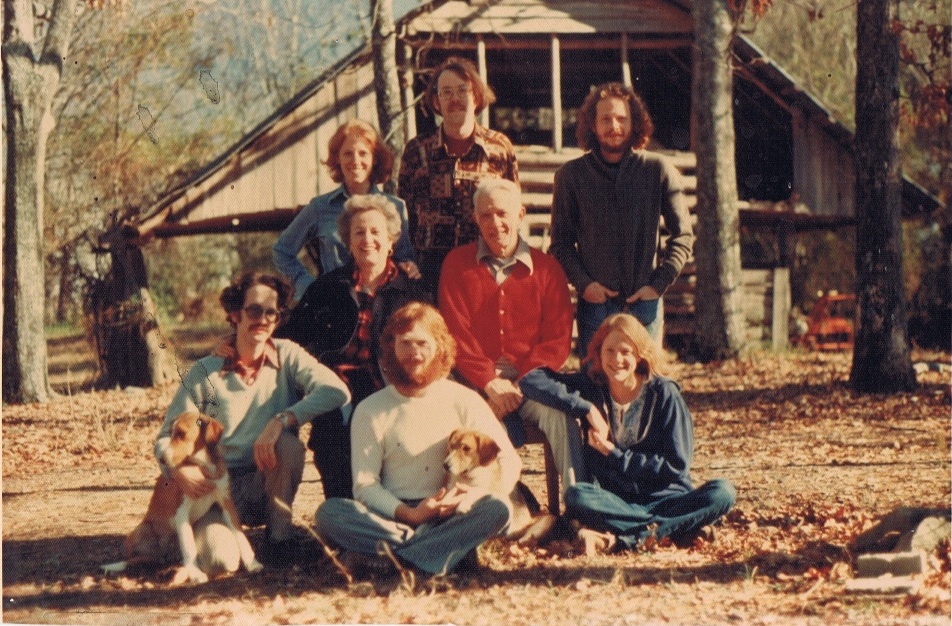 Spoken-word Jane… When we realized mom wasn't long for this world, my sister Caroline started taping her stories about the Littles. I highly recommend this to anyone else who's in the same situation. Here mom recalls how her parents found out about Buddy's death: Buddy's Death
More spoken-word Jane… Hey, I'm just doing this for my own enjoyment – bail out any time you want! Wirt gets ready to meet his maker: Wirt's Last Goodbye?
Jane meets The Black Keys… Dan pissed off more than a few buyers of "The Big Come Up" with this hidden tribute to his grandma Jane, which followed about 20 minutes of silence in the album's final cut. Jane with The Black Keys