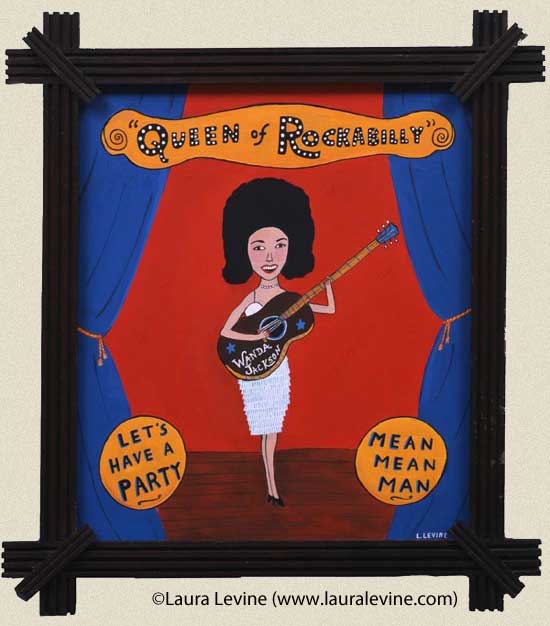 I recently read that Jack White (White Stripes, Dead Weather, Raconteurs) produced a new album by rockabilly queen Wanda Jackson. Sounded like the perfect deal to me – love White and love Wanda. And judging by White's inspired makeover of Loretta Lynn on 2004's "Van Lear Rose," I had every reason to believe that Wanda Jackson would come out of this with a whole new sense of purpose.
Well, that still might be the case… but it probably won't have much to do with what I've heard so far from the White-Wanda collaboration.
The first "single" out of the chute (available on iTunes or on vinyl through White's label Third Man Records) features two covers – Amy Winehouse's You Know I'm No Good, and Shakin' All Over by Sixties British rockers Johnny Kidd & The Pirates. The problem with the first is that it sounds a lot like Winehouse's version, except without her amazingly expressive voice. And the second adds a fairly meaningless layer of horns on top of a classic rock riff that needs no help at all, thank you (the Who still owns the best remake of this song, from "Live at Leeds").
Wanda sounds game on both cuts, but they don't really play to her greatest strength as a vocalist – a primal sexuality with just enough purr to keep most men from running for the hills. I like to think of her as Howlin' Wolf in drag, with a country twang.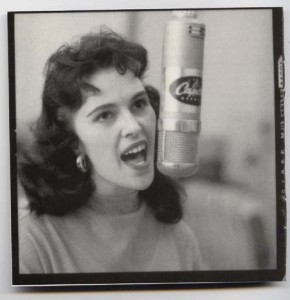 If anything, White's single sent me back (again) to one of the most enjoyable collections of music I own – "Queen of Rockabilly: The Very Best of the Rock 'n' Roll Years," on Ace Records (UK import). It's an embarrassment of riches… great sound, hot pickin', cool covers of rock classics, and the unbridled pleasures of Wanda wailin' into one of those big, tube-driven microphones.
Now, Wanda wasn't an innovator in the same sense as Elvis or even the most dangerous rockabilly band on the planet at that time, the Johnny Burnette Trio. Her producer at Capitol Records, Ken Nelson, was known mainly for hit country singles, and he recorded Wanda at Capitol's state-of-the-art studio in Los Angeles. So none of these songs had the same edge as the nastier stuff that came out of Sam Phillips' studio in Memphis. But Nelson knew a great voice when he heard it – and his clean, uncluttered arrangements put the focus squarely on Wanda's voice, just the way God and Elvis intended. Case in point… Let's Have a Party
That cut was recorded with a mixed-race band from Arkansas called Bobby Poe & the Kats. And its dangerous attitude can be partially credited to Elvis Presley, who dated Wanda a few times when they toured together back in the mid-'50s. According to Wanda, Elvis schooled her on the blues and encouraged her to toughen up her sound by moving from country to rockabilly. Mission accomplished.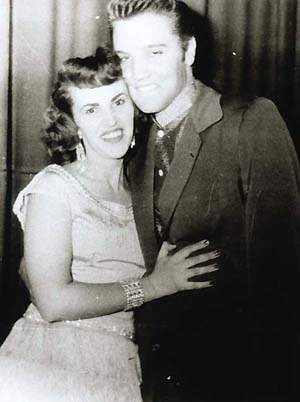 A native of Maud, Oklahoma, Wanda was raised on country music. Her father was an aspiring country singer who moved the family to Los Angeles in the '40s, probably hoping to land a record deal with one of the city's big labels, but eventually moved back east to Oklahoma City. His musical aspirations soon shifted to young Wanda, who won a talent contest in high school as well as the attention of country star Hank Thompson, who asked her to perform with his Brazos Valley Boys in 1954. She recorded a few singles on Capitol Records with Thompson's band – You Can't Have My Love reached number eight on the country charts – but certainly didn't gain enough notoriety to make Kitty Wells nervous. Then Wanda met Elvis, signed with Capitol as a solo artist, and recorded 30-some tunes that were among the most prized possessions of rockabilly collectors around the world (until Ace Records spoiled the fun in 2000 by finally making all of them available in one place).
Wanda didn't stick with rockabilly very long, though. After she recorded these classic sides, she drifted back to country music in 1965 and stayed there until the '80s. This probably had as much to do with her newfound Christian faith as a realization that she simply couldn't maintain a long career in music by shredding her vocal cords every time she stepped up to the mic.
Wanda's ambivalence is especially apparent on this tune from 1956, which gave her a unique opportunity to have it both ways: I Gotta Know
One of the best songs on the collection is a pop-flavored number from 1961 called Funnel of Love. Here Wanda shows a little more reach with some nice vocal flourishes – and it's surprising that such an alluring tune didn't do better on the charts: Funnel of Love
One of the special charms of "Queen of Rockabilly" is the almost off-handed approach to some of these sessions. It seems like Nelson seldom had anything specific in mind, other than turning Wanda loose with some of the best session players in the business – including A-list guitarists like Joe Maphis, Buck Owens and, later, Roy Clark. Here's some nifty work by Maphis on Hot Dog! That Made Him Mad: Hot Dog! That Made Him Mad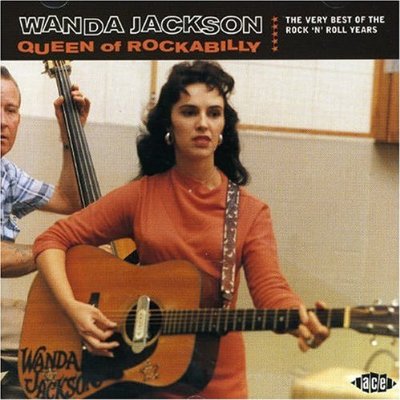 Nelson also had Wanda cover some of the era's rock 'n roll hits. Are they essential remakes of the originals? Not really – except maybe Wanda's version of Brown-Eyed Handsome Man, which almost outdoes Chuck Berry's original by switching genders for a little added sex appeal. And on a few tunes, Nelson couldn't resist those syrupy vocal choruses that the musicians union must have required at virtually every recording session back in the early Sixties. But there's something to admire on every song, whether it's the "good girl gone bad" appeal of Wanda's voice or the country soul of Roy Clark's guitar.
Wanda eventually made her way back to rockabilly in the Eighties, fueled by the enthusiasm of roots-music fanatics in Europe and the lasting appeal of whacked-out numbers like Fujiyama Mama, which made her a minor sensation in Japan – even with its politically incorrect references to the atom bomb: Fujiyama Mama
Maybe I should lower my expectations about the White-Wanda project… Then again, maybe Ace Records did Wanda a disservice by putting all those great rockabilly sides on one CD. Why play with sparklers when you've got enough fireworks to light up the whole sky?
Wanda on video… Here's Wanda rippin' up Hard Headed Woman. Not sure who the guitar player is (Joe Maphis?), but he's a sumbitch.
A fine-lookin' Wanda covers a country tune by Webb Pierce: