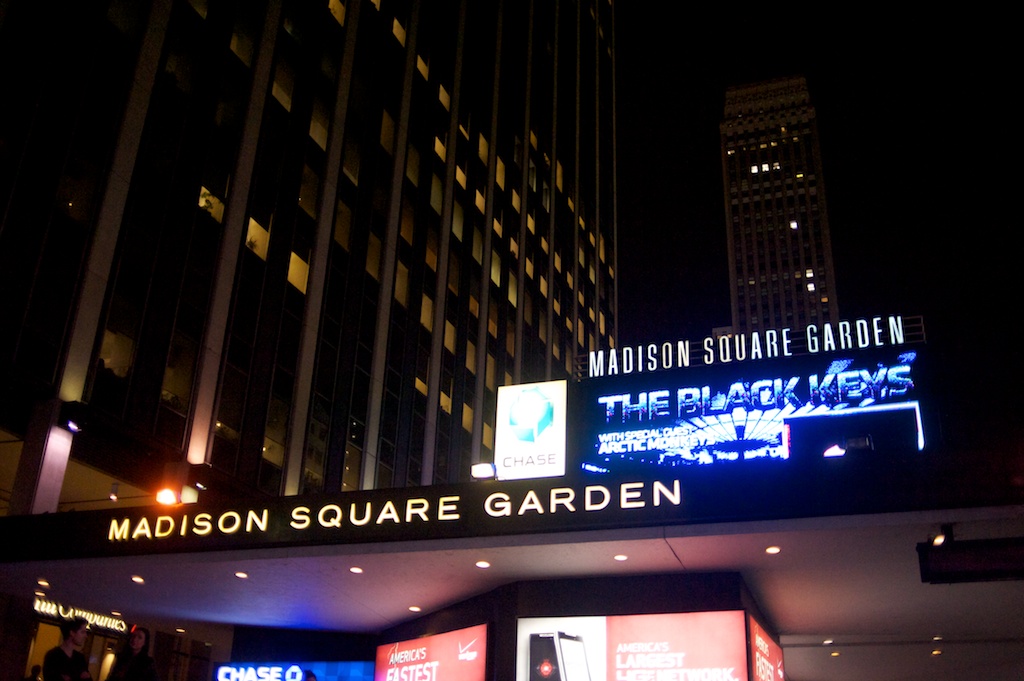 Saturday Noon: Arrive at LaGuardia with wife, daughter and friend to spend a few days in NYC with other family members. Agenda includes The Black Keys' sold-out show at Madison Square Garden. Guest list has grown to include 20+ Quines, Auerbachs and friends. Earn spot on road manager's permanent shitlist.
12:30: Fight off limo drivers to get to cab stand at airport. Head off to big city. Let the games begin: Run Right Back
1 pm: Arrive at apartment in Chelsea. Rep from online rental service tells us to avoid contact with other tenants. If anyone asks, we're friends of "Bob and Heather" (names changed to protect Dirk and Althea).
2 pm: Buy beer, wine and cereal at Whole Foods Market. Get yelled at by customer for not understanding color-coded checkout system.
2:30 pm: Pick up sandwich and spicy pickle at Murray's Bagels (essential stop during stay). Head back to apartment and start drinking.
7 pm: Meet other family members at hotel in East Village (only the deranged try to pull off family reunions in Manhattan). Miraculously find restaurant that can accommodate 16 people on a Saturday night: Congee Village. The fact that their food is edible seems like a bonus. Annoy piss out of wait staff.
9 pm: Walk into empty bar on Bowery looking for nice, quiet place where we can chat. Get thrown out because daughter and friend are under 21. On way out, we let bartender know she's leaving lots of money on table by strictly enforcing NYC's antiquated drinking laws. She seems glad to see the last of us.
9:30 pm: Plan B – Stop at liquor store, pick up bottle of Bourbon and head over to nephew Geoff Auerbach's apartment on St. Marks Place. Spend next two hours looking at photos of strange tattoos.
11:30 pm: Make annual pilgrimage to Lakeside Lounge, home of world's greatest jukebox (including some selections by our friend The Hound). Despite several hours of steady drinking, we're still too sober to cram into photo booth.
1:45 am: Find cab.
2 am: Provide final instructions to driver re: destination.
Sunday 10 am: Head over to nearby Starbucks. Spend 10 minutes behind two nimrods who seem to be dumping Scarface-sized lines of Equal into their coffees. Finally elbow my way through, only to find empty pitcher of Half and Half.
10:30 am: Head back to apartment to microwave coffee.
Noon: Begin walking High Line with orderly mob of New Yorkers and tourists. Truly remarkable public space created on former elevated rail line. Wife abandons plan to jog it after slamming into several oversized strollers.
2 pm: Visit Chelsea Market. Load up on espresso in anticipation of long night.
3 pm: Head back to apartment. Lapse into zombie-like state – somewhere between fully awake and comatose.
5 pm: Get carry-out paella (a term you'll never hear in Akron).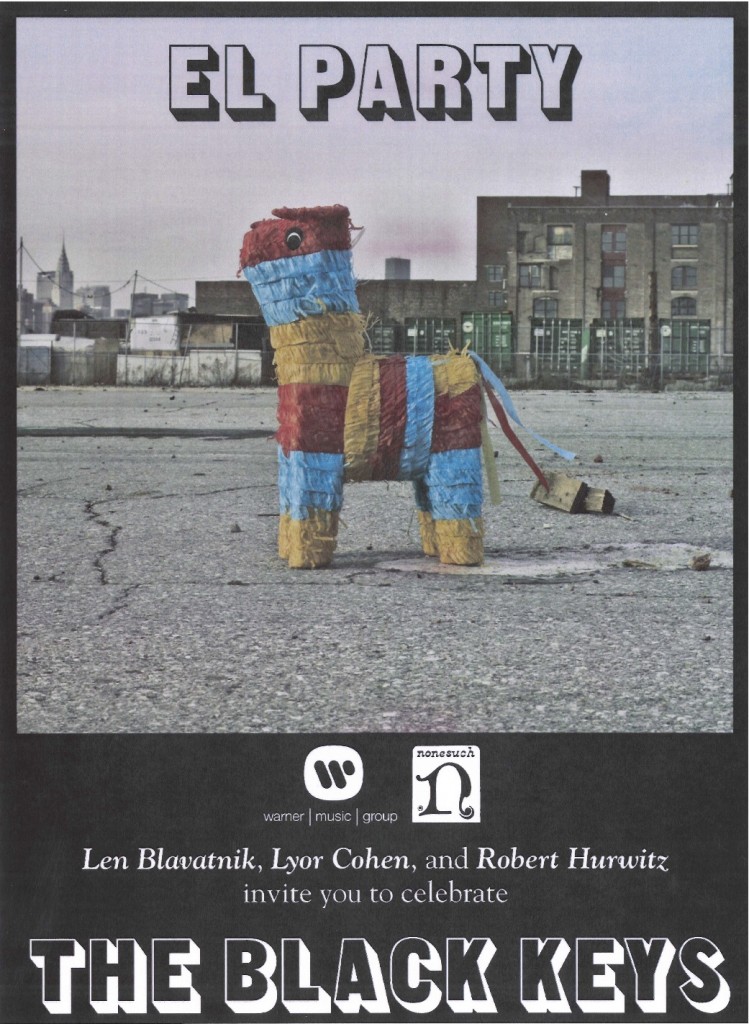 8 pm: Head down to private party for The Black Keys, hosted by Warner Brothers and Nonesuch Records. Specialty drink: the "El Camino" (tequila, hot sauce, ginger, dash of used motor oil). Get usual warm greetings from Pat Carney and his brother Michael. This is a sarcasm-free statement – I love all the Carneys (including ones I haven't met). Great DJ, dude named Edan. Plays old-school funk like this tune: Sexy Coffee Pot …and even a little boogaloo.
8:30 pm: Daughter's friend is clearly overserved. Gain new appreciation for NYC's antiquated drinking laws. Dad leaps into action by grabbing both girls, dragging them to cab, taking them back to apartment, locking several deadbolts on the door and returning to party.
10 pm: Decibel level has tripled. Run into Russell Simmons. Have nothing to say, so I give him deep, soulful head-nod. I'm sure this still haunts him.
11 pm: Head back to Dan's hotel lobby, where I sit down with his dad, Chuck, and surly road manager. Latter warms up considerably when I describe my own first trip to NYC, during which Chuck takes me to peep show on 42nd St. I was 15 at the time. Fortunately, Chuck is protected by statute of limitations.
1 am: Call it a night.
Monday, 12:30 pm: Head down to meet Dan, Chuck, Ned Pollack (Chuck's cousin, proprietor of Ned's Southside Kitchen in St. Augustine) and Tandy Wilson (owner of City House, one of Nashville's finest) for lunch at Famous Foods in East Village. Walk about 10 blocks to get there. It amazes me that, although every cab in NYC is showing the Keys' March Madness video, no one recognizes Dan. Ah, the vagaries of life in big city. Dishes at restaurant are to die for, especially lamb sandwich and salad. Culinary highlight of trip.
2 pm: Catch ride with band back to apartment, since Chelsea is on way to MSG. My rock star moment.
6 pm: Order pizza and begin preparations for concert (e.g. buy six-pack).
8 pm: Walk eight blocks to MSG. Find meeting spot where sister (and Dan's mom) Mary Auerbach is corralling everyone for trip backstage. We're in!
8:30 pm: Backstage is practically empty, except for several stagehands who look like they just left central casting for a Martin Scorsese movie. Bartender is surprisingly excited to see us. Obviously, she has no idea what's in store for her. Party continues.
9:15 pm: Grab seats off to side. Keys' set kicks in with Howlin' for You and never lets up. Songs from El Camino sound even more revved-up live. Great show… much love from NYC faithful. Mirror ball during encore seals the deal.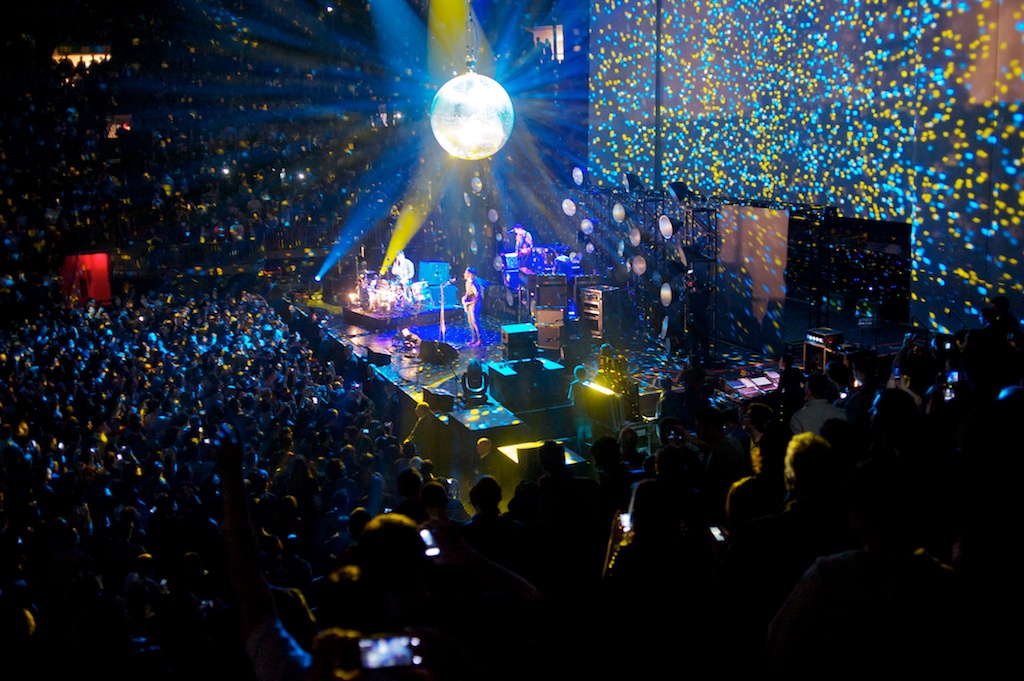 10:45 pm: Return to backstage area, where I run into my new BFF, CBS correspondent Anthony Mason. He wisely chooses not to introduce us to his stunningly attractive wife. We eat pizza while various camera-wielding strangers take pictures of us making spectacles of ourselves.
11:15 pm: With looks of great disdain, burly stagehands inform us it's time to vacate MSG. We leave without hesitation.
11:30 pm: Head down to after-party at The Spotted Pig in West Village. Sidle up next to Kings of Leon drummer Nathan Followill at bar. This time I work up enough nerve to introduce myself and wife, who is a huge fan. Ask him if he's enjoying the evening. He responds that he's just trying "not to throw up." I applaud him for his initiative.
12:15 am: Run into Brian Burton aka Danger Mouse as I'm choking down hors d'oeuvre. Introduce myself as I gasp for air. He smiles in a withering sort of way as I sulk back to little-kids table. Is it rude to refer to supermodels as "accessories"?
1 am: My daughter meets Aziz Ansari, star of hit show Parks and Recreation. She asks him if he thinks her friend looks just like Amy Poehler. He says "yeah, I see it. You're both white." Best line of trip.
2:30 am: With flight back to Ohio approaching, we flag cab back to apartment.
Tuesday, 9:30 am: Time to blow this popstand. I say goodbye to tenant next door, noting that Bob is in recovery and Heather has run off with several circus freaks. We beat hasty retreat back to Akron.
Some photos (the good ones) by James Quine.