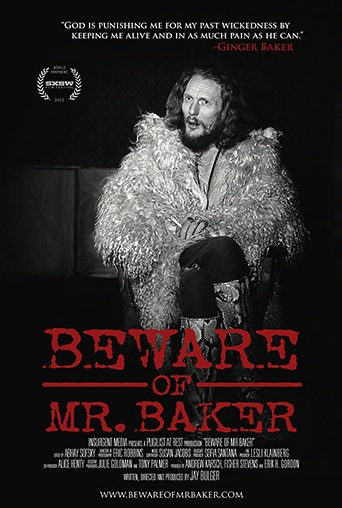 A couple of weeks ago, I had every intention of heading out on a Friday night to see my favorite new band, Wesley Bright & the Hi-Lites. But my wife got sick and I decided to do the chivalrous thing – stay home and watch three rock docs in a row.
The first, Beware of Mr. Baker, ended up being the most memorable of the three – even with the remarkable story behind Searching for Sugar Man and the essential contributions of the custom analog console glorified in Sound City: Real to Reel. And before you tell me what a sick, Satanic, miserable guy Ginger Baker is (especially when you compare him to the Christ-like Rodriguez profiled in Sugar Man and a true mensch like Sound City director Dave Grohl), let me explain myself.
I came of age in Northeast Ohio in the late '60s. As I shared with you in this post, my young brain was forever warped the moment I first heard Jimi Hendrix on my transistor radio. Then the free-form DJs on Cleveland's WNCR and WMMS finished the job by exposing me to Cream, Janis Joplin, The Doors, Jefferson Airplane, Santana, the Grateful Dead – essentially, the sound of hippie freedom floating above Akron's grim, industrial landscape (what a difference a few decades make, both musically and economically).
The first record I ever bought was Jimi Hendrix's "Are You Experienced." Second? "Wheels of Fire" by Cream. It wasn't even the band's best album – a two-record set that includes a long and seemingly pointless drum solo by this wide-eyed wildman named Ginger Baker. My sights were mostly set on Eric Clapton, who sounded like a Fender-wielding Greek God on the band's amazing cover of Robert Johnson's Crossroads. But I had to admit, Baker was unlike any other hippie drummer I'd ever heard. Who was this hairy octopus? And what substance was he abusing?
As you can imagine, he abused many substances over the years, including heroin. And he almost single-handedly screwed up an entire generation of drummers who couldn't even show up for a rehearsal without two kick drums and the dreaded question, "When do I get to solo?" (our band auditioned drummers by starting with a shuffle – an alien rhythm to most Baker devotees). Even a guy like Bruce Springsteen, who seems to like every other form of sonic excess (how many guitar players do you need in one band?), had to place the following line in his original want ad for a drummer: "no junior Ginger Bakers."
But aside from convincing me that Baker is, indeed, bat-shit crazy, the documentary serves as a much-needed reappraisal of his legacy as a drummer, arranger and bandleader.
As Clapton rightfully points out, Baker had little in common with brute-force bashers like John Bonham and Keith Moon. Baker is, first and foremost, a jazz drummer who honed his chops at the feet of Phil Seamen, a fellow Brit and junkie who mostly played bebop and swing. And once you get past all the rock bombast (not to mention the self-indulgence of a typical drum solo), you can hear an uncommon musicality at work in Baker's playing, with shifting rhythms and jaw-dropping syncopation. It's amazing how much of a ruckus one man can raise when four limbs are moving independently, yet "in time."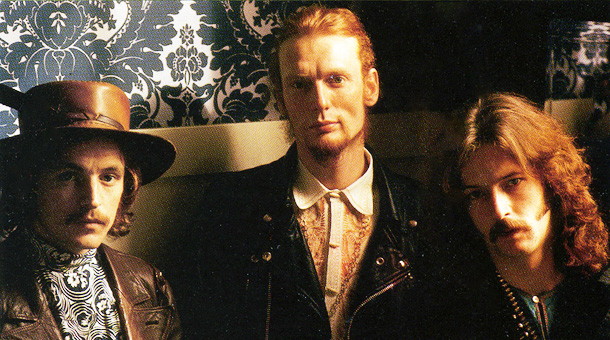 "Time." That seems to be the greatest compliment Baker can pay to another musician. Not metronomic time, but the ability to move a song forward by knowing what to play and when to play it. Clapton had it; Steve Winwood had it too. So did the great jazz drummers – like Art Blakey and Elvin Jones – that Baker befriended and dueled with in the '70s. They all had time, something Baker feels is a rare commodity in the world of rock. And I've got to think he's mostly right on this point.
Baker followed the groove all the way to Africa, where he teamed up with Afropop star Fela Kuti back in 1970. Keep in mind, this was a year before James Brown first toured Africa, and 15 years before Paul Simon traveled to Johannesburg to record "Graceland." So consider Baker a pioneer in bringing African music to the masses – or at least the few thousand people who bought "Live! Fela Ransome-Kuti and The Africa '70 with Ginger Baker." The film is worth watching just to see the live footage of Baker performing with Fela. I also enjoyed the brief clip of the much-maligned Ginger Baker's Air Force, which finds drummer and band in great form… seems like that project deserves a second look too.
No question, Baker is a sad shell of a man. He squandered millions on his precious polo horses and earned a relatively small portion of Cream's royalties (a larger share went to the band's principle songwriter and Baker's longtime nemesis, bassist Jack Bruce). He also spent little time with his three children, who seem to have come to terms with their father's many personal shortcomings. Now he spends most of his time watching his plasma-screen TV with his "new" family – a much-younger woman and her two children – in a gated compound in South Africa, far from the public eye.
The film begins and ends with footage (mostly audio) that shows Baker using his cane to bloody the nose of the film's director, Jay Bulger. Seemed like the perfect way to bookend a no-holds-barred look at one of rock's most outrageous characters.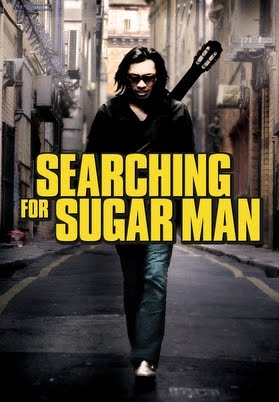 Nothing against the other two films. Searching for Sugar Man, which recently won a well-deserved Oscar for Best Documentary Feature, is clearly the most artful of the three. I like how it wrings every ounce of suspense out of a truly inspiring storyline. At this point, I'm not even sure the term "spoiler alert" is necessary: In the early '70s, Detroit-based folkie Sixto Diaz Rodriguez recorded a couple of stirring, political albums for the Sussex label… The albums quickly disappeared, and so did Rodriguez… Meanwhile, his songs were eventually embraced by South Africans as anthems of freedom and racial equality… but Rodriguez, who lived quietly in Detroit as a common laborer and political activist, had no idea of his iconic status some 8,500 miles away. Then an especially resourceful fan tracked him down and brought him to South Africa, where he was regaled as a national hero. Here's the most striking thing about the film: Forty years ago, moving to a rural enclave out west was the cheapest and easiest way to live off the grid. Today, most people can't afford to live in a place like Montana (most of it has been carved up into "faux ranches" for rich movie stars). It's easier and cheaper to be a hippie – and completely anonymous – in downtown Detroit.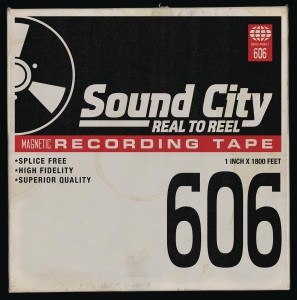 I also appreciated Sound City as an extended riff on the many wonders of analog recording with 2" tape (as opposed to Pro Tools digital). But I can't seem to muster any interest in how albums by REO Speedwagon, Rick Springfield and Journey were recorded. Could've been etched with a stylus on tin cylinders for all I care. And by the time we get to Macca (do all of us now have to use this pseudonym for Sir Paul McCartney?) gettin' his grunge on with Nirvana's rhythm section, I'd pretty much checked out.
But I couldn't get that glorious mess of quasi-humanity named Ginger Baker out of my head. So I watched Bulger's film again – and let the other two disappear into cable TV oblivion (when it comes to erasing On Demand movies, my service seems to work pretty well).
Here's the official trailer for Beware of Mr. Baker: