I really didn't have any intention of coming back with a second act. But Part 1 seemed to go pretty well… and I'm still struggling with a draft post on the new Eric Clapton album (of course, that would require listening to it).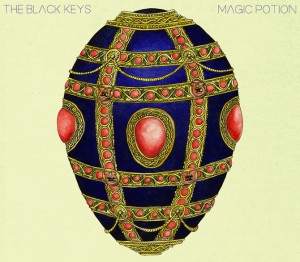 When I first listened to "Magic Potion" all the way through, I told bro-in-law Chuck I felt like I'd been bludgeoned with a rubber mallet for about 40 minutes. Not necessarily a bad thing if you're into that sort of treatment. But no question, this is a heavy, relentless, brooding album (I'm sure most of its bad attitude had to do with Dan struggling with the collapse of a long-term relationship). In the years since it came out, I've learned to accept it for what it is – and embrace songs like Black Door as sort of a sludgy melding of ZZ Top and Led Zeppelin. And all of us should be thankful for a tune that, as I've said before, belongs in the Garage Rock Hall of Fame… proudly displayed on the same rotting shelf that's used to store power tools, gasoline, motor oil and bug spray. Your Touch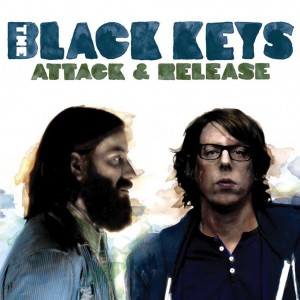 Just as "Magic Potion" isn't as bad as some would lead you to believe, "Attack & Release" probably didn't deserve some of the hype it received when it came out in 2008. The album signaled a major change for the band when they let acclaimed producer Brian Burton (aka Danger Mouse) into their inner circle, a move that really pays off in the last three songs – So He Won't Break, Oceans & Streams and Things Ain't Like They Used To Be. Going all the way back to the first two albums, Dan and Pat came together like a single instrument. They were after a big sound with a lot of soul and swagger – the antithesis of what Mr. Saunders so eloquently called "Chicago-style fratboy fern bar tourist blues" (or, even worse, brainless jam-band noodling). In those early songs, the snarl of Dan's cheap amp, locked in a dogfight with Pat's crazy-ass rhythms, was far more important than the notes he was playing or the lyrics you could barely hear through all that beautiful distortion. With Attack, the Keys started to veer into conventional songcraft, with more calculated arrangements and lots of little sonic flourishes thrown in (not all of them welcome, in my mind). But they did it without compromising their original vision. In fact, the best song on the album is a two-piece rave-up that wouldn't sound out of place on "The Big Come Up" (Dan let me use this one to promote the Akron Marathon). I Got Mine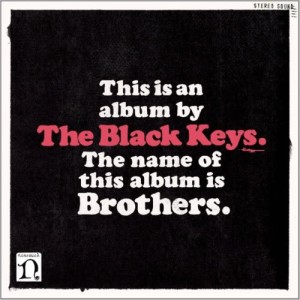 That brings us to the band's finest hour (55:27, to be precise), "Brothers." Both Dan and Pat grew up listening to a lot of soul music. I flipped Dan some James Carr and O.V. Wright early on, and he returned the favor when the Keys started their climb by giving me a whole slew of rare soul nuggets by long-lost artists such as Lee Moses and Alice Clark (it's remarkable how much amazing and hard-to-find music someone can collect when he's shopping at the world's best record stores and getting boxes of free CDs and records from his label). All those influences – and a few more, including Gary Glitter's juke-joint avatar on Howlin' for You – came home to roost on "Brothers." You can hear the ghosts of Eddie Hinton, Arthur Alexander and other masters of deep southern soul who never got their due. But there's nothing slavish about this project (well, maybe the Jerry Butler cover). And, as both Dan and Pat rightfully pointed out, it could've been recorded anywhere… Muscle Shoals Sound wasn't a working studio when the Keys arrived there in 2009, and they couldn't even record a ringtone in the building without bringing in all their own equipment. As they worked on this next tune, Dan and Pat threw the label a curve when they decided (after a few drinks) they could really use a harpsichord for the next day's session. The Renaissance-era instrument arrived at the studio the following morning. Too Afraid To Love You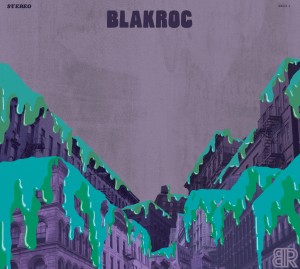 At this point, we should probably take a step back and look at a previous release that was essential to the making of "Brothers." Earlier in 2009, Dan and Pat agreed to work with hip-hop producer Damon Dash on a project that brought the Keys together with several Brooklyn-based rappers, including Jim Jones, Mos Def, RZA, Raekwon and Q-Tip. The Keys were assigned to come up with the basic tracks, which would then be unleashed on the other artists with little or no time for them to prepare. Although they hadn't recorded together in a couple of years, Dan and Pat jumped right in and started building tracks from the ground up – laying down basic rhythms on bass and drums and then adding guitars and keys as needed. They found the experience liberating: "We did (BlakRoc) right before Brothers and the way we approached it, focusing on bass lines and grooves… cleared our heads of any preconceived ideas that we had about our next record," Pat told Relix magazine. Inspired by the go-for-broke attitude of RZA, Mos Def and James, Dan had the courage to sing the next album's opening song (Everlasting Light) falsetto… and yeah, why not have someone send a goddam harpsichord to northern Alabama? "BlakRoc" wasn't without controversy, as Ludacris lived up to his name by mounting a legal challenge to the use of a previously recorded rap on the song Coochie, which was removed from a later reissue. Spotty promotion didn't help either, so the album wasn't a commercial success. But I love this inspired pairing of the Keys with the soulful powerhouse Nicole Wray, who also shows up on "Brothers" (screw Lady Gaga – I'd rather hear Nikki sing Gimme Shelter with the Rolling Stones). What You Do To Me
Here's another inspiration for the song Everlasting Light – a collage by the late outsider artist W.D. "Crazy Mac" McCaffrey (Chuck, who collects folk/outsider art, was his biggest champion; Pat's dad Jim profiled him in the Akron Beacon Journal). Dan had a photo of this piece in his house and couldn't let go of the phrase "life everlasting." Then he wrote a song.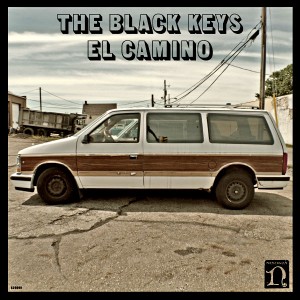 With the massive success of their second-consecutive platinum album, "El Camino," The Black Keys continue their march toward world domination. I'll confess that The Camino (as Stephen Colbert calls it) isn't exactly on steady rotation in my car's CD player. But that doesn't mean I can't appreciate its many pleasures. Even a tune like Gold on the Ceiling, which clearly wasn't built to win over baby-boom cynics like me, has something I can latch on to – a snaky guitar intro that would make Jeff Beck proud. And Money Maker is one of those high-octane numbers you should never listen to when you're driving through a little shitball speed-trap town. I had a hard time picking a song to feature from this album… Ultimately, I decided to give a nod to co-producer Burton, who deserves much of the credit for the Keys' rise to the top. Dead and Gone is totally unlike anything the band recorded for the first two albums – and that's exactly the way it should be. You could argue that it's pure pop confection, but I think it's the perfect example of everything that's good and right about the Keys-Mouse collaboration. Killer hooks… those patented bells and singsongy choruses… great lyrics… a ballsy, trunk-rattling bottom end… and some of Dan's best singing (one of the album's main strengths). Yeah, it's a pop song, but one with plenty of substance and muscle. Dead and Gone
The Keys are hard at work on their next album, and the initial reports are very positive. It's a two-hour jazz odyssey with a 50-piece orchestra. You'll hear echoes of 14th Century Bulgarian peasant marches… a little dubstep… elements of acid house, trance and synthpop… some jungle, with a touch of rain forest… And remember, you read about it first at Rubber City Review.
Here's to Geoff "The Duty Shirker" Auerbach, who doesn't get enough credit as a key member of brother Dan's lifetime support group, and Michael Carney, who gets plenty of credit but probably deserves a little more for all these great album covers.
Even if you're not a fan of their music, you have to admit that The Black Keys' music videos are pretty damn funny. Here's the first one, directed by comedian David Cross (Arrested Development, Modern Family). It places the band on a public access TV show for Orthodox Jews.
And here's my new favorite, directed by Chris Marrs Piliero, who also gave us a playground slugfest for Tighten Up and a fake movie trailer for Howlin' for You. I'm sure Quentin Tarantino served as the inspiration for this one, which finds Dan and Pat fighting over a fortune cookie with RZA. It's from the soundtrack to the movie The Man with the Iron Fists, directed by RZA and "presented by" Tarantino.