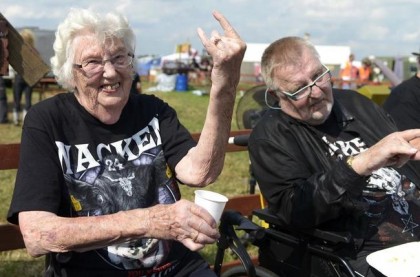 I just read another music-related article with a variation on the word "fogey" (fogeyism, fogeyish, fogeyist)… Maybe I should search these terms to see if they're being used to describe Rubber City Review. After all, we spend an inordinate amount of time at RCR talking about real (and often deceased) musicians from places other than Portland, Brooklyn and Montreal. And we tend to use words like "inordinate."
Most recently, the f-word surfaced in Slate (one of those newfangled magazines I can only read on my Commodore desktop). The term "fogeyish" was actually used in the same sentence as "funny" to describe an Andy Samberg send-up of EDM and dubstep that aired on SNL last week. That piece sent me over to Wikipedia where, for purely fact-checking purposes, I verified that EDM is an acronym for Electronic Dance Music. And dubstep, of course, is a form of dance largely influenced by Japanese horror films.
The skit, by the way, plays exactly as billed – both hilarious and fogeyish in that it answers the question, just what exactly is that megastar DJ (Skrillex! Deadmau5!) doing up there to earn all those millions? (See Samberg's response – Davvincii! – in the video below.)
I've actually been to a show hosted by a megastar DJ, which I guess is every bit as fogey-esque as admitting I accidentally drove into Brooklyn during a trip to New York City. But I will admit that I'm fascinated by the two strains of science at work in EDM: 1) the science of music, as applied to beats per minute and various frequencies and whatnot; and 2) the science behind the chemicals ingested by EDM's most fervent practitioners. Perhaps if I decided to partake in the latter I'd have a greater appreciation of the former. Am I guilty of fogeyism because the only thing holding me back is the fear of a massive heart attack?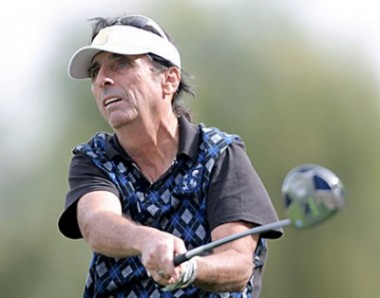 As Slate points out, one of the punch lines in Samberg's skit ("This is music!") has the scent of "people who claimed that rap wasn't music, or rock or jazz." Fair enough. Maybe I'm a fogey because misogynist rappers make me a little uncomfortable, or because I could care less about your Benz or Rolex or $200 bottles of Cristal. Then again, I've experienced more rock 'n roll energy and attitude at a Jay-Z show than you can hear on 90% of the swill played on most so-called rock stations.
A lot of that swill is aimed squarely at hard-core fogeys trying to relive the glory days of their distant youth. People who either stopped listening to new music back when bands like Journey and The Eagles ruled the charts, or who switched their allegiance to mainstream country, which just recycles that stuff anyway. To those folks I say, don't just yearn for the good old days… go all-in. Sell the house, quit your dead-end job, ditch the spouse and kids and move to one of those little biker towns in Florida that specialize in bad behavior of the vintage variety (and serial killers).
This might sound fogeyish (unlike the previous six paragraphs?), but I'll admit it annoys me when rock writers describe a new hipster band by simply referencing three or four other bands that any self-respecting hipster could appreciate. Let's head over to Pitchfork and see how long it takes to find a good example of said practice… Ah, here's one:
"Swans still belong to a tradition of deranged, debased punk that connects the bruising attack of the Jesus Lizard's 'Wheelchair Epidemic,' the woof-woof feralism of the Birthday Party's 'Happy Birthday,' and the sax 'n' violence of the Stooges' 'Fun House.'"
Thanks for that, Pitchfork… I could use a little more woof-woof feralism in my life. And here's another:
"…the band's sound encompasses myriad eras and permutations of proto- and post-punk: Velvet Underground drones… Feelies speed-jangle, daydreamy Sonic Youthian sprawl."
So just flip on the proto-post-punk cuisinart and pour yourself a glass of Ought, from Montreal.
As you can tell, I'm a pretty lonely guy, musically speaking. Can't talk to the kid at the indie record store about the new Parquet Courts release… can't talk to people my own age about Luke Bryan or Jimmy Buffett… but when I lock into a conversation with one of my music buddies about a great Americana band like The Wood Brothers or the swamp blues of Slim Harpo, you'd think we were discussing the crisis in Ukraine. Sure, we've lost perspective, which is where we usually end up with any form of art worth arguing about.
Am I a fogey? Let's put it this way: I'm willing to listen to your new band… in a fogey-esque sort of way.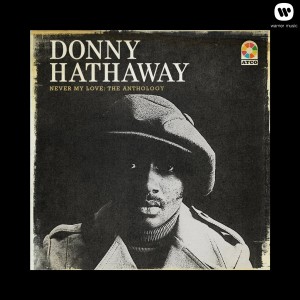 I like to troll through new releases, but… I keep coming across amazing stuff that somehow missed my attention the first time around. Case in point: Live at the Bitter End, 1971 – disc 3 of Rhino's excellent Donny Hathaway anthology Never My Love. Like most people, I became aware of Hathaway through his ubiquitous duets in the Seventies with Roberta Flack. Nice stuff… but nothing I'd choose to revisit, since songs like Where Is The Love were seared into my brainpan by AM radio back in the day (if my first exposure to Bill Withers was Just The Two Of Us, I probably wouldn't want to revisit his stuff either). But this band and this sound that Hathaway had going on back in '71 are the stuff of legend. Cornell Dupree and Mike Howard on guitars, Willie Weeks on bass, Fred White (of Earth, Wind and Fire fame) on drums and Earl DeRouen on percussion. Listen to how they rip into John Lennon's Jealous Guy. If I could join a band like this and play like Dupree, I'd chuck everything and hit the road too. Jealous Guy
As promised… Davvincii!