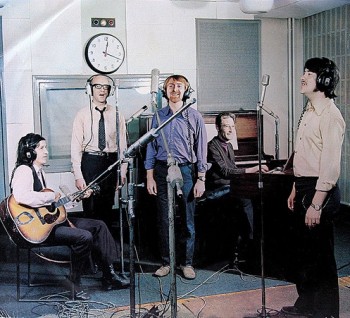 I've been at this RCR thing for nearly five years now, and we just published our 250th post. Imagine if I would've put all that effort into a solid money-making venture, like cooking meth, trafficking human organs or hanging out in front of L.A. coffee houses waiting for celebrities to show up.
Instead, I've gone from having one sponsor to none. So let that be a lesson to you kids at home… There's just no future in this dangerous, dead-end game we call "roots music reportage." But if you know of any major multinational corporations interested in blog posts about Fleetwood Mac, Big Maybelle or Johnny "Guitar" Watson, send them my way. I can assure you, the stories behind these and other music legends are far more salacious than anything you'll find on TMZ.
Anyway, as we reach one landmark and approach another, it seems appropriate to shut everything down, take stock and ask ourselves, what have we learned since I set out on this quixotic quest back in October 2009?
I really have no clue, to be honest… But I'm beginning to suspect that 1) no one particularly cares what new music I'm listening to 2) hard-core honky tonk is a tough sell, but I really don't give a shit – I'll keep writing about it no matter what you think 3) the more obscure the artist, the more reverential the fan base (except when it comes to Skynyrd fans… those people are whacked!) 4) I probably should just write about jazz – more people might listen to Sonny Rollins if the folks writing about him weren't so goddam obtuse, and 5) Chicago blues still rules.
I've also found that there's very little correlation between our most-read posts and our most-liked (as in Facebook Like) posts. Not sure how to parse that, but I think it gets back to #3 above – a lot of people might read a post about the world's greatest harp player, Little Walter, but they'll be more inclined to "Like" one about a long-lost and criminally overlooked soul artist like Eddie Hinton.
Let's take a look at our five most-read posts (at least since Google Analytics began collecting this data from RCR in 2011):
Little Walter, By the Book – Our third post, and still the heavyweight champ
The Grammy Misadventures of Madame Auerbach – Sister Mary shares her 2011 Grammy experiences with her son's band, The Black Keys
The Case of the Mysterious Banjo Player – About the night a very special guest showed up in Tallahassee to jam with The Quine Brothers Band
Monk and The Butterfly – A love affair for the ages: Thelonious Monk and the Jazz Baroness, Pannonica ("Nica") de Koenigswarter
Still Bill Withers – America's most beloved soulman
Now let's look at our five most-liked posts:
The Lost Soul of Eddie Hinton – No other post comes close: 370 (remember, this ain't lolcats.com), and for that I have to credit longtime Hinton champion and RCR friend John D. Wyker, who passed away in December… RIP John
The Lost Quine Interview – Mary found this article buried in a box at her house in west Akron, only a block away from where the late guitarist Robert Quine grew up… I added some music clips and, voilà – a minor masterpiece (the 1990 interview was conducted by rock journalist Rick Batey for UK's Melody Maker magazine)
From Cali to Kingston: The Unlikely Journey of Rusty Zinn – As nutty as Skynyrd fans are, they don't hold a candle to reggae lovers from Germany (that said, I really enjoyed this virtual interview with Zinn, a great musician and even greater human being)
10 by The Black Keys (Part 1) – The "Blues Snob Uncle" finally breaks his silence and tells all in this searing exposé on the Rubber City's most popular band (they used the same sound board as Loverboy!!)
The Ballad of Clarence White – Nephew Dan and Brother James weigh in on an amazing and unsung guitarist
I also discovered the power of Google. For example, search "best bass players" (without the quotes) and you should find on page one Rene Villanueva's thoughtful post on his favorite bass players. Of course I had the genius idea for the post's title: The Greatest, Most Amazing Bass Players of All Time, Ever – so you savvy marketers out there might want to consider a similar approach to search-engine optimization (no charge for that little tip, my friends). While you're at it, Google-search Danny Gatton, Arthur Alexander, Robert Ward, Eddie Hinton… There are certain benefits to being the Last Blog Standing.
Of course, I have my own favorite posts. A few of these were soundly ignored, even by my most loyal readers; others rang up quite a few hits despite my best attempts to keep them personal. Here's a short list of those favorites:
Special thanks to my loyal readers and frequent commenters – my brothers/sisters and extended family, Kevin Swan (who also contributed several posts), Rixaidan, Mark Johnson, The Hound, The Coppertone, Wendy Schweiger, The Mayor of Melonville, Alan Balfour, Joscha from Germany, Gunnar Menzel and all my friends at iCrates in Berlin, Rick Saunders, April Fecca, Nik Drake, Johnny G, Gary B, Mark Lee Smith, Lauren, Derek Irving, Danny & Julie Horn, Brucini from Down Under, Mike in Harrisburg, Christian in Albuquerque, Art Rock, Sarak, Matous, BigJay, Bob Basone, Debra Devi, Bill Anschell, Juan Giribone, Kurt B…
On a final note, I really don't intend to continue doing this for free. Someday I'll figure out how to monetize this thing. In the meantime, enjoy our back catalog!