Time for this hopeless Blue Note fanatic to pay tribute to the jazz label's 75 years in business.
I was inspired by a recent article on NPR.org by a couple of top-notch music writers – Tom Moon and Patrick Jarenwattananon – who compiled 75 of their favorite solos from the Blue Note catalog. Since my personal collection runs fairly deep with the label's glory years (roughly, the mid-Fifties to late-Sixties), I could cross-reference many of those solos in a matter of seconds. But even the uninitiated could appreciate the writers' fresh takes on some monumental jazz recordings.
No question, those recordings are filled with jaw-dropping solos by Miles Davis, Sonny Rollins, Thelonious Monk, John Coltrane, Bud Powell, Dexter Gordon… basically, the form's greatest improvisers. But I'd argue the label's most lasting contribution involves different skills – the art of writing and arranging.
Simply put, classic Blue Note compositions are among the most memorable you can find in any form of music. Most of this had to do with the emergence of hugely talented artists such as Wayne Shorter and Herbie Hancock – musicians who could solo with the best but inherently understood that those chops mean nothing without the song and the groove. By the late-Fifties, the idea of noodling endlessly over an old warhorse like I Got Rhythm was considered passé. The next generation of jazz artists wanted to leave their mark with their musical weapon of choice and the pen.
We also should give credit to the label's driving force, co-founder Alfred Lion, and his ace engineer, Rudy Van Gelder. The two men approached each session with a level of attention and, quite frankly, reverence that the artists and their songs clearly warranted. It wasn't uncommon for studio rehearsals to last two or three days before Van Gelder even ran tape, giving the session players enough time to feel comfortable with the new compositions. Other label bosses felt their job was done when you could book someone like Bird or Coleman Hawkins into a studio with a fairly competent rhythm section (and, of course, a list of show tunes everyone could play even while impaired).
So I decided my little tribute to Blue Note's 75th should focus on the main feast – 10 great jazz compositions that have withstood the test of time and a few unfortunate trends (fusion or smooth jazz, anyone?). All those mind-blowing solos are just gravy.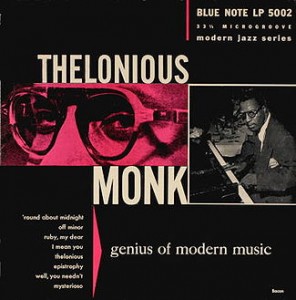 If composition is the hallmark of Blue Note, then Thelonious Monk is the label's greatest discovery. When Lion signed him in 1947 (at the insistence of Blue Note artist and adviser Ike Quebec), Monk was little more than a curiosity – celebrated by cutting-edge be-boppers and jazz modernists, but barely known outside of New York City's vibrant music scene. At first, his thorny, dissonant songs were soundly rejected by jazz listeners weaned on big-band swing. But Blue Note stuck with him until he signed with Prestige in 1952. And it's hard to imagine Monk attaining the status of cultural icon without the foothold he gained at Blue Note – not to mention the lasting strength of compositions such as this one, first recorded for the label in 1947: Off Minor
Is it possible to be earthy and elegant? I think the answer can be found in Society Red, which showcases the power and sophistication of Dexter Gordon's tenor sax (think of everything you found alluring in Season 1 of Mad Men… and some of the bad stuff too). In a nod to the two gentlemen I referenced at the top, I'll admit that Dex's solo is an absolute wonder – sly, slow-building, soulful, majestic… four-plus minutes of pure jazz goodness. But it don't mean a thing without that slow-burning swing (this sample includes the opening, then jumps to Dex's full solo): Society Red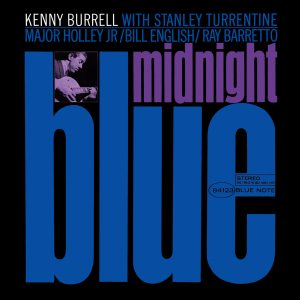 Guitarist Kenny Burrell is another guy who knows how to build a beautiful jazz solo. But thankfully, he also gave us a few remarkable compositions. Chitlins Con Carne is from his standout '63 album Midnight Blue – a must-have for anyone interested in a true fusion of jazz, blues and what Jelly Roll Morton would call "the Spanish tinge." The Latin influence is especially strong here, thanks to the rhumba-based rhythm of Burrell's arrangement and the essential touch of his guest conguero, Ray Barretto. Today the song is practically a standard, covered by artists ranging from Big John Patton to Stevie Ray Vaughan: Chitlins Con Carne
Tina Brooks is one of those great unsung heroes of jazz. The former R&B sax man recorded on a number of sessions for Blue Note – mostly with Burrell and B3 maestro Jimmy Smith. But the label only released one album under Brooks' name during his lifetime. Brooks also is responsible for three of my favorite Blue Note compositions. Two appear on Freddie Hubbard's outstanding release from 1960, Open Sesame – the exotic title song and Gypsy Blue (both feature Brooks on sax). The third is an ethereal ballad that saxophonist Jackie McLean romanced that same year on Jackie's Bag. I could easily feature all three here. How about two? (couldn't make up my mind): Open Sesame Street Singer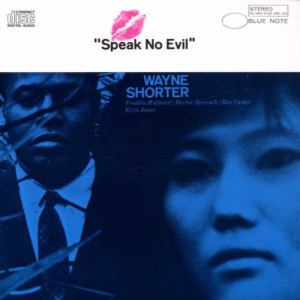 Saxophonist Wayne Shorter's compositions always knock me out… or at least make me feel a little bit better about the human condition. If you don't have any Wayne in your life, pick up The Classic Blue Note Recordings (included in our Amazon link below), which compiles some of the best examples of the label's more progressive outings from the Sixties. Shorter built songs with in-the-pocket grooves and many shades of blue. And the solos always served the material – combining an adventurous spirit with a great sense of space and atmosphere (Shorter's masterful playing always set the mood). This one features pianist Herbie Hancock and bassist Ron Carter, who later joined Shorter in Miles Davis' Second Great Quintet. And you can't miss with Elvin Jones driving the rhythm. Speak No Evil
Shorter's kindred spirit at the label was Hancock, who wrote material with the same sense of drama and dynamics. He also tended to use the same sidemen – especially Hubbard and Carter. In fact, the core band on most of the Shorter-Hancock sessions (sans Hubbard and including drummer Tony Williams, who plays on this cut) had already started collaborating with Miles. So you could easily draw a straight line from these groundbreaking sessions at Blue Note – and original takes of songs such as Shorter's Footprints and Hancock's Little One – to the more abstract wonders recorded by the Second Great Quintet in the mid- to late-Sixties. Oliloqui Valley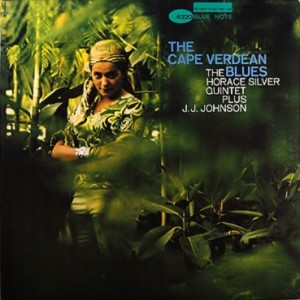 Blue Note's most productive and consistently brilliant composer was pianist Horace Silver. His unique genius involved bringing a melodic, almost pop-like sensibility to hard bop – a riff-based genre that had grown somewhat formulaic in the Sixties. Silver's melodies have inspired a wide range of artists and even a few unsuspecting rock fans (Steely Dan famously cribbed his signature bass line from Song for My Father for their hit Rikki Don't Lose That Number). I featured two of his classics – Que Pasa and The African Queen – in previous posts. This tune layers a wonderful horn line on top of a Latin-flavored rhythm (from Silver's 1965 album The Cape Verdean Blues): Nutville
Silver often collaborated with saxophonist and Lima, OH, native Joe Henderson – a fearless soloist who could play with great lyricism and then take it outside at a moment's notice. He also was another top-shelf Blue Note composer with a weakness for Latin rhythms, as evidenced by this tune from a '64 session led by trumpeter Kenny Dorham that featured Henderson as a sideman: Mamacita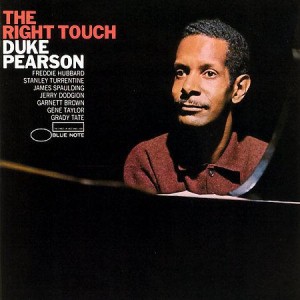 I'll close with two more unsung heroes who contributed to the Blue Note legacy. Although little known even among the jazz faithful, pianist Duke Pearson played several roles at the label – artist, A&R man, producer… and, of course, composer. In 1963, his quasi-spiritual Cristo Redentor – recorded by Donald Byrd with a full gospel choir – became one of Blue Note's few bona fide hits. Chili Peppers is from a '67 session with an all-star octet, including Hubbard on trumpet and Stanley Turrentine on tenor sax. It's sort of a hard-bop throwback, and a damn good one at that: Chili Peppers
Cleveland native and trumpeter Bill Hardman appeared as a sideman on only two Blue Note albums, including one of the rarest vinyls in the label's catalog – Hank Mobley's self-named release from 1957 (see video below). He also was a member of Art Blakey's legendary Jazz Messengers… just not during their long and fruitful stint at Blue Note. But Blakey helped ease the sting by recording a Hardman original that seems tailor-made for the Messengers' hard-swinging sound (from the appropriately named 1960 album The Big Beat): Politely
No discussion of Blue Note would be complete without sharing a little love for the stunning photographs shot by the label's co-founder, Francis Wolff, and the iconic covers designed by Reid Miles:
How do you spot rare Blue Note vinyl? Let's check with the folks at the Princeton Record Exchange…