Greetings from Carefree, AZ… where they like to point out "it's a 'dry' heat."
I'm using this brief respite from the Rubber City as an opportunity to read yet another book about an important musician – even though I've gone far beyond the recommended lifetime quota for such books.
Unfortunately, I can't recommend any of them to people who don't share my obsessive-compulsive approach to American roots music.  Because once you strip away the "who played with who, what label, which session, who produced, what instruments/amplifiers/accessories were used, how impaired were the players, which substances were abused"… there's really not that much left to talk about.
But as a service to my readers who aren't inclined to care about such things, I'm offering this layman's guide to a few of my favorites:
| | | | |
| --- | --- | --- | --- |
| Title | Author(s) | # Pages | Key Takeaway |
| Moanin' at Midnight: The Life and Times of Howlin' Wolf | James Segrest, Mark Hoffman | 436 | The Wolf took care of business; Muddy didn't |
| Can't Be Satisfied: The Life and Times of Muddy Waters | Robert Gordon | 448 | Muddy was a flawed yet caring father figure to his "problem children" (e.g. Otis Spann, Little Walter) |
| Three Chords and the Truth | Laurence Leamer | 450 | There's a very thin line between country stars and their fans |
| Chronicles, Volume 1 | Bob Dylan | 320 | Best way to get Dylan's attention: walk around on his roof |
| Miles: The Autobiography | Miles Davis with Quincy Troupe | 448 | How could such an obvious prick play such beautiful music? |
| Clapton: The Autobiography | Eric Clapton | 352 | He loves yachting, cricket and over-producing his records |
Hope that helps…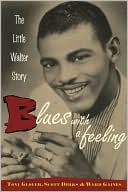 I've just finished "Blues with a Feeling: The Little Walter Story," by Tony Glover, Scott Dirks and Ward Gaines.  And this one's an especially tough read for those who have only a passing interest in the world's greatest harmonica player.  It's stuffed with details on virtually every session that featured Walter as a leader or sideman – not to mention countless gigs where he at least showed up to play (Walter was notorious for letting other harp players take over in the middle of his gigs so he could go somewhere else to drink or get high, or both).  But once again, I'm hooked… and I can't believe it took me this long to read about the single most innovative and influential bluesman that Chicago ever spawned.
I've played blues harp in bar bands for years.  I learned by ear when I was a teenager, playing mostly bluegrass with my brothers and fumbling along to third-generation blues tunes covered by rock bands like The Allman Brothers Band and Derek and the Dominoes.  The latter's version of Walter's "Key to the Highway" is perfect for harp neophytes – nearly 10 minutes of the same chord changes, a steady mid-tempo groove, and no flashy harp player to discourage you. Key to the Highway — Derek & The Dominos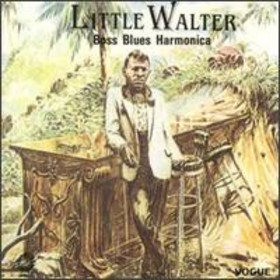 But like any self-respecting blues hound, I eventually decided it was time to sniff out the hard stuff, so I borrowed a Little Walter album that kept staring at me when I'd visit my sister – a two-record set that had this bizarre illustration on the cover of Walter in a tux, standing in front of what appears to be a shipwrecked bar.
But this record was the motherlode for aspiring harp players.  And if you felt the least bit insecure about your playing when you dropped the needle on this one, you'd surely toss your harmonicas out for good after hearing Walter's unbeatable tone and technique.  Here's one of my favorite solos from Walter's own recordings… My friend Andy calls it one of his "runaway riffs" – a good way to describe Walter in full flight. Mellow Down Easy
Walter's powerful instrumentals seemed to openly mock his competitors – a useless exercise when you consider he really didn't have any peers.  And his stuff sounds just as fresh and vital today as it did when he first shook up the blues world back in the 1950s.
He saved some of his best riffs for tunes he recorded with Muddy Waters, and my favorite is his solo on Muddy's I Just Want To Make Love To You.  I'm amazed he pulled this one off – it's so outside and alien, light years ahead of what anyone was putting down in Chicago at the time.  Maybe there's a reason he named one of his instrumentals Flying Saucer… On this one, it sounds like he beamed himself into the studio, straight from the spaceship. I Just Want To Make Love To You — Muddy Waters
Walter's own singles became jukebox standards – both the instrumental Juke and the hugely popular My Babe hit number one on the nation's R&B charts.  And he soon eclipsed Muddy as the most popular artist on the Chess Record label.  In the book, harp player Billy Boy Arnold tops the blues academics in describing Walter's appeal: "…a girl told me once that 'Little Walter sound like a hipped-up Muddy Waters,' meaning the same music, just hipped up some – and she described it right.  He was just wailing, he was a swinger; a lot of beautiful solos."
Of course, fame can be fleeting, and Walter soon was standing in the shadows of the new rock 'n roll artists who were taking over the Chess studios – especially Chuck Berry and Bo Diddley… although "The Bo" (as he liked to call himself) and Walter had great respect for one another and even recorded the following classic together: Diddley Daddy — Bo Diddley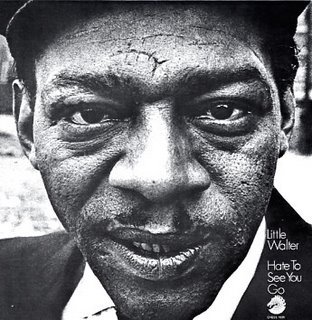 Walter was a rough character who seemed to literally fight his way through life.  He was beaten up by more than a few racist cops, but also stepped into a number of scrapes he could've easily avoided, including several with jealous husbands.  He eventually succumbed to full-blown alcoholism and died in 1968 when one too many blows to the head sent a blood clot to his heart ("Blues with a Feeling" includes at least seven or eight wildly different accounts of Walter's last scuffle).
The book's epilogue offers this sad and sobering look at Walter's demise: "Maybe when he saw how fleeting the fame and fortune was, he lost respect for his own gift – and for himself. And once he began his prolonged downward spiral, circumstances and his own choices seemed to conspire to bring it to its inevitable conclusion."
Walter on Disc:
If you're starting to search for that two-LP set, rest easy — there's plenty of Walter available on disc…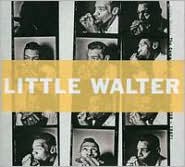 In a more perfect world, every new homeowner in America would receive a free copy of Walter's "Best" — part of the Chess 50th Anniversary Collection.  Hard-core fans can dive into "The Complete Chess Masters: 1950-1967," a five-disc, 126-track set on Hip-O Select.  However, it includes a number of duds and alternate takes and none of the 50-plus prime cuts Walter recorded with Muddy Waters and Jimmy Rogers.  But Walter was a jazzman at heart and never played the same solo twice, so the alternates can be supremely rewarding for more dedicated listeners.
Given the fact that Walter lived and played on the edge, there are few surviving videos showing him in action.  I'll leave you with these two.
The first is a nice, if brief, career overview that played at his 2008 induction into the Rock and Roll Hall of Fame (oddly enough, as a sideman)… You can find it here.
The second appears to be the only available video on youtube of Walter performing live, with Hound Dog Taylor in Europe (1967).   Now I'm a big fan of both Walter and Taylor, but they weren't the most compatible musicians.  Walter was an avowed disciple of jump-jazz great Louis Jordan, while Taylor clearly modeled himself after the far-raunchier Elmore James (for prime Hound Dog, check out "Release the Hound," which includes live cuts recorded at various Cleveland dives).  In several interviews, Walter didn't hide his disdain for Taylor's down-home style.  But the video remains a fascinating look at two great bluesmen, playing it the only way they knew how.
Next up: "Me and The Bo," or how I survived my brief stint as a Bo Diddley sideman.