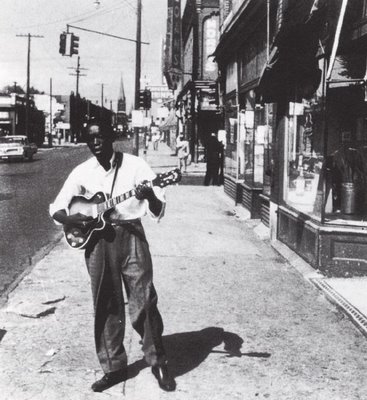 I've been intimidated by the idea of writing a post on John Lee Hooker. It's like trying to write a 500-word essay on modern cinema. Or thinking just one reality show is enough to document the bad behavior of celebrity-seeking morons.
My solution was quite simple – focus on a small subset of the hundreds of recordings Hooker made for many labels over the years. And it boiled down to my two favorite Hooker eras. Although I'm pretty sold on the classic sides that he cut for the Vee Jay label (1955-64… basically the rockin' full-band stuff that helped him cross over to a younger, whiter crowd), I decided to go back to where it all started, more or less – the Modern recordings.
If you're only familiar with his star-studded albums from the late '80s and '90s, you'll need to put those in cold storage right now, pull out the hard stuff and pray for strength… There's a crawlin' kingsnake comin' your way. Crawling Kingsnake
You could argue that most of these songs served as prototypes for everything that followed. The Vee Jay sides might've sealed Hooker's reputation as a blues legend. But the Modern recordings announced the arrival of a singular artist who simply had no peers.
The vast majority of post-war blues can be described as jacked-up, citified versions of the southern tradition – more energy, more insistent rhythms, and eventually more volume as bands started to plug in. Hooker sounded like he bypassed the south altogether and came to Detroit straight out of Africa. His stuff was deep, dark and powerful – a rich voodoo stew compared to a lot of the gruel being served in the city's uptown clubs. And the most startling thing about it is that it all came out of one guy with an acoustic guitar (and a heavy foot): Tease Me, Baby
Another surprising factor behind the Modern recordings is the strange partnership that made them possible. On the one hand, you have an unschooled "country" black man from Clarksdale, Mississippi, who moved to Detroit to find work in the auto factories (and to avoid the stiff competition he would've faced as a blues artist in Chicago). On the other, you have a Ukrainian immigrant who played piano for ballroom dancers at high-end hotels and resorts before starting a record store and small label (Sensation) on the city's main drag, Woodward Avenue.
Just the fact that these two worlds collided is fairly remarkable, especially when you consider that Motor City record man Bernie Besman didn't have the most sympathetic ear for Hooker's exotic sound. "Although we were selling the blues and I was familiar with the blues, he didn't sound like any of the artists we were selling," Besman told Hooker's biographer, Charles Shaar Murray. "This was something altogether different that I frankly didn't understand." (From Boogie Man: The Adventures of John Lee Hooker in the American Twentieth Century.)
Hooker's manager, Elmer Barbee – another record-store owner who dabbled in recording – arranged the meeting with Besman in 1948. And despite Besman's initial misgivings about his most important find, he deserves credit for several breakthroughs.
First, given the dearth of musicians who could follow Hooker (one of the form's most idiosyncratic players), Besman had the good sense to mostly record him solo – and later placing a mic on a cardboard box under his foot.
Besman also came up with a unique way to give Hooker's acoustic guitar a big, booming, almost electric sound. "We took the speaker from the studio and put it in a toilet bowl, which was about sixty or seventy feet from the studio. Then we put a microphone in front of that speaker and brought the speaker from that microphone back into the studio. I didn't know what would happen, but I realized that we would have an echo chamber." Although Hooker denied this account (who would admit having their sound enhanced by a crapper?), it seems plausible given Besman's seat-of-the-pants operation – not to mention the end result… Queen Bee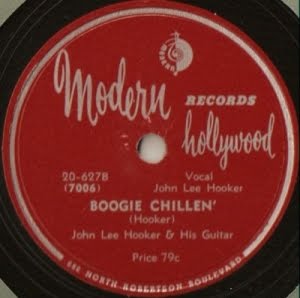 Another plus: Besman probably played a key role in giving birth to Hooker's first big hit. The record man brought him to Detroit's United Sound studio, where Hooker took three hours to record three fairly workmanlike blues tunes (for him). Not what Besman would call a particularly fruitful session. So he asked his new artist if he could play a boogie. Hooker, thinking "boogie woogie" a la piano pounders like Albert Ammons and Pete Johnson, replied that he couldn't.
What happened next depends on who you believe. Besman claims he went to the studio's piano and played a little boogie woogie. Hooker doesn't remember Besman touching a piano. Regardless, Besman somehow helped his Mississippi muse recall a hard-driving, downhome rhythm he learned at the feet of his stepfather Will Moore back in Clarksdale. And Hooker launched into a primordial blues stomp – part sung, part spoken word, mostly stream of consciousness, and all of it highly personal. "I heard papa tell mama, let that boy boogie-woogie; it's in him, and it got to come out… and I felt so good." Like any good rapper, Hooker was just giving himself a little street cred – so he also gave a shout-out to a local hotspot, Henry's Swing Club (is that on Eight Mile Road?): Boogie Chillen
Finally, Besman had the foresight to arrange a favorable distribution deal with the Bihari brothers (Joe, Jules and Saul), owners of the L.A.-based Modern Records label. The Biharis had the juice needed to turn Boogie Chillen into the number one R&B hit in America – and the rest, as they say, is history.
For these reasons alone, Besman should be pardoned for any indignity heaped on Hooker during their three-plus years together. And judging by Murray's book, the two men had numerous disagreements that long outlived their brief partnership.
These two may have been worlds apart, but they somehow connected at the right place and right time to create music history. Just listen to the searing riffs on this tune. Much like Lightnin' Hopkins did with his '54 Herald recordings, Hooker helped set the stage for hard-rockin' shredders like Bo Diddley, Paul Burlison (Johnny Burnette Trio), Jimi Hendrix, Stevie Ray Vaughan and many others who followed (this one features the great Eddie Kirkland on second guitar). Jump Me (One More Time)
And if you're wondering how blue Hooker and Kirkland could get, you don't have to look any further than this stark, desperate plea for a woman's company (or maybe a shrink: "Yes I need somebody, just to help me find my mind")… Need Somebody
The Modern recordings – and especially the huge hit Boogie Chillen – convinced Hooker that he had a future as a recording artist. He continued to scrape by, given the unfortunate deal his manager struck with the Biharis ("I got so popular, and this record company Modern weren't payin' no money on a Number One hit," Hooker told Murray). But the janitorial work and other odd jobs were finally behind him. Still, I'm sure his biggest concern remained getting paid – as opposed to, say, becoming a global icon.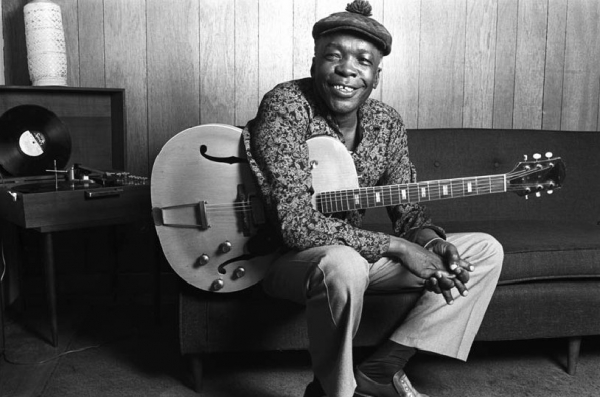 Hooker live in '65 – filmed in a TV studio during the American Folk Blues Festival tour of Europe (Hobo Blues was first recorded in 1948 for Modern).