Brother James is a fine-art photographer based in St. Augustine, FL.  Since 1999, he has had unusual access to the people and places of Cuba.  Often riding in the sidecar of an old Russian motorcycle driven by his friend and fellow photographer, José (Pepe) Martí, James has documented Cuban life in small towns and rural areas few Americans get to visit.  Photos from a trip to Baracoa in 2004 appeared in "Shared Vision," a cross-cultural project partially funded through the National Endowment for the Arts.  Two of those photos appear in this post, along with others that have appeared in art galleries and traveling exhibits in the U.S. and Cuba.  James provides some context with a little commentary under each image – as well as a few well-placed audio clips, of course.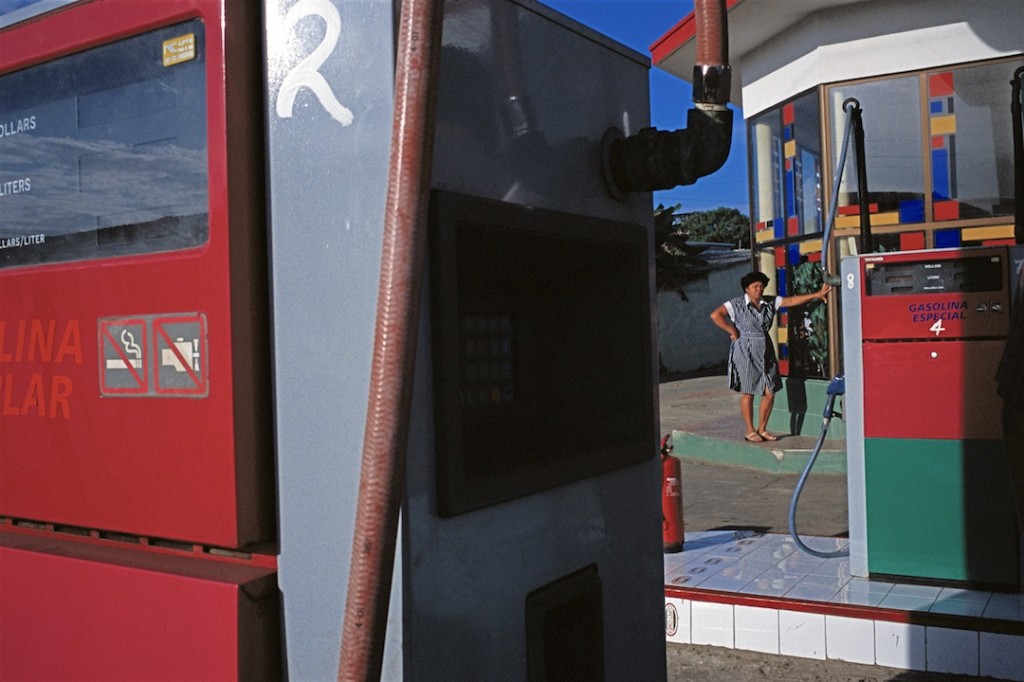 J.Q.: This photo appeared in the traveling exhibition "Viajeros: North American Artist/Photographers Working in Cuba," sponsored by Lehigh University.  I took this photo at the only gas station in Baracoa, on the far eastern end of Cuba… sort of a community center/restaurant/local hangout, and one of the few modern buildings in town.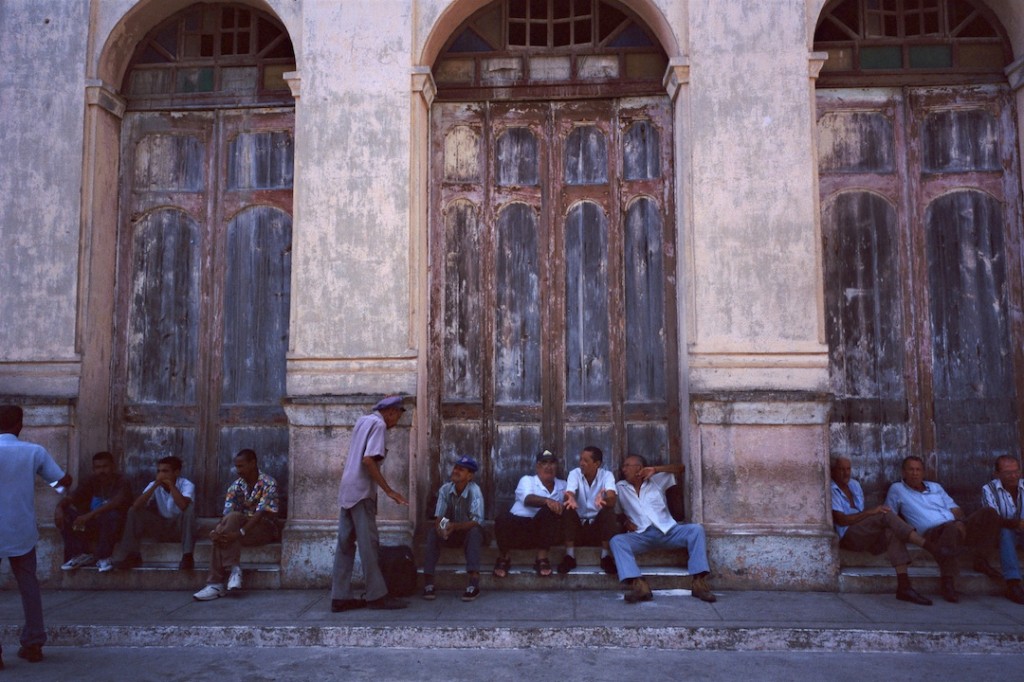 Baracoa is the oldest city in Cuba – Christopher Columbus landed here on his first voyage west – and its remote location helps keep the tourists away.  This is the Catedral Nuestra Senora de la Asuncion, which houses the Cruz de la Parra, a cross that Columbus supposedly brought with him.  Local men hang out on the steps of the cathedral all day, every day, just to shoot the shit.
The eastern part of Cuba gave birth to nengon, a rural style of music and the first form of Cuban "son," which is the foundation of modern salsa music.  Nengon originally featured the tres – a three-string Cuban guitar used to play drum-like rhythms – as well as the tingotalango, which is sort of a primitive bass.  Here's a modern version of nengon by Madera Limpia, a band of young musicians from Guantanamo that's firmly rooted in the Cuban tradition: Nengon/Madera Limpia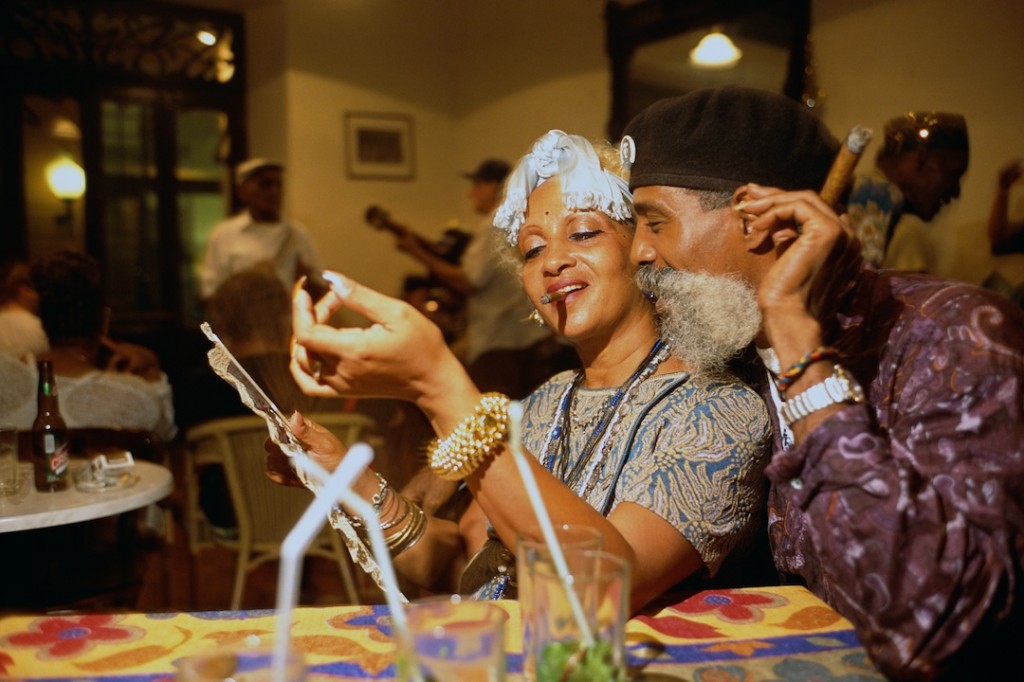 I came across this very stylish couple, Wilky and Adelaida, in a bar in Old Havana.  They're a salsa-dancing duo, well known in Havana for the shows they put on at local clubs.  And they're always dressed to the nines, even when they're not performing.  Adelaida is the granddaughter of the great Cuban conguero Chano Pozo, who toured and recorded with Dizzy Gillespie until 1948, when he was killed in a Harlem bar fight at the young age of 33.  Pozo co-wrote Manteca – one of many Latin-based tunes Dizzy recorded over the years: Manteca/Dizzy Gillespie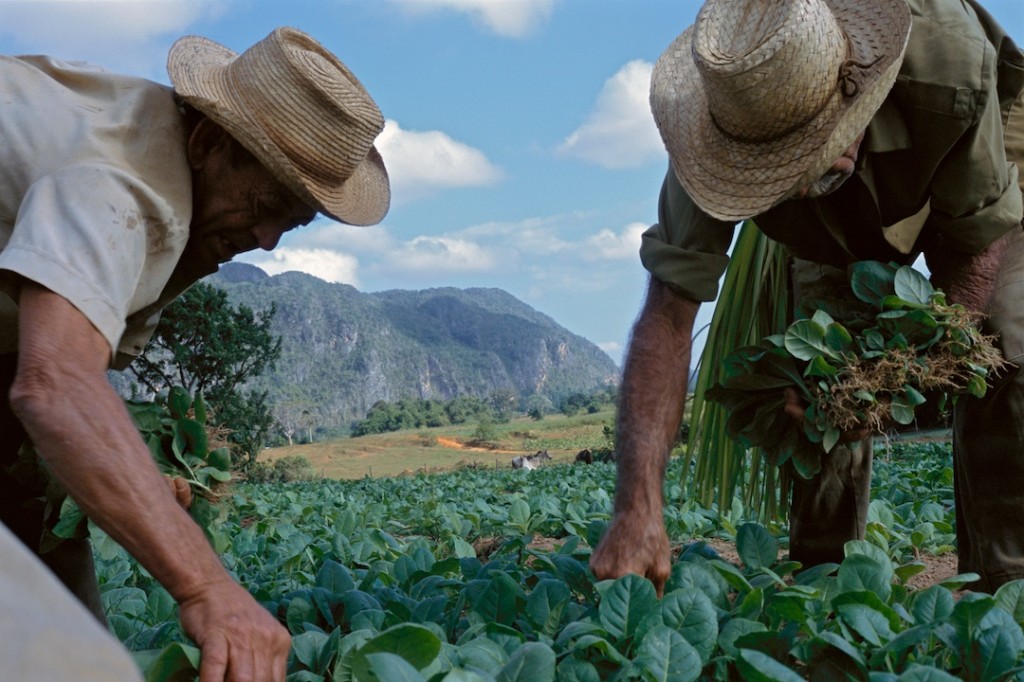 These two guys are planting tobacco in the province of Pinar del Rio on the western part of the island, the center of tobacco production.  The plants are cultivated in seed beds and then transplanted into the fields by these workers.  This is the high-quality stuff used to make the finest Cuban cigars.  Makes me want to hear the Queen of Salsa, Celia Cruz, sing the praises of Pinar del Rio… Me Voy A Pinar Del Rio/Celia Cruz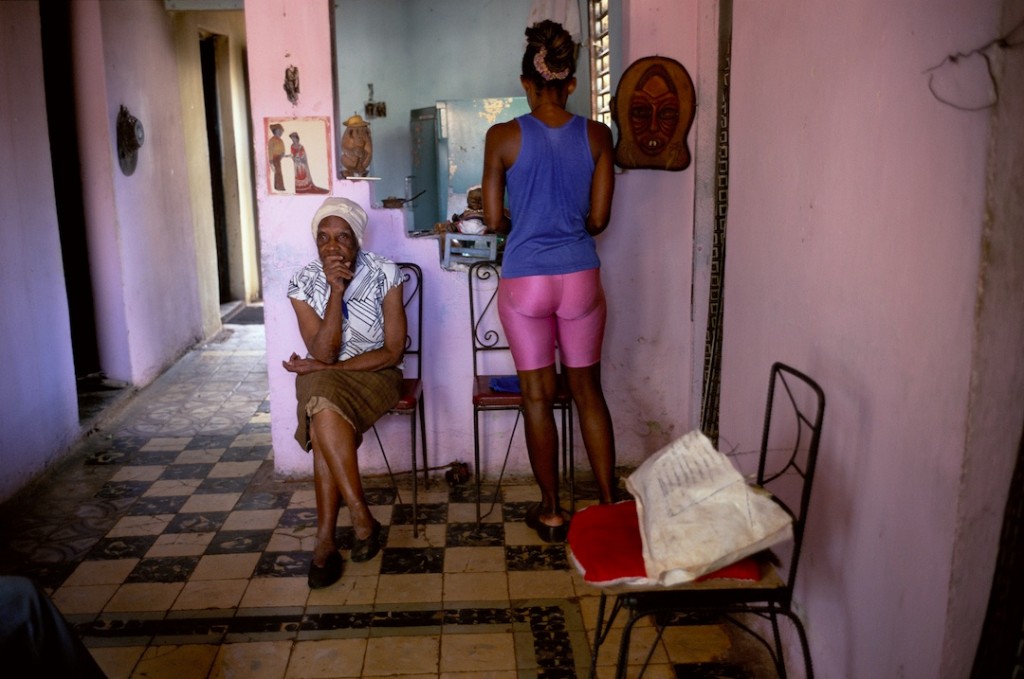 Here's a well-known Santeria priestess in Jovellanos, located in Cuba's Matanzas Province.  Jovellanos is a center of African culture and religion.  You can see a few African decorations in the priestess' home.  Her granddaughter faces the pass-through to the kitchen, and a bag of herbs (probably for religious purposes) sits on the chair.  I like the different shades of pink in this shot.
The African influence in Cuba gave birth to rumba, another foundation of modern Latin music.  Rumba is all about percussion and rhythm, as you can hear on this cut from Bara-Rumba, an Afro-Cuban percussionist/dance troupe from Baracoa… Rumba Del Solar/Bara-Rumba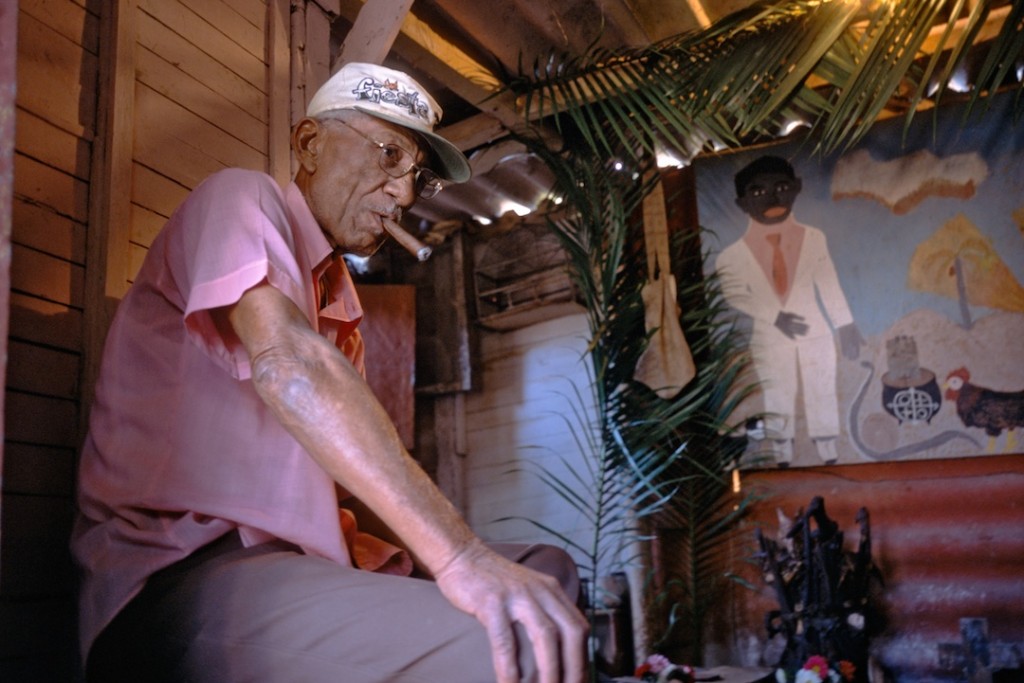 This Santeria priest cleansed me with a live chicken.  He rubbed it all over me and then killed it – supposedly to get rid of bad spirits.  I definitely felt better afterward.  That's a beautiful piece of folk art in the background.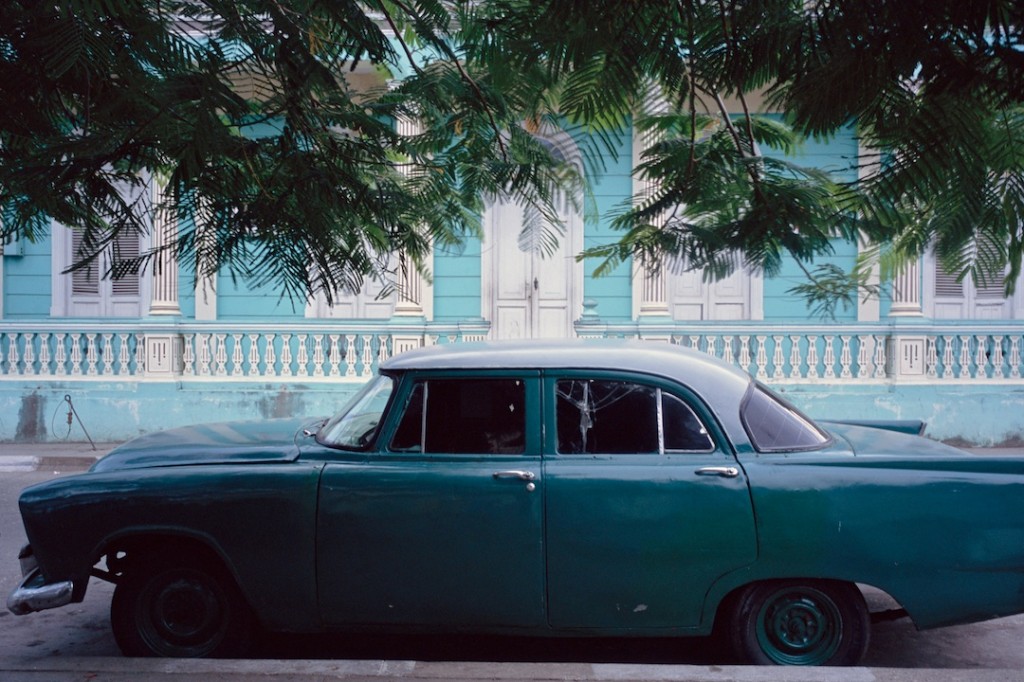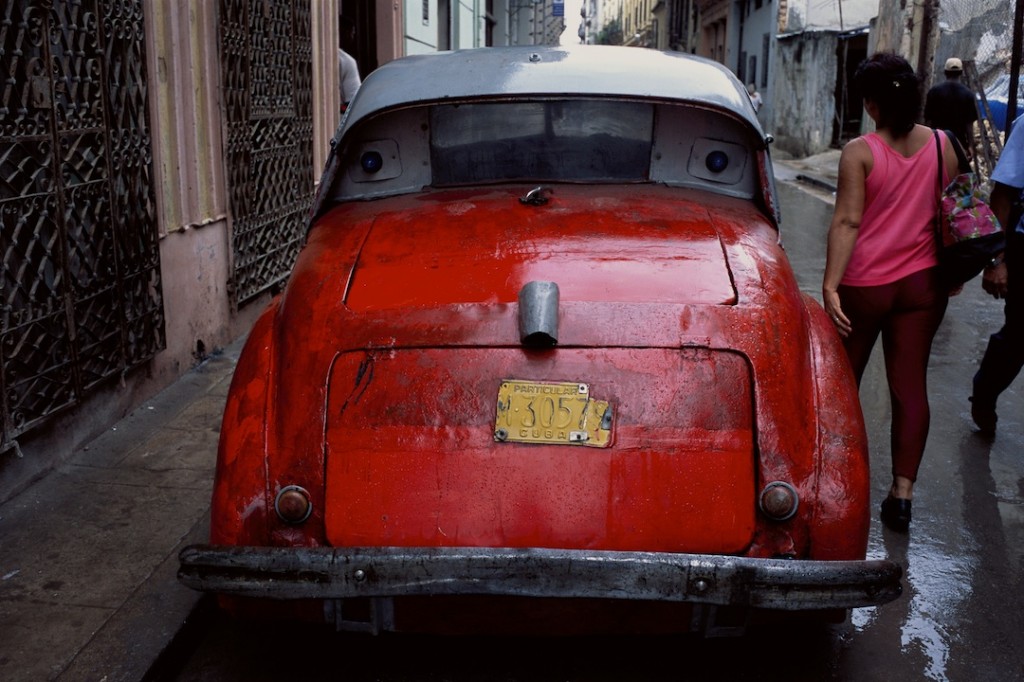 These two photos show the kind of cars that you typically see in Cuba – usually American models from the Fifties, caked with bondo and multiple layers of paint.  Cubans are very adept at keeping these cars in good working order and will cast parts from scratch if they need to.  The green car was photographed in Baracoa, and I found the red one in Old Havana… There's no way to tell what the second car was to begin with, because it's clearly morphed into something closer to a sculpture over the years.  I wanted a picture of the car, but I also wanted the human element, so I waited for someone to enter the frame.  I like how the woman's pants complement the car.  Can't find any good Cuban car songs, but here's a Sixties band from Havana that was heavily influenced by American doo wop and surf guitar – Los Zafiros. Bossa Cubana/Los Zafiros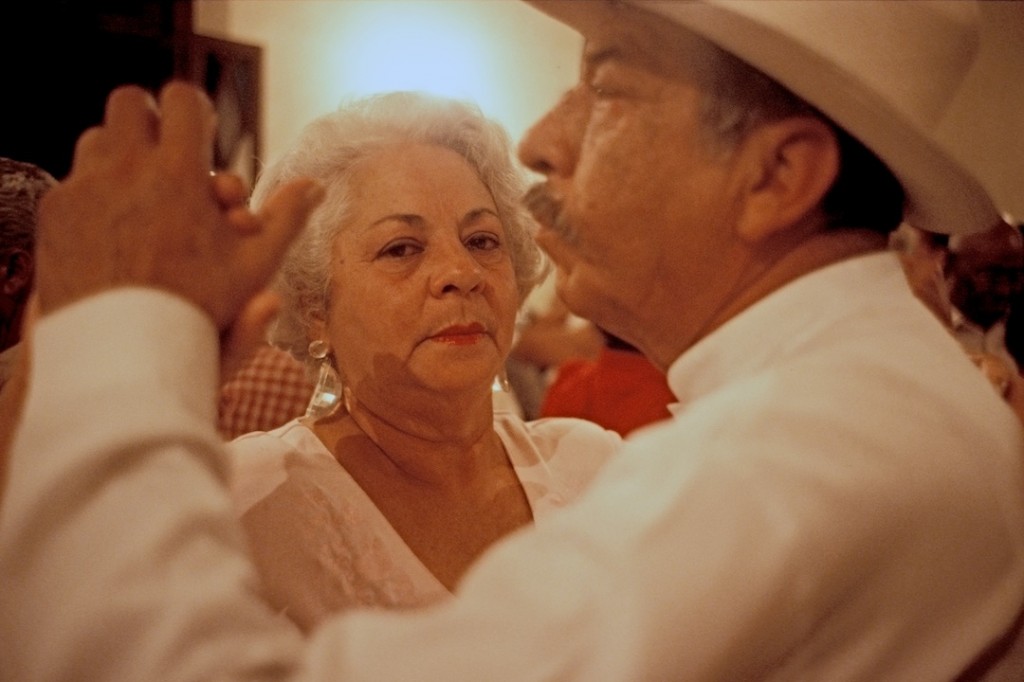 I took this photo at a bailable, or ball, in Matanzas Province during a festival.  The locals get all dressed up to dance to the danzon, a very formal and orchestrated form of Cuban music that was popular many years ago.  I like the expression on the woman's face – very dignified… really something from another era.  Here's an example of a danzon by the great Cuban composer and bassist, Israel "Cachao" Lopez… Isora Club/Israel "Cachao" Lopez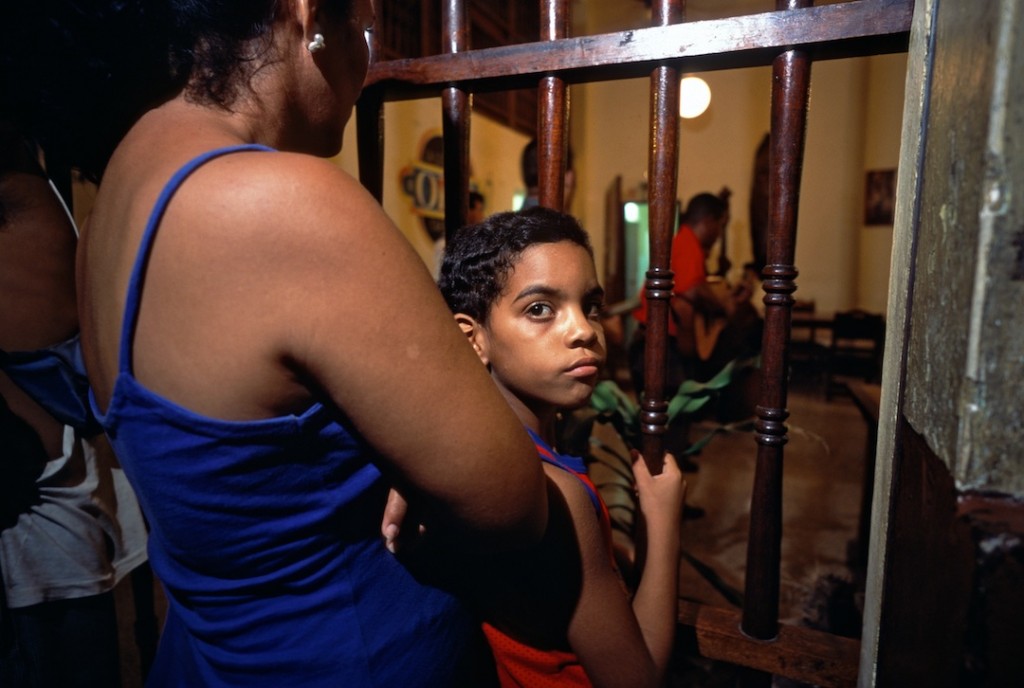 Most ordinary Cubans can't afford to go into music clubs, so it's not uncommon for folks to gather outside to listen to the music.  Here's a mother and son, watching a trovador (Cuban singer-songwriter, or troubadour) playing in a Havana club.  I'll close with this beautiful clip from a modern-day trovador, Pedro Luis Ferrer… Mariposa/Pedro Luis Ferrer