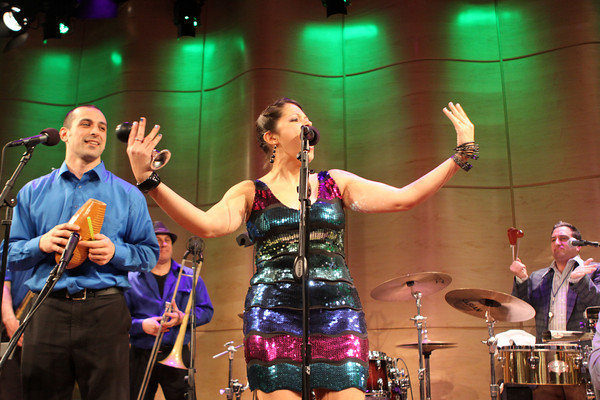 In 2011, I interviewed writer/filmmaker Mathew Ramirez Warren, the man responsible for the documentary We Like It Like That: The Story of Latin Boogaloo. I'm glad to report the film recently received the funding it needed for widespread release – and if the smoking-hot trailer at the end of this post doesn't pique your interest, you probably googled "rubber" and landed here by mistake.
When I asked Mathew about contemporary boogaloo bands, he offered one unqualified recommendation – NYC's Spanglish Fly. That sent me to the band's website (and Youtube), where I found plenty of evidence that the Latin soul tradition is in good hands.
They call themselves "New York City's only band dedicated to reviving and renewing the music known as Latin bugalu or boogaloo, the sound that sprang from the street corners, the transistor radios, the pool halls and the clubs of 1960s Spanish Harlem." I'll simply add that this band does it the way God and Tito Puente intended, with a funky rhythm section, blazing horns and the sassy, soulful voice of Erica Ramos.
But don't just take our word for it. Ask someone who really knows, like former bandleader and Fania producer Harvey Averne, who was there at the very beginning with other boogaloo greats like Joe Cuba, Ray Barretto and Pete Rodriguez. Averne signed on to produce Spanglish Fly's new digital single with bonus tracks (here's a taste: Brooklyn Boogaloo). And now the band is geared up to release a full record – a project they're partially funding through a Kickstarter campaign.
So consider this post part of a well-orchestrated effort to gain your support for one of the few bands out there that's keeping the boogaloo spirit alive. Hopefully they'll make it to the Rubber City before the end of the decade (actually, Cleveland has a fairly healthy Latin music scene, but it needs a little more boogaloo to go along with all that salsa).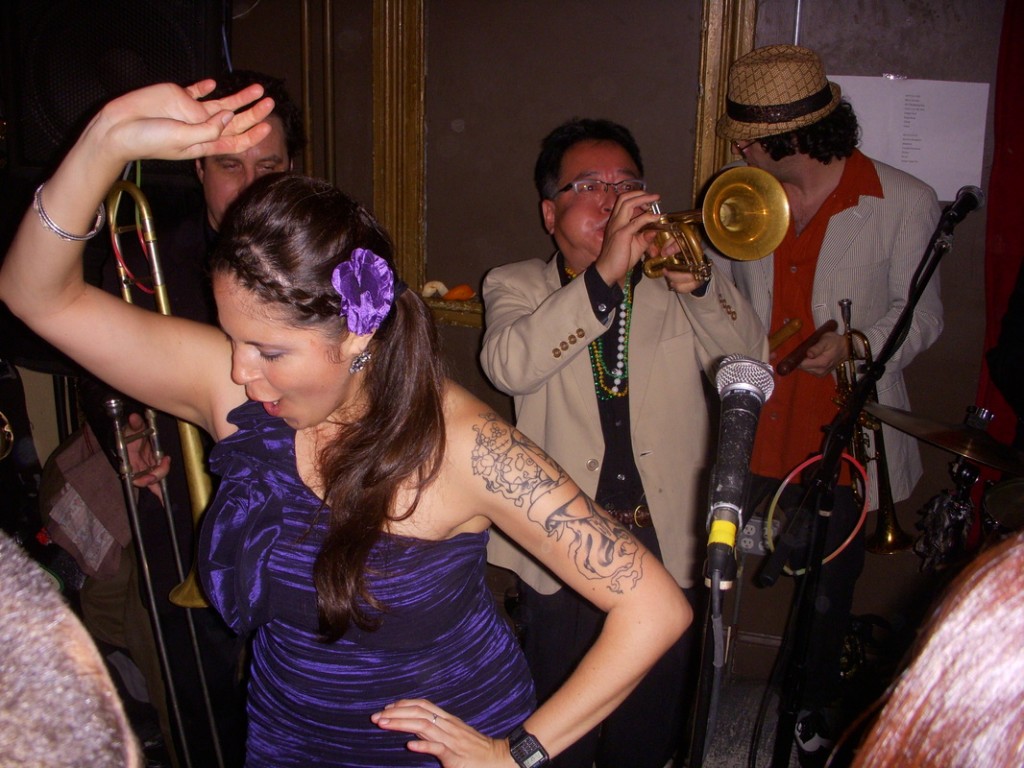 I also thought I should use this opportunity to chat with the band's ringleader and trumpet player, Jonny Semi-Colón.
T.Q.: You've talked about the inclusiveness of Latin Soul, which must ring especially true for a guy whose real name is Jonathan Goldman. How did you catch the boogaloo bug?
J.S.C.: I arrived at boogaloo through the soul side of Latin soul about 12 years ago. I'm a New York City native and have heard salsa and Afro-Cuban and Caribbean music my whole life, but Latin boogaloo hit me hard. I promised myself that I would someday play it live in NYC, where the music was born. After waiting years for someone to start a group, I said what the heck. I'll do it myself.
I'm completely respectful of the music's Latin basis, but the fact that I'm not Latino myself never fazed me. Latin Boogaloo is hybrid music, urban music, the sound of the streets of the USA. It comprises Afro-Cuban rhythms, blues scales, soul fervor, and rock and roll rebellion. It invites everybody to dance without caring whether you know the steps. In the 1960s some of its biggest tunes were recorded by African Americans, Jewish Americans, etc.
Speaking of Jewish Americans with a Latino heart, I'm glad to see that Harvey Averne produced a couple of songs for your new album. He's the real deal – played vibes and led a few bands in NYC during the heyday of Latin Soul… ran the legendary Fania label for a spell… produced killer albums by Ray Barretto and Eddie Palmieri… How did you connect with him?
I met Harvey at one of DJ Turmix's "Boogaloo!" parties (where Spanglish Fly is house band). We hit it off instantly, bonding over music and life and where to get the best whitefish salad in NYC. Working with him has been a dream come true. He's been a great help to the band, a great mentor, and a great friend.
I noticed you were a DJ before forming Spanglish Fly (the only time I hear boogaloo here in the Rubber City is when I come across a DJ with an especially deep collection). What boogaloo records do you play to get people out on the dancefloor?
I first discovered the floor-shaking power of the classics, obvious cuts by Ray Barretto (Soul Drummers), Joe Cuba (Bang Bang), Pete Rodriguez (Micaela), and Joe Bataan (Subway Joe). At the same time I was staggered by all the amazing boogaloo covers of 1960s soul/rock/pop tunes, like Mongo Santamaria's Cold Sweat. I'm partial to lesser known boogaloo tunes like Party Life by funk/soul legend Jimmy Castor, and the boogaloos by Tonino Quirazco, a 1960s Mexican ska bandleader.
And, in no particular order: Lay An Oz on Me Baby, by Luis Aviles, Do It All Over by Raphie Martinez, Deep by Quetcy Alma. Plus: all the boogaloos by Eddie and Charlie Palmieri, Joey Pastrana, the Latinaires, Johnny Zamot, Johnny Colón, La Lupe, Bobby Valentin, Bobby Matos, the Lebron Brothers, Pete Terrace, the TNT Boys, etc. Tito Puente made great boogaloos. I could go on for a long time. There's a lot out there.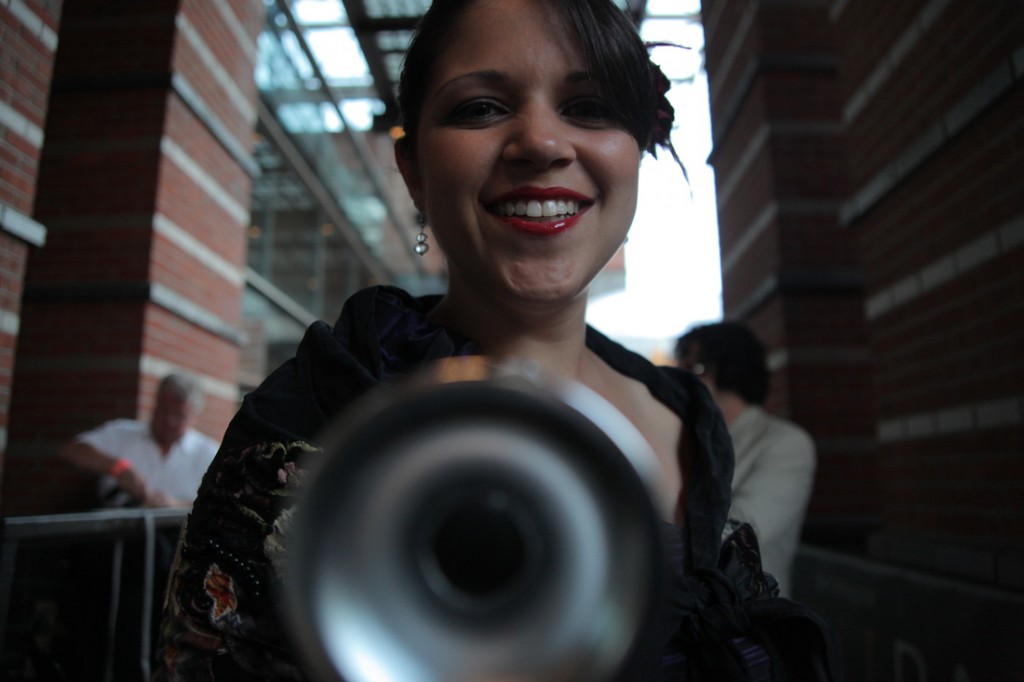 Judging by your band's name, your pseudonym and a couple of your videos, you seem to have tongue firmly in cheek. But you're obviously dead serious about the Latin tradition. How do you throw a big ol' party while playing at such a high level (musically speaking)? I'm more of a 3 chords, 6 cervezas kind of guy…
Ha! We knock back a few cervezas ourselves while on stage, and yeah, we have a ball with our audience. But hey, you don't bring any kind of Latin music to the NYC public unless you're for real. Our percussionists all studied Latin rhythms for years. I'm fortunate to be surrounded by musicians focused on playing the shit out of their instruments. Our singer Erica Ramos – you see her once and you know she's putting everything into the music. But we're not about individuals; we get together every week and work at being tight, at playing together as a unit. (A few cervezas at rehearsal mean that we're practicing how we perform.)
No one with half a brain plays in an 11-piece band to get rich. Everyone in Spanglish Fly is passionate about the music. We demonstrate it on stage and the audience joins in the love.
What other contemporary boogaloo bands should we check out?
A lot of bands will throw in a boogaloo here and there, but the main other practitioners are the Boogaloo Assassins in L.A. and Los Po-boy-citos, who mix up boogaloo and New Orleans music. (Full disclosure: I helped found the latter when I lived in the Big Easy briefly.) Rene Lopez and Ray Lugo have mined the vein too.
Tell us a little about the new album and your decision to help fund it through Kickstarter…
We decided that, yeah, singles are cool, but we need to document what this group can do across a solid 45-60 minutes of music. We have a bunch of originals written by band members, plus our own arrangements of boogaloo classics. We have a large repertoire so it's going to be hard to decide what goes on the record and what we save for next time and for our live shows. Expect a party record anchored in Latin boogaloo, with shades of funk, soul, jazz and rock.
Spanglish Fly's shows create real feelings of community. Fundraising through Kickstarter is a way for us to strengthen those connections. It's patronage that comes with rewards for the patrons but leaves the musicians in charge of the music. Between that and a record label, I'll take the backing of the community.
Show some love for the Fly – support their new album here.
Spanglish Fly live at the 2012 Battle of the Boroughs…
And, as promised, here's the trailer for We Like It Like That: The Story of Latin Boogaloo, coming soon to a distribution channel near you…