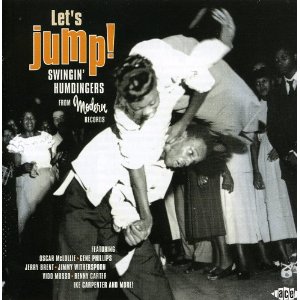 Another big, sprawling topic – more than one post can handle. And another cheap excuse to share a few of my favorite examples of the form.
But what is jump blues, exactly? Some would describe it as post-Thirties (mostly post-war, with a few major exceptions), pre-rock 'n roll, small-combo, primarily horn-driven R&B… true, honest-to-god rhythm and blues, that is, as opposed to what you might call a more contemporary urban act like Boys II Men or even John Legend. And the undisputed king of jump blues is the great Louis Jordan.
Jordan was a huge influence on blues giants like B.B. King, Muddy Waters and Little Walter. In fact, Walter credited his tone and attack to spending countless hours trying to play harmonica just like Jordan played alto sax. Which makes sense, because Walter transcended his peers with a hard-driving yet melodic sound – basically the same approach that Jordan used on a long list of hits that directly preceded the golden years of Chess Records.
Jordan's best tunes serve as the most obvious examples of what makes jump blues – done right – such a beautiful thing: great musicianship, rockin' rhythms and plenty of attitude, all cooked up in a spicy stew of jazz and blues – and, on this number, even a little taste of the Caribbean… Run Joe/Louis Jordan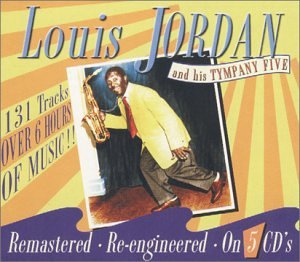 If you don't have any Louis in your life, my deepest sympathies. I'll direct you immediately to a huge but affordable collection of his recordings on Decca from 1938 to 1950: Louis Jordan and His Tympany Five (on the JSP label). You might say, "I don't want to spend $29 for five discs of Jordan in his prime," and I'd agree, but only if you decide to buy the entire collection of 131 songs on amazon's mp3 store for the ridiculous price of $8.99. I know, it seems almost criminal, but it's legit. We're talking essential stuff like Caldonia, Five Guys Named Moe, Choo Choo Ch'Boogie, Let The Good Times Roll, Blue Light Boogie, and duets with Louis Armstrong, Ella Fitzgerald, Bing Crosby. If there's such a thing as a Great American Songbook, many of these tunes would be in it – and you'll find very few duds in the mix. I'm starting to sound like a late-night TV pitchman.
Some even would argue that Jordan was the original rapper. I'll let you decide by listening to this number 5 R&B hit from 1948: Pettin' and Pokin'/Louis Jordan
Anyway, that's my amazon sales pitch for the week (but I'll also mention that JSP offers excellent box sets featuring Charlie Parker, Django Reinhardt, Clarence "Gatemouth" Brown and essential country blues artists like Son House and Skip James… you can find them here).
Now that we have Jordan covered, let's look at a few other gems in the jump blues canon.
But first, a cautionary message. Seems this genre in particular has been hard-hit by the economic downturn (ironic, given that many small R&B combos were formed as economical alternatives to big bands). In other words, stuff that was readily available a few years ago is especially hard to find today, because record stores are disappearing and iTunes needs all that bandwidth for Grizzly Bear and Lady Ga Ga. So good luck finding Tiny Bradshaw – and I apologize in advance for sharing any songs that are long out of print.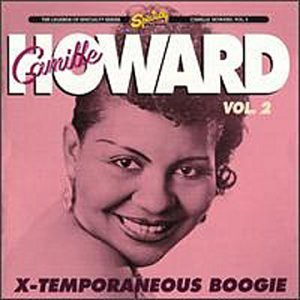 Back to the goods. Generally, you don't listen to jump blues for the lyrics, especially if you're turned off by the occasional ode to misogyny (Shut Your Big Mouth or Upside Your Head, anyone?). But it's important to point out that jump blues gave rise to a lot of great women singers and instrumentalists – Dinah Washington, Ella Johnson, Little Esther Phillips, Helen Hume – and big-time piano pounders like Camille Howard and Julia Lee (who were solid singers too). Here's Camille radiatin' the 88s with one of the era's most popular jump blues band leaders, Roy Milton… Milton's Boogie/Roy Milton with Camille Howard
I thought about including this next one on our "Great Moments in Modern Music" post. Next to Jordan, my favorite jump blues artist is probably Buddy Johnson, also known as the "King of the One-Nighters" (he played thousands of gigs over a 20-year period throughout the South). His specialty was dance music, and more than a few of his signature songs featured his younger sister Ella on vocals. Listen to how Ella's coy come-on is answered by a powerful blast from Buddy's road-tested horn section. Crank it up! That's How I Feel About You/Buddy and Ella Johnson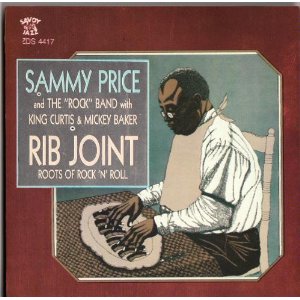 You can find a lot of great instrumentals in jump blues – Flamingo by Earl Bostic, Honky Tonk by Bill Doggett, Cole Slaw by Frank Culley, Walk 'Em by Buddy Johnson… But this next one by barrelhouse piano player Sammy Price is hard to top. It features the dangerous guitar of long-time New York session man Mickey Baker and the soulful sax of the one and only King Curtis. Price also played in a lot of sessions in New York, primarily as house pianist for Decca records. But his recordings with Baker and Curtis sound almost live – like someone threw out a few basic riffs and they took off with the tape running. Recorded in '56, Rib Joint combines a rock 'n roll attitude with Price's deep roots in Texas blues and boogie-woogie (he cut his first record in Dallas in '29)… Pick up the song on iTunes for 99 cents, or buy the whole album on amazon for $100: Rib Joint/Sammy Price with Mickey Baker and King Curtis
Even a giant of jazz like Dizzy Gillespie couldn't resist the joys of jump blues. Maybe he wanted to move beyond the tired conventions of be-bop, or maybe he was just selling out. I'm guessing the latter is closer to the truth – he'd just started his own label (Dee Gee) when he recorded School Days in '51. And, since he always had his ear to the rail, Dizzy probably knew that R&B 45s were very popular among urban blacks and easy to find in barroom jukeboxes. Louis Jordan scored an R&B hit with this number just the year before, so Dizzy certainly didn't break any new ground here. But if you were putting together a jump blues combo, wouldn't you want the world's greatest trumpet player in your band? Vocals by Joe Carroll. And, like I said earlier, you're not here for the lyrics. School Days/Dizzy Gillespie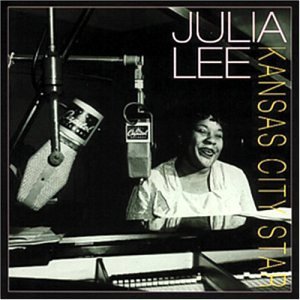 Brother James, who has a hot little swing band in St. Augustine called the House Cats, turned me on to Julia Lee. James covers her tune Lotus Blossom, which was first recorded as the less-than-subtle Marijuana. But subtlety wasn't one of Lee's strong suits – she also recorded a fair amount of risque rhythm & blues, like My Man Stands Out (yes, we're talking slack size) and I've Got A Crush On The Fuller Brush Man. Novelty tunes aside, Lee could flat-out play the piano. In fact, she honed her chops in the clubs of Kansas City, where you didn't even show up unless you could hang with the likes of Bennie Moten or Jay McShann. The German Bear Family label paid tribute to Lee with a five-CD set called "Kansas City Star"… Great stuff, but you can probably live with far less. Here's a taste… If It's Good/Julia Lee
This is the third time Wynonie Harris has shown up in one of our posts (also check out "King of the Independents" and "There Stands the Glass"), so obviously we have our collective finger on the pulse of popular culture. That, and we're convinced Wynonie is highly underrated. Like Big Joe Turner and Roy Brown, Harris was an unreconstructed blues shouter. But I've always been partial to the power and grit in Harris' voice, which comes across like the human equivalent of an overdriven tube amp. Here's one of my favorite Wynonie tunes, recorded in 1953 at Cincinnati's King Studios. It's from "Battle of the Blues," a compilation that pits Harris against Brown in an imagined juke-joint cutting contest. Wynonie wins in a knockout. Bring It Back/Wynonie Harris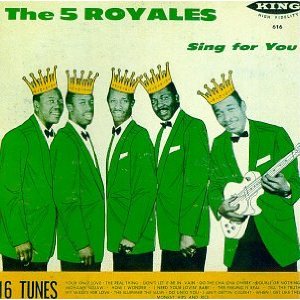 Here's another tune recorded at King. It features The 5 Royales, a group from North Carolina that combined a strong gospel influence with driving R&B rhythms and the gutbucket guitar of Lowman Pauling, who was a big influence on a young Steve Cropper. Their tunes were covered by James Brown (Think), Ray Charles (Tell The Truth) and the Shirelles (Dedicated To The One I Love, which also was covered by the Mamas and the Papas). Think was recorded in '57, but I consider it part of a direct line that leads from Louis Jordan right into the rock 'n roll era. Although they never got the recognition they deserved, The 5 Royales have one of the richest and most satisfying catalogs in R&B. American roots music at its very best. Think/The 5 Royales
Louis Jordan on Video… Surprisingly, quite a few available on youtube. Some of these clips were filmed by William Forest Crouch, who directed a short musical about Jordan called "Caldonia" as well as a number of three-minute "soundies." Here's one for Buzz Me Baby, from 1945: