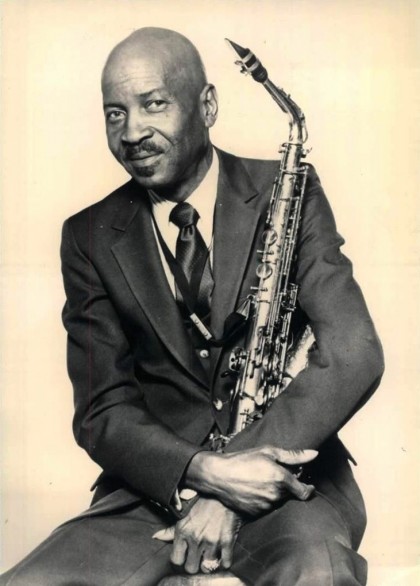 The King Records catalog offers an embarrassment of riches – The Stanley Brothers, Freddie King, Wynonie Harris, The "5" Royales, Little Willie John, James Brown… But it's hard to top the joyous sound of Eddie "Cleanhead" Vinson's asthmatic howl over some swingin' horns and a hard-grinding rhythm section: I'm Weak But Willing
Cleanhead also could flat-out shred the alto, and he waxed some dangerous cuts for a few other labels (Mercury, Riverside, Black & Blue, etc.) – moving seamlessly from uptown blues to lowdown jazz without even making the slightest nod to any trend du jour. But those King sides… that's the stuff that can turn the blessed and holy into godless fornicators.
It started innocently enough in Houston, where young Eddie sang in the church choir and picked up the sax while attending Jack Yates High School. Then local musician Chester Boone must've heard something he liked, because he hired an 18-year-old Vinson for his band's horn section in 1935 (Vinson earned his moniker after a hair-straightening project went horribly awry).
Boone's territory band eventually was hijacked by Milton Larkin, who brought Vinson together with a few other Texas-based heavyweights such as guitarist T-Bone Walker and saxophonist Arnett Cobb. Vinson also gigged with legendary bluesman Big Bill Broonzy, who helped him develop his signature vocals, which could go from a honeyed croon to a hair-raising shout at the drop of a bottle.
While singing the blues at a backstage jam session, Vinson caught the attention of popular bandleader (and former Duke Ellington trumpeter) Cootie Williams, who was looking for a way to toughen up his own sound. Williams eventually persuaded Vinson to join his band in New York City, where they recorded several jump-blues tunes featuring Cleanhead's raspy vocals.
In 1945, Vinson found himself at the top of the Harlem Hit Parade and toying with the idea of running his own band. But first he had to do a stint in the military that was cut short by his asthma and the Allied victory in May (Vinson's place in Williams' band was filled by an up-and-comer named Charlie Parker). He came back just in time to record this tune for Williams in July: Cootie Williams/Juice Head Baby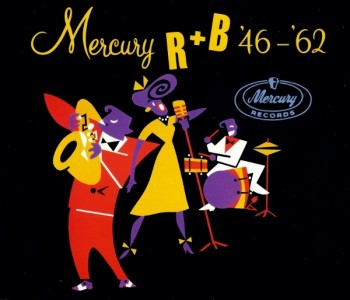 By the end of the year, Vinson had signed with Mercury and was recording the first of many dancefloor-ready tunes (some of them Cleanhead originals) under his own name.
The Mercury years marked the first appearance of jump-blues classics such as Kidney Stew Blues, When a Woman Loves Her Juice and Old Maid Boogie that Vinson revisited throughout the next four decades. These songs helped define post-war rhythm and blues – cast in a tough-as-nails sound that Vinson would perfect at Cincinnati's King Studios starting in 1949. Here's a standout cut that I pulled from an excellent 2-CD comp, Mercury R+B '46-'62 (now out of print), which imagines the most amazing night ever at The Apollo – Cleanhead, Professor Longhair, Dinah Washington, Buddy & Ella Johnson and Louis Jordan. Kidney Stew Blues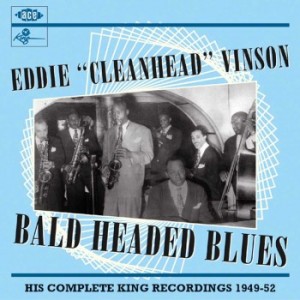 Vinson's reign at King lasted from '49 until '52. From a commercial standpoint, it wasn't the most fruitful period in the career of an artist who, five years earlier, was named R&B's top vocalist. In fact, only one of the songs Vinson recorded at King became a major hit (Somebody Done Stole My Cherry Red: #6 R&B). But in my mind, you really don't have a full picture of rock 'n roll's most vital influences without sampling Vinson's red-hot King sides, which are gathered together on the essential Ace-UK comp Bald Headed Blues. Here's one of my favorites, featuring Buddy Tate on sax and Milt Buckner on piano: Queen Bee Blues
The King recordings showcase Vinson's many strengths, including that fiery and underrated alto sax, in a variety of settings – instrumentals, ballads, blues, stompers, slow-burners, novelty tunes (the hilarious Jump and Grunt) and one of his sweet spots, songs about carnal pleasures (or lack thereof). When Cleanhead worked a double entendre – or, in this case, a "my baby done me wrong" song – you got the sense he knew of what he sang: Ashes On My Pillow
Vinson didn't exactly drift off the radar screen after leaving King in 1952. He rejoined Mercury in 1954 for a one-year "victory lap," recording bluesy, horn-driven tunes that seemed blissfully unaware of that oncoming train called rock 'n roll. But I have three favorite albums from the post-King years that hold up pretty well given all the trends that followed:
Cleanhead's Back in Town, recorded for the Bethlehem label in 1957 with several members of the Count Basie Band. You wouldn't think that Basie A-listers such as Paul Quinichette (tenor sax) and Joe Newman (trumpet) would have much in common with Vinson, but they all came to play on this session – proof that these big-band swells were willing to get a little mud on their two-tone shoes now and then: Ain't Necessarily So
Kidney Stew is Fine, a Delmark reissue of a 1969 outing in France that combines Cleanhead (in great form) with a dream lineup – pianist Jay McShann, tenor saxophonist Hal Singer and Vinson's old Texas running buddy T-Bone Walker. Real relaxed, late-night vibe on this one… wonderfully recorded too. I love T-Bone's velvety touch on this tune. Wee Baby Blues
The Late Show: One of two albums' worth of small-club recordings from 1986 with Etta James. What better way to celebrate your roots than to share the gutter… er, stage with the equally salacious Etta. As you can tell, Cleanhead's powers as a singer and sax player were undiminished at the age of 68 (he died from a heart attack two years later): Old Maid Boogie
He also showed off his jazz chops on a couple of Riverside albums with long-time fans Nat and Cannonball Adderley, and even joined forces with relative youngsters Roomful of Blues, the hard-swinging band from Rhode Island that's now been in business for 48 years.
Cleanhead was the real deal. He jammed with Bird, hired John Coltrane, wrote two staples in Miles Davis' mid-Fifties repertoire (Tune Up and Four), and played some filthy R&B back when swill by Patti Page (How Much is that Doggie in the Window) and Perry Como ruled the charts.
Hey, we still have plenty of swill to choose from today… Anyone up for more Cleanhead (and some sweet guitar by Shuggie Otis)? Home Boy
Cleanhead live in France, 1978… with Hank Crawford (alto sax), David Fathead Newman (flute), George Wein (piano), Milt Hinton (bass) and Alan Dawson (drums):