I come from a big family of harmony singers. Myself, I can barely sing in unison… with Autotune. When my sister Caroline and I accidentally ended up at the same college for a year, she sat me down for hours on end and tried to teach me the harmonies to what seemed like the entire Emmylou Harris songbook. I failed miserably.
When we got together for family gatherings, my brothers and sisters would work out intricate harmonies to popular bluegrass songs. One tune in particular, Fox on the Run, required an extra voice… it had one of those staggered, layered harmonies, just like the Three Stooges used to do ("hello, hello, hello… goodbye"!). I'd always bring everything to a screeching halt by screwing up my big moment – I think it was the fourth "like a fox." Many laughs at my expense.
But I rolled with it… mainly because we didn't try to tackle that song until later in the evening, when just getting up from the couch qualified as an amusing activity. Besides, I'm perfectly happy sitting back and listening – because there are few things more sublime than the sound of clear, natural voices, locked together in harmony.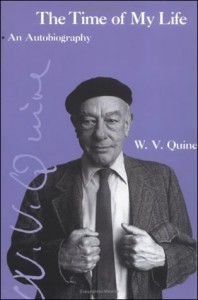 I think most of this need to sing came from my Dad's side of the family and particularly his mother Sarah (Jahant). In his autobiography "The Time of My Life," the late philosopher Willard Van Orman Quine – my Dad's first cousin and guitarist Robert Quine's uncle – describes what it was like to hang with his relatives who grew up in the shadows of Akron's rubber factories:
"Our two subfamilies converged just once a year, after Christmas, midway at my grandfather's house. With Grandpa and Aunt Bess we made twelve. Aunt Sarah would play the old treadle organ and Uncle Harry and my cousins would sing. I thought it admirable, and still do. There was no singing at our house. My mother played the piano occasionally and my brother and I were given lessons in the violin and mandolin respectively, but somehow it was embarrassing to sing." Oddly enough, W.V. loved the harmonies of The Everly Brothers and at one party made my brothers Jack and James serenade him with a few of the Everlys' hits.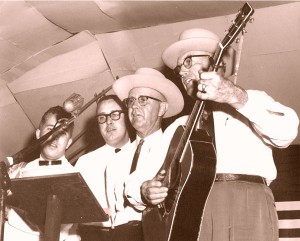 There's no mystery to why so much great harmony singing comes from the bluegrass tradition. Is there any other form of music as communal and democratic as bluegrass? OK, maybe African drumming, or the barbershop quartet. But let's keep the focus on the human voice in its natural state (my apologies to you glee-clubbers and straw-hatters out there). And as much as I love gospel music, it approaches harmony more from the blending of big vocal sections, as opposed to two- or three-part singing.
Of course, the iconic bluegrass image is four or five musicians, straining to sing into the same mic, often with their instruments at their sides. So I guess we can thank technological limitations – or maybe a reluctance to spend a few precious bucks on an extra mic or two – for all the hard work that these musicians put into creating amazing harmonies with strong, distinct and soulful voices.
I've asked my brothers and sisters to give us a few of their favorite examples of harmony vocals. But first, a few thoughts on what it means to sing in harmony…
"When singing harmony, I think it's helpful to narrow your voice a little to help it blend and, if you have a vibrato, lose it," says James. "There are a lot of great harmony singers you wouldn't necessarily want to listen to all night if they were singing alone. Also, a little dissonance is a beautiful thing." Here's one of James' favorites – Tragic Romance, by The Stanley Brothers: Tragic Romance/The Stanley Brothers
"Great two-part harmonies can stand on their own as melodies," says Caroline. "Uninspired harmonies tend to hang out on the thirds or fifths and follow the melody around like a shadow. Melodic harmonies, on the other hand, will stay close, open up, come back — interweave with the melody." A good example is Doc Watson's Your Long Journey (covered by Robert Plant and Alison Krauss on their Grammy-winning album "Raising Sand"): Your Long Journey/The Doc Watson Family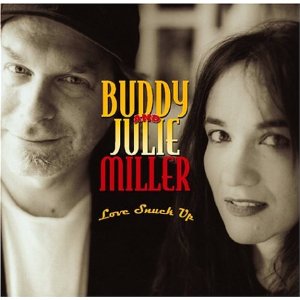 Jack offers some basic, straightforward advice: "Hit the note and make it ring… and pay attention to the phrasing – which was something that acts like Simon and Garfunkel and Crosby, Stills, Nash & Young obviously worked very hard at."
As an example of great harmony singing, Sister Mary points to alternative country favorites Buddy and Julie Miller: "The thing about Julie Miller is the timbre of her voice, which is really extraordinary. She makes the normal country harmonies seem special." Music critic Thom Jurek calls them "the most important duet in country-rock since Gram Parsons and Emmylou Harris." Here's the more rockin' side of Buddy and Julie: You Make My Heart Beat Too Fast/Buddy and Julie Miller
Speaking of Emmylou and Gram, Caroline loves virtually everything they sang together, but especially this one from 1973's "Grievous Angel." In fact, all of us picked at least one song featuring Emmylou, which places her in the newly formed RCR Harmony Hall of Fame. Emmylou went on to a successful solo career post-Gram, staying true to their legacy by recording with great vocalists like Jonathan Edwards and Ricky Skaggs… Love Hurts/Gram Parsons and Emmylou Harris
Jack has a weakness for bluegrass gospel – which probably offers more outstanding examples of harmony singing than any other sub-genre of music. The Stanley Brothers, The Louvin Brothers, Bill Monroe, Jim & Jesse, The Osborne Brothers… They all drew from a big repertoire of gospel songs that they would play at gigs that didn't involve honky tonks and heavy drinking. Jack can sing and play just about all of them, usually with James, Mary and Caroline adding some well-placed harmonies. Here's one of Jack's favorites – Lord Protect My Soul, by Bill Monroe and his Bluegrass Boys. "Monroe's vocal on this one defines the 'high lonesome sound,'" Jack adds… Lord Protect My Soul/Bill Monroe & His Bluegrass Boys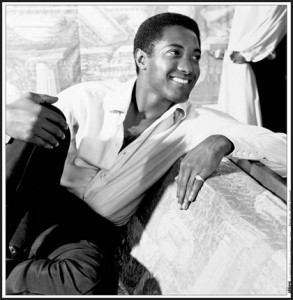 Just to show that it ain't all bluegrass, James singles out Bring It On Home To Me – a soul classic that blends the incomparable voices of Sam Cooke and Lou Rawls. The Rock and Roll Hall of Fame named it one of "500 Songs that Shaped Rock and Roll." This song gets back to Caroline's point: Both parts would clearly stand on their own as great melodies. And the contrast between Cooke's silky soul and Rawl's deep, rich voice only makes it better. Bring It On Home To Me/Sam Cooke with Lou Rawls
In rock, the gold standard remains The Beatles, followed closely by The Beach Boys. But since I live in a landlocked community devoid of sunlight for much of the year, I'll stick with The Beatles. We could argue endlessly about which song best captures the harmonic convergence of John and Paul. I'll just throw this one in so we can move on… It proves that harmonies sound cool even when one person (in this case, Paul) only sings one note: Please Please Me/The Beatles
Former hippie that she is, Mary can't resist the intricate harmonies on Helplessly Hoping by Crosby, Stills and Nash. And, getting back to Jack's comment, the phrasing in this song is just as essential as the harmonies. You don't hear this kind of singing anymore. Hell, Crosby, Stills and Nash don't even sing like this anymore. Time to bring back the bold scent of patchouli mixed with bad weed… Helplessly Hoping/Crosby, Stills & Nash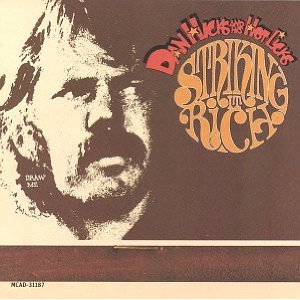 As Caroline and I talked about great harmonies outside of the bluegrass tradition, we both honed right in on one of our favorite musical acts – Dan Hicks & His Hot Licks. Part cowgirl, part Andrews Sisters, and certainly a product of the Sixties underground aesthetic, the Hot Licks' harmonies are simply timeless. I've worn out several copies of "Striking It Rich" over the years… When is some enterprising music exec going to step up and give Dan Hicks' early Blue Thumb recordings the "deluxe remastered" treatment they deserve? You Got To Believe/Dan Hicks & His Hot Licks
Jack believes no discussion of harmony is complete without mention of Charlie and Ira Louvin. "A lot of bluegrass, country and pop artists were inspired by the Louvins, including The Everly Brothers," Jack said. Gram Parsons, Emmylou Harris, The Byrds, Simon & Garfunkel and a whole slew of contemporary country performers owe a huge debt to the masters of "close harmony." Here's a good example, a country hit for the Louvins in 1956: You're Running Wild/The Louvin Brothers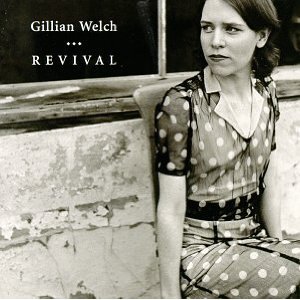 Obviously, Mary's son Dan Auerbach grew up surrounded by a lot of bluegrass and harmony singing. Although he's better known for some of the heaviest riffs in modern rock, he remains a big fan of family duets – especially The Stanley Brothers and The Everly Brothers.  Like the rest of us, Dan also loves the harmony singing of Gillian Welch and her long-time musical foil, David Rawlings.
Although she grew up in West L.A., Welch couldn't get enough of traditional family acts like The Stanley Brothers and The Carter Family. And you couldn't find better accompaniment for her stunning, unadorned voice than Rawlings, who seems to take harmony singing – and guitar playing – to a whole new level. Here's the gorgeous number that opened her 1996 debut, "Revival." Orphan Girl/Gillian Welch with David Rawlings
Nephew Dan and Brother James put on a clinic… Dan and James keep the family harmony tradition alive – from Dan's solo album "Keep It Hid." This was filmed at Dan's home studio in Akron, Easy Eye.