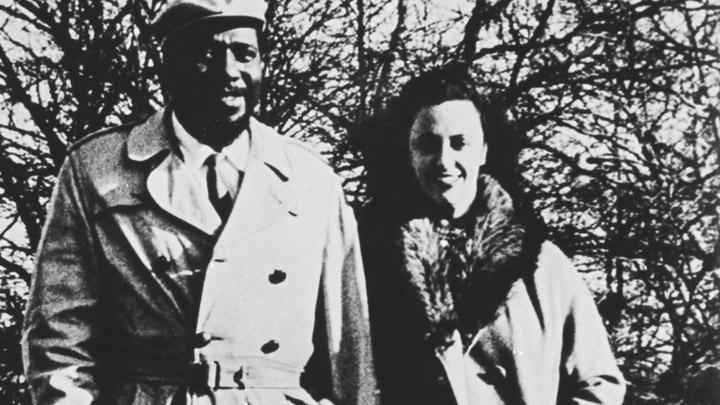 "This is the story of a love affair between a man and a woman whose backgrounds and experiences, whose cultures and class were so different, that the chances of them even meeting were extremely unlikely."
So begins the documentary "The Jazz Baroness," a fascinating look at the 28-year relationship between Pannonica ("Nica") de Koenigswarter – member of the wealthy and powerful Rothschild dynasty – and jazz pianist Thelonious Monk. Written and directed by Nica's great-niece Hannah Rothschild, the film was first broadcast on BBC in April 2009 and now is available on HBO On Demand.
As writer Stanley Crouch points out in the documentary, Nica was "a complete European" while Monk, who he describes as "a Country Negro," was a product of pre-Civil Rights North Carolina and a descendant of West African slaves. How did these two worlds collide?
Nica's great wealth gave her the freedom to travel the world, but her love of American jazz brought her back again and again to New York City, where she became a friend and patron of the form's most important artists. One of her oldest friends was swing pianist Teddy Wilson, who gained fame as a key member of Benny Goodman's small bands.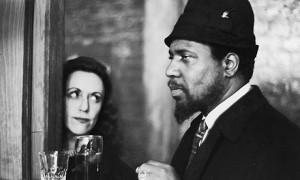 Nica stopped by to see Wilson during a visit to New York during the late '40s. She only planned to stay a few days before heading on to Mexico, where she was living with her husband and family. Wilson told her she couldn't leave without hearing this new record 'Round Midnight. In the film, the wonderful British actress Helen Mirren narrates with Nica's own words: "I couldn't believe my ears. I'd never heard anything remotely like it. I made him play it 20 times in a row… missed my plane and never went back to Mexico." She left her husband in 1951 and made New York City her home. 'Round Midnight
The inevitable meeting of Nica and Monk didn't occur until 1954, when they were introduced by legendary jazz pianist Mary Lou Williams. In the film's second narrative, Hannah adds that Nica and Monk were hardly ever apart for the next 28 years.
"The Jazz Baroness" includes interviews with a number of jazz musicians, writers and enthusiasts, including Crouch, Sonny Rollins, Clint Eastwood, Quincy Jones and Gary Giddins, as well as T.S. Monk Jr. and several of Nica's notable relatives. But jazz drummer and bandleader Chico Hamilton almost steals the show with two gems. First, in just a few seconds of scat-singing magic, he lays bare the difference between swing and be-bop. And in a second clip, he recalls hearing Monk's bass player offer this observation about his boss' unique approach: "Man, I've played with piano players who played all the white keys, and I've played with piano players who played all the black keys. But I never played with no motherfucker who played in between the cracks."
Here's Monk, playing in between the cracks: Little Rootie Tootie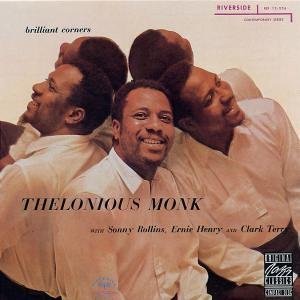 Nica was a beloved figure among jazz musicians, especially those who benefited from her patronage. More than 20 songs have been written about her – Nica's Dream, Thelonica, Blues for Nica, Tonica, Nica Steps Out… but the best belong to Monk. Suitably, his crowning achievement is Pannonica, from his thorny masterpiece "Brilliant Corners." It features Rollins on sax and Monk on celeste – an odd choice for jazz, but maybe the perfect instrument to capture the essence of a name that Nica's eccentric father first gave to a new species of butterfly. Pannonica
Thankfully, "The Jazz Baroness" offers nothing in the way of sensational, E! Network-style confessionals about the nature of Monk's relationship with Nica. Monk would balk at suggestions that they were anything other than close friends. But his son T.S. makes the bold statement that Nica "fell in love with my dad – I have no doubt about that… She was profoundly moved by his music and personality. He was a good-looking cat… She was a hottie…" And that's about as far as it goes. Obviously, Hannah Rothschild knows how to play in between the cracks too.
In fact, she offers the theory that Monk's long-time wife, Nellie, might have appreciated Nica's helping hand in dealing with a full-blown manic-depressive – an illness that only worsened in Monk's later years. The film claims that Monk was diagnosed as a schizophrenic and received electroshock treatments during a stay in San Francisco.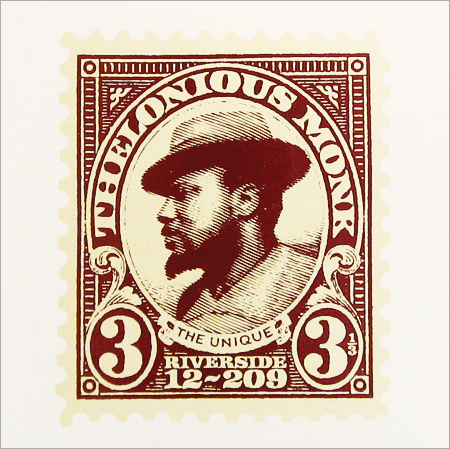 Nica remained unshakably devoted to Monk throughout the rest of his life. She even took the rap for drug possession ($10 worth of weed) when she was pulled over while driving Monk and sax player Charlie Rouse to a concert in Wilmington, DE. Nica faced a possible sentence of three years in jail followed by deportation, but managed to get off on a technicality. "His protection is at the root of the whole business," she later explained, knowing that her race and wealth gave her a far greater chance to prevail in court.
Nica's influence also helped secure a long-standing and legendary gig for Monk at New York's Five Spot Café. Here's a 1958 recording from the Five Spot featuring "the Little Giant" Johnny Griffin on tenor sax, Ahmed Abdul-Malik on bass and Roy Haynes on drums: Rhythm-A-Ning
By the 1970s, Monk's mental illness became far more debilitating.  He eventually moved into Nica's cat-filled house in Weehawken, NJ, and lived there until his death from a stroke in 1982. During his final years, he stopped playing altogether and spent most of his time in bed, surrounded by books, magazines and records. "He wanted to get well more than anything in the world," Mirren narrates as Nica. "He cooperated with his doctors 100 percent and tried everything under the sun, but nothing seemed to help. I only regret one thing in my life, and that's not being able to save Thelonious."
Hot New Artist: Thelonious Monk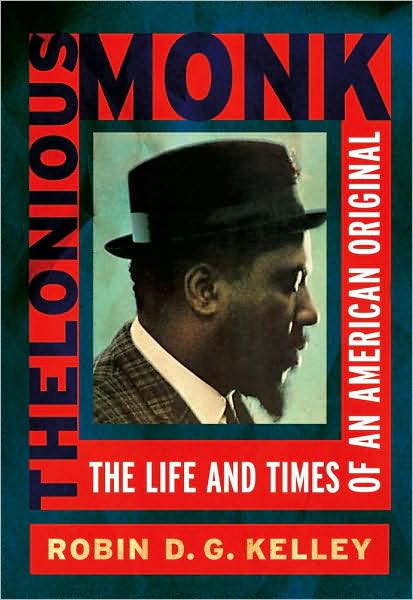 "The Jazz Baroness" wasn't the only major work about Monk's life and music that debuted in 2009. We also could feast on author Robin D. G. Kelley's exhaustive labor of love, "Thelonious Monk: The Life and Times of an American Original." And I'm digging right in, because 608 pages seems hardly enough to cover one of the most important composers and performers of the 20th Century.
I'm only about 100 pages in so far, but the book already has debunked several widely held myths about Monk and his music. Here are just a few…
Myth: Monk was an idiot-savant – a jazz "outsider" artist who simply channeled his strange muse and received very little in the way of a formal education in music.
Reality: Monk was well-read, took advantage of the best musical training his community offered, was a master of the traditional "stride" piano style, and could play classical compositions by Chopin and Rachmaninoff. In other words, he worked hard at his craft.
Myth: Monk's sparse, deliberate style wasn't a musical choice – he didn't have the chops to play any faster.
Reality: Monk could play blazingly fast if he wanted to, and would occasionally cut loose with Art Tatum-like passages to prove his point with fellow musicians.
Myth: Be-bop was fully formed during Monk's stint as house pianist at the famous Harlem nightclub Minton's Playhouse.
Reality: Many participants in the Minton jam sessions were swing musicians who struggled with the new form – so the recordings that survived could hardly be described as be-bop.
I'm sure I'll have a few more to add as I continue to plow through Kelley's book. In the meantime, I'll leave you with this performance of Epistrophy from a concert in Paris, 1966. Listen to Monk's powerful left hand in the opening… a nod to past masters, like the great stride player Willie "The Lion" Smith?