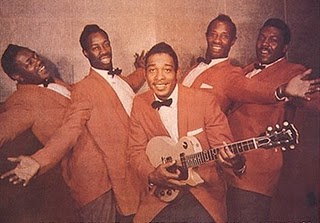 Think of the many streams that flow into that big river called early rock 'n roll – blues, gospel, R&B, doo-wop, country… You can hear all of those influences and maybe a few others (Southern Gothic?) in the music of The "5" Royales, one of the greatest and most overlooked acts of the Fifties and Sixties.
Even if you've never heard of The "5" Royales, you're probably familiar with their work. The Mamas & The Papas turned one of their most popular songs, Dedicated To The One I Love, into a massive hit in 1967 (topping The Shirelles' version from six years earlier). James Brown scored his first Top 40 hit in 1960 by turning up the heat on The Royales' slow-burning original Think. And Ray Charles' last hit for Atlantic Records was a 1960 cover of the band's R&B classic Tell the Truth (with vocals by Raelette Margie Hendrix).
But those songs just scratch the surface of this band's amazing legacy, which remains buried under an avalanche of reissues involving far-less-deserving artists (good luck finding Rhino's two-disc Royales anthology "Monkey Hips and Rice" – a thing of great beauty and majesty – but how about four discs devoted to one shitty album, "Band on the Run"?).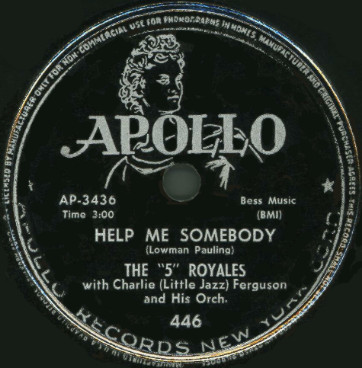 Time for our mandatory background check… The nucleus of The "5" Royales was formed in Winston-Salem, North Carolina, which also gave us Camel cigarettes, Krispy Kreme doughnuts and John Tesh (sorry, took a side-trip to wikipedia). And the band's roots were decidedly in the gospel tradition.
The Royales' signature sound was built around two members in particular – songwriter and guitarist extraordinaire Lowman Pauling and wailing lead vocalist Johnny Tanner. Pauling and Tanner started singing together in a gospel group called The Royal Sons. That band eventually included vocalists Otto Jeffries, Jimmy Moore and Obadiah Carter – the starting lineup along with Pauling and Tanner when The Royals became The "5" Royales in 1952 (pronounced roy-ALS, with the quote marks used to account for an early six-man lineup that included singer Johnny Holmes).
Here's a gospel number recorded by The Royal Sons in New York City and released by the Apollo label in 1952: Let Nothing Separate Me
But The "5" Royales started to gain some traction with a tougher, R&B based sound – and songs covering topics that you don't hear about in church: Right Around the Corner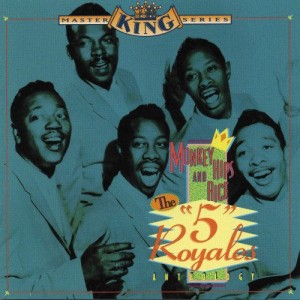 That tune was written by a couple of staff writers at Cincinnati-based King Records, where The Royales landed in 1954. But the vast majority of the band's songs came from Pauling, who combined a keen wit with an uncommon sense of drama. A few of his tunes – most notably, Monkey Hips and Rice – had unlikely sources of inspiration, as Ed Ward points out in his generous liner notes to the Rhino anthology:
"One day on tour, the group was eating in a luncheonette when a customer cracked the place up by coming in and announcing in a loud voice, 'Just gimme a plate of those monkey hips and rice.' A light went on in Pauling's eyes, and there was their next new song. Certainly punishing poor Geneva by beating her 'down and down' with a chair is uncalled for, but it probably should be taken in the same cartoonish spirit as the meal. (Next time you're near a monkey, check out how much meat you'd get off its hips.)" Monkey Hips and Rice
The "5" Royales recorded a number of jump blues classics in the early Fifties. But the band entered a different realm in '57 when Pauling began to cut loose on guitar. The sound of those gospel-infused vocals framed by Pauling's gutbucket guitar is one of the great joys of rock 'n roll, and you really don't hear that sound anywhere else. It's the perfect fusion of all those influences I mentioned up front, with no compromises and nothing diminished. Pauling's blues is just as powerful as Tanner's churchy vocals. Call it pure American soul: Say It
Speaking of soul, that tune betrays a far deeper side to Pauling's songwriting – one that had little to do with clever phrases and double entendres. As Ward points out, "You just can't put something like this out and expect those happy teens to snap it up." Which might help explain why The "5" Royales remain virtually unknown while the teen idols who followed (Frankie Avalon, Fabian, Connie Francis, etc.) are still household names.
King managed to score a minor hit earlier in '57 with Think. I was familiar with J.B.'s version long before I found the "Monkey Hips" anthology in a Lexington record store (god bless CD Central), so I was floored when I first heard the rocking, mid-tempo groove of the Royales' original, punctuated by some nasty riffs from Pauling's guitar. Don't get me wrong – can't do without the Famous Flames. But the original is an equally satisfying slice of wonder: Think
At this point, I should mention that Pauling was a big influence on a young Steve Cropper, who generously credited his mentor – and Pauling's playing on Think in particular – when Cropper was earning his reputation as the king of soul guitar in the '60s.
"I think it was Lowman's licks and stance that were unforgettable to me," Cropper said (from 429 Records). "He had a way of weaving his fills in when there was a hole in the melody and vocal, then he would get right back to the rhythm. Early on, I drew my rhythm influences from Bo Diddley, whose solo picking I loved, but Lowman did a lot of stuff that no one could really duplicate. As cool as it was to see the way he worked with the strap live (Pauling would use a long strap to keep his guitar real low – down by his knees – then cradle his axe and let the strap hit the floor when he played leads), he was good to listen to on record too because of those amazing fills. As I began working as a session guitarist, I applied a cardinal rule that I learned from watching and listening to Lowman. You don't step on top of the singer. You're there to lend support until your time for a solo comes up."
Although they didn't light up the charts in the late '50s, The "5" Royales fit right in with King Records's fearsome stable of artists, including James Brown, Hank Ballard and Little Willie John. King's long-time producer, Henry Glover (who also worked with the band at Apollo), seemed to understand how to capture the essence of a band that, by all accounts, was tearing it up on stage damn near every night.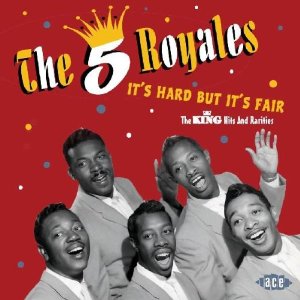 Like most of the essential King releases of the era, there was little attempt to smooth out the rough edges. Glover and the label's head, Syd Nathan, knew their audience – primarily urban blacks who wanted the real deal, not some lame imitation of what they were hearing in the clubs.
With Pauling's guitar cranked up in the mix, The "5" Royales churned out an impressive (if largely ignored) body of work following the birth of rock. It's hard to imagine how they missed anyone's attention when you hear the original version of Dedicated To The One I Love. Johnny Tanner's brother Eugene takes the lead vocals on this one, and I can't decide what I like more – his great performance or Pauling's meaty fills on guitar. Kind of makes you forget all about Mama Cass: Dedicated To The One I Love
As commercial success continued to elude them, various band members came and went in the early Sixties – and by 1965 the band was finished. Pauling struggled with alcohol and died of a seizure in '73 (he was working as a night watchman in a New York City church). Other band members left secular music behind for good, including Johnny Tanner, who was the director of the senior choir at the St. John CME Church in Winston-Salem until he passed away in 2005.
Although nominated in 2002 and 2004, The "5" Royales have yet to be inducted into the Rock and Roll Hall of Fame. Abba was inducted last year. Do I really need to explain what's wrong with this picture?
No videos that I could find of The "5" Royales in their prime… But I included this static-image clip for three reasons: 1) good sound quality; 2) more great guitar by Pauling; and 3) rock critic Dave Marsh named this song one of "the top 1001 singles of all time" in his book The Heart of Rock and Soul.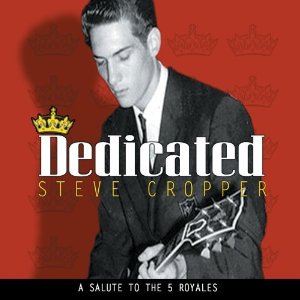 "Dedicated," Steve Cropper's all-star tribute to The "5" Royales, will be released August 9 on 429 Records. Special guests include B.B. King, Delbert McClinton, Bettye LaVette, Buddy Miller, Lucinda Williams, Steve Winwood, Sharon Jones, Shemekia Copeland… I'm already wondering how they're going to pull this off. Here's how Cropper describes the experience: "…if I can get (young people) interested in The '5' Royales, I've done something. Lowman Pauling was a major influence on me, and I think what I got out of his playing was that as a one-man guitar he was able to play rhythm and then when it was acceptable, play fills or a solo. And I think that I carried that with me through my Stax days and most of the records I'm known for playing on, it's that style of being one man on a session. His music is youthful, original, and full of spirit so that's why I let his style influence me. It's been the most fun I've had making a record in a long time." Look for spirited remakes of The Slummer The Slum (Buddy Miller), Dedicated To The One I Love (Winwood and Williams), Say It (LaVette), Right Around The Corner (McClinton) and Think (recast by Cropper as an instrumental). I'll give it a few listens and report back in a future post. Check here for a nice interview with Cropper about the project.