Here's the deal with retirement: If you have any OCD tendencies, they only get worse when you're faced with a relatively large amount of free time (or, as my Christian friends call it, The Devil's Playground). Which probably explains my recent obsession with classic, old-school, made-in-'merica soul music.
I won't rock any boats by noting that the two dominant strains of classic soul emanated from Memphis — occasionally filtered through the studios of Muscle Shoals — and Detroit (I'm partial to the former's gospelly, gritty vibe, but I also dig a whole slew of Motown hits). Fact is, record collectors in virtually every major city in the U.S. can offer up their own examples of prime, homegrown soul — mainly to keep hopeless nerds like me searching for them.
My latest trip down the rabbit hole started when I came across an incomplete set of Rhino's long out-of-print Beg, Scream & Shout! The Big Ol' Box of '60s Soul. This is the motherlode, my friends… and the beauty of this sweet, bountiful box is the way it seamlessly blends the obvious (James Brown's Out of Sight) with the obscure (Tony Clarke's The Entertainer). It also serves as a tribute to former Rhino executive Gary Stewart, who passed away last month (Stewart helped curate the Big Ol' Box along with a wide range of other musical treasures from the label).
Sheer joy… That's the easiest way to describe the only hit from Bull & The Matadors, who hailed from East St. Louis and recorded for the minuscule Toddlin' Town label. I love the Three Stooges-like layered harmonies (that final goofball voice just kills it!). And god bless the producer (or did they even have one??) for keeping the feedback at the end. I can't imagine Motown's Berry Gordy green-lighting anything as wild as this… The Funky Judge
Then again, I have to admire Gordy for showing a little love for Alabaman Shorty Long, a multi-instrumentalist who briefly served as an artist and producer for Motown's blues-based subsidiary, the oddly named Soul. Long's first release, Devil With The Blue Dress On, eventually became a huge hit for Mitch Ryder and the Detroit Wheels. But I can't get enough of this funky gem, which should've made it a lot further than #42 on the R&B charts in 1966: Function at the Junction
The Big Ol' Box showcases about a half-dozen artists from the Windy City, so of course that led me to another first-rate collection that won't show up on anyone's Spotify feed — Chess Soul: A Decade of Chicago's Finest. Yes, the label that gave us Muddy Waters, Howlin' Wolf and Sonny Boy Williamson also churned out more than a few songs that can hold their own with Memphis' mighty Stax-Volt catalog. Case in point: this sassy duet featuring Sugar Pie DeSanto and the late, great Etta James… Do I Make Myself Clear
Cleveland's greatest contribution to soul music: Bobby Womack. Although Sam Cooke signed Bobby and his brothers to his SAR Records label in 1960 as a gospel act, he eventually changed his mind and encouraged them to record more worldly material (most notably, the well-covered hit It's All Over Now) as The Valentinos. Cooke's tragic death in '64 could've derailed the band's career — especially when Bobby caused a minor stir by marrying Cooke's widow — but they recovered in time to record several deep-soul nuggets for Chess. Bobby's guitar playing was every bit as soulful as his singing, as evidenced by this cut from '65: What About Me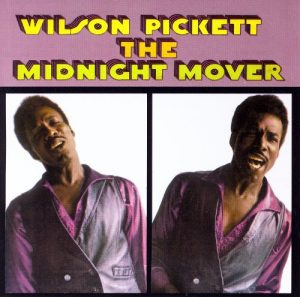 Let's not forget Bobby Womack's legacy as a gifted, genre-hopping songwriter. His tunes were covered by a surprisingly wide range of artists — the Rolling Stones, Janis Joplin, the J. Geils Band, Aretha Franklin, the Neville Brothers… even George Benson (the mega-hit Breezin'). And several of the originals he recorded under his own name (especially Across 110th Street and Woman's Gotta Have It) belong in any self-respecting soul collection. Here's a tune he co-wrote with Wilson Pickett… Both artists recorded it, but the Wicked One's snarling take really delivers the goods: I'm a Midnight Mover
When you consider the amazing soul music catalogs at Stax-Volt and Atlantic, it's easy to overlook the contributions of smaller labels such as Willie Mitchell's Memphis-based Hi Records. Then consider how a first-rate talent like Syl Johnson was overshadowed by the heavenly aura of his Hi label-mate, Al Green. Well, we're here to share some love for Johnson, who gave us the stone-cold soul classic Any Way the Wind Blows. In fact, let's dig a little deeper into his stuff — specifically, a wonderful collection of keepers he recorded from 1967 to 1972 for Chicago's small Twinight label. Here's one of my favorites from Johnson's Twinight era: Same Kind of Thing
A proper overview of American soul wouldn't be complete without a side-trip to New Orleans to sample some of the form's most distinct and funky standard-bearers. In a more perfect world, Johnny Adams would be a household name (I'm sure Tom Jones would shudder at the thought of sharing the stage with the man they called The Tan Canary, a tribute to the stunning range of Adams' voice). As a fellow music blogger noted, "he could sing the recipe for Won Ton soup and sell it." This steady-rolling single for the Ric label in 1961 was co-produced by Dr. John and features the able backing of Edgar Blanchard and his Gondoliers (a truly NOLA-esque moniker!). Life is Just a Struggle
Ah, old-school soul. How doth I manifest my love for thee? Let me bring it down to the basics: the drive and energy of rock 'n roll… the depth of the blues… the playfulness of post-war R&B… the boundless spirit of gospel… the simple eloquence of country… These mysterious, life-affirming forces could only slam together in America, folks. So let's get a little patriotic here (in a very diverse, un-Trump-like manner) by closing with Arthur Conley's soul-power anthem: Sweet Soul Music
Wilson Pickett brings that sweet soul vibe to a German audience in 1968:

Bobby Womack with his brothers Cecil, Curtis and Friendly on TV's Midnight Special, 1974:

Etta James brings a healthy dose of attitude to the Newport Jazz Festival, 1991: