In the early 1980s, I lived in Cincinnati and edited one of those free entertainment newspapers you see blowing through the streets of big cities throughout the country.  The following piece borrows heavily from an article I wrote back then about one of America's greatest independent labels, King Records.  Its huge catalog includes seminal recordings by some of the most important artists of the Forties through the Sixties – ranging from the hard, lonesome sound of the Stanley Brothers to the heavy funk of James Brown.
A few notable events have occurred since I wrote the original article:  1) The city of Cincinnati got its act together and put up a historic marker in 2008 where King Records once operated (a good start); 2) Shad O'Shea, a former radio personality, studio owner and raconteur, passed away in June; and 3) the King catalog (minus James Brown's recordings, which are owned by Polydor) is now being reissued, although in a somewhat haphazard manner, by Collectables Records.
A future post will focus on Cincinnati's Fraternity Records – home of flame-throwing guitarist Lonnie Mack. 
King Records
In 1943, Cincinnati had become an industrial hub that attracted poor Appalachian whites, along with an already burgeoning population of blacks from the South.  Not only did both groups share the same jobs, they also shared an intense love of the regional music traditions they grew up with.  Syd Nathan must have realized this fact.  That same year, the asthmatic, near-sighted hustler closed the book on a series of dead-end jobs (wrestling promoter, park concessionaire, refrigerator salesman, record retailer) by founding his own record company, which eventually moved into a former icehouse at 1540 Brewster Ave. in the city's Evanston neighborhood.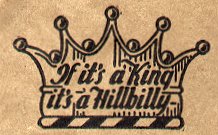 The origins of King Records coincided with the initial broadcasts of what later became Cincinnati's answer to Nashville's Grand Old Opry – WLW's "Midwestern Hayride."  And many of the artists that were featured on the Hayride eventually wound up on Nathan's fledgling label.  Within a couple of years, King had become one of the most influential country labels nationwide, with a roster that included the likes of Grandpa Jones, Cowboy Copas, Moon Mullican, Hank Penny, Hawkshaw Hawkins, the Delmore Brothers and many others.  And most of it was pure, unfiltered country – a formula Nathan stuck with for most of the label's existence.  Here's a gospel-flavored number from 1960 by the legendary bluegrass duo the Stanley Brothers… Rank Stranger/The Stanley Brothers
Nathan didn't just stop there, though.  During the early years he also released a number of records under the "race" category – a term used to describe records aimed specifically at blacks.  These records featured the citified sounds of jump blues and boogie-woogie, and are considered to be the forerunners of rock and roll.  Tiny Bradshaw, Eddie "Cleanhead" Vinson and Ike Turner all scored R&B hits with King, as did blues crooners such as Bull Moose Jackson and Ivory Joe Hunter.  Here's one by Cleanhead, whose unique brand of risque rhythm always seemed to find its way onto a barroom jukebox… Sittin On It All The Time/Eddie "Cleanhead" Vinson
You get the idea… Nathan's true forte, however, was his practice of covering country hits with R&B artists, and vice versa.  The York Brothers, a country duo that recorded for King in the late '40s and early '50s, covered several of the era's R&B hits and predated Sam Phillips' work on Sun Records with Elvis Presley and Jerry Lee Lewis by several years.  Likewise, R&B acts such as Bull Moose Jackson and Wynonie Harris successfully re-recorded country hits by Wayne Raney and Moon Mullican, among others.  Wynonie scored a hit in 1951 by covering a tune recorded the previous year by Hank Penny (the tune also has been covered by western swingers Asleep at the Wheel, which makes sense, and rocker Pat Benatar, which makes no sense at all).
And here's the flip side of the equation as the "King of the Hillbilly Piano Players," Moon Mullican, cuts loose with a number by R&B bandleader Tiny Bradshaw… Well Oh Well/Moon Mullican
Although Nathan's intentions were not totally artistic (he only covered hits by his own artists, which he owned all publishing rights to), his musical juggling act earned him a reputation as an innovator.  "Syd had a number of theories when it came to recording" said Col Jim Wilson, a salesman and, later, executive V.P. who worked with Nathan from King's inception until 1965.  "He once said, 'Give me the material, and I'll find the artist,' so he placed great emphasis on that.  At the same time, he always seemed to find artists with very distinct and readily identifiable styles.  Every King artist was unique in one way or another."
Wilson, who eventually joined Starday Records in Nashville and helped orchestrate the purchase of King, also gave a lot of credit to the facilities themselves.  "King's studio was the first of its kind in the country.  Recording, mastering, plating, printing, pressing and shipping were all done in the same building.  You could cut a record at night, and the next day it would be in the hands of a local DJ."
At first, Nathan separated the R&B from King's mainstay, country, by using different labels such as "Queen," "Federal" and "De Luxe" for his race records.  In the '50s, however, he combined all of his acts under the King label, with greater emphasis on black R&B.
The first acts to score big for King in the '50s were the vocal groups – the Dominoes (featuring Clyde McPhatter), the Charms (later Otis Williams and the Charms) and the Midnighters (later Hank Ballard and the Midnighters).  Sixty Minute Man, the Dominoes' Number 1 hit in 1951 that featured the refrain "I rock 'em, roll 'em all night long," is considered by some to be the first true rock and roll record. Sixty Minute Man/The Dominoes
Midnighters' hits such as Sexy Ways, Work With Me Annie and Annie Had a Baby made many listeners blanch with their sexually suggestive lyrics, but still worked their way up the charts.  As a bandleader, Hank Ballard later broke through with the classic party singles Finger Poppin' Time and Let's Go, Let's Go, Let's Go – both from 1960.
The jump blues of the late '40s led to the early rock and roll instrumentals of the '50s, such as organist Bill Doggett's Honky Tonk – one of those perfect songs that should be pre-loaded on every iPod.
Nathan also unearthed the raw talents of Little Willie John (of Fever fame) and Little Esther, who went on to even greater success as Esther Phillips.  Listen to Little Willie tear it up on this cut from 1960… You Hurt Me/Little Willie John
"Commercial black music was born in Cincinnati," said Shad O'Shea, a local radio personality who also ran Counterpart Creative Studios.  "Nathan was a true originator.  He was responsible for making black music available to whites.  Berry Gordy (of Motown), who gets a lot of the credit, simply prostituted a lot of the black R&B by 'sweetening' it up for white tastes."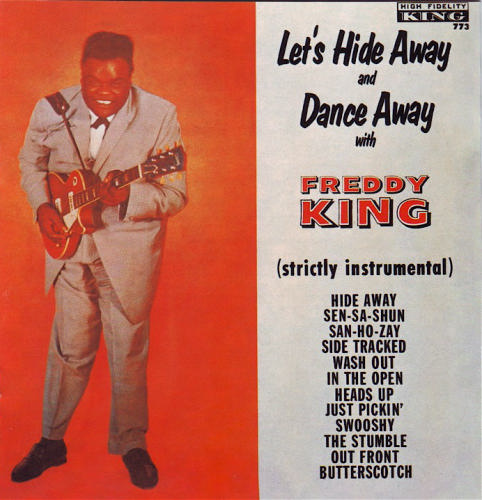 King also released singles and albums by some of the era's top blues artists – including John Lee Hooker (who recorded as "Texas Slim" on King's Federal subsidiary and "Johnny Lee" on De Luxe), Johnny "Guitar" Watson, Champion Jack Dupree, Albert King and Freddie King.  Freddie's sides are among the most unique and satisfying in the King catalog – especially his "surf-blues" instrumentals that clearly informed a young Eric Clapton (who recorded a spot-on version of Hide Away with John Mayall's Bluesbreakers).  I highly recommend all of Freddie's recordings on King, but decided to feature this wild instrumental workout from 1950 by Hooker, who sounds like he's bashing out the first power chords ever caught on wax! Slim's Stomp/Texas Slim (John Lee Hooker)
King's ace in the hole, though, was a young black dynamo from Augusta, GA, who recorded his first single at the Brewster Ave. studio in 1956.  Please, Please, Please laid the groundwork for the remarkable career of "Soul Brother Number 1" – James Brown. Please, Please, Please/James Brown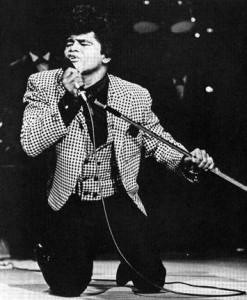 Although Brown's early records for King eventually became R&B and funk classics with their gritty, unabashed drive, they couldn't compete on the pop charts with more polished efforts by artists such as the Platters and the Coasters.  One of the reasons for Brown's relative holding pattern in the late '50s and early '60s may have been that King Records, already beyond its heyday by the turn of the decade, was unable to promote an artist of Brown's stature.  Whatever the reason, Brown ended up in a tense legal tug-of-war with Nathan and his label, resulting in him being given complete artistic control of his recordings by 1965 – virtually unheard of at that time.  And that same year, Brown took off with the song that made him an international phenomenon – Papa's Got a Brand New Bag. Papa's Got a Brand New Bag/James Brown
Brown continued with King through the '60s, even after Nathan's death of a heart attack in 1968.  The label was eventually sold to Starday in Nashville, and Brown went on to form his own record production company with distribution handled by Polydor.
Today, the city of Cincinnati is finally recognizing one of its greatest contributions to the rest of the world.  Hopefully, the city's true faithful will keep that legacy alive by succeeding in their efforts to build a new studio and King Records museum near the former icehouse on Brewster Avenue.
Another Christmas gift from Rubber City Review… Want to dance like J.B.?  As Brother Jack would say, there is help.
OK, I couldn't resist adding some Freddie to the end of this… Enjoy! Walk Down the Aisle (Honey Chile)/Freddie King