I'm guessing only a few of you watched Mike Judge's weird and wonderful tribute to American roots music, Tales from the Tour Bus (possibly the only reason to seriously consider subscribing to Cinemax). If you were fortunate enough to climb on board, you probably experienced a little whiplash when Judge veered away from the strange and often hilarious pursuits of honky tonk legends such as Johnny Paycheck and Waylon Jennings in season one and drove headlong into a fairly serious look at what might be our country's greatest musical export — funk.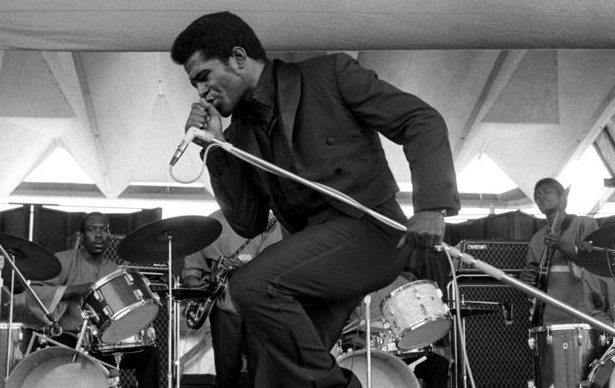 Kind of a ballsy move when you think about it. How many of you can truthfully say you care deeply about both forms of music? (I do, but I'm seeking professional help for this and several other personality disorders.) Eh, doesn't matter… By the time Judge got around to James Brown in season two, I had no problem connecting the dots from the deep, backwoods soul of George Jones to the heavy funk of J.B. and his Famous Flames.
I also felt this overwhelming need to revisit (and expand) my own collection of prime American funk — mainly from the late '60s and '70s… but I also have several favorites that, miraculously, were recorded in this century. Following are just a few tunes that have worked their way into my go-to funk playlist.
Unlike Elvis and the originators of rock, James Brown was absolutely killing it from '55 through the mid-'70s — so if you want all of his best stuff in one place, good luck. The Star Time box set (issued in 1991) offers a fantastic overview of Brown's career, but the sonics are fairly lame by today's standards. For better sound in a tighter package, try The 50th Anniversary Collection… but don't expect any of his band's legendary extended workouts (you can't cram 50 James Brown hits on two CDs without using edited versions of Cold Sweat, etc). If you want to hear the band really stretch out, you need to look elsewhere — specifically, Funk Power 1970: A Brand New Thang, featuring the Original J.B.'s with Cincinnati's Bootsy and Catfish Collins. That's where I found this blazing-hot version of Give It Up and Turnit A Loose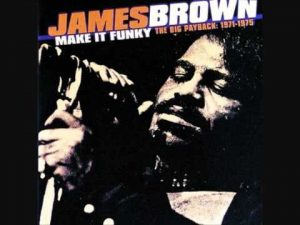 Another good source of prime J.B. is Make It Funky: The Big Payback 1971-1975 (post-Bootsy). My daughter loves hip hop, so I tried to educate her on Brown's vital contribution to the form… something along the lines of "hip hop and rap — and before that, Prince and Michael Jackson — wouldn't even exist without J.B. and his band." Spoken like a true fogey, so of course that comment dropped like a turd into a punch bowl. I could've talked about Brown's emphasis on The One, but that would've involved a far-lengthier discussion (see video at the end of this post). So maybe I should've just offered this: Before J.B., bands had rhythm sections, various solo instruments (piano, sax, guitar) and usually at least one singer. Brown had the sheer genius to turn his entire band into one big rhythm section, which basically describes any funk song that's dancefloor-worthy. Make It Funky includes a nearly 13-minute version (Parts 1, 2, 3 and 4!) of the title song — probably too much J.B. for most humans. But I found it mesmerizing, especially when Brown throws out the whole funk formula toward the end by goading his guitarist, Robert Coleman, to "give us a little bit of B.B." This ain't B.B., but it sure is funky: Make It Funky (guitar solo)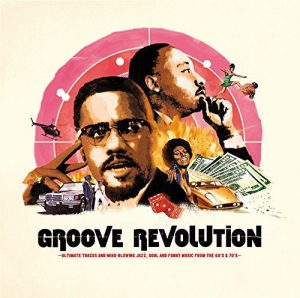 Several of the new cuts in my funk playlist came from a 4-CD set from France called Groove Revolution — "ultimate tracks and mind-blowing jazz, soul and funky music from the '60s and '70s." The French may not know how to market this shit, but they definitely have good taste! My copy didn't come with any liner notes (probably a good thing), but I now have four more hours of classic funk in my collection — including this little slice of goodness from the late Bay Area artist Darondo (known to his parents as William Daron Pulliam). If anyone knows who's playing harp, please illuminate me… Get Up Off Your Butt
Also from Groove Revolution: this funky-ass tune by Millie Jackson. Millie went on to become the Queen of Raunchy Soul, mainly due to her X-rated banter between songs — a tactic she used to keep hard-drinking club patrons interested in her act (that raunchy dialogue often focused on cheating, lying, longing and other affairs of the heart and eventually earned her another dubious title, the Godmother of Rap). But back in 1973, Millie was just trying to gain a foothold in the music business by recording first-rate soul and funk, often with the help of Muscle Shoals' legendary Swampers. Here's a standout cut from her second album, It Hurts So Good: Two-Faced World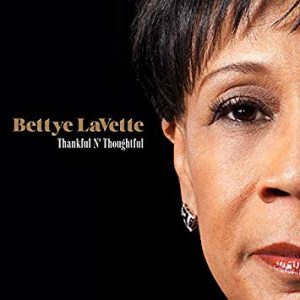 Millie often lamented that she should've crossed over to rock, much like her contemporary, Tina Turner. She probably should've taken a few tips from Bettye LaVette, who may not be nearly as famous as Tina but, in my book, has consistently delivered a far more satisfying mix of funk, rock, soul and a few other spices. If you're looking for the gold standard on how to funk up your rock 'n roll, try this churning, burning workout from LaVette's 2012 release Thankful N' Thoughtful: I'm Tired
So many unsung heroes in the history of funk (Judge spends an entire episode showcasing singer Betty Davis, a former fashion model and Miles Davis' ex-wife… apparently her explosive sexuality as a performer and songwriter was way too hot for the black status quo to handle). Hailing from the nation's capital, Sir Joe Quarterman and his band Free Soul cut exactly one album during their brief music career, but it was enough to launch this minor funk classic, which reached the R&B Top 30 in 1973. But when Quarterman couldn't follow up with another album or hit, he decided to quit the business and earn a degree in architecture. As Johnny "Guitar" Watson would say, ain't that a bitch… (I've Got) So Much Trouble in My Mind
Speaking of Watson (we sang the praises of his funk era here), I used to play in this club that always ended the night by cranking up Bow Wow on its surprisingly robust PA system. Mind you, this followed four straight hours of high-volume, horn-driven soul… but somehow Johnny Guitar (even backed by what sounds like an '80s-era drum machine) made the whole cable-coiling and amp-humping experience seem far more pleasurable. Yippie-yow, yippee-yo yippie! Bow Wow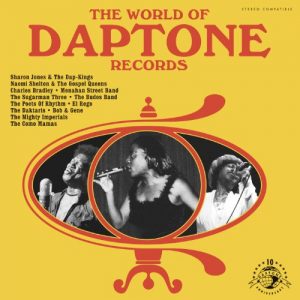 Let's close this out by thanking our personal deities for Brooklyn's Daptone Records, which has done all of us an exceptional service by keeping the funk alive in the 21st Century. It's been a tough slog for the label in recent years with the untimely passing of its two biggest stars, Sharon Jones and Charles Bradley. But others have stepped up to help fill the void, including the great British soul singer/guitarist James Hunter (signed by Daptone in 2016) and a rotating cast of ace studio musicians. Even the label's co-owners, Gabriel Roth and Neal Sugarman, are part of the musical mix. You can hear the latter's sax on this cut by The Sugarman 3 — another funky gem that demonstrates the power and majesty of The One, James Brown's greatest contribution to American music (again, the video): Chicken Half
Tales from the Tour Bus: Season 2 trailer…

This PBS clip with Nahre Soul (keyboards) and L.A. Buckner (drums) explains how James Brown used The One to invent funk:
Millie Jackson live, if you're still wondering what all the fuss is about. Let's just say even in his lustiest moments, Prince had nothing on Millie.

Final shout-out to Columbus' Royal Crescent Mob (hey Happy Chichester!) for giving me a whole new appreciation of '70s-era J.B.