Can't tell what's putting off more heat: the baked leather of my car seat or this bad boogaloo on my stereo.
Brother James and I had a ball putting together RCR's post on Latin boogaloo, and I was glad to see it get new legs over at iCrates. But the best part of the assignment was revisiting some of the essential stuff that somehow got buried in my own collection (including more than a few items I stole from James' stash).
That process of discovery rarely ends when I hit the "publish" button. It only makes me keep looking for other lost treasures – like those found on "The Soul of Spanish Harlem" (Beat Goes Public), a curious collection of boogaloo and Latin pop numbers from the late '60s and early '70s. Some of the songs on this disc are more interesting as odd artifacts from the era rather than as first-rate examples of Latin soul. But a handful fall under the category of "highly flammable," including this dangerous little number released in '71 on the NYC-based Fania label: Crying Time/Monguito Santamaria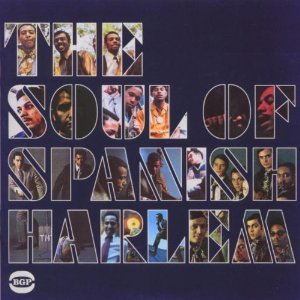 The leader on that date is Mongo Santamaria's son, Monguito. Most Latinophiles would regard him as a member of Fania's A-team. But the nasty guitar is from an unexpected source – Eric Gale, who made a name for himself in the '70s primarily playing light jazz, both as a solo artist and as part of the all-star band Stuff.
As Dean Rudland's expansive liner notes point out, Crying Time appears on an album that sort of lost its way in the legendary Fania catalog: "When Santamaria came to make his next album, 'Blackout,' the boogaloo craze was on the wane and the album became a somewhat schizophrenic blend of nascent salsa and pure Latin soul… Santamaria has said that originally the tracks were going to be split with one side of each sort of music, but that the idea was abandoned. It seems that Monguito held the band from 'Blackout' in high regard (along with Gale, it included Ronnie Marks on vocals, Monguito and Richard Tee on piano, Chuck Rainey on bass, Jimmy Johnson on drums, and a fearsome horn section – Bobby Porcelli, Martin Banks and Barry Rogers), but that he abandoned the Latin soul side for the more popular salsa…"
So in one album, you can track the fall of boogaloo and the rise of salsa. Too bad… I could use about a dozen more tunes like Crying Time.
My other favorite cut on "The Soul of Spanish Harlem" is by singer and pianist Joey Pastrano – who, as Rudland points out, became one of Fania's stars on the strength of the seven-minute single That's How Rumors Start. It features some wonderful call-and-response between Pastrano and his backing vocalists – including Tony Pabon and Tito Ramos, who previously sang for Johnny Colon and eventually busted loose as the appropriately named TNT Band: That's How Rumors Start/Joey Pastrano
As long as we're in a Latin groove, let's pay tribute to the great Cuban guitarist Manuel Galban, who passed away on July 7 at the age of 80. In previous posts, we included a cut from a Grammy award-winning project by Galban and Ry Cooder ("Mambo Sinuendo"), as well as a song from the early '60s featuring Galban with the Cuban doo-wop group Los Zafiros. Several articles on Galban's passing pointed out that Los Zafiros caught the attention of The Beatles (depending on what you read, the Fab Four either hired the Cubans as their opening act at Olympia in Paris or extended their stay to see the band play at the same venue). Here's another sample that might help explain why The Beatles were so enamored with Los Zafiros: La Luna En Tu Mirada/Los Zafiros
Of course Cooder was more fascinated with Galban's amazing touch on guitar – a unique fusing of American surf and a whole slew of Latin influences, including Cuban son and bossa nova. You can hear those influences and a few more (most notably, lounge) on "Mambo Sinuendo" as well as Galban's essential contributions to Buena Vista Social Club projects featuring vocalist Ibrahim Ferrer and bassist Orlando Cachaito Lopez. Galban even lays down some funky organ on the title cut from Ferrer's 2003 album, "Buenos Hermanos": Buenos Hermanos/Ibrahim Ferrer with Manuel Galban
And here's a nice clip of Galban with Cooder at Havana's historic Egrem Studio, working through a number that appeared on "Mambo Sinuendo":
Let's close this out in Cuba by giving Anthony Bourdain his due: In the first episode of No Reservations' new season, he clearly hit it out of the park by taking the show to Havana.
Where to start… If you had any love for James' two posts on Cuba (here and here), you probably couldn't get enough of the stunning street scenes and images that Bourdain's crew captured in Havana. I especially liked the footage of Cuban baseball games, which shows people dancing in the stands to makeshift rumba bands. I'd go to a lot more Indians games if I could spend the 7th inning stretch grooving to some Afro-Cuban. But I'd have a big problem with any attempt to ban beer sales (which the government put into effect following several drunken brawls in the stands – a policy that Bourdain finally admitted was grounds for a regime change).
I also was fascinated with Bourdain's interview with photographer Roberto Salas, whose strange odyssey as Cuba's "state photographer" began in 1957 when he took a photo of the Statue of Liberty draped in a Cuban flag (an image that appeared in Life magazine). He was only 16 at the time, but was soon befriended by a young Fidel Castro, who brought the photographer to Cuba where Salas captured some of the revolution's most iconic images. He's been there ever since, but seemed ambivalent about his role in promoting Castro and Communism.
But my favorite images were those captured in the following clip. I'm a sucker for classic American cars from the Fifties – those big, bulbous, steel-plated wonders that probably burn more gas than 10 Honda Fits strapped together. Cubans love their old Chevys and Buicks, which are everywhere in Havana… Enjoy this little taste of the island, topped off with another photo by Brother James and a closing number by Galban.
Bodas De Oro/Ry Cooder and Manuel Galban