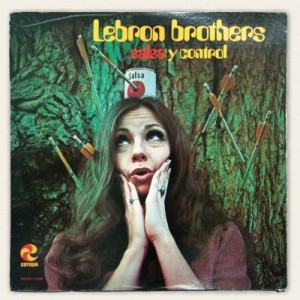 Latin boogaloo – one of those great cultural collisions, like fried chicken and waffles or Tiger Woods.
Rooted in Cuban son montuno and bastard stepchild of the Fifties mambo craze, boogaloo combined the driving rhythms of New York City's Latin dance bands with the attitude and language of black R&B. And it couldn't have happened anywhere else than in the clubs of New York, where Cubans, Puerto Ricans and African Americans were spending much of the Sixties rubbing shoulders and various other appendages on the city's crowded dance floors. The best bands and DJs would keep them there by mixing it up, finding common musical threads that just about anyone could appreciate.
In the early '60s, you could catch Tito Puente, Machito and other Latin big bands at Manhattan clubs like the Palladium Ballroom, or dance along to DJs spinning the latest records by black artists like James Brown, the Shirelles and Jackie Wilson. And by 1966, these and other influences came together in boogaloo records by Joe Cuba, Pete Rodriguez, Joe Bataan, Willie Colon and the Lebron Brothers, to name a few.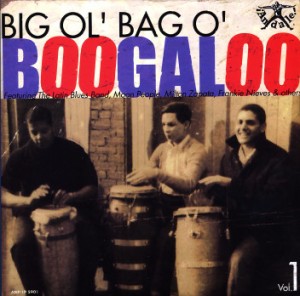 Today, you can't miss the sounds of Latin boogaloo in night clubs and neighborhood joints throughout the Rubber City. Actually, that last line is complete bullshit. I'm probably the only one in town who has a playlist called "We Got Latin Soul." And most people in these parts are still a little touchy about records with the name Lebron on them.
To help give you a better sense of what boogaloo (also spelled "bugalú") is all about, I decided to check in with another lonely Latinophile, Brother James:
"The boogaloo craze only lasted for a few years in the mid to late 60s. Some say it was killed by pressure on venues and booking agents from the salsa guys, many of whom despised it for its simplicity and non-Latin influences. These are some of the very reasons I like it. At its best, boogaloo is a joyous clash of cultures… an honest reaction by young Newyorkinos to the world they lived in. What could be wrong with that?"
Cuban bandleader Mongo Santamaria and fellow conguero Ray Barretto are often credited as originators of boogaloo – Santamaria with his popular version of the Herbie Hancock original Watermelon Man, and Barretto with his street-talkin' hit El Watusi. Both songs were recorded in '63, paving the way for the rise of boogaloo in the mid-'60s. Santamaria's tune grew out of a fortuitous late-night jam session at a Bronx club in '62 when guest pianist Hancock, trying to keep things interesting during a slow night, showed Mongo's band the changes to Watermelon Man. They jumped all over it, and a Latin hit was born: Watermelon Man
Early boogaloo hits like Joe Cuba's Bang Bang and Pete Rodriguez's I Like It Like That have a wonderfully casual feel to them, like someone ran the tape while the band was playing at an all-night house party. Apparently the kids got to stay up late too – they were needed to sing the chorus on this one: Bang Bang "When I recorded in those days I always left a big boom mike overhanging above all the musicians to put in a little live effect," said Cuba ("From Bomba to Hip-Hop: Puerto Rican Culture and Latino Identity," by Juan Flores). And the raucous vibe of these recordings was clearly an antidote to the heavily arranged and orchestrated sound of big-band mambo.
Like many other boogaloo artists, Cuba was born and bred in New York City (in his case, on 116th Street in Spanish Harlem, where he lived until he passed away in 2009). He had little use for the more rural strains of Puerto Rican music, preferring the popular sounds of swing and R&B that young Latinos were seeking out in the clubs and record stores of Manhattan. So it was only natural for Cuba to write and perform songs in his native American tongue.
The R&B influence is especially clear in one of boogaloo's biggest hits, I Like It Like That. Chris Kenner scored a hit back in '61 with an original under the same name, a tune that was especially popular in Kenner's home base of New Orleans. Rodriguez probably had that song in mind when he recorded his "tribute" some six years later – same title and refrain, different melody and groove. Just for fun, I ran the two songs together on this sample, with Kenner first and Rodriguez following: I Like It Like That (first Kenner, then Rodriguez)
A few boogaloo hits were guitar-driven, especially those that can be credited to the forward-thinking bandleader Willie Bobo (aka William Correa).
Bobo also grew up in Spanish Harlem, where he took lessons in Latin percussion from Santamaria. Then at the age of 19 he joined the blazing-hot band of Tito Puente – the king of the timbales – and never looked back. Bobo was a key figure in the mambo craze of the '50s, cutting some classic sides with Cal Tjader (Soul Sauce) and Santamaria (Para Ti) before starting his own band in 1963.
I love the way Clarence "Sonny" Henry's guitar helps set the groove for Spanish Grease, one of my favorite boogaloo numbers. It obviously had a big influence on a young Carlos Santana, who borrowed the song's refrain for his '71 hit No One to Depend On: Spanish Grease
Santana's great respect for Bobo was especially obvious during his band's live concerts, when they would often throw in a fairly straightforward version of this next number. As you can tell by the title, even boogaloo artists who remained true to the Latin beat looked for every other opportunity to reference African-American culture: Fried Neck Bones and some Home Fries
Even jazzbos got in on the act, and the cultural references in this next number by Clark Terry and Chico O'Farrill are about as thick as you can get. I kept in the whole conversation – a tribute to the importance of interracial harmony and understanding: Spanish Rice
At this point, you're probably still asking yourself, who the hell are the Lebron Brothers? In a nutshell: Five brothers of Puerto Rican descent… raised in Brooklyn… groomed for success by Latin music hit-maker George Goldner… recorded a boogaloo classic, "Psychedelic Goes Latin," in 1967… and, like many Latino acts, got screwed by their manager. The group's spokesman, Angel Lebron, claims they never got paid for their popular album: "Despite the propaganda that was printed then, the boogaloo bandleaders were the hottest bands at the time. The boogaloo era came to an end when we threatened to rebel…" (Flores). Thankfully, the Lebron Brothers made a successful transition to salsa in the '70s. Here's a fine, funky number they cut in '71 – sort of a boogaloo/salsa hybrid (with a meaty sax solo to boot): Boogaloo Lebron
By the early '70s, boogaloo had been pushed aside by the rise of salsa – mostly fueled by old-school Latino musicians like Eddie Palmieri (who still managed to cook up this Spanish-language boogaloo back in '68: Aye Que Rico) and Johnny Pacheco as well as the considerable clout of NYC-based Fania Records. Loose blues and soul-based riffs were replaced with more musically demanding arrangements that looked back at the Cuban tradition. And Sixties slogans like "sock it to me" gave way to Spanish-language musings on life in the barrio, including more overtly political songs by artists like Ruben Blades. In a way, salsa marked a return to the roots of Latin music. But in other aspects, it looked forward to disco – which is especially apparent in some of the highly polished (and often over-produced) records that Fania released in the Seventies: El Sabio/Hector Lavoe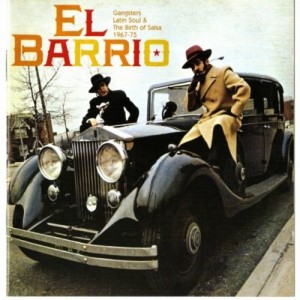 Now I appreciate the sound of salsa as much as the next gaucho. But I'd never argue that the best salsa recordings are in some way superior to my favorite boogaloo songs from the Sixties. And on this key distinction, I'll give the last word to the good folks at Hyp Records:
"The [boogaloo] trend met with fierce resistance in its heyday, but periodic revivals do occur. The old-guard defenders of 'roots' Spanish music are making their peace with it, and general collectors appreciate Latin soul as hip, early, cross-cultural pop – not to be shunned as either bogus Latin or bogus soul. A proud product of New York City, Latin soul reflects 'the place to be' in the 1960s and early 1970s."
Watusi Boogaloo/Willie Rosario and his Orchestra
The Boogaloo sound continues to inspire contemporary acts like Miami's Spam Allstars and Austin's Grupo Fantasma. In this next video, the guys from GF turn a PBS telethon into a Latin funk festival: