Brother James returns with more photographs taken during several visits to Cuba over the past decade.  He provides his usual commentary under each photo, and I've decided to weigh in with a few of my favorite Cuban songs.

Life in Cuba remains harsh for many who live there – but obviously not nearly as hellish as conditions in Haiti.  Fortunately, the same technology that enables us to share the most mundane details of our daily lives has made it easier than ever to give.  So if you're not a heartless prick like Rush Limbaugh, text "HAITI" to 90999 to donate $10 to the relief effort.  Or give more by going here.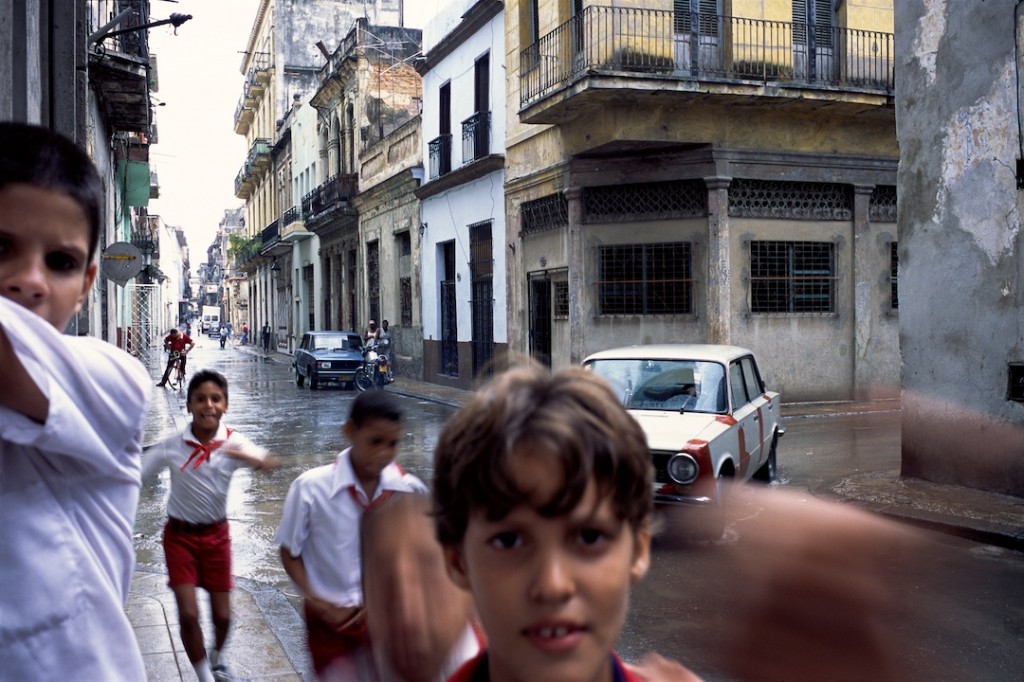 J.Q.: I took this photo in Habana Vieja – Old Havana… just a group of kids coming home from school on a rainy day.  I was trying to take a picture of this interesting-looking street corner, and the kids came into the frame, playing for the camera.  The red-spotted car turning the corner added another nice element at the last second.
T.Q.: Originally from Santa Clara, pianist Ruben Gonzalez moved to Havana in 1940 and soon became a fixture in the city's rich music scene.  He retired in 1980 but later returned to playing and recording when Ry Cooder recruited him in 1996 to take part in the Buena Vista Social Club project.  I love the timeless vibe of his solo recordings from the same period – and especially this cut from the slyly titled "Introducing… Ruben Gonzalez."  He continued to live and perform in Havana until he passed away in 2003 at the age of 84. Mandinga/Ruben Gonzalez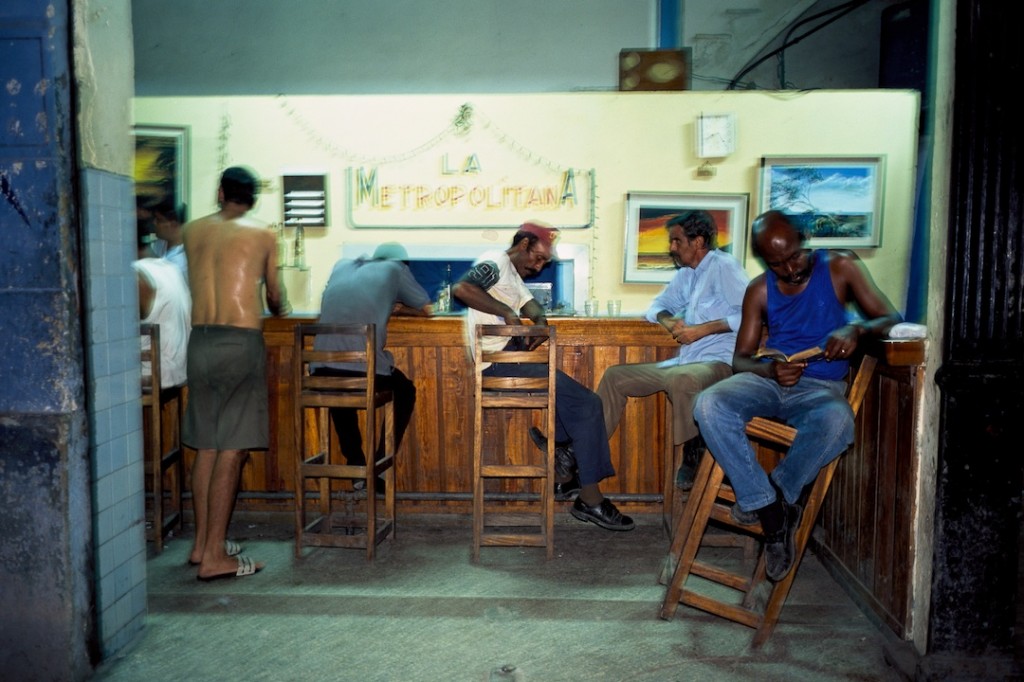 J.Q.: This bar in central Havana opens out onto the street, where I took the picture using a tripod and a touch of flash.  Luckily, no one paid any attention to me.  Everyone seemed alone and lost in their own thoughts.  La Metropolitana has since received a facelift – it's not nearly as cool today as when I took this shot.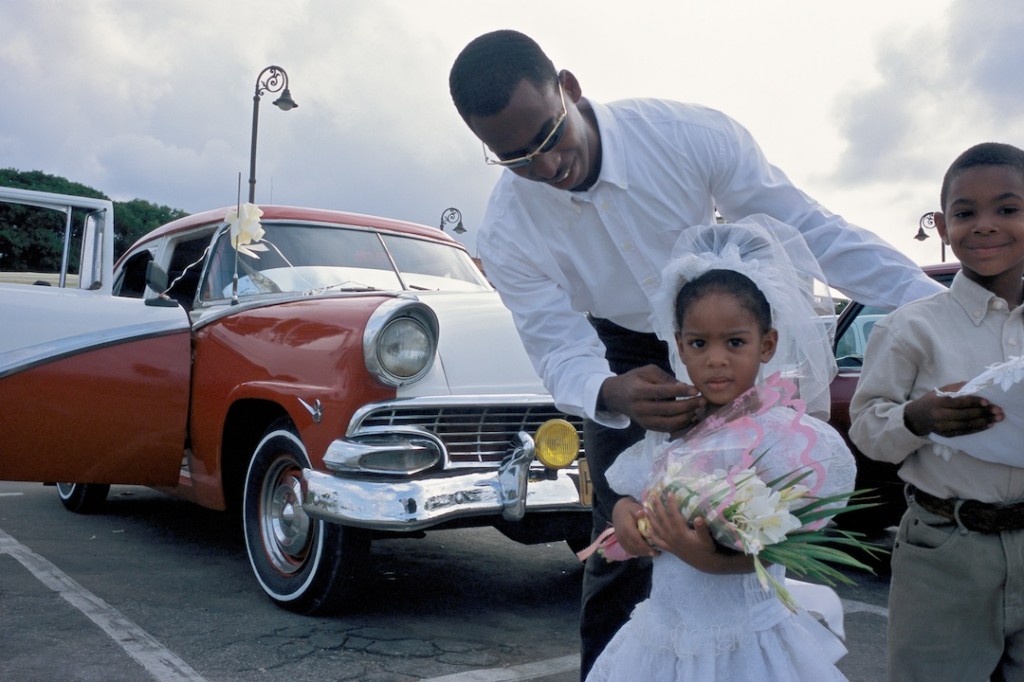 J.Q.: I think this is a bridesmaid with her father and brother, getting ready for a wedding.  Looks like the boy is the ring-bearer – either that or just helping out.  It's sort of a custom in Cuba for the bridal party to leave the ceremony in an immaculately restored '50s car to show off a little bit.  And, as you can tell, they have a great one for the occasion.
T.Q.: In "Cuba, Direct," James noted that these restored American cars reminded him of the popular Havana band Los Zafiros.  Their sound was a unique mix of doo wop and the surf-influenced guitar of Manuel Galban.  In 2003, Galban won a Grammy for "Mambo Sinuendo," a collaboration with Ry Cooder that sounds a little more unhinged than you might think.  It's a playful mix of Latin rhythms and cocktail-lounge exotica, perfect for the bubbling Wurlitzer.  Here's a tune by mambo king Perez Prado that Link Wray toyed with back in 1958. Patricia/Manuel Galban and Ry Cooder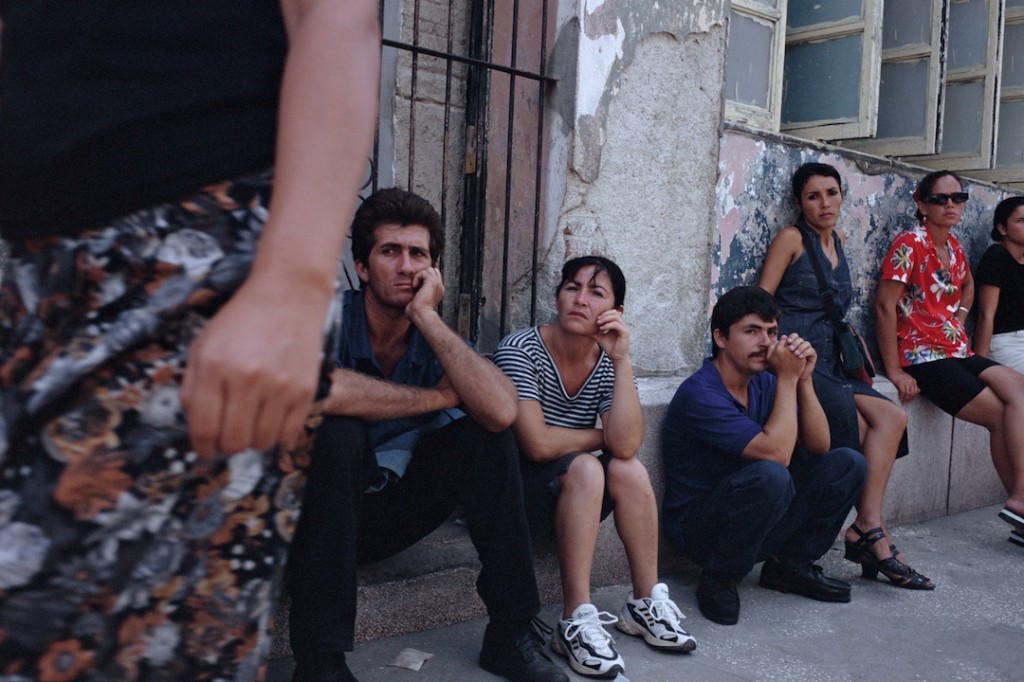 J.Q.: This is a line of people waiting to get into a store – a common occurrence in Holguin, which is in the northeastern part of Cuba.  They're trying to get into sort of a Cuban version of the Dollar Store… but with a lot less merchandise.  Customers line up early to get a chance at actually buying something before there's nothing left to buy.  Cubans who are able to visit the states are always a little overwhelmed by places like Wal-Mart and Best Buy.
T.Q.: Holguin is the birthplace of the late composer and tres player Faustino Oramas, also known as "El Guayabero" (the name of his most famous song).  He was considered the last of the traditional trovadors – Cuban singer-songwriters who primarily played guitar or tres.  Oramas performed until he was 94… He died the next year, in 2007.  One of his compositions, Candela, is a highlight of Buena Vista Social Club.  Here's another song by Oramas, performed by Social Club member Ibrahim Ferrer and Teresita Garcia Caturia: Marieta/Ibrahim Ferrer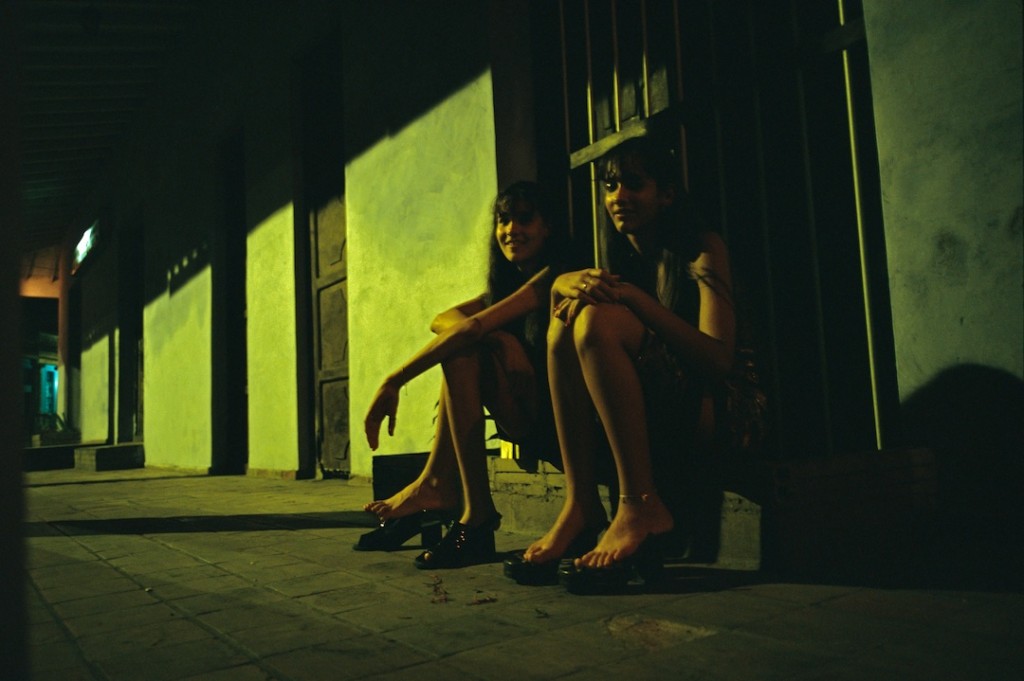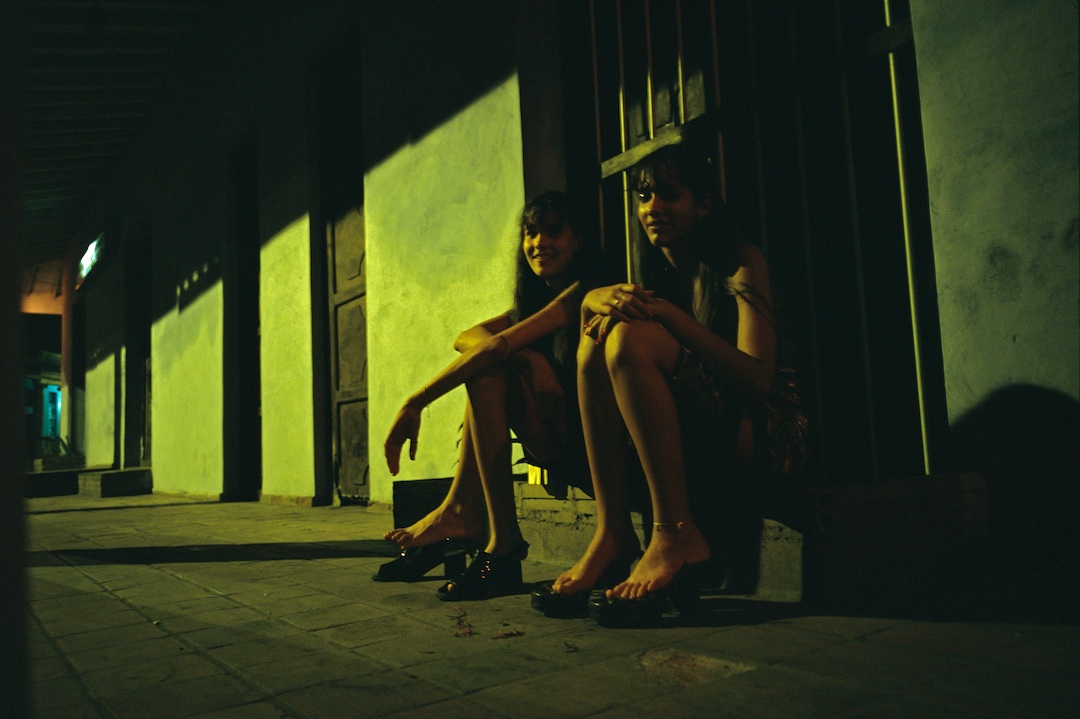 J.Q.: I found these two well-dressed young ladies on the streets of Pinar del Rio, in the western part of Cuba.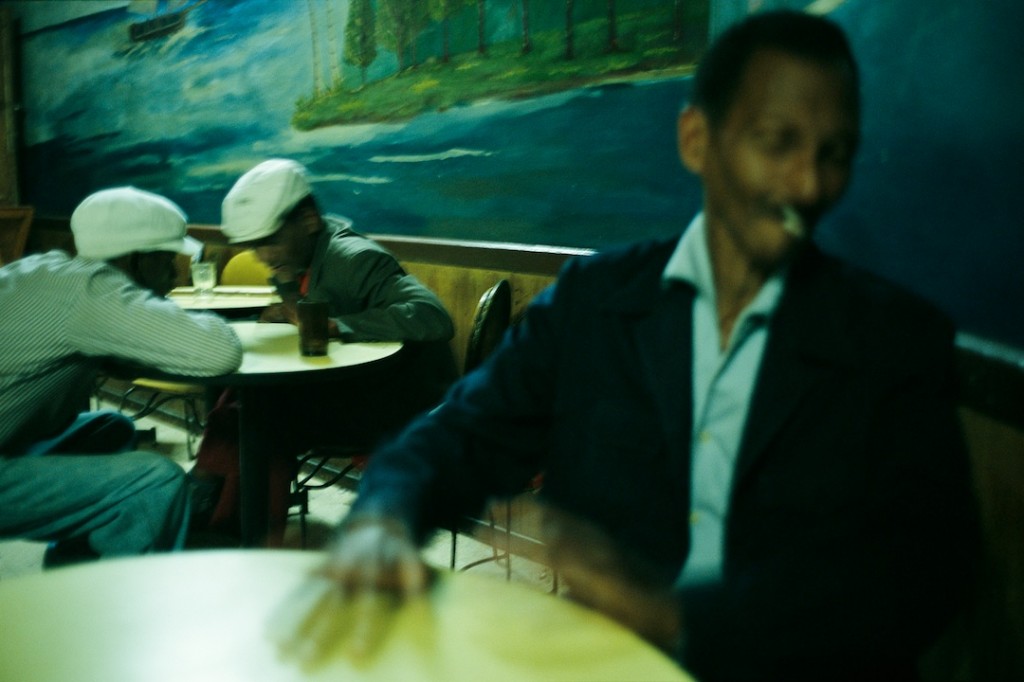 J.Q.: This guy's name is Tony King.  He claimed to be a conga player on some classic Cuban recording sessions.  To prove it, he started drumming on the table along with the music on the jukebox.  I actually was more interested in the guys conversing intently behind him – kind of odd and mysterious… and why are they wearing the same hats?  I took this shot in a bar in Central Havana that doesn't exactly cater to tourists… I probably wouldn't have gone in there but the mural caught my eye.
T.Q.: Ti Mon Bo… shorthand for three master percussionists:  Tito Puente, Mongo Santamaria and Willie Bobo.  Only one was from Cuba – conguero Mongo (Tito and Willie grew up in Spanish Harlem).  All three were heavily influenced by the island's rhythms.  This is simply Latin percussion at its best, from Tito's 1957 album "Top Percussion": Ti Mon Bo/Tito Puente, Mongo Santamaria and Willie Bobo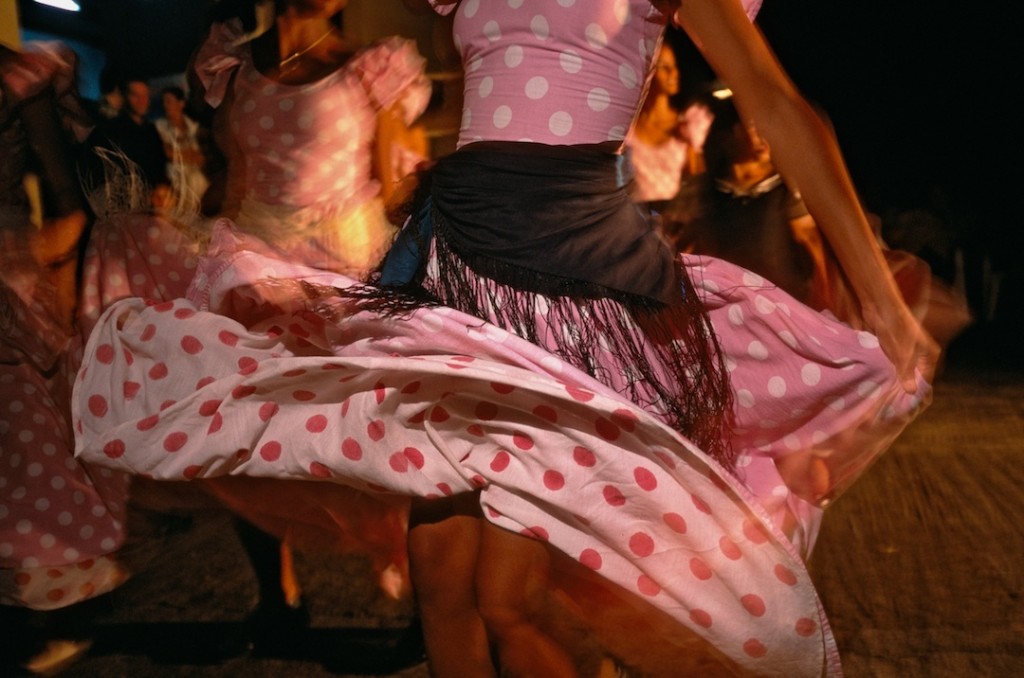 J.Q.: This is a Cuban flamingo group, entertaining at a social function in Baracoa, which is on the far eastern end of Cuba.  They were performing at a despedida, or goodbye party, for our small group of Cuban and American photographers.  We had come together for "Shared Vision" – basically, a cross-cultural photography project documenting life in Baracoa.  I was captivated by the colors and the movement of the skirts.  A bit later, a Cuban woman scolded me for never putting away my camera.
T.Q.: "Cuba, Direct" also featured a cut by bassist/composer Israel "Cachao" Lopez – a formal "danzon" that you'd typically hear at official functions or parties.  Cachao's nephew, Orlando "Cachaito" (Little Chachao) Lopez, made his mark playing in influential Cuban bands like the Riverside Orchestra and Irakere.  He was another member of Buena Vista Social Club who went on to record under his own name following BVSC's huge success.  All of these solo projects have their merits, but Cachaito's is my favorite – more experimental and far-ranging than the rest.  This one gets a reggae-dub treatment and features the legendary Hugh Masekela on flugelhorn.  Cachaito died last year – the sixth original member of BVSC to pass away since its '96 release. Tumbanga/Orlando "Cachaito" Lopez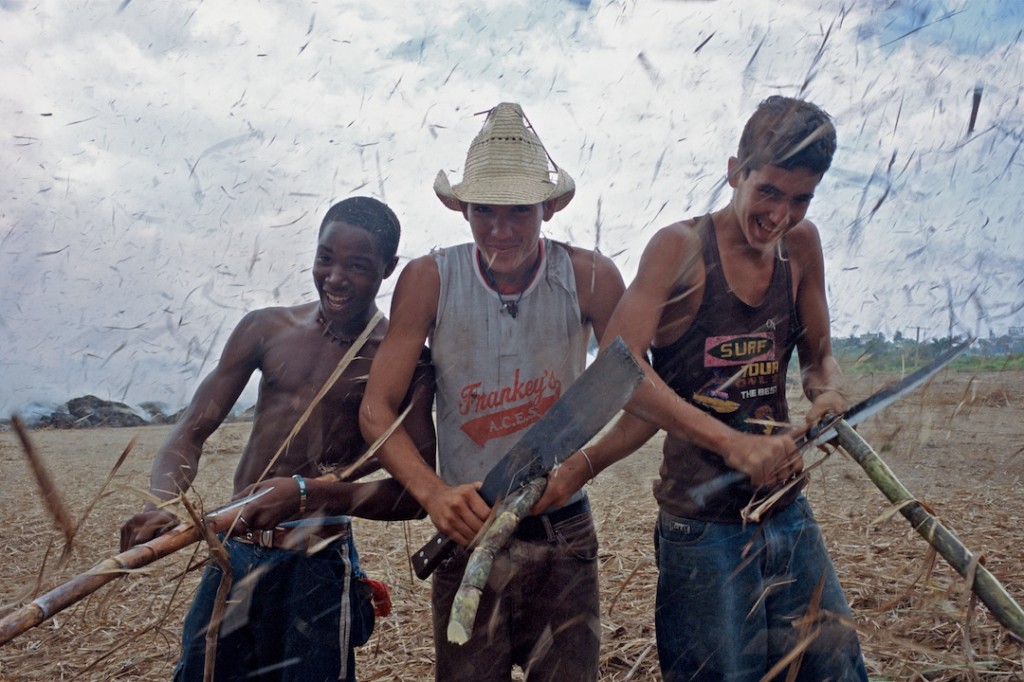 J.Q. I caught these guys clowning around with their machetes at a sugar mill near Jovellanos, located in Cuba's western Matanzas Province.  Basically, the sugar cane goes up a conveyor belt into a machine that strips off the husks, pieces of which are raining down on them.  This debris, called bagazo, is gathered up and burned in big piles to get rid of it.  You can barely see the smoke from one of those burning piles in the background.
T.Q.: One of Cuba's greatest musical innovators, Arsenio Rodriguez, was from Matanzas Province.  His main instrument was the Cuban tres guitar, which is used to play bass patterns as well as melodic lead lines.  Rodriguez is credited with bringing a stronger African influence to Cuban music – adding congas to give the traditional "son" form a more driving, propulsive rhythm.  He's also considered the originator of son montuno… Think of a great vocalist like Celia Cruz improvising between the repeated choruses of her backup singers – then throw in hot solos by first-rate musicians on trumpet, piano, percussion, etc.  That's basically son montuno… which means that a lot of modern salsa and Latin music can be traced back directly to Rodriguez.  Here's one of his classic recordings: Para Bailar El Montuno/Arsenio Rodriguez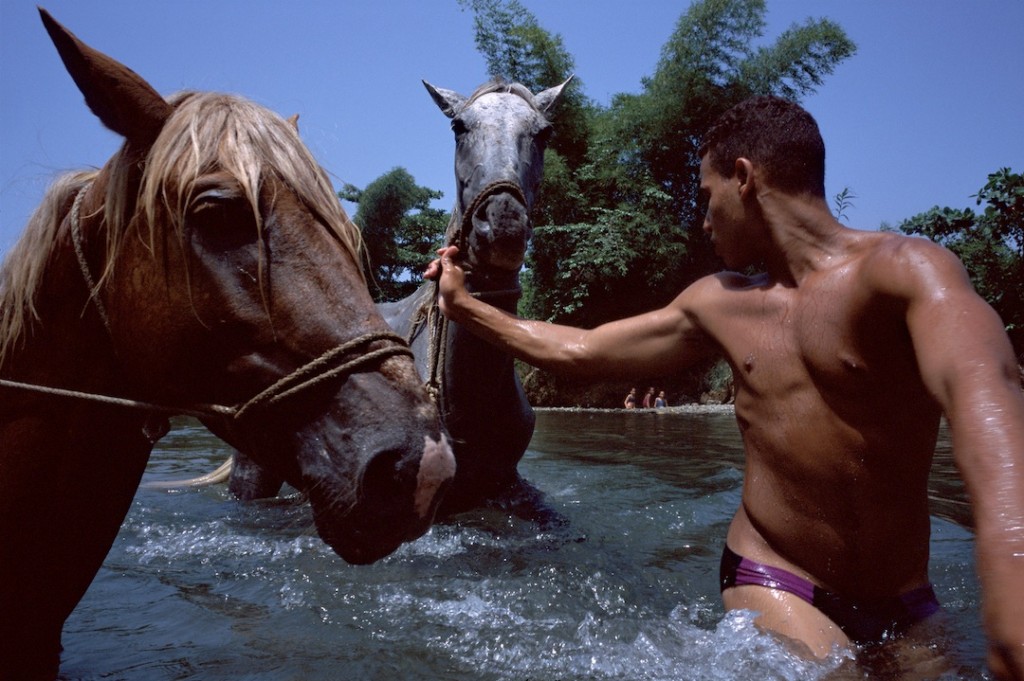 J.Q.: This guy was leading his horses to shore after washing them in Rio Miel in Baracoa.  I had to get into the river to take the shot.  Local legend has it that once you bathe in Rio Miel, you always come back to Baracoa.  I've been back twice since.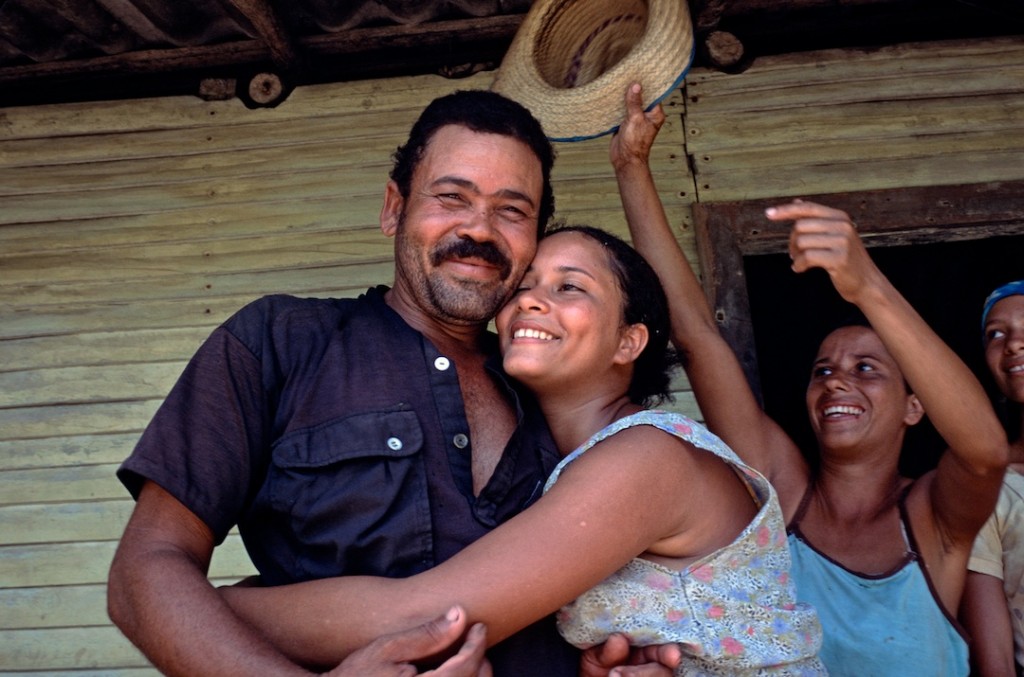 J.Q.: This is a family of cocoteros – workers who climb trees to harvest coconuts, husk them and then sell the good stuff to the state.  They live near Baracoa… very nice family that I've gone back to visit several times.  They always treat me like royalty.  As you can see, they're just happy to get their photo taken together.  One daughter is hugging the father, and another apparently decided that he shouldn't have his hat on for the photo.  They're probably part Taino – Indians who lived in Cuba when Columbus arrived.  It's said that "son" – the basis of many forms of Latin music, including salsa – originated in this part of the country.
T.Q.: In 2001, Rhino Records released "El Son No Ha Muerto" (The Son Has Not Died), a fine collection of songs featuring the trademark Cuban rhythm.  Here's one by Cuba's favorite sonero, Beny More.  It's a great example of the driving, big band sound that ruled the island in the Fifties. Me Gusta Mas El Son/Beny More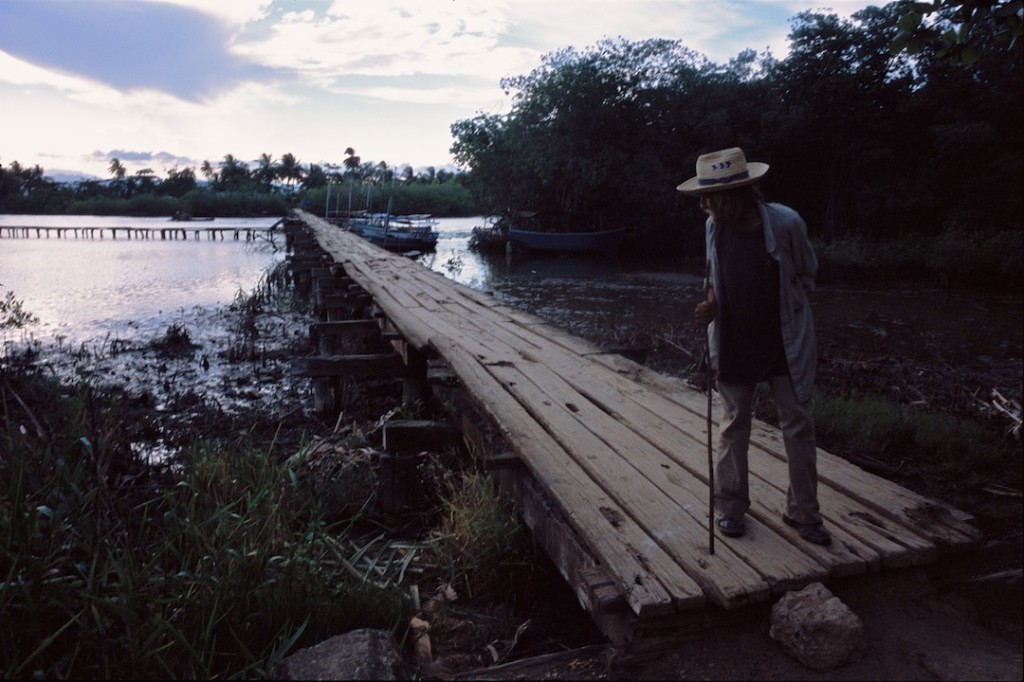 J.Q.: Seems like a good photo to end with… This is the bridge to Boca de Miel – a little fishing town at the mouth of Rio Miel.  I saw this old man walking across the bridge.  Just as I got my camera ready he stopped and looked back over his shoulder.  I think he just wanted to see what I was taking a picture of.
T.Q.: And here's a good tune to close with – by Eliades Ochoa who, thankfully, is still alive. La Comparsa/Eliades Ochoa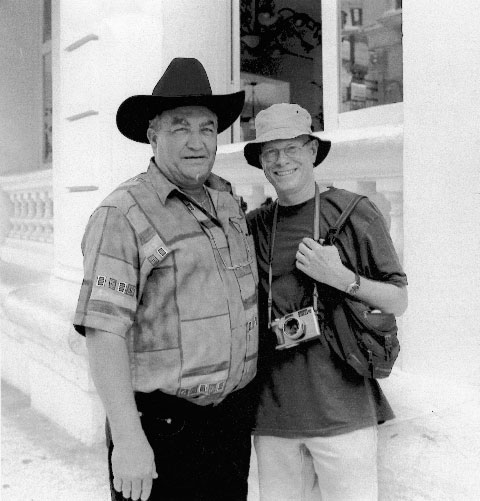 Eliades Ochoa and James Quine,
Santiago de Cuba