There's a curious scene in the movie "Cadillac Records" when the Rolling Stones show up at 2120 South Michigan Avenue to record at the legendary Chess Studio. Of course Mick and the boys were diehard fans of Chicago blues, and their American idols were probably more amused than flattered by the sight of five scruffy Brits at their doorstep in search of Muddy's mojo and the Wolf's howl.
The Stones cut some rockin' tracks during their stay at the house that Leonard Chess built. I wouldn't call any of it essential, but you can't deny the joys of hearing the sound of Chicago filtered through some fairly capable white punks – enjoying their first stay in the states, no less: Little Red Rooster
Good stuff… but not deep, dark, bone-chilling blues. No, it would take another guy from England to show the rest of the Brits how to play with the big boys in Chicago, and maybe even give them a little kick in the arse too. That guy was Peter Green, the amazingly expressive guitarist and singer for Fleetwood Mac, circa 1967-1970: Watch Out/Fleetwood Mac in Chicago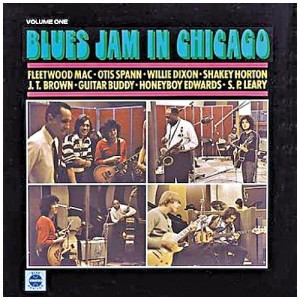 That song was recorded at Chess Studio in 1969, some five years after the Stones visit. They were among the last blues recordings by the Green-led lineup, and also among the final tracks issued from the Michigan Avenue studio. The band was joined on the sessions by Chicago's best, including Otis Spann on piano, Willie Dixon on bass, Walter "Shakey" Horton on harp and long-time Elmore James sideman J.T. Brown on sax.
Unlike the Stones' take on Chicago blues, Green sounds firmly rooted in the tradition, like he'd been playing sessions for Muddy, Wolf, Sonny Boy and Little Walter since the Fifties. He sang with the same passion and authority, and none of the punk-ass posturing that makes Mick, well… Mick.
In his autobiography "Fleetwood: My Life and Adventures in Fleetwood Mac," drummer Mick Fleetwood describes the band's experience at Chess Studio:
"At first our heroes seemed condescending to us. But Peter Green dazzled the Chicagoans with the sheer feel of his playing and somehow pulled us through. Pete surprised them, I think. They learned that without the stacks of Marshall amps and that dread label – 'English Blues Band' – we were still a good little band, a cut above what they usually saw."
Fleetwood Mac recorded a number of songs at Chess in '69 – not all of them as successful as Watch Out. But they certainly gave Spann, Dixon, Horton and Brown a run for their money. Another fairly respectable player, B.B. King, wasn't there when the Mac invaded Chess, but he later had this to say about Green: "He has the sweetest tone I ever heard; he was the only one who gave me the cold sweats." I assume he's referring to British musicians and not comparing Green to, say, Buddy Guy.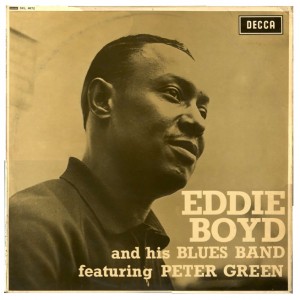 It wasn't the first time that Green and band played with Chicago royalty. In '67 and '68, they recorded a couple albums' worth of material with pianist Eddie Boyd, who built a solid reputation largely on the merits of his signature song, Five Long Years. But during the Boyd-Mac sessions, the elder bluesman was continually upstaged by the young Jewish upstart from London better known to his family as Peter Greenbaum: The Big Boat
Green also played a mean harmonica, with a gutteral moan that reminds me of Sonny Boy II. In fact, I'd put this next tune (a Green original) right up there with some of the best performances by the kings of Chicago harp: Looking For Somebody
For those of us who can't get songs like Don't Stop, Go Your Own Way and Rhiannon dislodged from our craniums, it's hard to imagine that Fleetwood Mac started out in 1967 as a formidable blues band, definitely the best one in England. Green and Fleetwood were refugees from John Mayall & the Bluesbreakers (Green replaced Eric Clapton after he left the band in 1966). The founding lineup also included Bob Brunning on bass – who eventually was replaced by Mayall alumnus John McVie – and Jeremy Spencer, a hard-charging slide guitarist who modeled himself after the great Elmore James. As you can tell from this cut, Spencer came scarily close to capturing Elmore's sound: Doctor Brown
Spencer also could expertly mimic Fifties artists like Buddy Holly and Elvis Presley. A colorful and unruly character, he eventually left the band to join a religious cult called the Children of God (for more on Spencer, I highly recommend this piece over at the Hound Blog).
So on the one hand, you had a B.B. King-influenced guitarist who combined an impeccable touch with a beautiful, piercing tone. And on the other, there was this rowdy, pint-sized maniac whose X-rated behavior managed to get Fleetwood Mac banned from several clubs.
To make things even more complicated, Green later added a third guitarist, Danny Kirwan – another powerful, bluesy player with a singular style that seemed to live somewhere in that space between Green and Spencer.
Although the band started out playing strictly blues, they began adding several distinctive originals to the mix – including Green's Black Magic Woman, famously covered by Santana in 1970, and this dreamy instrumental that became a huge hit in England in 1969: Albatross
During this period, Fleetwood Mac recorded for two British labels: Blue Horizon and Immediate. But the band started to gain notice in the U.S., especially when they released this moody Green original in '69: Man of the World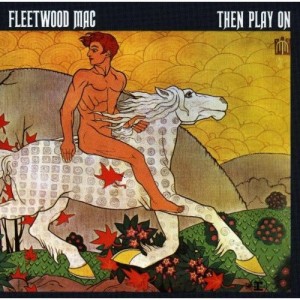 By the end of the year, they had signed with the Warner Brothers affiliate Reprise and released the wide-ranging album "Then Play On," which included a rockin'  little number called Oh Well that became a staple in the band's live shows (video at bottom). Here's another Green classic from the same album: Show-Biz Blues
But as the band gained a greater audience, Green was riding on a crazy train to nowhere – largely fueled by acid use that worsened what might have been pre-existing schizophrenia. He became more and more unpredictable, and began demanding that the band devote all of its earnings to charity. By the time Fleetwood Mac was launching a sold-out European tour in February 1970, Green had effectively checked out. I'll let Mick Fleetwood pick it up from there:
"Somehow Peter had gotten surrounded by a bunch of rich German hippie brats, a group we call the Munich jet set. They had a commune in a big old house with a lot of LSD floating around. During our stay in Munich, Pete was whisked out of there and spent all his time getting stoned. We never even saw him, except for the gig, and to this day, John (McVie) and I always say that was it. Peter Green was never the same after that."
Although he officially left the band a few months later (a band that he founded and named), Green recorded and performed sporadically with Fleetwood Mac in the early '70s. Within a few years he had quit playing altogether and was working as a gravedigger. His descent into madness has been well-documented elsewhere. One story had an angry, gun-toting Green ordering his manager not to send him any more royalty checks for Black Magic Woman. Musicians love to share stories like that – maybe because it's harder to face the fact that, despite several attempts at a comeback, Green will never again play with the fire and depth of feeling that you hear in his best recordings from the late '60s.
Of course, Mick Fleetwood picked up the pieces and launched a new version of Fleetwood Mac into the pop stratosphere in the late '70s ("Rumours" remains one of the best-selling albums of all time). For some of those latter-day fans, Peter Green is a sad footnote in the band's remarkable history. For me, he was the real deal – a natural, phenomenally gifted bluesman.
Peter Green live in '69 on the British TV show "Music Mash," introduced by The Animals' Alan Price… Kirwan gets all the leads on this one, and Green already looks a little daffy. But still a fascinating look at the band in its prime.
Peter Green solo, playing one of his heartfelt originals. Can Green play the Blues? I think this is all the evidence you need. Stunning.
Alright, had to tag this on the end… Hugh Hefner on Buckminster Fuller's theory of environmental conditions, and Fleetwood Mac's ode to the joys of sexual self-gratification: