(Listen to Eddie Cochran while you read.)
Start with a good mystery. Then throw in some intimate and revealing images from the early years of rock 'n roll. Therein lies the beauty of "1950s Radio in Color: The Lost Photographs of Cleveland Deejay Tommy Edwards" – a spellbinding book by songwriter, musician and music historian Christopher Kennedy, as well as a new exhibit at the Rock and Roll Hall of Fame and Museum that runs through the summer.
The story behind these photographs combines a little intrigue with a lot of luck. Eight years ago, Kennedy began searching for one of the Holy Grails of rock – a movie short called "The Pied Piper of Cleveland" that includes early (pre-fame) footage of Elvis Presley taken during his first tour outside of the south. The movie was produced by Cleveland DJ Bill Randle as a way to document his own role in promoting rock 'n roll.
Randle was an intense rival of fellow DJ Edwards, another noteworthy figure in the Cleveland music scene (both Randle and Edwards plied their trade at WERE-AM). But Randle had the good sense to put competitive jealousies aside and feature Edwards in the film as the first DJ in Cleveland to recognize Presley's unique talents.
As Kennedy dug deeper into the history of the film (which remains missing), he became more interested in Edwards' reputation as a devoted chronicler of all things rock 'n roll. First of all, Edwards' vivid photos – compiled in Kennedy's book along with the author's wry commentary – provide an inside look at some of the early stars of rock, country, hillbilly and pop as they made their career-building pilgrimages to WERE and Cleveland-area nightclubs. Second, he created a weekly, two-page newsletter that provides historical context to these images and the music business in general during the mid- to late-'50s. Here's a taste from the "T.E. Newsletter" (dated Sept. 2, 1955):
"Eileen Rodgers opens at the Alpine Village here on the 5th —– Johnny Van does the Cabin Club here this weekend to be followed by Laurie Anders —– Nat Cole's next is FORGIVE MY HEART —– Gene Davis now working in Dayton — formerly here in Cleveland and Akron —- My new hobby is taking pictures of all stars who come in to visit on the show —– R & B TUNES TO WATCH: I'M SO GLAD, Mickey & Sylvia; IT'S OBDACIOUS, Buddy Johnson; IT'S YOU, YOU, YOU, The Charms."
In the preface to his book, Kennedy describes some of the side trips that led him to the photos and the only surviving copy of every issue of the "T.E. Newsletter" – now safely housed in the Rock Hall's Library and Archives. He befriended Edwards' nephew, Keith Winters, who helped him locate the slides; and a separate detour led him to the newsletters, which Randle gave to Cleveland journalist David Barnett as a gift (bear with me… these artifacts made their way through a whole cast of characters).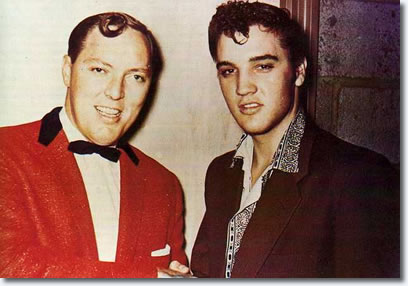 Winters initially notified Kennedy about five Ektachrome slides he received from his father, Edwards' half-brother Gerald Winters. These included an iconic shot that seems to capture a passing of the torch from an elder Bill Haley to Elvis, whose career was on the rise as Haley's tailed off. Kennedy assumed the five slides were the only ones that survived, but then he found the motherlode.
"My discovery of Tommy Edwards' small cache of photos was a nice coup for a novice rock 'n' roll detective but it was nothing compared to what was to come," Kennedy writes. "Within a few weeks of our first communications, I receive an excited, late-night call from Keith, who asked if I'm sitting down. While looking for Christmas decorations, he found treasure stashed away under a basement workbench: several dusty cardboard boxes with the family name 'Mull' (Edwards was born Thomas Edward Mull) handwritten on the sides, containing 1,790 more slides. Gerald Winters had, in fact, inherited all of his deceased half-brother's photographs. Sometime around 1988, Gerald gave the slide collection to his son… Keith simply had forgotten about them."
As the book and exhibit reveal, the Edwards collection is an embarrassment of riches. I wouldn't call Edwards a master photographer, but he definitely had a knack for capturing images that were strikingly honest and unvarnished. He also found a perfect use for his images, featuring them in slide shows at the many record hops he'd host throughout the area. Did Edwards create the first multi-media rock show?
The above photo of a 28-year-old Chuck Berry seems like it was shot in the basement of one of those ethnic social clubs you can find throughout Cleveland. It actually was taken at Gleason's Musical Bar, a popular club on Cleveland's east side (E. 55th and Woodland) from 1942 to 1962. Virtually every major blues and jazz act you can think of from the era came through Gleason's – James Brown, Bo Diddley, B.B. King, Ella Fitzgerald, Charlie Parker, Nat King Cole… This photo shows Berry with local sax star Sammy Dee, founder and leader of the house band for the show Bandstand (before it became American Bandstand).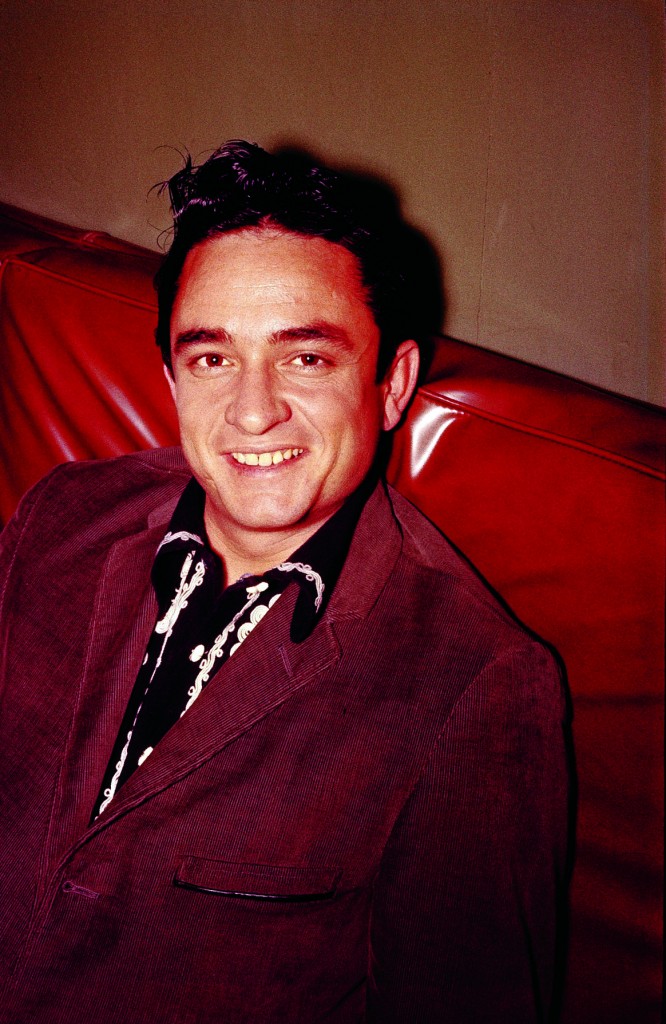 In 1958, Johnny Cash came through town long enough to plop himself down on the couch at WERE studios to visit with Edwards. "Less than comfortable must be Sun Records owner Sam Phillips, walking the floor back in Memphis, justifiably paranoid about the clandestine deal Cash has struck with Columbia Records to leave Sun as soon as contractually possible," Kennedy notes in his book.
That same year, rocker Eddie Cochran stopped by Cleveland to promote his new single Jeanie, Jeanie, Jeanie. More from Kennedy: "A rock 'n' roll star with smoldering sex appeal; an innovative guitarist, songwriter, and music producer; international touring act and budding movie star – the kid's got it all. Except time." Two years later, Cochran died in England when he was thrown from a taxi in a high-speed crash. Rockabilly star Gene Vincent (another subject of Edwards' camera) survived the accident with minor injuries, but his glory days were mostly behind him.
Edwards eventually became the proprietor of Record Heaven in Cleveland's Brooklyn neighborhood before passing away in 1981. Kennedy continues to search for Bill Randle's long-lost treasure, "The Pied Piper of Cleveland." I'll definitely pay more attention at local garage sales, but the smart money's on the guy who already delivered the goods with the lost photographs of Tommy Edwards.
Thirty-two images from Edwards' collection are now showing in the Baker Gallery of the Rock and Roll Hall of Fame and Museum's Main Exhibit Hall. Check the Museum's website for more information.
So who, you might ask, are The Storey Sisters? Hailing from Philadelphia, sisters Ann and Lillian helped pioneer the "girl group" sound that paid off in the Sixties for acts like The Shirelles, The Shangri-Las and The Ronettes. This smokin' little number from 1957 features NYC session guitarist Wild Jimmy Spruill, who had the distinction of appearing on two #1 hits in May '59: The Happy Organ by Dave "Baby" Cortez and Kansas City by Wilbert Harrison.