Time for another random post… Let's start with The Grammys.
Now RCR is probably the last place anyone would go for the latest news on rock and pop acts that typically get nominated for Grammys. But I'll certainly take a hot minute to congratulate nephew Dan and Pat Carney for their five nominations (either for "El Camino" or the song Lonely Boy) – Record of the Year, Album of the Year, Best Rock Performance, Best Rock Song and Best Rock Album. The Recording Academy also should've added a nod for the Lonely Boy video, starring the unique dance stylings of one Derrick T. Tuggle.
As if that weren't enough, Dan also was nominated for Producer of the Year for his work on several albums, including Dr. John's excellent "Locked Down."
I sat down with Dan earlier this year and managed to pry a few production tricks out of him that he put to good use with Dr. John (my favorite: sampled music from a Mattel toy, the Optigan, on the song Big Shot). "Locked Down" remains at the top of my list of 2012's best, and I'm glad to see it get more of the recognition it deserves (it's also up for a Best Blues Album Grammy).
Dan was busy producing a few other albums this year, including "Shakedown" by our good friends from San Antonio and Nuevo Laredo, Hacienda. I can tell you from watching these guys work that they're stealing from all the right sources – including Texas icon Doug Sahm. But more important, they've got the chops and good taste to put their own spin on this stuff… think South Texas Soul with a psych-rock twist. Here's a look inside Dan's Easy Eye Studio as he works with Hacienda on a tune that clearly got the attention of the Academy:
Dave Brubeck passed away this week, just one day shy of his 92nd birthday. And I took this news personally, having grown up in a home where you couldn't miss the precise yet playful sound of Brubeck's classically influenced piano.
My dad had a reel-to-reel tape deck in our living room so he could play his favorite jazz artists without having to mess with a turntable every 20 minutes or so (he could care less if we stacked our Beatles albums, but he wouldn't dare use one of those newfangled changer things on his precious jazz LPs). He had several mixtapes for parties, mostly featuring "cocktail" piano players like Erroll Garner and Oscar Peterson. But those favorites were soon replaced by Brubeck's groundbreaking album "Take Five," which became the soundtrack of my formative years at home (that and the song Mas Que Nada by Sergio Mendes and Brazil '66).
Before I get myself into trouble here, I thought I should defer to someone far more qualified to talk about Brubeck's legacy – our Keyboard Correspondent, Brother Jack:
BJQ: For a high school kid in Akron in the '50s, Brubeck's playing was a revelation. My father and uncle were into piano players, and could go on at length about the merits of right-handed versus two-handed piano players. I didn't understand what I was hearing, especially when confronted with someone like Bud Powell. Bop was still a little too exotic for most of us in Middle America. They said you just take the chords of a song and build a whole new improvisation around them, but I couldn't quite grasp that. I couldn't hear a song. But Brubeck was accessible. He was jazz for Middle America.
Even when he started his famous experiments with time signatures, he wasn't too far out. We could all think we were avant garde by listening to 5/4 and 7/4 and 9/8, but really the melodies weren't too jarring. He wasn't like Charlie Parker, the great innovator of modern jazz, who most people did not know about and could not connect with. Parker was too far from the melody for most of us.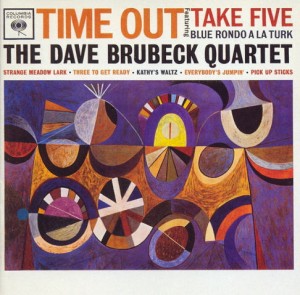 Most people recognize Brubeck through the song Take Five. This song is associated with the beautiful sound of sax player Paul Desmond, who wrote the melody at the urging of Brubeck to write something in 5/4. Desmond tried to make the sax sound like the taste of a dry martini. As a high school kid I wasn't really sure about that but I did think Desmond sounded "cool" (or whatever term we used at the time). And it made me think I was connected to this great revolution in music that was happening at the time, modern jazz. Take Five
As a composer and trendsetter, Brubeck made his mark. But what about his piano playing? It's hard to think of him without Desmond. Part of a piano player's job is to comp; to fill in chords and rhythm. And it's hard to think of Desmond without that underpinning. The Take Five rhythm is Brubeck on the piano… Blue Rondo a la Turk is Dave hammering the rhythm. Blue Rondo a la Turk
And Dave was a great piano player. He stretched out on his solos – but not like Charlie Parker, who defied all forces of gravity and soared into orbit. Dave took a more relaxed approach. He built a melody and then he worked with the chords to move it to a different place. You could hear where he was going and you didn't have to leave the atmosphere to follow him. He helped us reconnect with the past and discover the future.
TQ: I thought about doing yet another selection of odd and obscure holiday songs. But that seems a little passé (although I enjoyed a video from my friend Mike in L.A. – Santa Lost a Ho by the Mill Valley Christmas Jug Band featuring Dan Hicks). If enough of you send me some other winners, I'll consider another holiday-flavored post. But until then, this is all I got…