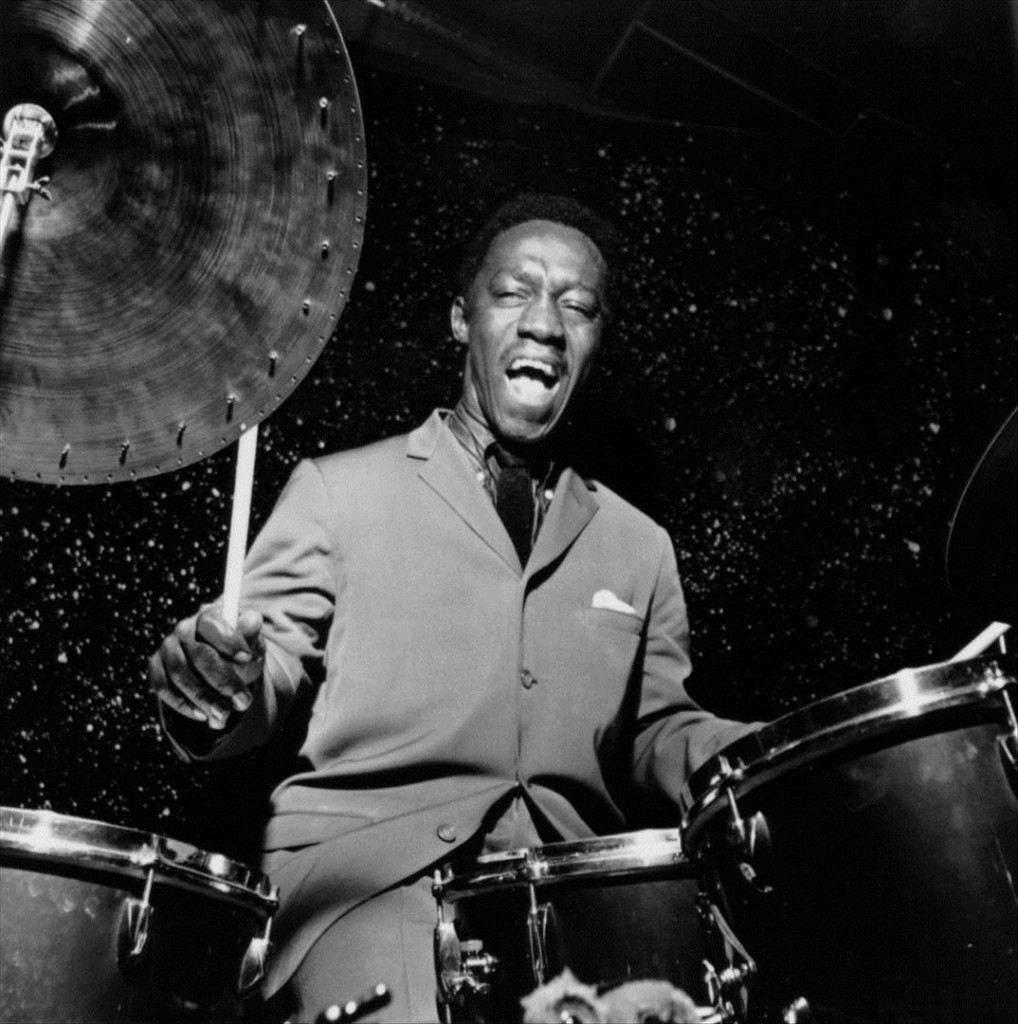 This slight deviation from our usual "10 by" posts allows me to feature a few tunes that this legendary drummer and bandleader recorded with other artists, including the biggest names in jazz.
A native of Pittsburgh, Blakey started out playing piano but, according to one widely circulated rumor, switched to drums when a gun-wielding club owner convinced him that the amazing Erroll Garner was a better fit on keys. Although I can't verify the story, I'd have to agree with said club owner (even without hearing Blakey play a note!).
That's because Blakey the drummer went on to become one of the prime architects of hard bop – a groove-heavy subgenre that remains stubbornly resistant to virtually every major trend in jazz. And that's a very good thing, especially when you consider that few have been able to improve on this swing- and blues-based formula over the past six decades: Moanin'
That cut was recorded in 1958 by Blakey's main contribution to American culture, his band the Jazz Messengers (at that point featuring the blazing-hot trumpet of Lee Morgan). But he also played and recorded with virtually every major jazz artist of the era – Thelonious Monk, Miles Davis, Dizzy Gillespie, Mary Lou Williams, Sonny Stitt, Bud Powell, Sonny Rollins, John Coltrane (early live recordings with Dizzy), Charlie Parker, Dexter Gordon, Clifford Brown, and on and on. And he wasn't just the guy who happened to be available for the gig… His hard-driving rhythms and forceful personality had a profound impact on all those artists and many more.
He recorded his first sessions in 1944 with Billy Eckstine and His Orchestra, which also launched the careers of Miles, Dizzy, Dex and Bird. But he probably developed his aggressive, polyrhythmic approach to his instrument in Africa, where he lived and played for two years after Eckstine's band broke up in 1947. During this period, he also converted to Islam (taking the name Abdullah Ibn Buhaina), although he maintained a very casual relationship with his faith and adopted name over the years.
Rather than try to describe Blakey's style in greater detail, I'll defer to saxophonist and jazz critic Chris Kelsey:
"Blakey differed from other bop drummers in that his style was almost wholly about the music's physical attributes. Where his contemporary Max Roach dealt extensively with the drummer's relationship to melody and timbre, for example [for evidence of Roach's genius, check out the various takes of Powell's masterwork, Un Poco Loco], Blakey showed little interest in such matters. To him, jazz percussion wasn't about tone color; it was about rhythm – first, last, and in between. Blakey's drum set was the engine that propelled the music."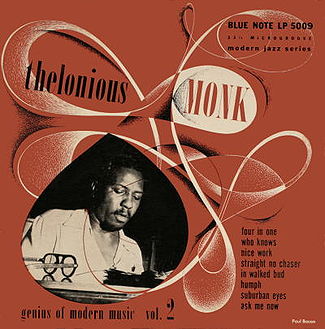 Although his propulsive style became the gold standard for bigger, horn-driven bands, Blakey initially earned his keep with his sympathetic support of jazz piano giants such as Monk, Powell and Horace Silver. We'd still be talking about him today just by virtue of his work on Monk's earliest sessions, including this song from 1951 that eventually became a jazz standard: Straight No Chaser
Although Blakey had been playing in several lineups featuring Silver – including a dazzling quintet that was captured live in '54 at NYC's Birdland club – things really started to gel when the two hard-bop pioneers joined forces with saxophonist Hank Mobley and bassist Doug Watkins for several sessions at engineer Rudy Van Gelder's fabled studio in Hackensack, NJ. Trumpeter Kenny Dorham joined the core group in late '54 on this cut, which was released on Blue Note as Horace Silver and the Jazz Messengers (Blakey took over the band after Silver's departure the following year) and presaged the pianist's future glories at the label: Doodlin'
The Messengers' original quartet also recorded a session in '55 under Hank Mobley's name. This percolating original showed some of the range (including a few Caribbean spices) that Blakey used to great effect in his later recordings for Blue Note: Avila and Tequila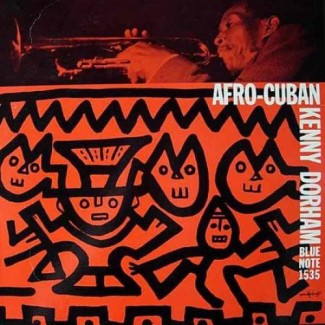 Speaking of Latin jazz, I'm a big fan of another '55 session that resulted in the Kenny Dorham album Afro-Cuban. On this cut, Blakey and Dorham were part of a nonet that included Silver and Cuban percussionist Carlos "Patato" Valdes. His latter-day drum solos aside, Blakey had this innate ability to drive the beat while perfectly blending into the mix, as evidenced by this Dorham-penned tune: Afrodisia
I could've written several posts on the recorded output of Art Blakey and the Jazz Messengers. Let's view their legacy through a few brief factoids:
Classic band: Morgan, Wayne Shorter (sax), Bobby Timmons (piano) and Jymie Merritt (bass)… One of the most powerful and proficient lineups in jazz (if you can find the 6-CD Mosaic collection The Complete Blue Note Recordings of Art Blakey's 1960 Jazz Messengers without paying a small fortune, go for it).
More than 150 alumni – most notably, Wynton and Branford Marsalis, Keith Jarrett, Freddie Hubbard, Terrence Blanchard, Jackie McLean, Chuck Mangione, Joanne Brackeen and Curtis Fuller.
Founded in '54… remained in business up until Blakey's death in 1990.
Contributed many standards to the jazz canon, including Moanin', Blues March, I Remember Clifford, Politely, Dat Dere and this Shorter tribute to the hard-swinging saxophonist Lester Young: Lester Left Town
Quote by saxophonist and former Messenger McLean after Blakey's passing: "The school is closed" (should've been his epitaph).
As I alluded to earlier, Blakey never met a drum solo he didn't take. And a Messengers live show always included several launching pads for his explosive solo flights. Back in the early Forties, Dizzy wrote this song to show off his stunning chops… then Bird appropriated it for the same purpose (one of my Parker comps just samples the "Famous Alto Break" and throws out the rest of the song). With this fiery remake from 1960, Blakey had the audacity to take on the two most accomplished soloists in jazz (and further embed this song into popular culture). A Night in Tunisia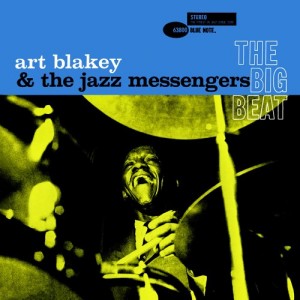 If you're looking to pick up just one album by the Messengers (besides a career-spanning comp), I'd recommend 1960's The Big Beat. The classic lineup… great material, including the aforementioned Lester Left Town and two other songs written by Shorter when he was really hitting his stride… that warm, "fly on the studio wall" Blue Note Sound… God bless Rudy Van Gelder, but I'm not sure it's possible to screw this up – and all the pieces come together wonderfully on this original by Timmons: Dat Dere
As another example of how Blakey could elevate other jazz artists, I've included the last two minutes of a transcendent recording with Grant Green and pianist Sonny Clark from 1962. Blakey eases the reins on Clark with a laid-back shuffle, lights a fire under Green with thunderous breaks, manhandles his tom-tom like it's an African talking drum, and even goads the band with a few well-placed shouts. Rock is filled with very physical, visceral drummers… but how many can bring it like this? It Ain't Necessarily So
It would be a real stretch to say that Blakey's hard-bop juggernaut buried free jazz, acid jazz, soul jazz or any other variation on the form. In fact, contemporary artists such as Kamasi Washington (Kendrick Lamar) and Donny McCaslin (David Bowie's swan song, Blackstar) are doing their best to move jazz into bold new directions. But give Blakey credit for keeping the form alive during some lean years and training the next generation of "true believers."
We'll close with Blakey's final recording, a unique collaboration with Dr. John on keys and David "Fathead" Newman on sax and flute. The Bluesiana Triangle project (1990) was curated by William Ackerman for his Windham Hill label – better known as a home for new age music. I wouldn't call it essential, but it gives you a sense of what could have been if Blakey had signed with a boutique label (Nonesuch, maybe?) about 10 years earlier. Reminds me of our last subject, Eddie "Cleanhead" Vinson:
Beware of Mr. Blakey… Yeah, it happened – a much-hyped battle between Blakey and former Cream drummer Ginger Baker. You can only catch a slice of it in the excellent doc Beware of Mr. Baker (Blakey is the final "opponent"). Who won? You be the judge:
Art Blakey and the Jazz Messengers live on the BBC, 1965 – with Lee Morgan back from the classic lineup: