Fifty years ago, Lonnie Mack revolutionized rock guitar with his blazing instrumentals Memphis and Wham. Here's a re-post in his honor – a look back at Mack and the Cincinnati-based label that brung him, Fraternity.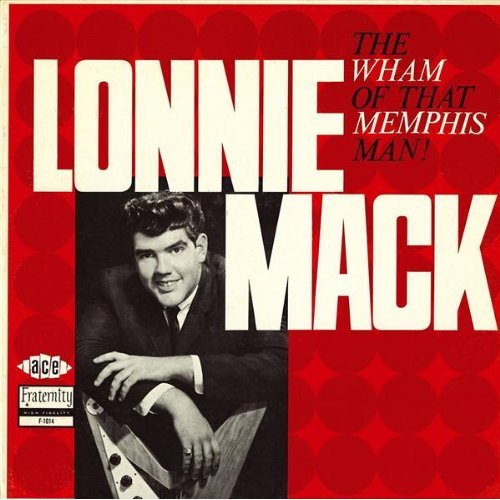 In the Fifties and Sixties, you had to look real hard in Cincinnati to find evidence of Fraternity Records, other than its occasional presence on the charts. In fact, the local label probably went unnoticed by thousands of people who slept in the same building – the Sheraton Gibson (now the site of the downtown Westin Hotel).
That's where Harry Carlson rented out a suite and did business through most of that period. An aspiring songwriter and former big-band horn player from Nebraska, Carlson had developed relationships over the years with DJs and industry reps around the country. From his hotel suite, he made deals with both local and national artists, and then jobbed out the actual recording to independent studios – including one in Chicago operated by another big-band veteran. From there the master tapes were sent back to Room 105 at the Sheraton, where Carlson would listen to them and make the appropriate changes. He would then send the tapes to a pressing plant in Indianapolis, where RCA took over distribution of the final product nationwide. In other words, this was the antithesis of the huge King Records operation.
A good example of the Fraternity approach was in the off-handed way that the biggest chart hit to come out of Cincinnati was handled. "Fraternity called me up and wanted me to go in and record a couple of songs," said Lonnie Mack, the influential rock guitarist who lived just across the state line in southeastern Indiana. "I went ahead and taped them and then left for a tour in Florida. A friend drove down later and said he'd been listening to Memphis on the radio all the way down." Memphis/Lonnie Mack
The year was 1963. The song was an instrumental cover of the mild Chuck Berry hit. Mack had worked it up as a fast-fingered guitar showcase while performing locally with his band, the Twilighters. He scored again on Fraternity that same year with another hot instrumental – an original called Wham. Here's the unforgettable opening: Wham/Lonnie Mack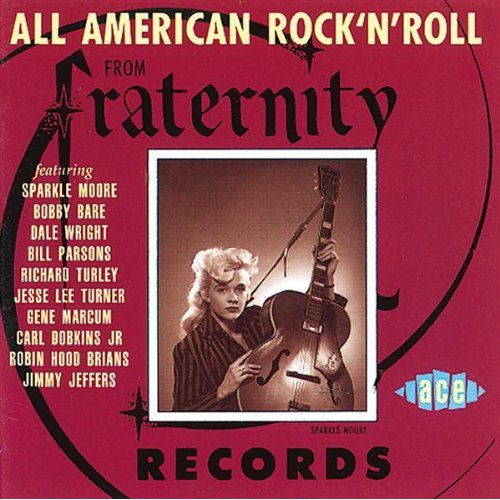 Several other Cincinnati and regional artists gained national exposure with hits on Fraternity. Bobby Bare's All American Boy made it to Number 1 in 1959, and Bare went on to a successful recording career in country music. As late as 1967, the Casinos scored a big hit with Then You Can Tell Me Goodbye, recorded at King Studios. Other acts on the Fraternity label included Jackie Shannon (later Jackie DeShannon), Jimmy Dorsey (who passed away shortly after hitting Number 1 in '57 with So Rare), Cathy Carr (scoring in '56 with Ivory Tower), and Dale Wright with the Rock-Its, another Cincinnati act that climbed the carts, with She's Neat.
Here's All American Boy, which was recorded as kind of an Elvis parody and originally attributed to Bare's friend Bill Parsons when Fraternity mislabeled the single: All American Boy/Bobby Bare
Cincinnati record man and raconteur Shad O'Shea became part of the Fraternity legend by buying the label from Harry Carlson for $25,000 back in 1975. "You don't buy a legend for $1.98," he added.
A former top-rated DJ in the Sixties, O'Shea recorded a number of novelty singles on the Fraternity label under such dubious nom de plumes as Gonzales Bonaparte, Hy Bush and the Wild Cranberries, and Shad O'Shea and the McHamburger Helpers – local vanity projects that help keep the label alive until it faded away in the 1980s. He also ran his own independent studio in the Cincinnati area and recorded artists for a number of other labels.
O'Shea felt it was his responsibility to put some life back into pop music. "Rock and roll today is no fun," he said back in 1982 (O'Shea passed away in 2009), when various hair bands were taking themselves way too seriously on the fledgling MTV network. "It's overproduced and too sophisticated – people just don't get excited and stomp their feet anymore. I'll take those old records any day. They were fun, invigorating, innocuous and, above all, exciting."
The success of King and Fraternity records was directly based on that excitement, which is undeniable when you listen to the singles cut in Cincinnati by Lonnie Mack, Bobby Bare, Little Willie John, James Brown and many others.
That Memphis Man…
In '82, I had the good fortune of hunting down Mack at a small club just off Route 50 in Aurora, Indiana. One door went into the bar, where some serious drinking was taking place, and the other went into the Party Room, where Mack and his band were playing to a fairly sparse crowd. Cover charge: $1.50.
I was joined by a fellow writer who used the alias Harleigh Marlowe and lived with a stripper who worked the clubs across the river from Cincinnati in Newport, Kentucky (subject for another post?). I'll let Marlowe pick it up from there:
"We could see a sort of Charlie Daniels-ish figure slide quickly in place behind a mike, buckling on a dusky red Flying V guitar. He had a big salt-and-pepper beard, an even bigger paunch, a deeply carved cowboy hat with adornments folded in, and levis and cowboy boots with real pointy toes. Our eyes kept going back to the Flying V, though, mainly due to the authority and power in the blues runs coming out of it. Make no mistake, that is Lonnie Mack up there, with more rock 'n roll history in that red guitar of his than any other in the world except, of course, Chuck Berry's."
The locals seemed fairly disinterested until Mack launched into his hit, Memphis, which managed to get just about everyone out on the dance floor. As Marlowe pointed out, "There is a certain respect for the great old songs, even if there is not automatic respect for the great old musicians."
We were especially impressed with Mack's voice – a gritty, powerful wonder. Although we were aware of the "blue-eyed soul" songs he cut with Fraternity – tunes like Why and Satisfied – it still was a revelation hearing him sing up close and in person. Here's a fine vocal performance from 1963… Farther On Up The Road/Lonnie Mack
We introduced ourselves to Mack during a break and had a nice chat. He was gracious and sincere, and seemed to appreciate the fact that we knew more than a few things about his music. At the time, there were rumors that "personal problems" were holding up his career (we wisely chose to avoid that subject). Mack mentioned that he'd been doing some work with Ronnie Hawkins in Canada, mostly playing oldies, and that seemed to him like a good place to start things up again.
Shortly after our visit, Mack moved to Texas and reconnected with Stevie Ray Vaughan, whose own career was beginning to take off. Vaughan remained a strong friend and supporter throughout Mack's comeback, which began with the 1985 release of his first album on Alligator Records, Strike Like Lightning (the album features a Mack-Vaughan guitar duet on a remake of Wham, re-titled Double Whammy).
You can find a surprisingly detailed and colorful look at Mack's career on Wikipedia, of all places. It includes an interesting account of his presence on The Doors' Morrison Hotel sessions (apparently, he played some, if not all, of the guitar parts on Roadhouse Blues). He also did a brief stint in a corporate job at Elektra Records, where he produced a gospel version of Let It Be and tried, but failed, to release it before the Beatles' own version came out. Mack currently lives in rural Tennessee, where he is reportedly working on a memoir.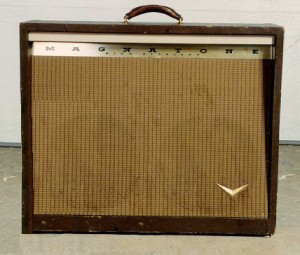 For you gear-heads out there… Lonnie Mack got that rich, swirling sound by playing his Gibson Flying V (he had the seventh one ever made) through a Magnatone amp, and using his guitar's "whammy bar" to subtly bend a few notes for added effect. Back in the late Fifties, Magnatone began offering the first amps with "true vibrato," using electronic circuits to create cyclic changes in pitch. Other amps claimed to offer vibrato but in fact could only muster a tremolo effect (cyclic changes in volume). Then there was the Leslie speaker system (commonly used with the B3 organ) – sort of a hybrid that produced obvious changes in volume with the unit's rotating speaker as well as a subtle vibrato through the resulting doppler effect. That's as far as I'm willing, or able, to take that technical discussion.
Vibrato vs. tremolo aside, Mack's sound was truly unique – and he admits to copping it from Robert Ward, who at the time was living and gigging some 50 miles north of Cincinnati in Dayton. A native of Georgia, Ward formed the Ohio Untouchables (who later became the Ohio Players) in 1960 – three years before Mack's groundbreaking singles were released on Fraternity. Ward's amplifier of choice? The Magnatone. Here's Ward backing a young Wilson Pickett in a tune recorded at Cincinnati's King Studios in 1962…  I think it's fairly easy to hear the strong influence that Ward had on Mack: I Found A Love/The Falcons (Wilson Pickett with Robert Ward)
Blues guitar orgy – Lonnie with Albert Collins and Roy Buchanan, live at Carnegie Hall in 1985. Lots of stuff going on with musicians in the background, but the real fireworks are up front.
Rock-A-Bop… The androgynous-looking woman with the pompadour on the cover of All American Rock 'n' Roll is Sparkle Moore, better known to her family in Omaha as Barbara Morgan (a lot of aliases in this post… Mack was born Lonnie McIntosh, and Marlowe's girlfriend used the less-than-original stage name Pussy Galore). In case you're wondering what Sparkle's 1956 Fraternity single Rock-A-Bop sounds like, here it is… Not what I'd call essential rockabilly, but still entertaining: Rock-A-Bop/Sparkle Moore