SOUL! See you kids TONIGHT… Did YOU work on your BOOGALOO? It's a Mashed-Potato, DO the ALLIGATOR, Summertime NORTHERN SOUL Dance CRAZE, and the kids are going NUTS!
Another invitation to party with my favorite band in these here parts. Start with a little Northern Soul hucksterism from the UK… Throw in a healthy dose of old-school Brooklyn-style soul, perfected by the good folks at Daptone Records (Sharon Jones, Antibalas, etc.)… and top it off with some Rubber City grit and showmanship – that polymer-infused je ne se quoi that always seems to give our homegrown bands the edge. Boys and girls, I bring you The SOUND of YOUNG AMERICA – Wesley Bright & the Hi-Lites! 
The first thing you notice about the Hi-Lites is that they're damn tight. Not a wasted note from the horn section, which was clearly modeled after the J.B.'s (in other words, consider them part of the rhythm section), and a truly badass bottom end, anchored by my friend Bob Basone on bass – a cagey veteran of Akron's most beloved cover band, The Walking Clampetts – and ultra-funky drummer Nick Fritsch, who cut his teeth playing with former Rubber City bluesman Patrick Sweany. Then you latch on to the howling guitar of Jimmy Parsons, with one foot in Memphis and the other in Rust Belt rock 'n roll. Then out pops Wesley, who can flat-out nail all those aforementioned dances and a few others and, more important, sing like Otis Redding's demon seed. If you're out on a Saturday night and these guys are playing somewhere, you should be pulled over and pistol-whipped for not stopping by.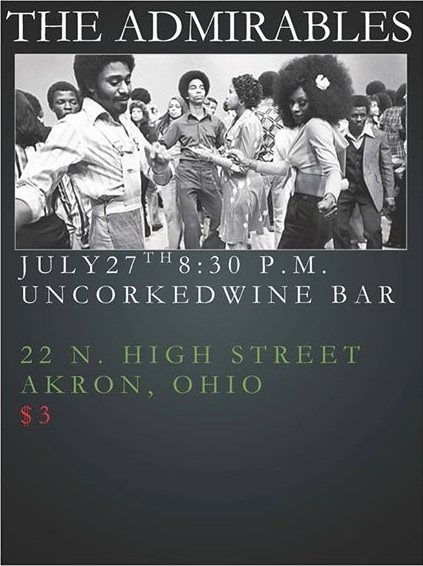 Recently the Hi-Lites – specifically, their sax-playing double agent Nathan-Paul Davis – spawned a worthy contender for this area's best new band, The Admirables. This tough-as-nails outfit wisely leaves the soulful vocals to Wesley & the Hi-Lites. Instead, they mine the great American tradition of the hip-hugging soul/funk instrumental – from Booker T and the MGs and The Meters to modern-day favorites like Daptone artists The Mighty Imperials and The Menahan Street Band. I'm now in Soul Nirvana, with yet another good reason not to leave Akron for the far-sunnier south.
All of this brings us to an online conversation I recently had with Bob. Let's get right to it…
T.Q.: Bob, I've always thought of Akron as a breeding ground for brilliantly skewed rockers – Lux Interior, Robert Quine, Devo, Chrissie Hynde, The Black Keys… Other bands that seem to do well here are in a roots/blues vein, like The Numbers Band and your former group, The Walking Clampetts (mainly rockabilly and surf). I never thought of my hometown as a happening place for classic soul and funk – until now. The Hi-Lites, the Admirables, DJ Ben Crazy and other soul-spinners… What the hell's going on here?
B.B.: Some people would say there's "something in the water." I say there's something in the rubber-laced air I grew up breathing (although growing up on Akron/Cleveland radio had a lot to do with it). I just found out my Mom and Dad saw the Supremes at a state fair in Michigan in the '60s. AM radio was always on in our house when I grew up, so lots of Motown on the radio. Akron has music roots from all over the map… When I played rockabilly and surf in the Clampetts, people here took to it like a rubber worker to beer! Playing in a soul band is just as natural. It's somehow in our DNA – probably has something to do with our close proximity to Detroit and being a blue-collar factory town. Damn, just realized I'm living a few blocks from where Lux grew up… This town has some roots!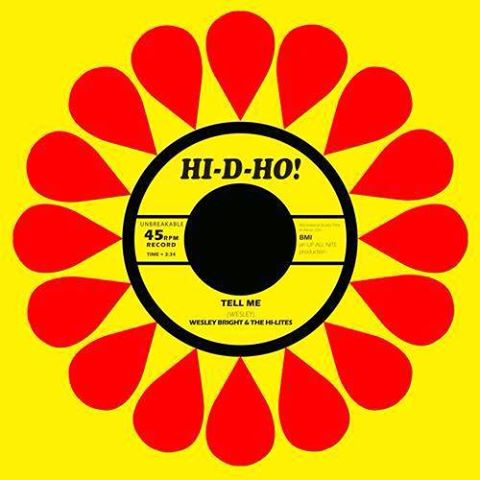 You and Nick have wide-ranging tastes… I'm sure you could've thrown together a jazz combo or a Western swing band and they both would've kicked ass. What made you decide to go all-in with an old-school soul revue?
When I was living in NYC my buddy took me to see the Sugarman Three… I was hooked! Everything came full circle. They were laying down the most badass groove. I started digging around and found out Neil Sugarman is one of the founding members of Sharon Jones and the Dap-Kings. Amy Winehouse's record Back in Black had some of these guys on it… still a stunning record.
The Hi-Lites have done a few shows up in Cleveland with the Secret Soul Club. Is that a hip version of the Masons or the Illuminati? What's that scene all about?
Our friends in the Secret Soul Club are like our brothers from another mother. We couldn't believe our luck when we stumbled into a club called Duck Island in Cleveland. These guys were spinning the greatest records ever. Stuff we wanted to play, records we wanted to buy, people dancing their asses off… these guys really get it! Wesley, Nick and myself have been huge fans ever since.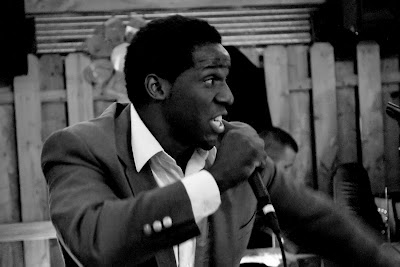 I love the second-floor patio at your home base, the Lockview. This might sound a little harsh, but it makes you forget you're in downtown Akron (still a work in progress). It feels sort of like an outdoor speakeasy – maybe the perfect hideaway for a Rubber City Soul Club?
The Lockview is the first place we played. Every time we've played there it's been around 95 and humid. We set up in front of the rooftop air conditioner that spews hot air. It's like our little version of The Cavern in Liverpool. People dance, sweat and get greasy… The way rock & soul in Akron Ohio is supposed to be served – well done!
What's up next for the Hi-Lites? Any shows/recordings/collaborations on the horizon we should be aware of?
This band now is on a constant cycle of recording and releasing vinyl singles. This Friday [Aug. 30], we're hosting our second release at Beachland Ballroom. We have the basic tracks for the next single in the works as we speak. Also gigging… getting out of town more now… bringing Akron Soul to a town near you!!
You guys read the blog. I obviously listen to a lot of dead people. Any new artists I should make room for? Right now I'm diggin' on some tunes by Jake Bugg and, thanks to my daughter, Pickwick.
Love Jake Bugg. Been listening to Pickwick – some great stuff on that record. Pokey LaFarge is pretty cool for that western swing. Bombay Royale for cool by way of Australia – Bollywood-type rock. Also the new Cactus Channel should be out any day!
Hey, North Coasters… head over to the Beachland Ballroom and Tavern Friday night to celebrate the release of the Hi-Lites' new 45 RPM single. Dust off your turntables, boys and girls!
Wesley Bright & the Hi-Lites, caught live at the Beachland, March 2, 2013…