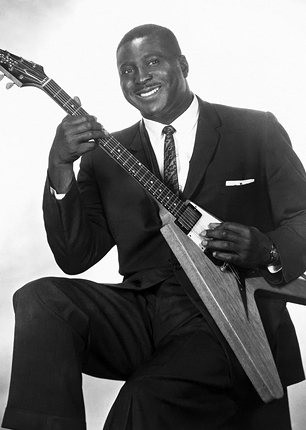 You might notice that I tend to avoid writing exhaustive profiles of my favorite blues artists. Call me lazy, but I prefer to focus on a specific era or a particularly fruitful stint at a given label. John Lee Hooker and Modern. Lightnin' Hopkins and Herald. Big Maybelle and Okeh. Sonny Boy Williamson and Chess. No big, definitive overviews here – I don't have enough meds in the cabinet to write 500 pages + footnotes (even if I wrote the book on Hooker or Sonny Boy, my own family wouldn't stick with it past the preface).
With none of that in mind, let's take a look at one of the more glorious partnerships in all of blues – Albert King and Stax.
King's first album for the venerable Memphis label was released in 1967. And it's hard to find a more auspicious debut in the Stax catalog than Born Under a Bad Sign. Up until that point, very few blues artists made much of an effort to marry the tradition with more contemporary sounds. Sure, you can hear a little Ray Charles (especially his band's tight, start-stop arrangements) in Muddy Waters' classic recordings from the Fifties. And James Brown had a profound impact on a young Junior Wells, who recorded the landmark album Hoodoo Man Blues in '65. But many urban blacks had rejected the blues as too hang-dog and "country" – that is, until King kicked it in the ass with the soulful sound of Booker T and the MGs and the Memphis Horns. Born Under a Bad Sign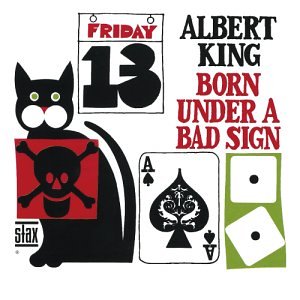 So much to feast on here: That perfect bass line – written by Booker T, doubled on the recording by guitarist Steve Cropper and bass player Donald "Duck" Dunn… Al Jackson Jr.'s sly but sure rhythm, always holding back the reins just a hair (something he copped from Jamaica, I've heard)… That funky turnaround to the V chord… King's explosive guitar, which makes a huge statement right out of the gate… That voice – powerful, assured, equal parts uptown and down-home… Those fateful lyrics – "I've been down since I began to crawl" (the very definition of doom)… And the Memphis Horns adding their considerable muscle at every turn.
King landed at Stax in '66 at the urging of longtime friend Al Bell, who eventually ran the label (into the ground, I might add) in the Seventies. But in a larger sense, King had already arrived on the scene five years earlier when the small Bobbin label unleashed this smoldering workout, which reached #14 on the R&B charts: Don't Throw Your Love On Me So Strong
So the folks at Stax were well aware of King's prodigious talents and got right to work. Before long, he was recording one blues-based classic after another – a mix of unusual covers (Laundromat Blues, The Very Thought of You) and great originals penned by King along with Booker T, William Bell, David Porter and other writers at the label.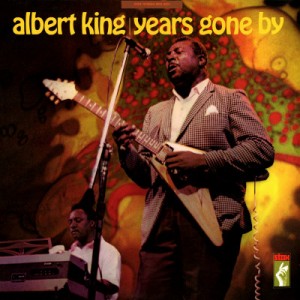 The many strengths of "King meets Stax" are especially obvious when you listen to the MGs' slippery arrangement of Crosscut Saw next to the original, recorded by Delta bluesman Tommy McClennan for the Bluebird label in 1941. The next sample starts with McClennan's version – an impressive blues song in its own right. But it bears very little resemblance to the sleek, stylish model that King and the MGs built in '66. King's version starts in high gear, then those punchy little fills by the Memphis Horns kick it into overdrive. A modern soul-blues masterpiece… No wonder Eric Clapton and other hot-shot guitarists couldn't keep their hands off of it. Cross Cut Saw Blues/Crosscut Saw
King wasn't averse to recording more straightforward blues arrangements during his time at Stax. But even those tunes are elevated by his blistering guitar solos, which serve as models of how to build tension and drama with just a few bent notes and one nasty tone. Personal Manager
That tone and attack inspired a long list of stringbenders who followed – Hendrix, Clapton, Mick Taylor, Robert Cray, Stevie Ray Vaughan, Gary Clark Jr… basically, any blues-based guitarist willing to roam outside the form's more predictable song structures. Let's not forget, King was there first. Before Clapton met Layla and Vaughan covered Kenny Burrell, King and the A-team at Stax were upending tired blues conventions with tough little rockers like this one, a song credited to Memphis DJ A.C. "Moohah" Williams: Oh, Pretty Woman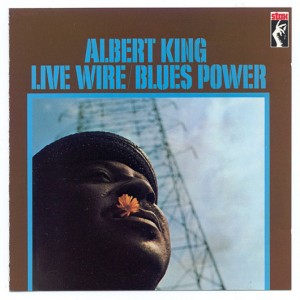 King's decidedly electric sound was tailor-made for white kids weaned on Hendrix and Clapton. And rock audiences embraced King in the late '60s when he shared the bill with The Doors, Jefferson Airplane, Santana and other popular bands at venues like The Fillmore in San Francisco. This love affair was captured live on the excellent release Live Wire/Blues Power, recorded in 1968 at The Fillmore. It's a real treat to hear extended solos by King on self-penned songs such as Blues at Sunrise and Blues Power. Here's a little taste: Blues Power (live)
King seemed determined to funk up his sound in the Seventies, and that led to inspired collaborations with The Bar-Kays and Isaac Hayes' band The Movement (I'm Doing Fine). His genre-bending ambitions also fueled several missteps during the Stax years – and unfortunately, those excesses probably paved the way for later abominations like the Blues Brothers and the fratboy blues-rock served up by the Chicago-based Alligator Records in the '80s and '90s. I wouldn't call this an essential entry in the King catalog (nice guitar, but I don't think the world needed an over-produced cover of a Stones hit)… Honky Tonk Woman
King stuck with Stax until the label filed for bankruptcy in '75. Few of his later releases could match the power and glory of his best stuff on Stax, and a couple of them were downright dreadful. He continued to tour and perform over the next 17 years (his last gig was two days before his death of a heart attack on December 21, 1992).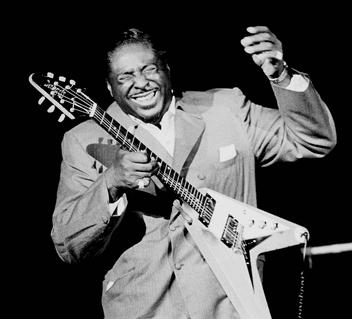 I caught one of his live shows at a small club in Columbus (mid-'80s?). A friend warned me that the irascible King would probably mail it in, and maybe even humiliate one of his band members on stage for good measure. I decided to take a chance – and besides, who could blame him for his bad attitude? If his tour included a lot of 200-seat clubs, he sure wasn't staying at the Hilton. The show ended up being sort of a mixed bag… the pipe-smoking King was well-behaved but workmanlike, and I wouldn't describe his band as top-shelf. But I enjoyed the up-close look at his unconventional approach to the guitar – the lefty played a right-handed Flying V upside-down (he liked the instrument's relative symmetry), usually with a minor-chord tuning. And he bent notes by pulling down on the strings with his big, muscular hands, which explained the incredible range and emotion he could get out of a few bends in the same position.
You could argue that Vaughan was his only true peer among contemporary guitarists. And thankfully, we have plenty of evidence (video and audio) of a legendary King-Vaughan summit in 1983 – a blues guitar orgy for the ages: