In previous posts, we covered a lot of fertile ground in southwest Ohio – King Records, Fraternity Records, Lonnie Mack, Roger Troutman… But the picture wouldn't be complete without the man who introduced Lonnie to his first Magnatone amp – Robert Ward.
I first discovered Ward through his recordings for the New Orleans-based Black Top label, starting with the much-acclaimed "Fear No Evil" in 1991. Then I tracked down an outstanding collection of singles that Ward recorded in the Sixties. The compilation was released in '95 on the tiny Relic label, an offshoot of a vintage record store in Hackensack, NJ. And the title, "Hot Stuff," actually falls short of describing the raging inferno within. This is hard-grinding, hair-raising soul music of the highest order.
Let's start with an incendiary workout recorded in 1962 at Cincinnati's King Records studio. It features Ward and the Ohio Untouchables backing up one of the greatest vocal groups ever assembled – The Falcons, with eventual soul stars Wilson Pickett (lead), Eddie "Knock on Wood" Floyd and Sir Mack Rice: I Found a Love/The Falcons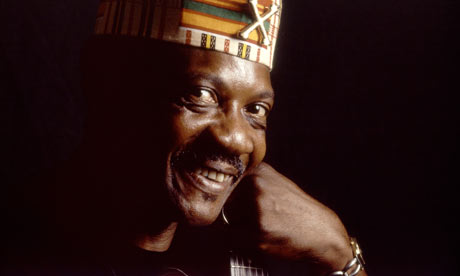 I suppose a little background is in order here… It's not hard to find a decent bio of Ward (and "Hot Stuff" includes excellent liner notes by Bill Dahl), so I'll try to stick with the high points:
Born in Luthersville, Georgia, in 1938 and grew up in poverty with four brothers
Inspired by gospel-singing dad and guitar-pickin' mom, who gave him his first axe when he was 10 years old (a gift from a white family whose house she was cleaning)
Also exposed to blues and gospel through his parents' 78 RPM records – Sister Rosetta Tharpe, the Dixie Hummingbirds, John Lee Hooker, Jimmy Reed and Muddy Waters, among other favorites
Played on a local radio station with a country and western band, using his slide guitar to mimic a pedal steel
Served in the Army from '57 to '59
Returned home to form his first serious band, the Brassettes, which shared a gig with James Brown before touring steadily with the legendary bluesman Piano Red
Which brings us to Dayton, Ohio, where Ward moved in 1960 to find "a better way of living."
Down the road in Cincinnati, Lonnie Mack was perfecting his lightning-fast runs on guitar with stunning instrumentals like Wham and Memphis. Meanwhile, in Dayton, Ward had formed the Ohio Untouchables with bassist Levoy Fredrick (replaced by Marshall Jones in '61) and drummer Cornelius Johnson – and later rounded out by Pee Wee Middlebrook and Clarence Satchell on horns. "I was thinking about Robert Stack and 'The Untouchables' on TV," he told Dahl. "I said 'Well, they're the untouchables in stopping crime. I want to accumulate a band where we'll be up there with the best and be unstoppable.'"
Here's more evidence that Ward had achieved his stated goal: Forgive Me Darling/The Ohio Untouchables
Ward's signature sound involved the thick, organ-like vibrato of the Magnatone amp. And Mack didn't hesitate to get his own Magnatone after catching Ward's act in Indiana. On this tune, recorded in Cincinnati in 1963, you can hear Ward's obvious influence on his protégé Mack: The Bounce/Lonnie Mack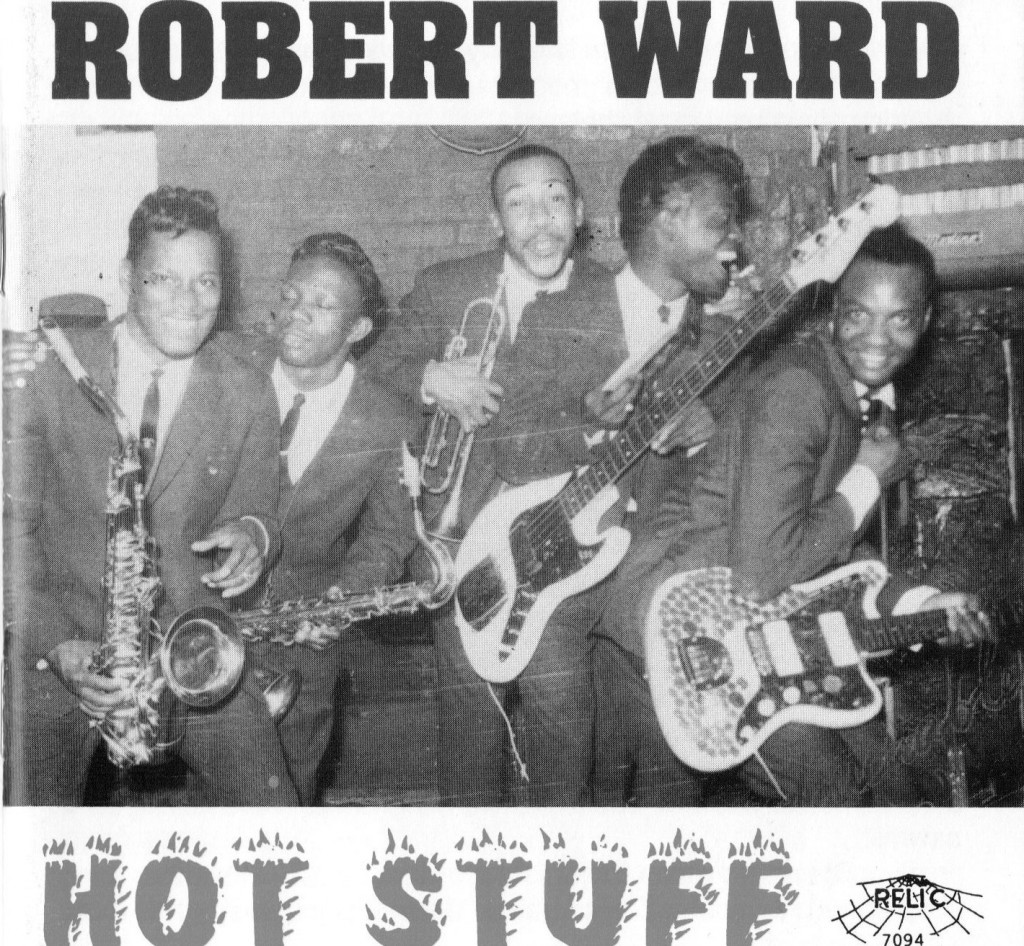 After listening to Black Top-era Ward, it was a revelation for me to hear earlier versions (both with and without the Ohio Untouchables) of his originals like Fear No Evil, Your Love is Amazing and My Love is Strictly Reserved for You. These and other standouts first appeared in the early to mid '60s on Detroit-based labels LuPine (whose producer, Robert West, first signed the Ohio Untouchables in 1962), Thelma and Groove City. Here's the original version of My Love, with powerful singing by Ward. Should've been a massive soul hit… My Love is Strictly Reserved for You/Robert Ward
Ward and the Ohio Untouchables parted ways in 1965, with his former band destined for fame and fortune as the superfunky Ohio Players (Love Rollercoaster) and Ward eventually moving on to Detroit to do session work at Motown. If you think you're new to Ward, think again – you probably heard him on Papa was a Rolling Stone by the Temptations and this unavoidable hit from 1971 by the Undisputed Truth: Smiling Faces Sometimes/the Undisputed Truth
Ward's life took some tragic and unfortunate turns in the '70s and '80s with the death of his first wife in '77 (cerebral hemorrhage) and a year in a Georgia prison, where he played in a band with former hitmaker Major Lance. But much like our recent subject Snooks Eaglin, Ward was rescued from near-obscurity by Black Top co-owner Hammond Scott.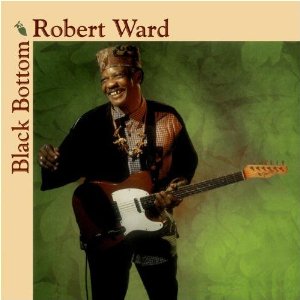 Those who take their blues straight up tend to have pretty strong opinions about the Black Top sound. I'll share the musings of our friend The Hound about Robert Ward's recordings for the label:
"I find Black Top one of the most offensive labels of the 90's blues revival in that they could make lame records with some of the finest artists of all time (Snooks Eaglin being another who comes to mind) by attempting to make their discs 90's radio friendly, as if Robert Ward's record was going to get airplay next to Madonna."
A little harsh? Maybe… and I'll cop to being a fan of Ward's '95 release, "Black Bottom," which includes a rock-solid remake of Johnnie Taylor's soul classic Toehold: Toehold/Robert Ward
But my favorites on that album are a couple of heartfelt ballads with spiritually inclined lyrics and soulful singing by Ward. Here's one that always knocks me out: Silver and Gold/Robert Ward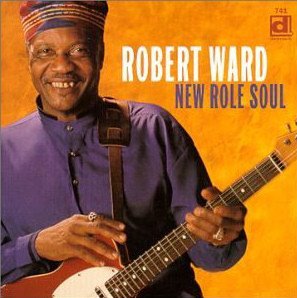 On Ward's final album – the 2000 Delmark release "New Role Soul" – he dispenses of heavy horns and other Black Top flourishes in favor of a more stripped-down sound. With a little less production gloss, this number wouldn't sound out of place on a Groove City single: Never Found a Girl/Robert Ward
In his last years, Ward lived in rural Dry Branch, Georgia (not far from my mom's hometown Milledgeville), with his second wife, Roberta, who contributed to "New Role Soul" as both a singer and songwriter. He suffered a stroke in 2001 and never really recovered. Ward passed away in 2008 – leaving behind an amazing musical legacy that seems to grow more vital as each season of American Idol drifts by.
Here's the only live footage of Ward on youtube – from the Chicago Blues Fest, probably not long after he signed with Black Top. Many youtube videos of tattooed nimrods aping Stevie Ray Vaughan, and only one of Ward. Guess that's why I do what I do. It's not even a particularly great video of Ward. Just good enough to remind you how special this guy was. What a wonderfully soulful voice. Crank it up…