I rarely sit down and listen to Zydeco music for an extended period of time. But I wouldn't think twice about throwing it on at a party, because the best Zydeco has the power to move even the most sedentary asses onto the dancefloor.
Don't have any hard research to back this up (so to speak)… I've just seen it happen again and again – and have experienced the involuntary shaking of my own tailfeather – whenever a rubboard-driven rhythm section lights a fire under an accordion on steroids. In fact, the most popular bar band in the Rubber City, Mo' Mojo, proudly represents this great Creole tradition more than a thousand miles from where it all started.
At this point, I should offer up a basic definition of said genre, courtesy of the good folks at Zydeco Online:
"Zydeco Music is a unique form of musical expression that originated in rural southwest Louisiana. Locally known as 'la la' music, Zydeco music was formed and forged in a time best forgotten – a time when African-Americans had to struggle in the fields from sunup to sundown as sharecroppers so that their children might reap a better life."
I'll let the purists argue over whether it's appropriate for white people in Akron to play this music (the same purists who probably bitched about a certain two-piece playing Hill Country blues). The fact is, few forms of music are as inclusive as Zydeco. Start with the Creole tradition… filter it through a German accordion and Cajun fiddles… add some blues, country, R&B and soul… maybe throw in a little funk, rap and hip hop… It doesn't get much more democratic than that.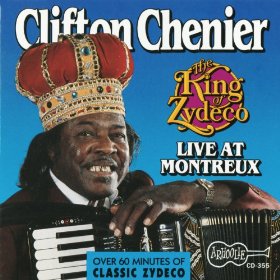 Even the self-crowned King of Zydeco, Clifton Chenier, liked to shake up the tradition. One of my favorite Chenier albums was recorded live at Montreux in 1975 and showcases the razor-sharp guitar of Paul "Lil' Buck" Sinegal, who played on blues sessions for the legendary Excello label and cut some hard-funk instrumentals in the late-Sixties. You can hear those influences and more in these red-hot Montreux recordings, including this fierce take on Barrett Strong's Money (the first hit for Berry Gordy's fledgling Motown enterprise in 1960): Money
I played in a band in Columbus that had the honor of opening for Buckwheat Zydeco on a couple occasions. I distinctly remember the sound man at one club (not a small one either) asking Buckwheat's drummer, Herman "Rat" Brown, how he wanted his rig miked. Rat gave him a withering look and said, "keep those mikes away from my drums, man!" Sure enough, he didn't need any help at all, thank you, as they turned that bland dive into a rockin' Louisiana dance hall (Rat made our fully miked drummer sound like a cocktail-club jazzbo). Hard to argue with a rollicking cover of a Bob Dylan tune: On A Night Like This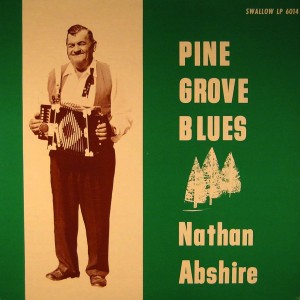 Technically, this next song is more Cajun than Zydeco. But Nathan Abshire is often credited with leading an accordion revival in Louisiana music back in the Forties, so consider him a major influence on modern-day Zydeco. This tune was covered by Texas swing band Asleep at the Wheel and ace slide guitarist Sonny Landreth, but it's hard to top Abshire's original, recorded in 1949: Pine Grove Blues
Let's give it up for Queen Ida, the first female accordionist to front a Zydeco band. She also played a key role in building a global fan base for the genre, bringing her Bon Temps Zydeco Band to music halls around the world. And she's reportedly a damn good cook – just ask her friends and family in the Bay Area, where the 85-year-old Zydeco Queen lives in retirement. Here she covers the D.L. Menard original Back Door (La Porte D'en Arriere), which is the best door to use when you want to go home but you've got something to hide: Back Door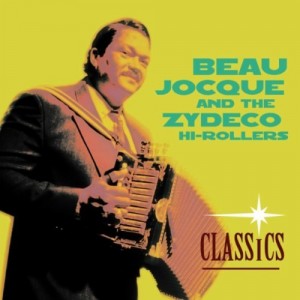 If you like a little umph in your Zydeco, look no further than the hard-driving sound of the late Beau Jocque (Creole for "Big Guy"), who recorded some outstanding cuts for the Rounder label in the Nineties. An electrician and welder by trade, Jocque took up the accordion while recuperating from a work-related accident. He and his band, the Zydeco Hi-Rollers, brought a few new spices to the mix, including funk, soul and reggae. Unfortunately, the big guy (270 pounds) died of a heart attack in 1999. Here's a little taste of what the Zydeco Nation is missing today: Don't Tell Your Mama, Don't Tell Your Papa
Jocque's main hero was Boozoo Chavis, another Zydeco legend who knew how to fill a dancefloor. The next song is a perfect example of that infectious, relentless rhythm that most people (e.g. those with pulses) can't resist. It's from an album Boozoo recorded in 1990 as part of the Elektra label's appropriately named Heritage Series – definitely a rootsier version of Zydeco than most of the other tunes featured here. Whether singing about dogs, billy goats or monkeys, Boozoo always brought the goods… No better reason for a rockin' theme to remember him by: Boozoo's Theme Song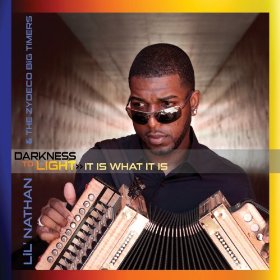 The tradition is in good hands with more contemporary acts such as Lil' Nathan & the Zydeco Big Tymers, J Paul Jr & the Zydeco Nubreeds and Akron's own Mo' Mojo and The Zydeco Kings. Lafayette native Nathan Williams Jr. follows a proud family tradition that includes his father, leader of Nathan and the Zydeco Cha Chas, and Uncle Sid, owner of the popular Zydeco venue El Sid O's. But he also gives the form a decidedly more urban feel with heavy doses of hip hop and rap. Not sure Nathan Abshire would approve, but this is how you rock a younger crowd and still call it Zydeco (from Lil' Nathan's 2013 release Darkness to Light – It Is What It Is): Pumpin' on Me
I'll close with a cut by Mo' Mojo, led by the amazing Jen Maurer (lead vocals, squeezebox, guitar) and including longtime friend Leigh Ann Wise on rubboard, trumpet and harmony vocals (check out the full lineup and upcoming gigs here). I've done my time in local clubs playing mostly Chicago blues and Memphis soul, but I've never seen dancers more delirious than those you can find at a Mo' Mojo gig… and very few of them use psychotropic substances, I've been told. This sample might give you a little sense of how the band brings it live (I think that's Davidione Pearl on second vocal): Mo' Mojo Zydeco
A very artful performance clip of Boozoo Chavis, from the '88 UK documentary Aly Meets the Cajuns…
Not a damn thing wrong with this song by J Paul Jr & the Zydeco Nubreeds…