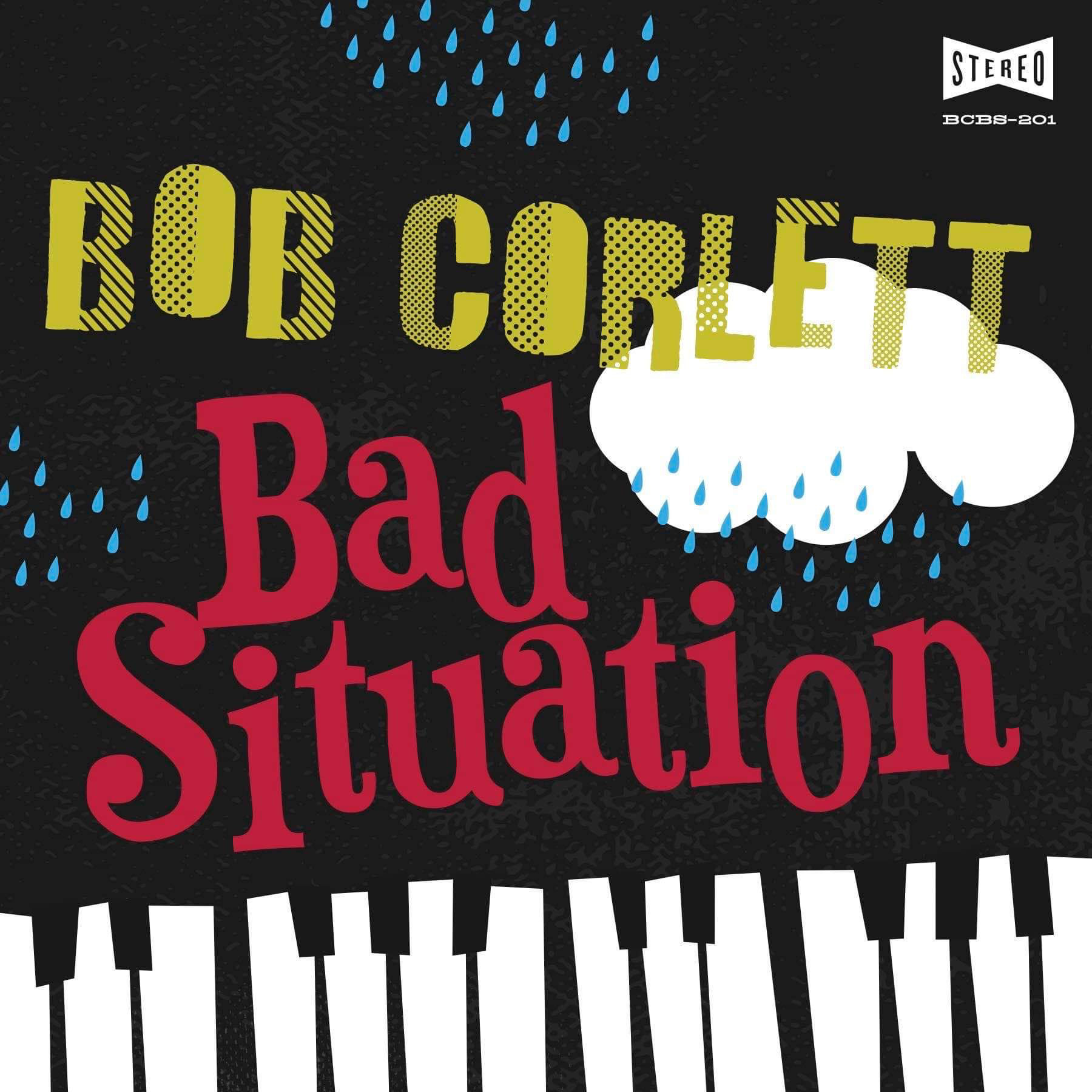 Just when you start to think that those "End of Days" whackjobs are right, along comes something that makes you feel a little better about the human condition. Case in point: Bob Corlett's new release, Bad Situation.
In the spirit of full disclosure, I'll admit that I've known and played music with "Bayou Bob" for years. Singer, songwriter, pianist, accordionist, devotee of N'yawlins music, cuisine and culture… It's hard not to like a guy who brings a healthy dose of spice and soul to every occasion — from spirited jam sessions at Akron's fabled BLU Jazz+ and raucous gigs with his shit-hot band The Zydeco Kings, to freewheeling conversations about our favorite Crescent City artists.
Bob's latest release builds on a rich legacy that dates back to his first live shows with his band The Malibus back in the late '60s. I entered the picture in '92 when I joined him in the blues-soul band The Business, then the next year we became founding members of the wildly popular Wanda Hunt Band (this was back when live music was king and the term "binge-watching" was primarily used to describe members of the Audubon Society).
We stayed in touch over the last two decades, and recent jams at BLU gave us a convenient excuse to play together every week (that is, until this virus from hell screwed the pooch in early March). So now I have plenty of time to give you a blow-by-blow of Bad Situation.
In one of the wisest moves he's made in his career, Bob decided to enlist the prodigious chops of multi-instrumentalist Wes McCraw (guitars, bass, synth, drums and percussion). As co-producers, Bob and Wes brought a laser-like focus to the album's uncommonly rich sound, then added a little extra spice with background singers Becky Plush and Mike McClosky. The end result? A homegrown project that should be the envy of any self-respecting major label.
Let's sample this tasty platter song-by-song:

We're off to a rousing start with the Big Easy shuffle of Old Times, Good Times, a tune co-written by Bob and Cleveland-area folk legend Charlie Wiener. "Come with me, let's live that dream; hot summer nights down in New Orleans… shake off the years, see how life can feel, sip on a Hurricane and kick up our heels…" Then McCraw kicks that sweet, soulful vibe into overdrive with a riveting guitar solo (both with and without slide). Reminds me of Muddy Waters' spoken-word aside on Louisiana Blues: "Oh take me with you, man, when you goin'." Old Times, Good Times
Speaking of blues legends, Leadbelly gets the full Corlett/McCraw treatment with a funky, rollicking take on the old chestnut Goodnight, Irene. Bob gets plenty of room to show why he has very few peers in these here parts when it comes to bluesy barrelhouse piano. McCraw throws in more tasty guitar. And the Plush/McClosky choir brings a churchy feel to the proceedings (think late-night service, right before closing time). Goodnight Irene
Now we're in full second-line mode with a blistering cover of one of my NOLA faves, Coconut Milk by Bo Dollis (former Big Chief of the Wild Magnolias). Corlett powers the tune with his locomotive piano and organ, punctuated by McCraw's stinging blues fills. Dear Akronians: If you've ever been to New Orleans, you know how lucky we are to have musicians in our own backyard who know how to play this shit. Now get back to your Galley Boys (and don't forget to mow the Devil Strip). Coconut Milk

Next up: It's Love Baby (24 Hours a Day), a tune written by Ted Jarrett and originally performed in 1955 by his friend Earl Gaines, lead singer for Louis Brooks and His Hi-Toppers. "I kind of stole Dr. John's version for my band The Zydeco Kings, but Delbert McClinton's take on it is my favorite," Bob said. "My ultimate test for good songs to cover is fairly simple: any song I enjoy playing and singing." Delbert would definitely approve of the steady-rolling roadhouse groove on this one. It's Love Baby (24 Hours a Day)
I've always enjoyed Bob's heartfelt performances of Randy Newman's signature song, Louisiana 1927. "What has happened down here is the wind has changed; clouds roll in from the north and it start to rain…" Hey, it's not all about letting the bon ton roulet. A lot of bad stuff happens in Louisiana too — the Great Mississippi Flood of 1927, Katrina, viral hot spots… Makes you yearn for the days when a real sleeper like Calvin Coolidge ran the country. Louisiana 1927
Last but certainly not least, Bob gets to show off his mad accordion skills on the self-penned Bad Situation. "I had pages and pages of lyrics that were my attempts to be thoughtful and profound," Bob said. "Finally I thought, keep it simple and write about something you know, and that resulted in Bad Situation." The title might allude to these dangerous times, but it's a bit of a red herring when it comes to describing the song's joyous Zydeco soul. Bad Situation

OK, I'm done "dancing about architecture," as Elvis Costello so eloquently put it. Ball's in your court, so order a copy of Bad Situation by emailing Bob at [email protected]. Or stop down at BLU when the plague lifts — we'll be there every Tuesday night, until The End of Days.