Our Eddie Hinton post generated a lot of traffic over the past couple weeks (1,500 Likes and counting), so that tells me there's a lot of interest out there in deep Alabama soul.
One of the benefits of writing about these great unsung heroes of American music is that occasionally I hear from someone who had a front-row seat in the making of these songs. The Hinton post generated a comment from Mark Harrelson, co-owner and producer at Boutwell Studios in Birmingham AL. Harrelson set me straight on a song I wrongly attributed to the Sixties (it actually was a tune Hinton recorded in '76 with the Tuscaloosa All Stars), and even schooled another commenter on a few historical inaccuracies. So I thought, I'd better reach out to this guy before he starts trashing some of my other posts and readers!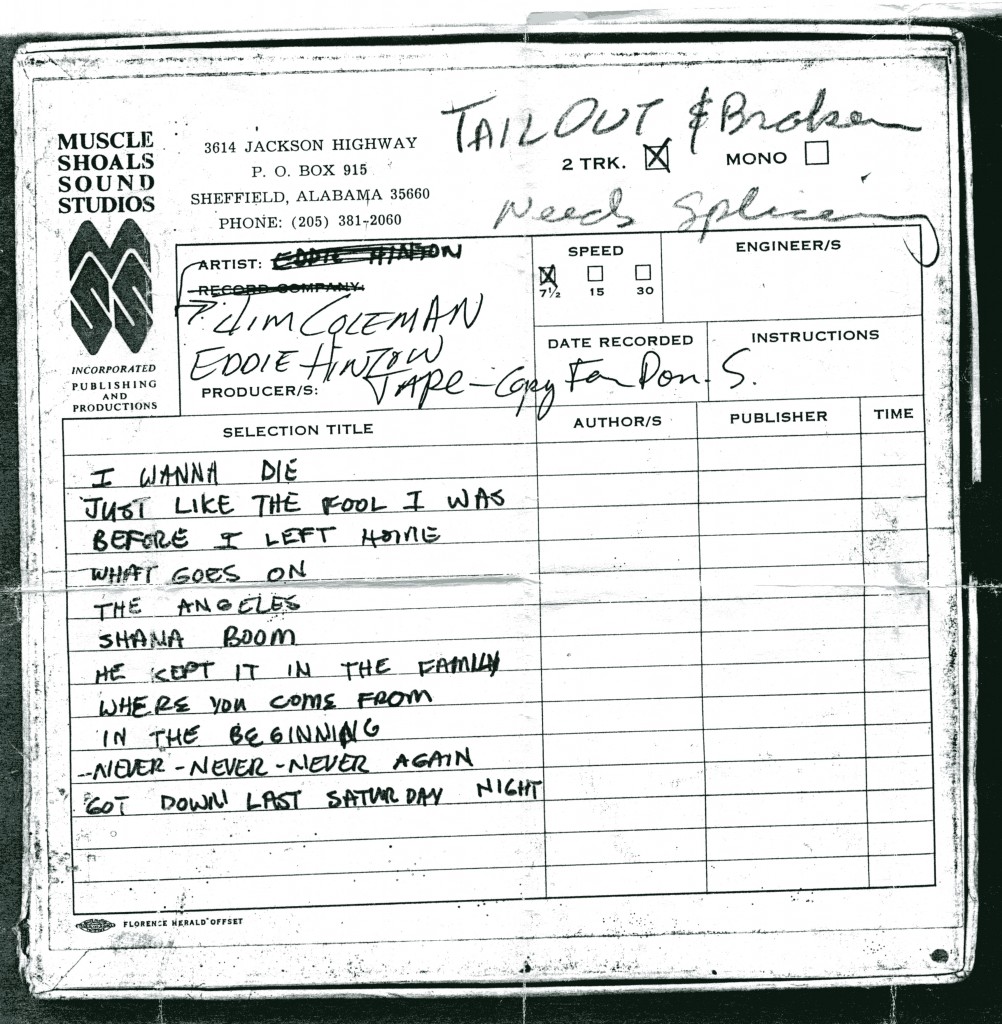 Turns out Harrelson couldn't have been more gracious in directing me to some long-lost gems in the Hinton catalog, including an album he recorded from 1969 to 1971 with the late Jim Coleman, who went on to become a practicing physician in Nashville. Hinton's mother found the master tapes to the appropriately named Lost & Found LP under his bed after her son passed away in '95. Here's a cut from the album featuring Hinton (the Staple Singers recorded their own version in 1970): Sha Na Boom Boom
But the real treasures from Harrelson were demos that captured an evolutionary process behind the creation of many soul classics in Alabama and throughout the south in the Sixties and Seventies.
I wouldn't call this next song a classic by any stretch, but Harrelson's demos and narrative provide a fascinating "fly on the wall" look at how Hinton and other masters of southern soul made magic. The following notes describe a '76 session that featured Hinton and other Tuscaloosa All Stars: singer-songwriter Fred Styles, guitarist Tippy Armstrong, bassist Joe Rudd, keyboard player Mike Duke and drummer Bill Connell:
"We were actually going to rehearse for the session ahead of time, at a practice place (in a junkyard) in Tuscaloosa. I had a makeshift studio set up there, and we thought it might be of some benefit to record the songs on my little 4 track Teac recorder. That way we could listen to playbacks and decide on the effectiveness of tempos, parts, etc, before we went to the 'real' studio. At the very least, the time spent doing these 'demos of the demos' would keep the players from having to learn the songs at New London (studio) – on the clock.
"Little did I know I was about to witness firsthand a style of production perfected in the studios of Muscle Shoals, Memphis, New Orleans, Macon… places where a song would literally be born – shaped by a group of musicians who interpreted a tune and came up with their own parts, without reading sheet music printed and handed out by a 'session leader.' It turned out to be my first exposure to an organic process that is still the way I like to work today.
"I had recorded with Connell several times before, and was already aware that his playing was different from other drummers I had worked with – more measured, more consistent. He could do the same fill over and over when asked to, exactly the same as the first time, or change it slightly when necessary. His tempo was steady, something that is rare in rock or country drummers that only play live. He had a great grasp of dynamics, and could repeat or develop those, unlike most drummers who either play loud and fast – or soft and slow. And his drums always sounded good on tape. Not all drums – or drummers – do.
"I had also worked with Joe Rudd – usually on guitar – but on this session he was scheduled to play bass. I soon realized he was equally talented on both.
"Mike Duke was a fixture around Tuscaloosa at the time… a piano-playing singer-songwriter who had just begun to have some success placing tunes with mostly Macon-based artists associated with Capricorn Records. He would soon join the band Wet Willie and influence their sound greatly.
"I also knew Tippy Armstrong as a guitarist from the Tuscaloosa music scene. Tippy was a veteran of many sessions in Muscle Shoals – most notably for me, on several Bobby Womack albums, which I loved. Tippy had returned to Tuscaloosa, not playing as many high-profile sessions of late. He used to sit in with the band I worked for, Locust Fork. This was the first time that I would work in the studio with him, so I was pumped.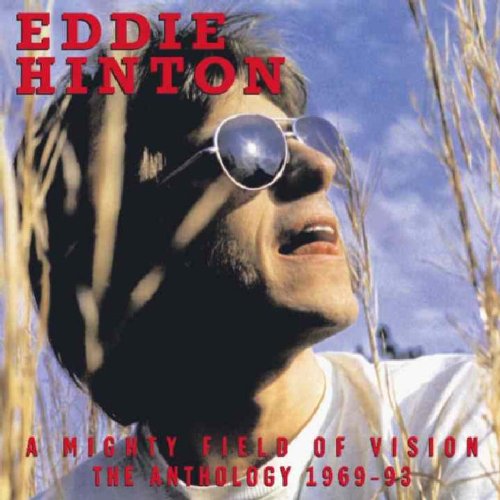 "But I was probably most pumped about working with Eddie Hinton, who was coming to also play guitar on the sessions. Eddie was already a legend around Tuscaloosa, which had been a formative environment for many musicians who went on to make a mark on Southern music – or music in general. He was there in the photo taken in front of 3614 Jackson Highway in The Shoals for the cover of Cher's album of the same name. He had worked with Duane Allman and the Muscle Shoals Rhythm section on the Boz Scaggs album that we were all playing to death on our turntables (Scaggs' self-titled '69 album on Atlantic). He had recorded with Solomon Burke and Aretha – even written a song that she covered (Every Natural Thing). He had seemingly backed away from lucrative session work, initially to produce an album on fellow Tuscaloosan Jim Coleman. It was an ill-fated project which eventually turned into an attempt to present Eddie and Jim as a duo – a sort of Loggins and Messina with soul. After flying to London to overdub the London Philharmonic string section on the project, Eddie pitched it to Atlantic Records' Ahmet Ertegun, who passed. People say Eddie was never the same after that, and just like Tippy, his days of playing big-time sessions were mostly in the past. None of that made me any less enthusiastic about meeting and working with Eddie.
"To me, working with these guys represented a brush with the real music business. Up to this point, I had only worked with local bands, playing in bars and making little song or band demos on my setup comprised of PA equipment and a tape recorder. I was really excited.
"We all assembled at Greenwood Church, a white cinderblock structure which was, as I said, in the middle of a large auto graveyard, just outside Tuscaloosa. I set up in the middle of everybody, monitoring on headphones. As I recall, no one else was wearing them, just running through songs at low volume, listening to each other in the room, like you would at a band practice.
"Fred's songs were basic ballads for the most part, and the arrangement that emerged for Nice Girl was pretty much country with Fred singing and everybody following along using 'number charts.' Eddie played rhythm and Tippy and Mike added traditional fills on guitar and piano. Bill and Joe took care of the rhythm section duties. Nice Girl (Styles demo)
"After a couple of takes, Fred says 'Eddie has an idea of a different arrangement,' and some discussion took place while I loaded fresh tape or tweaked microphone position, levels, etc. I was anticipating something similar to what we had just done. After all, it's the same song, right? How different could it be?
"I had my headphones on, head down looking at meters and knobs when the first few bars of the intro came up – sounding like a TOTALLY different song. Then, for the first time, I heard Eddie Hinton sing. I was not prepared. He sounded like the bastard stepson of Otis Redding AND Solomon Burke, with a big shot of Sam Cooke thrown in for good measure. Fred's country song had morphed into a soul ballad that any of those three artists would sound perfectly at ease with. Eddie grabbed hold of the simple lyric and melody and was wringing the life out of them. Everybody's playing was different also. They were all locked into Connell's drums and were literally blending into a single sound rather than individual instruments. They chugged to the end of the first take and Eddie improvised …'Oh yes I woooouuuld…….' just as the band halted – and before the sound could die out Fred yelled 'GODDAMN, THAT'S GOOD!'… and it was. Nice Girl (Hinton demo)
(Note: They even took the time to screw around with a reggae version: Nice Girl reggae)
"We went on to do the 'real' session at New London, where we cut on 24 track tape with real studio mikes and a 'big-time' Neumann console… big room, grand piano – the works. (Producer) Paul Hornsby, of course, brought a discipline and a technical expertise to the project, and in many ways made a much more professional-sounding recording of those songs. Nice Girl (final)
"Now I know I'm prejudiced, but there's something about those practice tapes I'll always like more, for my own reasons. They were a bit more raw, closer to the bone, and they represent a point in the development of whatever skills I may have in the medium of recording where I began to 'get it.'
"I learned a lot that weekend. I learned that no matter HOW you record something, no matter what mikes you use or where you put them, no matter how long you labor over getting a drum or guitar sound, or how long you sweat over the 'perfect mix,' what matters most is what happens in FRONT of the microphone. The attitude that really good session players have is much more important than what they CAN play. It's what they CHOOSE to play, in support of the song. I also learned that there are an infinite number of ways to interpret a song. The same lyrics, the same chords can be done a million different ways.
"Tippy, Eddie and Joe have all passed away now. I was fortunate enough that weekend to work with them and a bunch of guys that took me and what I did seriously. It made me certain of what I wanted to do with my career, and I've been lucky enough to do it ever since. I think about that weekend and those guys all the time. If I hadn't been there then, I know I'd be somewhere different today."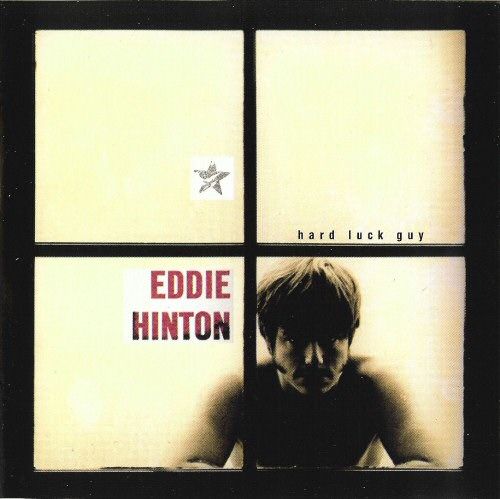 Harrelson also sent me an amazing mix of Hinton's original demo of I Can't Be Me. He was the engineer on Johnny Sandlin's production of a more fully realized version of the song for Hinton's album Hard Luck Guy, which was posthumously released on Capricorn Records in '99. Starting with a guitar/vocal demo that Eddie recorded in Harrelson's basement in 1980, they overdubbed the Muscle Shoals Sound rhythm section and horns.
"Normally, this process happens the other way around, with guitar and vocal overdubbed on the rhythm section, which has already established the tempo," Harrelson said. "In this case – even without a click track – the players were all able to lock in to Eddie's original meter and unorthodox arrangement, no doubt because of their history with Hinton and a genuine desire to pay tribute to him."
This Harrelson remix shows how the song evolved from demo to the final, fully produced version. It's easily one of the finest pieces of music I've featured on this site (the final mix kicks in at roughly the 2:40 mark): I Can't Be Me (evolution)
If all these southern soul treasures weren't enough, I also received an advance copy of Donnie Fritts' new album, Oh My Goodness – produced by John Paul White of the Civil Wars (who also plays and sings on the record) and Ben Tanner of the Alabama Shakes.
Fritt's voice doesn't raise hairs like Hinton's, but he knows how to deliver a song; to strip away all the inessentials and convey basic human emotion in a very direct and honest way. And the songs on Goodness are filled with rich details and beautifully drawn characters, like the guy who played fourth banana to Hollywood swashbuckler Errol Flynn (this one's written by cabaret singer Amanda McBroom): Errol Flynn
The Florence native and former Muscle Shoals session man played keyboards for Kris Kristofferson for more than 40 years, but his main legacy is as a songwriter and musical collaborator. He worked with Hinton on Breakfast in Bed (a standout cut from Dusty in Memphis) and penned If It's Really Gotta Be This Way with Gary Nicholson and country soul legend Arthur Alexander, who covered it on his stunning '93 comeback Lonely Just Like Me. Fritts resurrects the latter on Goodness with a lush string section, which gives it an added sense of drama (live video below).
The guest list to his new album (due Oct. 9 on Single Lock Records) is fairly long – John Prine, Jason Isbell, Brittany Howard of the Alabama Shakes, the Secret Sisters, Spooner Oldham, David Hood, Reggie Young… I was concerned that it might come across as one of those dreaded "duets" projects, but my fears were allayed during my first listen (and I've been back to Goodness several times). White and Tanner shine the spotlight exactly where it belongs: Fritts, his Wurlitzer and those wonderful stories.
As longtime Fritts fan Billy Bob Thornton eloquently stated, "What you see is what you get, and what you get is pretty fucking good."
We'll go full circle by heading back to Tuscaloosa, where it all came together for Fritts (a drummer at the time) back in 1962: Tuscaloosa 1962
Donnie Fritts live with John Paul White and other friends – If It's Really Gotta Be This Way: