I grew up listening to a lot of jazz. Not the edgy stuff. My dad mostly liked straight-ahead piano players like Oscar Peterson, Erroll Garner and Earl "Fatha" Hines. He also had those "can't miss" soundtracks for Sixties cocktail parties – stuff like Dave Brubeck, Getz-Gilberto, Charlie Byrd… even the ubiquitous Sergio Mendes & Brazil '66. You couldn't mix a Manhattan back then without taking a side-trip to Rio.
Pop had a big, clunky reel-to-reel tape player so he could keep the tunes coming without having to stack LPs on a turntable with an automatic changer. That contraption was reserved for my stuff, so I could listen to two sides of Hendrix's "Electric Ladyland" or Cream's "Wheels of Fire" without having to get my ass out of the beanbag.
After leaving home, I began to develop my own taste in jazz – and I eventually noticed that my favorite artists were conspicuously absent from dad's record collection. Not just lesser-known but hugely talented players like Bud Powell or Art Pepper. I'm talking about artists who are universally recognized as the absolute masters of the form – Charlie Parker, Miles Davis, John Coltrane, Thelonious Monk, Sonny Rollins… How could my father reject these giants of jazz?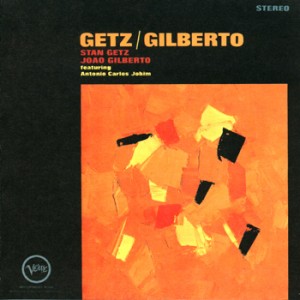 I knew it wasn't a matter of race, because he had no problem expressing his admiration for Peterson or Garner. Then I finally realized what turned my dad against the titans: they were all junkies at one point or another (or, in the case of Parker, pretty much around the clock) during their careers.
Maybe he didn't know that Stan Getz struggled with drug addiction too. Or that Miles beat his habit with the same single-mindedness that guided his best performances (he took up boxing to strengthen his resolve). It just seemed like, no matter how great you were, your latest long-player wouldn't get shelf space at the Quine house without passing the drug test.
And that worked out fine in the long run, because all I needed was a little taste of the hard stuff – hard jazz, that is – before moving on to the main banquet. Maybe if I grew up listening to Miles' "Kind of Blue" I wouldn't be so attached to it today. Maybe it has greater meaning to me because I came to it on my own.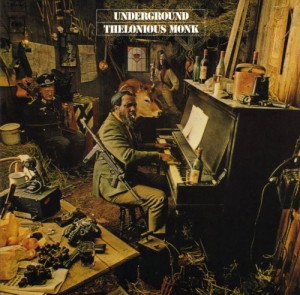 I distinctly remember coming across Thelonious Monk for the first time. I was in my teens, hanging out with a kid down the street whose older brother was a full-blown, drug-addled hippie. We found a record in his collection with an insane photo on the cover showing Monk as a fighter for the French Resistance. He's seated at a dusty piano with a rifle at his side… a Nazi officer is tied to a chair in the back… other guns and grenades are strewn about… What the hell is this?
We dropped the needle on it, expecting something closer to screeching, atonal free-jazz. But the music had a strange, beautiful logic to it – like hearing an extremely gifted pianist play Chopsticks… backwards… wearing oven mitts… and maybe slightly impaired.
I sort of filed that one in the memory banks and went back to my steady diet of heavy rockers, including Led Zeppelin and the Rolling Stones. Then I went off to college, where I decided to expand my horizons by digging into the jazz bins at the local record stores. Couldn't resist buying a used copy of "Criss-Cross" by Monk, which included the title cut and several other thorny originals. But the tune that really warmed me up to Monk was a cover of the old warhorse Tea for Two. You could easily imagine a big-band crooner named Vic serenading his favorite gal (Sal) with an especially unctuous version of this song. Thankfully, Monk took the usual detour by turning the song inside out, creating something far more mysterious than the standard treatment… Tea for Two/Thelonious Monk
So I was off and running with Monk… who was probably banned from our house due to an infamous drug bust in 1951 (he also was banned from most New York City nightclubs when his cabaret card was revoked following his conviction).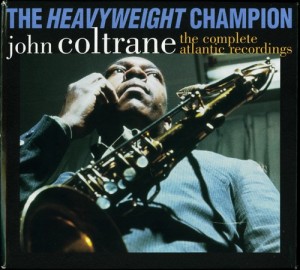 Then I picked up a two-record set of Coltrane's best recordings on Atlantic Records. As Sam Phillips famously said about Howlin' Wolf, "this is where the soul of man never dies." I couldn't believe my dad never told me about this guy. Once again, it probably had something to do with a fair amount of substance abuse early in Coltrane's career – addictions he eventually overcame with what he described as a religious experience. Years later, it didn't surprise me to find out that there's a Saint John Coltrane African Orthodox Church in San Francisco – seemed like a perfectly appropriate way to celebrate one of the most deeply spiritual sounds in music. Here's another radical reworking of an old standard… Summertime/John Coltrane
Some critics prefer Coltrane's later recordings on the Impulse! label, including a few extended workouts that don't conform to any noticeable structure… like, for example, a basic key and time signature. I don't doubt these are important, transformative recordings – the jazz equivalent of what the Sex Pistols did to rock in the Seventies. But you won't catch me listening to "Never Mind the Bollocks," and I've rarely been able to hang with Coltrane's manic, free-jazz excursions for more than a few minutes.
I keep going back to his best stuff on Atlantic, where Coltrane seemed to strike that perfect balance between playing inside and outside – much in the way that Miles walked the same line with his great Sixties quintet with Wayne Shorter and Herbie Hancock. Miles and Coltrane were moving away from the show tunes that stifled more than a few players in the Fifties, but they were still tethered to something… even if that "something" seemed to be floating in space too. Here's Miles at his ethereal best on a tune from "Sorcerer," released in 1967… Masqualero/Miles Davis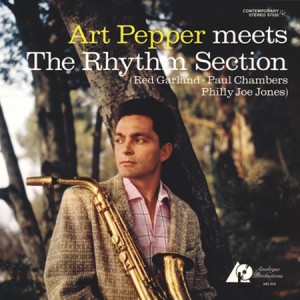 I doubt if my dad ever read "Straight Life," Art Pepper's harrowing account of his years as a heroin addict. But he must've been aware of it (no shelf space at our house for Pepper either). His book is a completely honest and unapologetic look at what addicts do to get from one fix to another… steal, rob, lie and, in Pepper's case, even pawn his precious sax. Pepper's rough life – including a lengthy stint in prison – stands in stark contrast to his effortless and achingly beautiful sound, which often has been identified as part of a cool, "West Coast" aesthetic. But one of his best recordings was with a tough New York rhythm section that backed Miles in the Fifties. On this cut, Pepper had to borrow someone else's sax minutes before he entered the studio (he'd just pawned his main instrument for a quick fix)… Birks Works/Art Pepper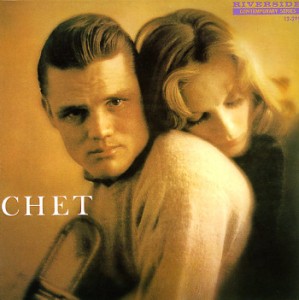 Outside of Parker, the ultimate jazz junkie may have been trumpeter Chet Baker, whose many years as a heroin addict nearly destroyed his playing – not to mention his once model-worthy profile. Like Pepper, Baker was associated with the West Coast sound. And he also sought out the New York jazz mafia to help legitimize his reputation as a major player. But Baker never overcame his demons and eventually fell to his death from a hotel window in Amsterdam. Ironically, he was embraced by both the cocktail set as well as fellow junkies who liked to nod off to his tender ballads. Seems fitting that we should end this post with one of those ballads, from the classic album "Chet," recorded in 1959. Never showed up next to dad's hi-fi, but it's a staple at my house… You'd Be Nice To Come Home To/Chet Baker