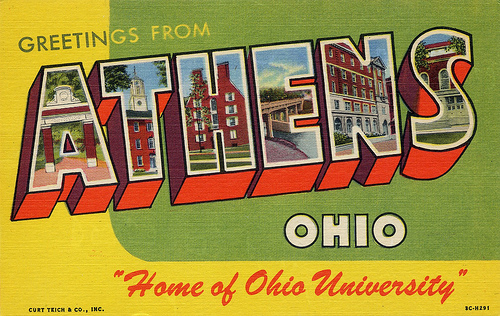 Consider this the final installment in our Substance Abuse Trilogy (I'll blame another brutal winter in the Rubber City):
Athens, Ohio, was an interesting place back in the late-Seventies. I was there earning a Journalism degree from Ohio University after spending a couple of aimless years without a major at Miami University. Nothing against the "Yale of the Midwest"… it was just an unsettling experience going to a school where the kids were more conservative than my own parents.
Athens was another story altogether. At the time, Ohio's minimum drinking age was 18, and the town had plenty of bars to take advantage of it. In fact, almost every other structure uptown was a bar, and virtually every demographic had its own drinking establishment – hipsters, townies, stoners, nerds, foreign students, East Coasters… I think the handful of jocks who mistakenly enrolled at OU hung out at a wet bar in someone's basement. Greek life also was an afterthought on a campus that resembled a Gold Rush mining town.
They even sold beer at the student center, which was jammed with kids every Friday starting around Noon. Any faculty member who scheduled a class on Friday afternoon was quickly banned from campus, never to be seen again.
My sister Mary lived outside of Athens with her husband, Chuck, in a little town called The Plains… very charming. I'd go there often for wonderful home-cooked meals and some mild ball-busting from Chuck, who seemed to revel in the fact that I was just as scatter-brained as his wife. Chuck's cousin, Ned, ran the best restaurant in town, Chiccalini's – sort of a hangout for older transplants from the East Coast (Chuck and Ned were from Teaneck, NJ). One of the bartenders turned me on to the music of Django Reinhardt. I was deeply moved. I even fantasized about putting together my own Hot Club of Athens and playing every week at Ned's joint, then I realized I'd never be able to play like Django. But I digress…
Amazingly, I managed to maintain a GPA of three-point-something (I was never good at math) – maybe even miraculous when you consider all the distractions uptown and my part-time job at the city's cultural hub, School Kids Records. It was a step up from my previous gig as a delivery guy for a beer carry-out. That's right, it was perfectly acceptable to bring cut-rate cases of Busch directly to students who were either too lazy or drunk to make the short walk uptown. I'm surprised they didn't serve drinks at orientation.
We moved mountains of vinyl at School Kids. But we didn't sell a lot of records to average students, if it were possible to define such a group at OU. The ones from New York and New Jersey tended to have more disposable income than those of us who were fleeing economic ruin in Northeast Ohio. But the biggest spenders at School Kids, by a large margin, were wily desperadoes from the hills and hollers south of town – the Meigs County Varmints.
Law enforcement was relatively lax in this little corner of Appalachia, where the Varmints cultivated the number one cash crop in Meigs County, marijuana. And they had become quite skilled at using the area's rugged terrain as cover for their very profitable farming enterprise. A few owned small planes to move product out of state. All of them had big wads of cash, ready to spend at our humble establishment.
One Varmint was a sweet guy who seemed genuinely interested in broadening his taste in music. He popped in the store one day while I was playing the first album by the David Grisman Quintet – an organic melding of bluegrass and gypsy-influenced jazz that showcased Grisman's prodigious chops on mandolin and the amazing Tony Rice on guitar. Here's a little taste… Dawg's Rag/David Grisman Quintet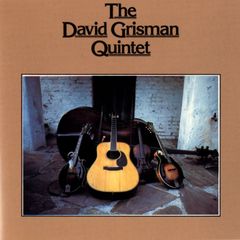 "What the hell is this and where do I find it," the Varmint asked, sensing that our broad categories of rock, country, blues and jazz were virtually useless with Grisman. I confessed that I brought it to the store from my own collection, mainly because I was sick of listening to Dan Fogelberg for eight hours straight (back then, big-selling albums were returned in droves for any number of reasons… I had about three crates of Fogelberg at my feet – evidence of the record industry's eventual demise).
"I'll buy it from you," he said, without actually opening the door to any kind of meaningful negotiation. I faced an interesting dilemma – should I do a side deal with a man who probably has several firearms concealed on his person, and thus part with a hard-to-find album I'd grown quite fond of? Or politely tell him that it's not for sale?
"Sure," I quickly replied, expecting little in return. He tossed me an extra twenty and thanked me profusely as he took the Quintet and about two dozen other albums with him into the night.
Several months went by before I could find another copy of the album. But I also had a few bucks left over to go next door – the bar on the left, as opposed to the one on the right – and share a round or three with my friends.
I often wondered what life was like on Reefer Ranch, with a small Cessna in a nearby field and a few crusty old farmhands sitting around the fire, listening to Grisman and Rice jam on Opus 57 and Swing 51. Maybe they piped the Quintet into the barn, where barefoot women and children packed the final product into massive baggies. Or, they simply flew in Grisman and friends to play at the company picnic.
As I was nearing the end of my time in Athens, the authorities in Meigs County finally decided to get tough with the Varmints. Helicopters with infrared cameras were used to find the larger crops; specially trained dogs were sent into the hills and hollers to track down smaller stashes. A reporter from the Athens Messenger asked my boss at School Kids if "Operation Buzzkill" would have any impact on his business. His response was clear and concise: "Let's see, you're taking about $10 million out of the local economy… the next biggest source of revenue is lunch money… what the fuck do you think is going to happen?"
I can't recall what actually ended up in the paper, but it wasn't difficult for me to figure out the math on that one.
Today, someone's selling posters and costumes at the former home of School Kids Records… R.I.P.
David Grisman, Tony Rice and fiddle player Mark O'Connor on video – tearing up a tune from Grisman's first album…