So this guy sends me a couple of comments… How could you overlook this tune? Why didn't you include this artist? And I tell him, write your own damn post. Well, he did… and I'm pleased to report it meets RCR's high standards for thought-filled, fact-based music criticism. Here's Kevin Swan's take on the forgotten genius of jazz guitar – Grant Green.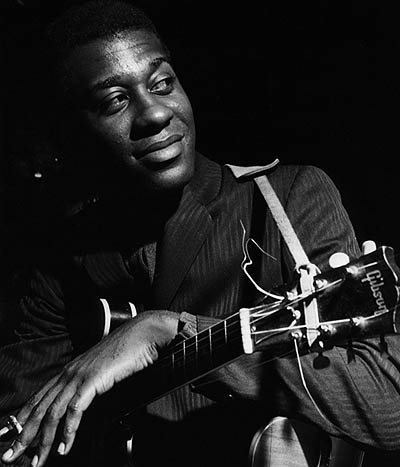 When I fled the hills of Summit County, Ohio, for a small college nestled in the mountains of southeastern Vermont in the mid '70s, I carried with me a few clothes, my Martin D-18 and three wooden produce crates full of vinyl LPs. Everyone I knew had at least one of those lettuce boxes (pre-iPod), as they were the perfect size for record albums yet barely light enough to be carried by one person.
I eventually found my way to the basement college radio station there, and after a semester of providing menial off-air intern work, I landed a late-night disc jockey spot. At 37 watts, the station's transmitter could hardly be called a "flame-thrower," but in that neck of the woods, it was the only station at the far left of the dial (and of the political spectrum). After sundown, it beamed a few miles west into Vermont, east into New Hampshire and barely crossed the border of Massachusetts.
I had been playing in garage bands for a few years and was nutty for modern music, especially jazz-tinged experimenters like Gary Burton, Frank Zappa and Steely Dan. They were hip, smart and geeky all at the same time, and when I played their music I often also aired their "primary sources." I would play a song from a big-time rock band, followed by a cut from an artist that influenced them in some way. So, Steely Dan's cover of Ellington's East St. Louis Toodle-oo was followed by the real, original deal: Black and Tan Fantasy, a song co-written by Sir Duke and Bubber Miley.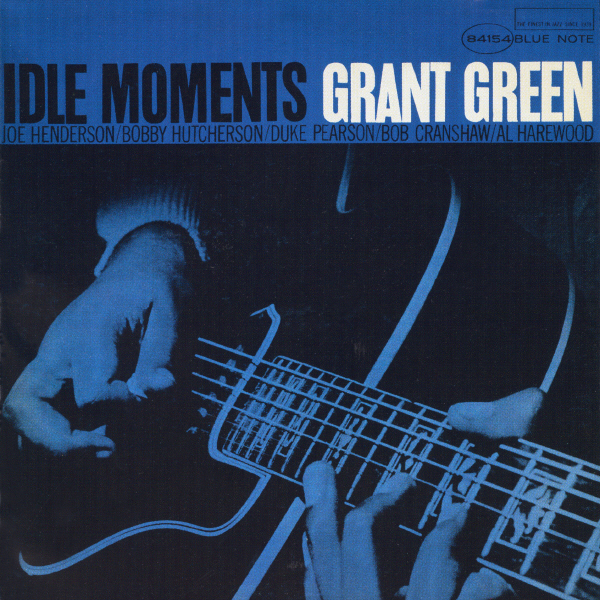 Decades later, I heard Walter Becker, the guitarist and one-half of Steely Dan, reveal in an interview with Marian McPartland that his primary influence as a guitar player had been Grant Green. In the era of Guitar Hero and the ubiquitous, aimless noodling of gear rats at Guitar Center – drunk on Hendrix and Stevie Ray – the subtle playing style of Green can be a challenging change of pace. It is classic literature versus pulp fiction, the full complexity of a Cabernet compared with the bum's rush of Thunderbird.
Grant Green played blues and boogie-woogie music in St. Louis in the late 1950s before transitioning to "hard bop" jazz, performing with drummer Elvin Jones. New York was the jazz magnet, though, and Green was drawn there in 1961 to record his first organ trio side for the legendary Blue Note label. He was both group leader and session man, eventually becoming the label's most prolific recording musician.
With Baby Face Willette at the Hammond B-3 and Ben Dixon on the kit, Green's deft touch and staccato phrasing is whimsical yet artistic on Miss Ann's Tempo: Miss Ann's Tempo
My heart was first stolen by Grant Green, though, in nearly 15 minutes of contemplative piano and guitar sketching on Idle Moments. (This could serve as a one-song textbook for any musician trying to play slowly, quietly and fully, all at the same time.) Less influenced by chord-based guitarists (think Wes Montgomery), Green chose horn phrasing, emulating Charley Parker's sax and Miles' trumpet: Idle Moments
On the Blue Note release "Up at Minton's," Green doubles Turrentine's swinging sax runs with grace and wit, throws in a few countermelodies, and then launches into a tasty solo: Broadway/Stanley Turrentine with Grant Green
He grew as a composer and session player, drawing style and breadth from his mid-'60s work with diverse talents such as Herbie Hancock, Stanley Turrentine and the hugely underrated piano player Sonny Clark. Green also didn't shy away from the obligatory reinvention of a show-tune standard – although this one, from the posthumously released "Matador," is probably more of a tribute to Coltrane (in fact, Green stole half of the sax great's band – pianist McCoy Tyner and drummer Elvin Jones – to record this album). I love how Green playfully scoots around and through the melody: My Favorite Things
His choices (if indeed they were his) of material to cover on recordings weren't always top-notch. I have to skip right past the vapid I Want to Hold Your Hand, and Ease Back falls flat on my ear as somewhat contrived. While Green's guitar is kept high in the mix, it lacks originality and seems less interesting, especially when he throws in more repetitive riffs. Better to spend a few minutes with the groove-laden dexterity of Sookie Sookie or his live recording of Maiden Voyage: Maiden Voyage
Personal problems, not the least being heroin addiction, side-tracked Green for most of the late 1960s, and his return in 1969 as a funk and groove player reflected the changing landscape of music and recording. On The Windjammer he seems less introspective, more willing to experiment with new sounds and techniques than in his earlier and more straight-ahead recordings: The Windjammer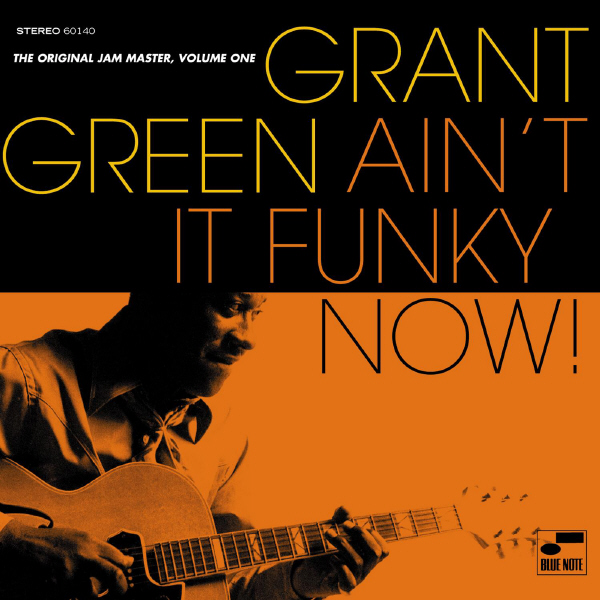 So how is it that Green's name rarely comes up in a late-night Great Guitarists Discussion? Taking nothing away from the obvious artistry, my feeling is that his impassive stage presence – sitting stock still, looking at his hands while playing – didn't click with his live audiences. Green also skipped around the style book, recording ballads, covers, gospel, Latin and groove – all in a single decade. And his style of playing, which relied on vocal- or horn-based melody, was, until recently, considered anachronistic.
In 1979, Green's heart gave out at age 43, in part due to his heroin use. His son, Grant Green, Jr., carries on the family tradition (albeit left-handed), recording and touring with his guitar- and organ-anchored Masters of Groove. To come full circle, I should note that Steely Dan session drummer Bernard "Pretty" Purdie plays drums for Junior.
Green on Blue… Some of our favorite Grant Green album covers on the Blue Note label: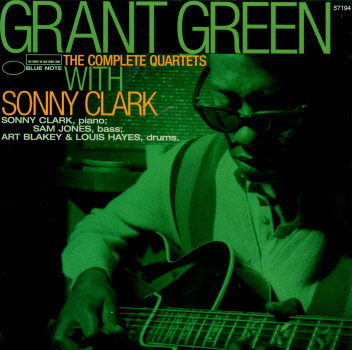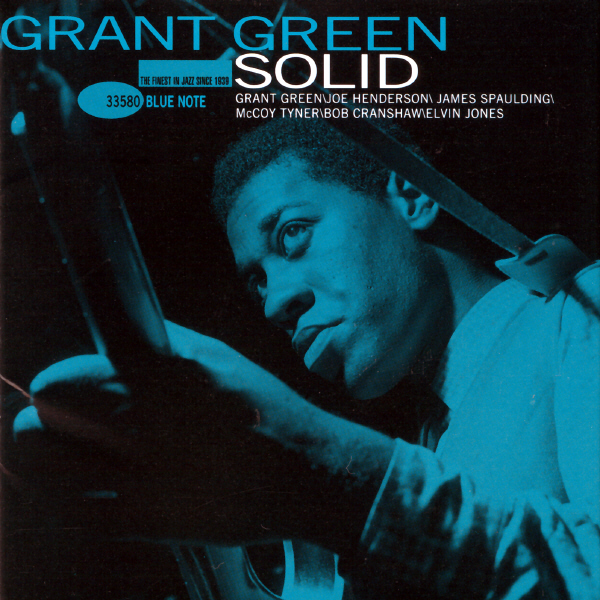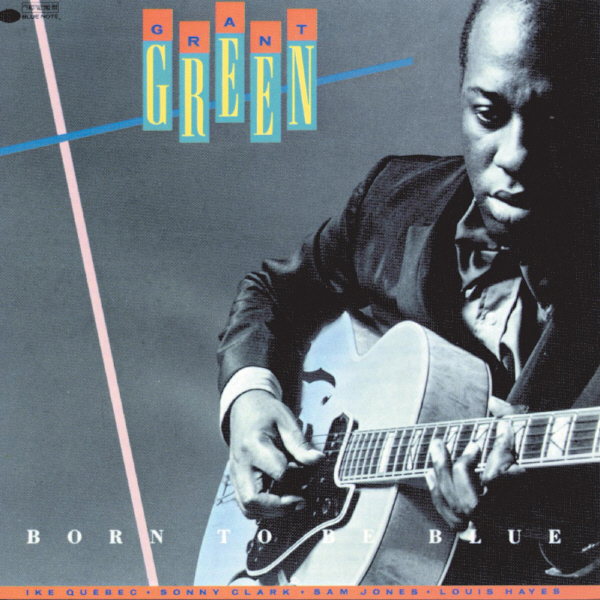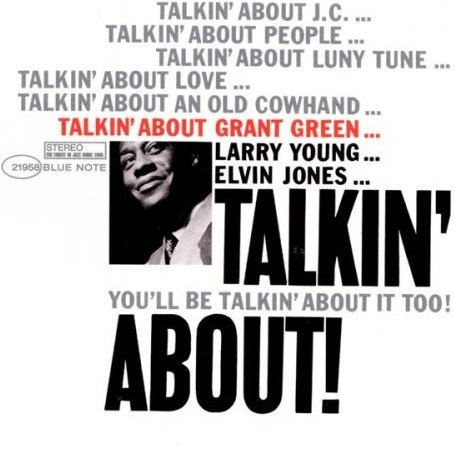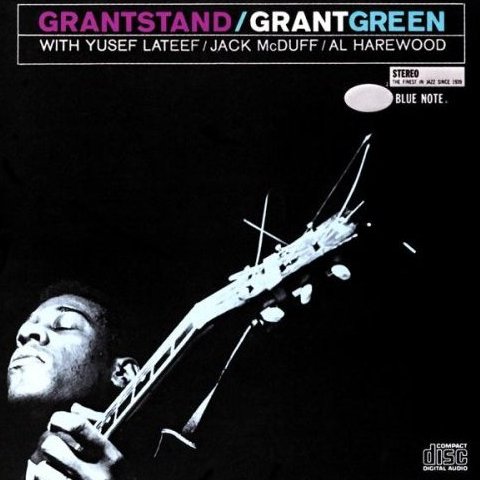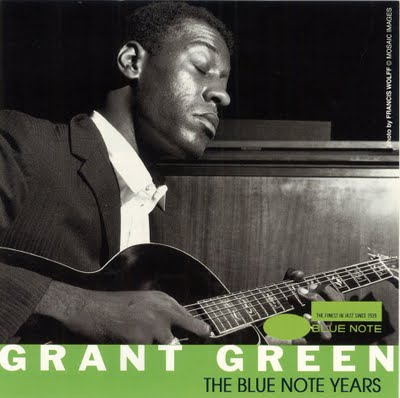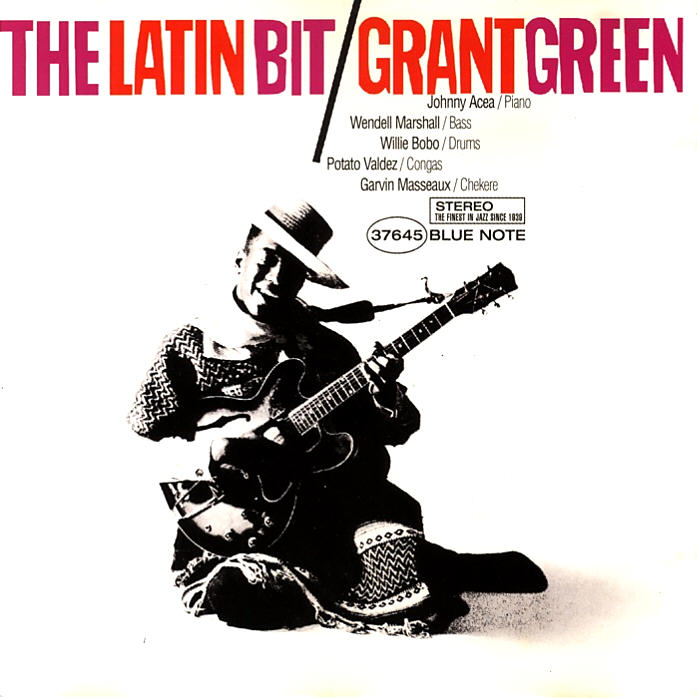 Here's a little taste of "The Latin Bit" – muy sabroso! My Little Suede Shoes
Grant Green on video… Only one that we're aware of on youtube. Here's an excerpt from a jam session with fellow jazz guitarists Barney Kessel and Kenny Burrell.