Nephew Dan is a busy man – touring the world and all – but he wanted us to check out this awesome clip of Otis Rush in his prime, playing in front of a polite but reverent audience of well-dressed white folk…
After viewing this performance (and, unlike most of the audience members, regaining my composure), I had a few important questions: Had Otis and band stumbled onto the set of a TV game show? Did someone pay him to wear the white sweater? And what the hell was this all about?
Turns out this was one of several performances from the fifth year of the American Folk Blues Festival, which toured Europe almost annually from 1962 to 1972. Five additional festivals were held from 1980 to 1985, but these earlier tours were notable for two important reasons. First, they had a powerful influence on the British blues movement of the early '60s – especially artists like Mick Jagger, Steve Winwood and Eric Clapton. And second, they provided rare opportunities to capture American blues artists like Sonny Boy Williamson, Howlin' Wolf, Muddy Waters, Skip James, Son House, Big Mama Thornton, Bukka White and many others, using some of the best studio and video equipment of the era.
For these and other reasons, we have several people to thank – including German jazz publicist Joachim-Ernst Berendt, who first came up with the idea, and promoters Horst Lippmann and Fritz Rau, who followed through on it.
This particular performance was shot at a small TV studio in Germany, October 1966. And of course, I had to find a few other clips from the same show. Here's one with Otis and band (Fred Below on drums… not sure who's playing bass… maybe Sunnyland Slim on piano?) backing up the great Junior Wells.
I'm sure you gearheads know what kind of mic he's singing and playing through… I need me one of them.
It's easy to get lost on youtube watching all of these jaw-dropping AFBF shows… I'll just share a couple more and then tell you where to buy all this stuff on DVD. The first features blues legends Sonny Boy Williamson and Otis Spann playing a very laid-back version of Nine Below Zero. Sonny Boy is far from his peak, but his delivery is the very definition of deep blues – about as soulful as you can get…
Then we get to Howlin' Wolf, the Taildragger… where the soul of man never dies. Smokestack Lighting – from a 1964 performance in England with Sunnyland Slim, Willie Dixon on bass and Wolf's long-time musical foil Hubert Sumlin on guitar. The Brits seem far more excitable than the Germans… Joscha, would you like to weigh in on this?
These and many other performance are available on four volumes of DVDs from Reelin' In The Years Productions… They're listed below for your shopping convenience. And remember, a small fraction of each purchase goes toward ensuring I have the meds needed to write these posts at 3 a.m.
Dressed up to get messed up… Good friend and photog Rick Zaidan took this shot of Junior Wells in the mid-'80s at the former Palomino Lounge in Cleveland: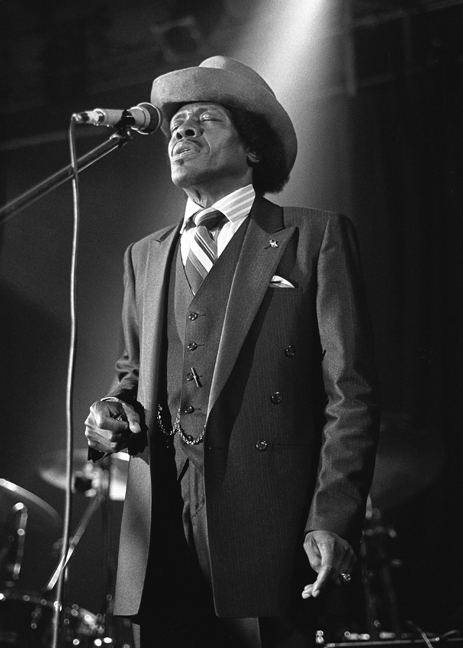 "Junior was touring with Buddy Guy," Rick said. "We got there about four hours before the show to get a table up front. (Rick's friend) John had my Buddy Guy Checkerboard Lounge T-shirt on, and Buddy noticed it during a sound check. Buddy came up to us and said, 'where the hell did you get that shirt?' I told him I ordered it from a catalog. Buddy said, 'shit man, I'm not makin' any money off that shirt… I'm going to have to talk to those motherfuckers.' He was pissed but autographed the shirt anyway… At one point during the show, Buddy did the requisite walk-around solo using a 200-foot guitar cord. Most of the crowd followed Buddy outside while he soloed in the middle of Lorain Ave. Good times."
For you photo buffs out there: Rick took the shot with an "ancient" Leica M3 rangefinder, "because it was a very quiet camera… I got some good shots but still didn't have anything great. With my last three frames I just walked up to Junior and snapped this shot. One of my all-time favorites."