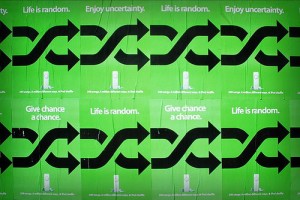 I have more than 21,000 songs on my iPod. And I wrap tin foil around my head to keep out the gamma rays.
Do you think less of me? I'm referring to the iPod, of course. Normal people would find this to be a symptom of OCD. Audiophiles would scoff at the idea of listening to all this music in a highly compressed electronic format. My brother thinks I should be more selective in terms of what I put on my iPod. But my wife likes the fact that hundreds of CDs, records and tapes are now stashed away in the deep recesses of my basement (where I routinely hunt for liner notes to help me with these posts).
One thing about having this many songs on your iPod is that you can put it on shuffle and still feel that sense of discovery. I mean, how many of those tunes could I actually listen to before I dumped them into my library? It's like tapping into a radio station programmed by a guy with… well, tin foil wrapped around his head.
And that's the subject of today's post. No, not mental illness. I thought I'd put the entire contents of my iPod on shuffle and write about what pops up.
This exercise was not audited by the blog authorities. You only have my word that I didn't screw with the results. As usual, I was surprised by what the little genie in my iPod chose to play. And, as usual, the results reflect the fact that I am completely out of touch with today's youth culture (Exhibit A: use of term "youth culture").
But first, let me point out that I typically don't put my entire iPod on shuffle. It's simply too dangerous, especially if I'm driving. I once almost drove into oncoming traffic after Coltrane segued into Coldplay, which I'm sure ended up on my music library by accident.
I prefer using playlists – even if they include several hundred songs – and I've got some great ones.  Drinking songs (see "There Stands the Glass")… pure, unfiltered honky tonk… post-war jump blues and R&B, including some rare reissues that appeared on CD for about five minutes (see "Jumpin' the Blues")… choice cuts from the glory years of Blue Note… playlists devoted to other great labels like Stax, Sun, Fania, Riverside…
I even have my own genres – mainly because I don't like the ones provided by the record companies. For example, I think Freddie King, Link Wray and Lonnie Mack belong in the same category as Dick Dale. So I created the genre "Surf & Beyond." Django Reinhardt doesn't really go with my jazz stuff… he has his own genre. The Black Keys' "Chulahoma," G. Love's "Coast to Coast Motel" and John Hammond's "Wicked Grin"? Dirty Blues. And, as I've already pointed out, R&B ain't Kool & the Gang. It's Louis Jordan, Wynonie Harris and Big Joe Turner. So take that, Mister Genre-Impaired, Think-Inside-The-Box Record Man!
But back to the grand experiment. The first tune selected by my iPod is… Strollin' With Bone, from T-Bone Walker's "Complete Imperial Recordings." Whew… damn good start! I've always been a big fan of T-Bone, and this is one of his best numbers. T-Bone started out as a street dancer, which helps explain his almost percussive attack along with a completely original sense of time and phrasing. And he had a huge influence on virtually every blues guitarist who followed – especially flamethrowers like Clarence "Gatemouth" Brown and Johnny "Guitar" Watson. Strollin' With Bone/T-Bone Walker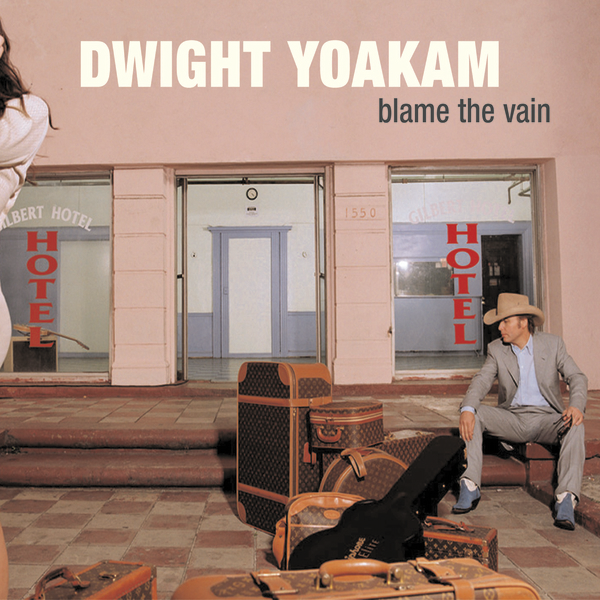 Next up – honky-tonk hero Dwight Yoakam, from his 2005 comeback of sorts, "Blame the Vain." This isn't my favorite cut from the album (the title song is one of Dwight's best). But there's a lot to like on "Blame." Dwight's singing is less affected than on his first recordings. And his new hot-shit guitarist, Keith Gattis, has plenty of opportunities to show off… like this nasty little riff he uses to bring the song back down to the key of E: Intentional Heartache/Dwight Yoakam
Now the iPod genie picks the great Professor Longhair, the King of New Orleans Piano. This is from the 2-CD set "The Mercury Blues 'n' Rhythm Story 1945-55: Southwest Blues" – actually one of four releases in a first-rate overview of Mercury's landmark R&B recordings. I'm not sure if there is such a thing as a bad cut by Longhair. I can highly recommend the nine that show up on the Mercury collection… as well as Rhino Records' "'Fess: The Professor Longhair Anthology" and especially "House Party New Orleans Style," which features two of my favorite guitarists of all time – Gatemouth Brown and Snooks Eaglin. Been Fooling Around/Professor Longhair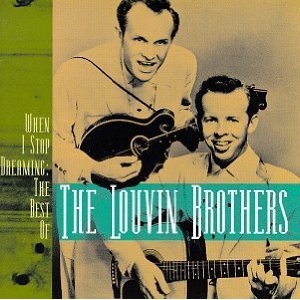 Here's a tune written by Johnny Cash but performed by the Louvin Brothers, who showed up in our recent post on harmony singing. You have to wonder what pit of despair Cash stumbled into to write this one: "Lord have mercy on me was the kneeling drunkard's plea, and as he knelt there on the ground I know that God in heaven looked down… Bring my darling boy to me was his mother's dying plea, and as he staggered through the gate alas he came just one day too late." Give me a few minutes to recover… I'll be right back. Kneeling Drunkard's Plea/The Louvin Brothers
We stagger from that one to Hearsay by The Soul Children – a vocal quartet, split evenly across gender lines, that recorded for the Stax label in the late '60s and early '70s. Both of the male Soul Children – Norman West and J. Blackfoot – still perform today. This tune sounds oddly reminiscent of Soul Man, which is exactly what Stax songwriters Isaac Hayes and David Porter had in mind… They were hoping to strike gold with a different combination after Sam & Dave slipped away (they remained with Atlantic following a split with Stax in '68). You can find Hearsay on a two-disc compilation from 2007 celebrating Stax's 50th Anniversary. Hearsay/The Soul Children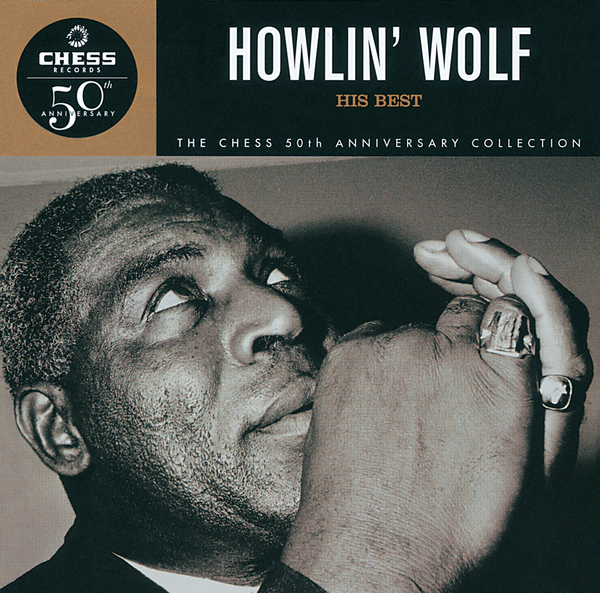 From Memphis we head up to Chicago – following the same route that Howlin' Wolf took from Sun to Chess Records back in 1953. A year later he cut the song Forty-Four, one of many interpretations of a blues standard first recorded by Roosevelt Sykes in 1929. The original is more curious than menacing, with "44" used to reference a gun, a train and a cabin. Wolf, on the other hand, has one thing in mind, and that's pumping lead into the poor sonofabitch who messed with his woman. Essential Chicago blues – with Hubert Sumlin and Jody Williams on guitars, Otis Spann on piano, Willie Dixon on bass and Earl Phillips on drums. Forty-Four/Howlin' Wolf
And why wouldn't you follow up that one with the dazzling sax of Sonny Stitt, playing the George and Ira Gershwin favorite Nice Work If You Can Get It? Yeah, I'm starting to get a little whiplash too. But at least this one's by a master like Stitt, and not Sting (thankfully, I have a very effective "Sting-B-Gone" filter installed on my iPod). This version is from the 3-CD box set "Stitt's Bits: The Bebop Recordings, 1949-1952"… with liner notes by Cleveland's Harvey Pekar ("American Splendor"). Nothing groundbreaking on it, so don't run out and get it – unless you happen to like beautifully executed jazz by one of the greatest sax players to ever roam the planet. Nice Work If You Can Get It/Sonny Stitt
Talk about whiplash… now we're back in the honky tonks, this time with California cowgirl Heather Myles. I love the collection this song is from: "Rum and Rodeo," which pulls select cuts from Heather's first two albums on the Hightone label. She's got a lot of that hard, Bakersfield sound in her… I'm sure she's a woman you wouldn't want to trifle with. An American original with loads of talent – playing music that's authentic, honest and heartfelt. Wonder why she never caught on in Nashville? The Other Side Of Town/Heather Myles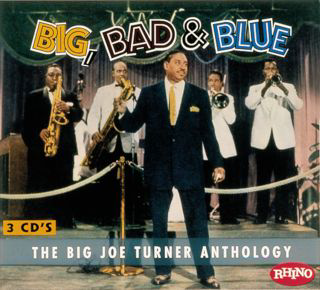 Now let's go down to the Crawdad Hole with Big Joe Turner. This tune is from "Big, Bad & Blue," an essential overview of Big Joe's storied career as the Boss of the Blues. You could argue that his glory days were long gone by the time he recorded this number in 1983 with R&B revivalists Roomful of Blues. But I would've paid good money to hear Big Joe sing along with the organ player at the ballpark. Now strap me in a time machine and take me back to Kansas City, 1935, Big Joe shoutin' the blues over the boogie-woogie piano of the great Pete Johnson. Crawdad Hole/Big Joe Turner
We should've stopped right there… but I let my iPod play one more song, and up pops Sexual Healing by Marvin Gaye. Actually, once you get past the crappy production, it's a pretty damn good song. In fact, I'm not sure if anyone has ever celebrated the joys of getting it on with as much passion as Mr. Gaye. Well, maybe R. Kelly… but the only healing R. has in mind involves Feelin' On Yo Booty (this is the same guy who recorded Heaven, I Need A Hug??). Come back, Marvin – we need you now more than ever…
R.I.P., Harvey… On the same morning I pushed the button on this one, Harvey Pekar passed away. Here's a nice tribute in today's New York Times. I found it interesting that Pekar might have been banned from the Letterman Show for lashing out against General Electric, then Letterman himself started trash-talking GE toward the end of his tenure at NBC. Here's a clip of Harvey's tirade… he'll be missed (now I feel silly for wasting even a sliver of bandwidth on LeBron).