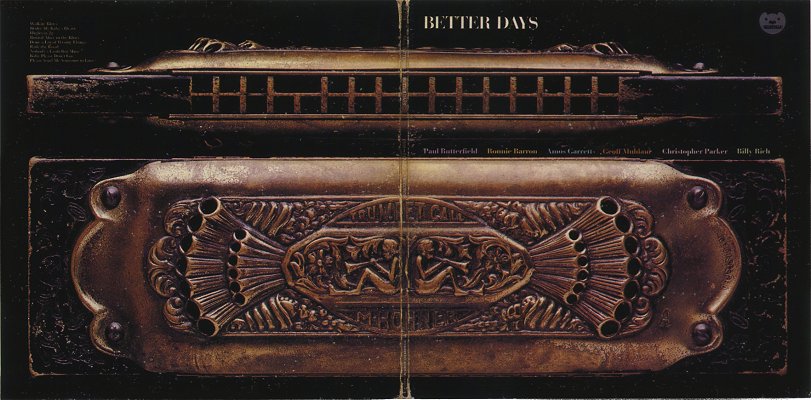 I've played blues harp for years… not on the same level as, say, Charlie Musselwhite, but I can get the attention of a bar full of drunks.
One band I played in never seemed to make it through a gig without some cocky amateur, usually with just one harp, asking if he could get up on stage and jam on some blues. Since I was the resident cocky amateur, I was always put off by these requests… "Go out and start your own crappy white blues band." Finally, our frontman came up with the perfect response: "Look, we'd love to have you sit in, but every guy in this band plays harmonica, and we're pretty damn sick of it."
Which was basically true, underscoring one of the challenges of the instrument and harp players in general. Let's face it, most of us pick it up out of sheer convenience – who the hell wants to drag a piano up a flight of stairs? And it takes literally minutes for a newbie to play like Bob Dylan or Neil Young. Unfortunately, very few harp players are willing to take the time to move beyond stringing together a few blues riffs and basic tricks and actually learn a melody, no matter how rudimentary it might be. Then there's Butter… Work Song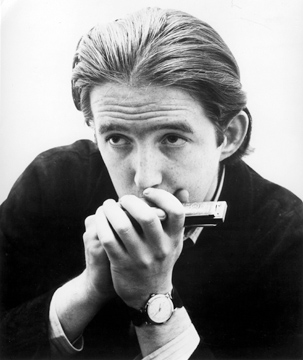 Paul Butterfield grew up in Chicago's Hyde Park neighborhood, not far from the tough South Side clubs where blues royalty like Muddy Waters, Little Walter and Howlin' Wolf held court on a regular basis. Butterfield's background was decidedly middle-class – as a kid, he took flute lessons from a member of the Chicago Symphony Orchestra, which might explain his more melodic approach to the harmonica. But I wouldn't describe his playing as "pretty."
In the notes to Robert Gordon's excellent book "Can't Be Satisfied: The Life and Times of Muddy Waters," you can find a quote from Butterfield that underlines the futility of his parents' early efforts to turn him into a classical musician:
"What we played was music that was entirely indigenous to the neighborhood, to the city that we grew up in… There was no doubt in my mind that this was folk music; this was what I heard on the streets of my city, out the windows, on radio stations and jukeboxes of Chicago and all throughout the South, and it was what people listened to. And that's what folk meant to me – what people listened to."
A wise man (probably someone who wrote the liner notes to an album I no longer own) once compared Butterfield's style to that of a great prizefighter, which seemed to ring true to me. Always dancing around, bobbing, jabbing, waiting for the right opening for that big hook… you get the point. Here's Butterfield, boxing his way through a knockout performance on 1972's "Better Days"… Highway 28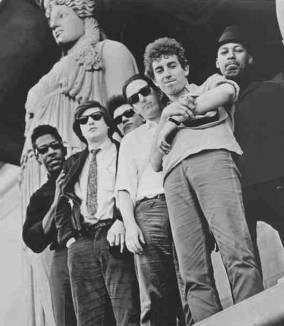 Obviously, by the time Butterfield recorded that number, he'd long been under the spell of his blues idols, especially Muddy Waters and Little Walter. He's often credited with exposing them to a huge new audience – mainly white college kids who couldn't get enough of what they were hearing in Chicago blues clubs.
Butter even stole Howlin' Wolf's rhythm section – bassist Jerome Arnold and drummer Sam Lay – back in the early '60s to form one of the first interracial blues bands. But he made up for that slight by landing gigs for Muddy and Wolf on Chicago's predominately white North Side, and later in concert halls on the east and west coasts. And that helped lay the groundwork for their resurgent careers in the late '60s and '70s.
"Blues With A Feeling: The Little Walter Story," by Tony Glover, Scott Dirks and Ward Gaines, offers a less-than-flattering portrait of Butterfield and his relationship with his idol Walter:
"(Little Walter's guitarist) Luther Tucker recalls Butterfield coming to gigs and plying Walter with a half-pint of whiskey, trying to find out how he played certain numbers. 'You think Walter was a helpful kind of guy who'd show you stuff?' Butterfield asked. 'Well he wasn't, he was a nasty sonofabitch who'd tell you to get the fuck away from him.'" Then the authors claim that Butterfield "may be a less-than-reliable informant… many people found him difficult and arrogant."
Later in the book, a Chicago blues enthusiast disputes Butterfield's account of how Walter treated him, noting that Walter loved Butterfield and thought he was a good player. Butterfield, on the other hand, was just "looking for a place where he could perform." Sound familiar?
Even if Butterfield wanted to help him, Walter was too far gone by then (mainly booze) to benefit from his support. But Muddy and Wolf clearly seized the opportunity – especially Muddy, who maintained a long-standing relationship with Butterfield over the years. They played together on The Band's 1976 swan song, "The Last Waltz" (Muddy's performance is by far my favorite from the movie). And Butter blows like mad on this cut from "Fathers and Sons" – recorded live with Muddy in '69… Baby Please Don't Go/Muddy Waters with Paul Butterfield
Like Walter, Butterfield wrestled with some serious demons during his short life, and he eventually passed away in 1987 due to complications from long-term alcohol abuse. He was only 44, but looked much worse for wear and tear.
Butterfield's greatest legacy may have been ensuring that a lot more folks listened to the artists who inspired him… guys like Muddy and Wolf and Walter who invented electric blues in the clubs of Chicago.
Nothing can replace the legendary Chess recordings by the originators of Chicago blues. But I'll put Butterfield up there with the best of the second-generation bluesmen, based on the gritty, hard-driving sound of his harp alone. He also had a soulful voice and, at least in the early years, managed to put together and run bands that simply destroyed the competition – especially the hippie shoegazers they shared the bill with at the Fillmore in San Francisco.
Here are just a few of my favorite moments from albums Butter recorded as both a bandleader and sideman…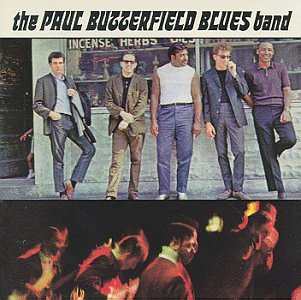 Butterfield is probably best known for the recordings he made in 1965 with Mike Bloomfield and Elvin Bishop on guitars, Arnold and Lay holding down the rhythm, and Mark Naftalin on keyboards – basically, his first album on Elektra. Born In Chicago, written by Nick Gravenites, became his signature song… here's a taste: Born In Chicago
The title cut to Butter's next album, "East-West," was a 13-minute Indian-influenced freakout that was first titled The Raga. Written by Bloomfield, the instrumental was their most pronounced departure from the Chicago blues that informed the band's earliest recordings. It might have been a calculated nod to their fans at the Fillmore – and it sounds a little dated today – but East West definitely has its moments. And I'll give Butterfield and Bloomfield credit for being so determined to break out of the blues mold. East West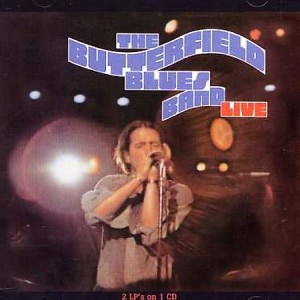 By the late-'60s, Butterfield had put together a big, 10-piece band with five horn players, including a guy who eventually became a staple on smooth-jazz stations – David Sanborn. You really get the sense of this band's fearsome reputation on "The Paul Butterfield Blues Band Live," recorded in 1970 at the Troubadour in L.A. But my favorite moment is Butterfield alone with his harp, on the powerful opening to Everything's Gonna Be Alright… In just a short minute, he shines a light on all that's good and right about the Mississippi saxophone. Everything's Gonna Be Alright
"Better Days" (1972) isn't often listed among Butterfield's best albums, but it's one I always come back to – mainly because it brings him together with blues chanteuse Maria Muldaur, the great guitarist Amos Garrett and New Orleans piano legend Ronnie Barron. The album shows the full range of Butterfield's talent, moving seamlessly from roadhouse rockers to more meditative blues like this remake of Nobody's Fault But Mine… Nobody's Fault But Mine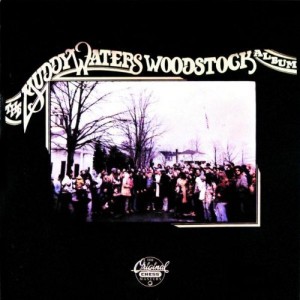 "The Muddy Waters Woodstock Album" is another underrated gem – one of Muddy's best latter-day recordings (1975). It's hard not to like an album with The Band's Garth Hudson playing blues accordion and Levon Helm pounding away on what sounds like a Civil War-era drum kit. It also features the great Pinetop Perkins on piano. But none of them bring it like Butterfield, who attacks a few of these old warhorses (Caldonia, Kansas City, Let The Good Times Roll) like he's got something to prove. And maybe he did, because personal problems had derailed his career by the mid-'70s. You couldn't tell by listening to Butter's blazing solo on this one… Going Down To Main Street/Muddy Waters with Paul Butterfield
Paul Butterfield on the TV show "To Tell The Truth" – probably around '65. Sort of a remedial blues comprehension test. I like how the celebrity panel members try to "out-hip" one another with their questions… "Do you happen to know the name of (a jug band) that comes from Boston?" "Do you know a Negro blues guitarist from Houston?" "What are the instruments in the Modern Jazz Quartet?" Don't tell me Orson Bean and Peggy Cass smoked dope and hung out in the West Village… my head would explode.