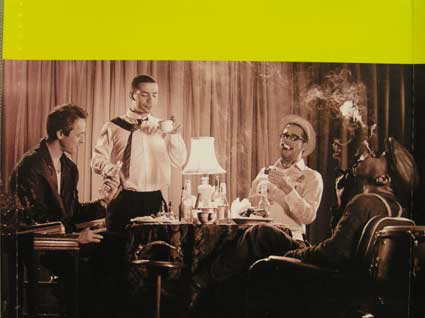 Let's revisit a couple of albums that had a big impact on yours truly, Brother James and Nephew Dan – basically, the vast majority of RCR's global workforce.
Marc Ribot (pronounced ree-bow) is one of those wonderfully eclectic guitarists who can't be pinned down by any simple category. Descriptions based on genres seem useless, since he's dedicated most of his career to blurring the lines between them. With Ribot, I usually resort to adjectives – urgent, edgy, soulful, searching, honest…
He draws from a rich musical background – taught by Haitian classical guitarist and composer Frantz Casseus and schooled as a sideman for American icons including Chuck Berry, Wilson Pickett, Solomon Burke and Memphis' first family of soul, Rufus and Carla Thomas. You can hear Ribot play fairly conventional chitlin' circuit guitar on Burke's classic album "Soul Alive!" (recorded live in D.C. in '83), then defy virtually every convention on 2005's "Spiritual Unity," a tribute to free jazz pioneer Albert Ayler. Much like his old friend and musical soulmate, the late Robert Quine, Ribot is a restless spirit who always seems to raise the temperature of any project he embraces.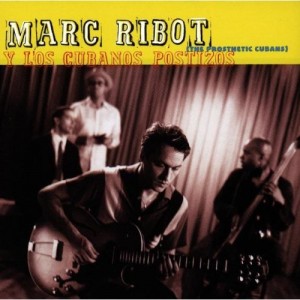 "Marc Ribot y Los Cubanos Postizos" was no exception. As the name suggests (prosthetic, or "fake," Cubans), the project started out as a bit of a lark. But even though Ribot is often associated with New York City's highly ironic downtown music scene, he's probably incapable of playing anything that one could describe as jokey or insincere. In short order, the group's eponymous debut (released in 1998 on Atlantic Records) became a heartfelt tribute to the great Cuban composer and tres player Arsenio Rodriguez.
The timing was right, given renewed interest in all things Cuban following the huge success of "Buena Vista Social Club," which was released the previous year. But Ribot's album seemed like the flip side to the Buena Vista coin – far less stately and mannered than Ry Cooder's Grammy-winning project. One reviewer described Los Cubanos Postizos as Cuban music for the post-punk crowd. Although I don't really buy that tag, Ribot's band clearly approaches the Cuban tradition – and Rodriguez's music in particular – with a far more visceral and contemporary sound than that heard in Buena Vista.
But first, a little background on the project's inspiration, Rodriguez… Born in Cuba's Matanzas Province, Rodriguez was blinded as a youth when a horse kicked him in the head. But that didn't stop him from becoming a virtuoso on the tres and, eventually, one of Cuba's most popular composers and bandleaders.
You could argue that Rodriguez was one of the great genre-benders of all time, combining traditional Cuban music and African rhythms to create the son montuno – the backbone of modern Latin music. Consider that the driving rhythms of son begat mambo which begat salsa and all the related forms that followed, and you start to get a sense of what many contemporary Latin artists owe Rodriguez and his musical innovations.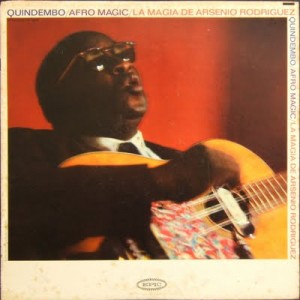 A year ago, we used a great song by Rodriguez to add a little extra spice to one of James' photo essays of Cuba. Here's a departure from the traditional, trumpet-heavy "conjunto" sound that influenced Rodriguez and much of the island's music in the previous century. Released in 1963 on Epic Records, "Quindembo Afro-Magic/La Magia de Arsenio Rodriguez" features a sax player and especially strong African rhythms. The album later was released under the title "Legends" and has long been out of print. If you can find it, pick it up… it's a remarkable outing from this essential artist: Compay Cimarron/Arsenio Rodriguez
Back to Ribot… On "Los Cubanos Postizos," he and his core band – Brad Jones on bass, EJ Rodriguez on percussion and Robert J. Rodriguez on drums and percussion (both unrelated to Arsenio) – tackle seven songs written or recorded by the Cuban master from the 1930s until his death in 1972. But this isn't an exercise in faithfully recreating the original versions. The band stakes out its own turf with stark, insistent rhythms and playful accents on organ and mellotron provided by special guests John Medeski and Anthony Coleman. And the main voice throughout is Ribot, either caressing or thrashing his razor-sharp electric guitar. Not your standard tribute album, but I doubt Arsenio would've objected… Postizo
Actually, things are fairly sedate up to that point. The first tune is a slow, minor-key rumba that builds beautifully with Ribot's lyrical guitar. And the second number, with its loping, mid-tempo beat, doesn't sound like it would be out of place on an album by War – if the band had hired jazz guitarist Kenny Burrell as a guest artist: Aqui Como Alla
Ribot being Ribot, the album isn't without a few oddball flourishes. You almost have to be a fan to appreciate the way he wraps some spoken wordplay around this fiery solo: La Vida Es un Sueno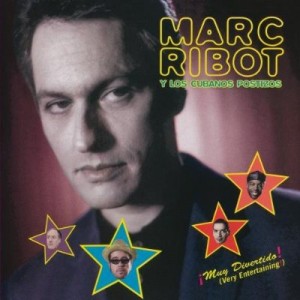 Los Cubanos Postizos released a second album in 1980, and I'd argue it's even better than the first (word has it the band was signed by Atlantic after playing only three gigs together). "Muy Divertido! (Very Entertaining!)" gets off to a strong start with Dame Un Cachito Pa'Huele, another composition by Rodriguez. This one includes a fine vocal by Eszter Balint as well as Steve Nieve on organ: Dame Un Chachito Pa'Huele
Ribot throws three originals into the mix, including another spoken-word number. This one extolls the virtues of New Jersey's verdant, rolling hills. In a recent NPR Fresh Air interview, Ribot said he'd been listening to a lot of classic Cuban records, and "there's a lot about distance and exile and wanting to return home – the lost home… Well, I'll write a 'long-lost home song' about not being able to go back to New Jersey for some mysterious reason." So what does the Jersey native write about? A neighborhood near the Holland Tunnel that sits on top of a former garbage dump. Maybe the post-punk label works just fine: Las Lomas de New Jersey
This next instrumental is one of a handful of songs that take me to a specific place – in this case, the beach… any beach. Sun beating down, sailboats on the horizon, hot woman to my left (wife, of course), cold beer on my right… The song's title is appropriate given my fair complexion – not to mention the slow burn that Ribot and band create with this one: El Gaucho Rojo
But the strongest number on the album isn't penned by either Ribot or Rodriguez. It's a composition by Pedro Flores, a Puerto Rican bandleader in the 1930s and early '40s. And once again, Ribot and band do the unexpected – turning Flores' bolero into a quirky carnival funhouse that would make Tom Waits proud: Obsesion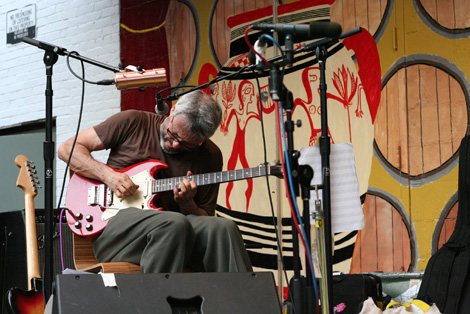 With the two Cuban-influenced albums under his belt, Ribot quickly moved on to other projects – including the Ayler tribute and, most recently, "Silent Movies," in which Ribot re-imagines himself as a musical accompanist at a theater that only features long-lost classics.
He also remains a very in-demand session guitarist. Over the years, he's recorded with a long and diverse list of artists that include Waits, Alan Toussaint, Medeski Martin & Wood, McCoy Tyner, Marianne Faithful, T-Bone Burnett, Elvis Costello, Madeline Peyroux… and The Black Keys. Largely based on Dan's enthusiasm for the two "Cubanos" albums, the Keys brought Ribot in to play on their 2008 release, "Attack & Release." As you can tell from Ribot's searing solo on this next cut, Dan's instincts were right on the money (nasty tone on this one… and Dan isn't divulging any trade secrets): So He Won't Break/The Black Keys
Virtually everything Ribot has recorded demands my respect, but I keep going back to those two records of convoluted Cuban music – and it's nice to know he hasn't completely abandoned the concept. Here's a video of Ribot performing with a new lineup of Cubanos Postizos last year at The Oval in Stuyvesant Town, New York City. Muy divertido de veras!