No over-arching themes this week. No long-lost album to dissect. No need to dig up buried treasures from any given genre. And nothing about Mamie Van Doren, even though we use her glowing figure as a cheap ploy to get your attention (it worked!).
Let's just spin the big wheel and see where it lands.
It might shock some of our loyal readers to find out I'm curious about a couple of brand-new projects.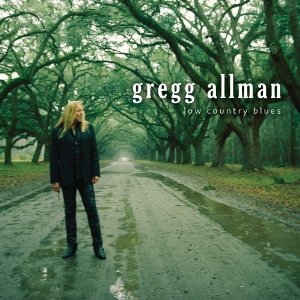 The first is a new release by Gregg Allman, produced by T Bone Burnett. In his prime, Allman ranked up there with some of the great voices of blues and soul – Ray Charles, Freddie King, Solomon Burke, Little Milton, Johnnie Taylor, Bobby Blue Bland… Granted, he's not as awe-inspiring as he used to be. But if anyone can bring out the best in Allman, it's probably Burnett. "Low Country Blues" is Allman's first solo recording in 14 years, but probably one of about 20 projects that Burnett has taken on in the last week alone (OK, I exaggerate).
Since I couldn't wait until today's release date, I decided to fire up the interwebs to get a "First Listen" on NPR. And I warmed up to "Low Country" right away. First of all – and Sister Mary Ignatius, please excuse the double negative – Allman can't not sing with soul. It's just not in him to fake it. And I was especially drawn to songs on both ends of the spectrum – Allman accompanied by Colin Linden's dobro on the intro to Skip James' Devil Got My Woman: Devil Got My Woman and the full uptown blues treatment that Burnett gives Blind Man (with Dr. John on piano), a number made famous by Bobby Blue Bland: Blind Man No extended jams; no guitar histrionics. The emphasis is right where it needs to be – on the timeless sound of the man's voice. I feel like I was raised on Allman, given all the summers I spent as a kid in Milledgeville, GA. He really needs to do a hell of a lot worse (another duet with Cher?) to disappoint me.
The second project is "Cure for Pain: The Mark Sandman Story" – a yet-to-be-released documentary of the indie rock icon from New England (directed by Robert Bralver and David Ferino). I'm far from well-versed on the recorded output of Sandman's groundbreaking band Morphine, although I do have this little gem in my collection (recorded live on World Cafe): Candy I was more enamored with his previous band, Treat Her Right, which had all the elements I ever wanted in a modern blues-based combo (some of which made the transition to Morphine): cocktail drum kit, heavy bass, virtuoso harp player, nasty slide guitar, effortlessly soulful vocals (Sandman) and cinematic originals that convey a seriously bad attitude (also Sandman, reportedly inspired by pulp writers Jim Thompson and James Ellroy). Here's one of my favorites: I Think She Likes Me
Sandman formed Morphine in '89 with baritone sax player Dana Colley, and drummer Jerome Deupree eventually made it a trio (the band later became a quartet when Treat Her Right alumnus Billy Conway – the cocktail drum guy – joined up to accompany Deupree, who was dealing with some health issues). Sandman, who played a two-string bass guitar with a slide, coined the phrase "low rock" to describe the band. Hard to argue when you listen to this one: Buena But beyond the first-rate music, Sandman's captivating life story should make "Cure for Pain" a tough one to miss. He was a college graduate who worked construction, drove a taxi and schlepped cod on a commercial fishing boat. He also dealt with the death of two brothers – not to mention being robbed and stabbed in his cab. And, like the late, great Johnny "Guitar" Watson, Sandman died doing what he loved best – he collapsed from a heart attack in the middle of a Morphine performance in Italy. Here's a trailer for the upcoming movie:
Next up is a video sent in by Dan featuring Conway Twitty and the Lonely Blue Boys, circa 1967. Now, I don't watch the TV show Family Guy, but I've heard they use footage from one of Twitty's live performances as a running joke on the show. And that's OK, because Conway Twitty the bloated countrypolitan star of the Seventies is a big old easy target: Hello Darlin' But Twitty the hungry young artist is a different story altogether – and the tough little band he put together in the Sixties is a well-oiled honky tonk machine. Big Joe Louis on bass, Pork Chop Markham on drums, and Lew Houston on pedal steel.
These were the lean years, when Twitty was making the transition from rocker to full-blown Nashville star. I'm sure the Lonely Blue Boys had more than a few numbers like Working Girl on the setlist when they played shitty little dives in backwater towns across America and into Canada. Songs that made the girls shimmy just like Big Joe and the men wish they were as cool as Pork Chop, twirling his drumsticks like a badass at band camp (special thanks to the guys from Hacienda for turning me on to P.C.). And you can get away with this bare-bones lineup when you have a red-hot steel player like Houston handling all of the leads and accents:
Houston's widow, Kitty, still performs today at Ingrid's Kitchen, a German restaurant in Oklahoma City (she sings with Curly Cardinal's band every Saturday from Noon til 2). And her web site includes a few random notes about the Sixties, when Kitty knew Twitty:
"'Big Joe' Louis was the 'front man' and picked the electric bass guitar, and sang tenor harmony with Conway. Pork Chop was one of the best drummers in rock or country music. After Big Joe died, Pork Chop became the front man for Conway… Lew was a fantastic steel guitar man. He could back any artist and play any song. Lew sang exactly like Jim Reeves and could imitate and sing like many other artist(s)." Conway went on to Nashville… his lifelong friend Big Joe died in a car wreck… Lew left… Pork Chop stayed… and Twitty began his long run of number one country hits – which is roughly about the point where I would've lost interest had I been aware of Twitty back then. Although I must say (and this is my last thought on the subject) my first band, The Warsaw Falcons, did a smokin' version of the Twitty classic Lonely Blue Boy. Here's the original: Lonely Blue Boy
Finally (whiplash warning), I was intrigued by a post on The Black Keys' facebook page – a mashup (I hate that term) of the Keys' "Brothers" album and Outkast rapper Big Boi's solo effort "Sir Lucious Left Foot: The Son of Chico Dusty." The perp? An artist who goes by the name Wick-it the Instigator. And while I'll admit I'm not much of an expert on hip-hop (I'm a 54-year-old white guy, for chrissakes!), I have to admit this little act of digital thievery is pretty damn good. Keep in mind, this is how Danger Mouse got his start, slamming together the Beatles and Jay-Z. I'm guessing this guy is looking at a pretty bright and prosperous future: You Ain't The Next DJ