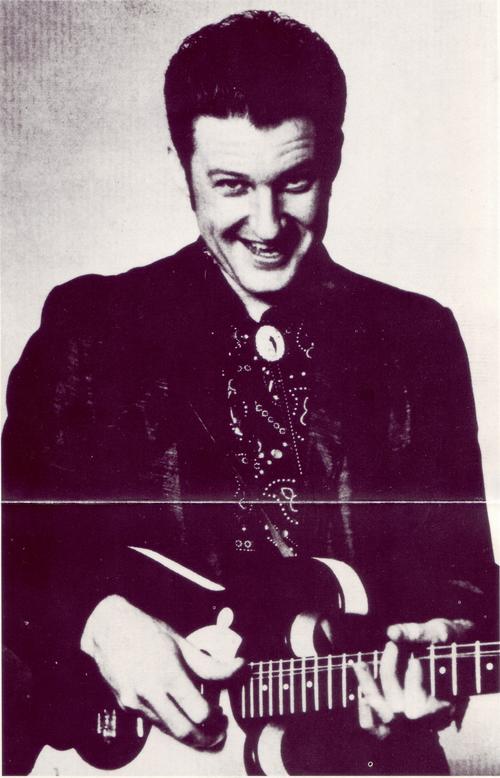 A few posts back, I touched on my stint playing in a Columbus, Ohio bar band. And one of the pleasures of that assignment was opening for and rubbing up against some fairly respectable players, including Roy Buchanan, James Cotton, The Fabulous Thunderbirds, The Paladins and Anson Funderburgh with Sam Myers, to name a few.
Those gigs fed my fantasies of living the life of an honest-to-god bluesrockin' missionary, spreading the good word in roadhouse bars across America. That is, until I met the lovable lunatic Evan Johns – one of the most original guitar players who never hit the big time.
Although Johns' unique approach to his instrument betrayed no hint of formal training, he could launch into a beautiful mess of sublime, jazzy chords. Then minutes later, he'd choke out the nastiest, filthiest, most blood-curdling sounds you've ever heard coming from a Fender. And he didn't sing as much as howl, much like one of Dexter's victims braying over the sound of a radial saw: Vacation Time
Born in Virginia and bred in the D.C.-area bar circuit, Johns guesses he started playing professionally before he even got out of grade school. And he swam in the city's big pool of talent that included legendary pickers like Buchanan, Link Wray, Danny Gatton, Roy Clark and Jimmy Thackery.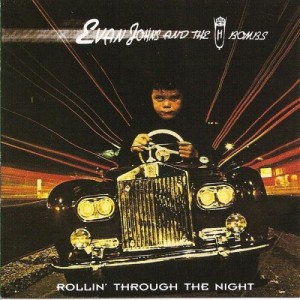 I first heard Johns' playing on a Grammy-nominated compilation from 1985 called "Trash, Twang and Thunder: Big Guitars from Texas," an orgy of Telecaster-driven excess (Johns had moved to Austin the previous year). But I was really floored by the garage-rock masterpiece he recorded in '82 with his band the H-Bombs, "Rollin' Through the Night." The album was released four years later on Alternative Tentacles, a record label founded by punk-rocker Jello Biafra of the Dead Kennedys (who remains one of Johns' biggest champions). Johns and band make a joyful noise throughout, completely uninformed by any bad trend in music that had come and gone since the first rockabillies roamed the planet back in the mid-'50s. Here's a taste (stick around for the solo on this one): Sugar Cookie
So you can imagine my excitement in '88 when I found out we were opening for Evan Johns and the H-Bombs at Stache's, an oversized rec room of a music club just north of Ohio State campus. And after we set up our equipment the afternoon of the show, we waited patiently for the band's arrival.
A few hours went by before a beat-up Econoline van pulled in front of the club. One of the band members (no roadies) slowly walked to the back of the van and opened up the double doors. Evan Johns practically spilled out onto High Street, giving new meaning to the term "many miles of bad road." He stumbled into the club, wearing a soiled but stylish western shirt. Random swaths of greasy hair were either glued to his scalp or struggling to break free, and small bits of foam rubber were stuck to the side of his face. He took one look at our outstretched hands and, in a voice straight out of Dixie and the depths of hell, immediately asked for a large quantity of Busch beer. And there I was, staring at the face of my future as a road-dog musician.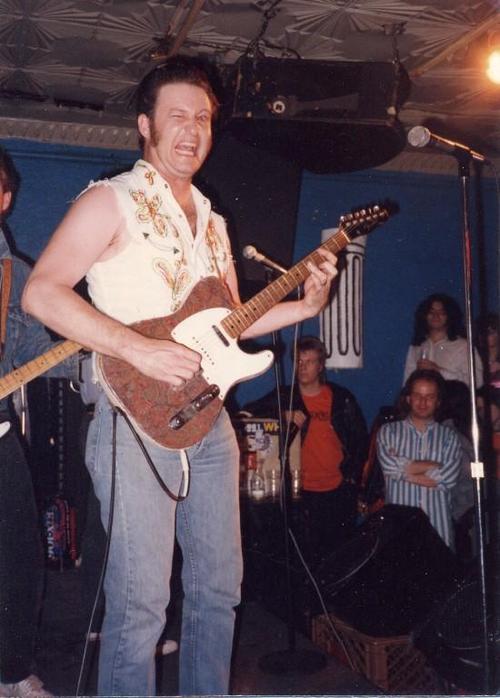 Johns knocked back about six beers just changing the strings of his guitar. He stacked the empties on top of his amp and, by the time he began playing, much of the floor behind the amp was covered too. But he still managed to amaze those of us who were wearing out his latest album while scaring some of the unsuspecting kids who had wandered up from campus by mistake.
He played red-hot rockabilly instrumentals and bruising western swing workouts that sounded like Bob Wills had replaced the Texas Playboys with members of Megadeth. And his short, sturdy originals seemed to describe a lifestyle more familiar to carnies and crackheads than a "weekend warrior" like me with a steady government paycheck: Madhouse
We shared a few more gigs with Evan Johns and the H-Bombs over the next couple years. I didn't spend much time with him, although he lit up considerably when I handed him that first 12-pack of cheap domestic beer. I had the opportunity to introduce him from the stage at one gig. Made some earnest comments about Johns being a true folk artist in the sense that everything he plays is genuine, unfiltered and steeped in real American music. Or some such nonsense… I was trying to match Johns beer-for-beer that night – should've written it down.
But Johns struck up a lasting friendship with our frontman, Ray Fuller. "I jammed with him a few times back in '90, mostly playing rhythm to his lead," Fuller said. "He asked me to do a bunch of Midwest dates with him, but I couldn't commit at the time. We met up again in '95 at the big rockabilly weekend in Marion, Indiana, the home of James Dean. We took Evan out to see Dean's grave and then to the museum in Fairmount (apparently Johns is a bit of a history buff). Evan had a case of beer in his hotel room and was drinking one for breakfast when we picked him up."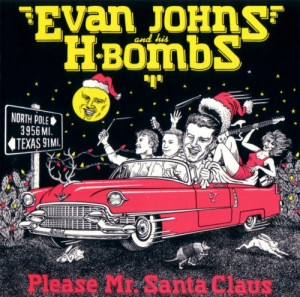 As you can imagine, the years haven't been kind to Johns, who has struggled to make a living as a working musician. Although popular in Scandinavia, Johns hasn't been able to sustain much of a following in the U.S. due to his take-no-prisoners style and erratic behavior. And a mixed bag of albums released on Rykodisc, Freedom and his own Jellyroll label (including one produced by Bruce Springsteen's bass player, Garry Tallent) have generated little in the way of sales. None pack the wallop of "Rollin' Through the Night," although one comes close – a Christmas album released on Rykodisc on '91 called "Please Mr. Santa Claus" (I still have my red vinyl copy, now fetching about $60 on amazon). Actually, beyond the title song, the album sidesteps the standard yuletide novelties in favor of first-rate instrumentals like a blazing version of Telstar and this odd little ditty: Santa's Little Helper
A lifetime of drinking Busch and Buds from sunup to way past sundown has certainly taken its toll. Johns almost lost his eyesight in the early '90s from cataracts, and more recently, an undisclosed illness has placed him on a long list of candidates for a liver transplant.
Concerned about Johns' worsening health, a group of friends and musicians in Austin held a benefit last November to raise money for his medical expenses. Performers included Kelly Willis, Gurf Morlix, the LeRoi Brothers and the superbly named Gay Sportscasters.
He's been described as his own worst enemy and "a coot who isn't old." I prefer to think of him as the very definition of an enlightened rogue – an outsider artist of sorts who deserves far more fame and recognition for his wonderfully skewed guitar playing, singing and songwriting. And although I never really hit the road myself, I'll always love Evan Johns for bringing his sanctified holy-rollin' revival to our cozy little bar in Columbus.
If I Had My Way/Evan Johns and the H-Bombs
For more on Evan Johns and his music, let me direct you to an excellent profile written some 13 years ago by Eddie Dean for the Washington City Paper. Here's an excerpt:
"All the on- and offstage histrionics wouldn't have amounted to squat if Johns hadn't been a bona fide guitar hero. He is casually eloquent, squeezing noise out of his Tele in ways that have nothing to do with roadhouse picking and grinning. He solos against himself, setting up riffs that he backfills with musical quotes, jokes, and hiccups that build until you find yourself laughing in spite of yourself. Over a beer, Johns is a witty guy. On a guitar, he is smarter and even funnier, Lenny Bruce and Henny Youngman and a hundred other inspired notions wrapped up in one big noisy sound."
And here's a little number by Ray Fuller & The Bluesrockers that's sort of a tribute to our old pal Evan Johns (recorded live at Stache's in '92): Everything That's Good