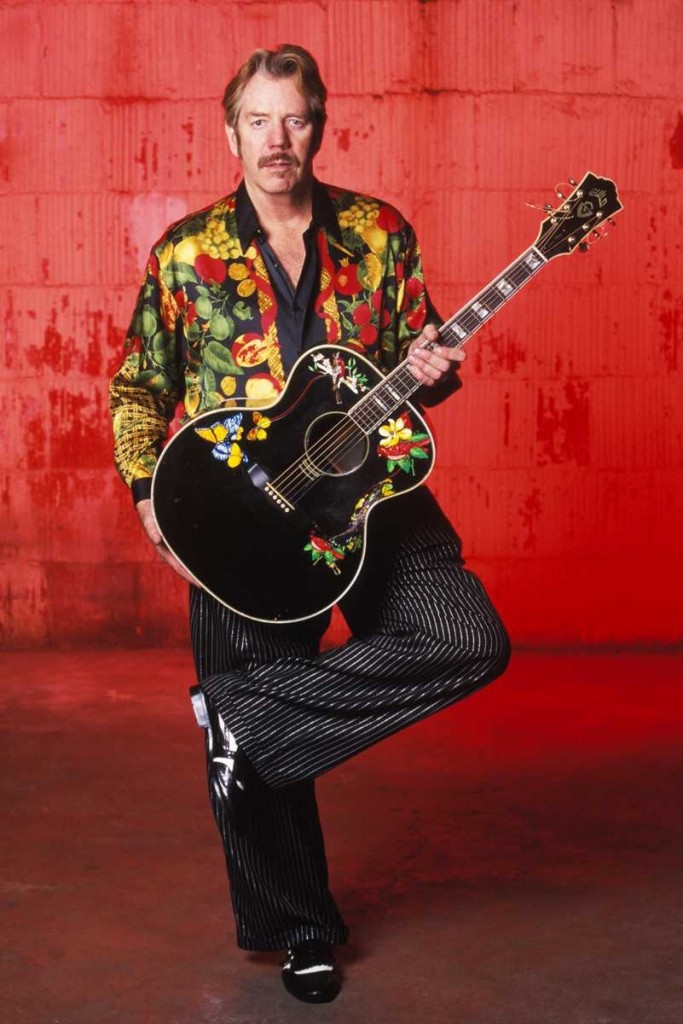 I like schtick… which doesn't exactly explain my admiration of the Allman Brothers Band. But I'll take a little showbiz over shoegazing any day of the week.
Given my weakness for corn, I was especially excited to come across a couple of videos showing Dan Hicks and his Hot Licks in their prime. We touched on this great band in a previous post… I'd describe their music as cowboy swing for the hippie set. And even though they played more than a few novelty tunes – O'Reilly At The Bar, Canned Music, How Can I Miss You When You Won't Go Away? – Hicks and company are consummate musicians. In fact, guitarist John Girton, violinist Sid Page and bassist Jaime Leopold could've formed their own little "hot club" to play the acoustic jazz of Django Reinhardt. Let's also give it up for the Hot Licks: Maryann Price and Naomi Eisenberg – two sweet-sounding chanteuses.
The only drawback to these videos is that they include an annoying and completely unnecessary laugh track. For that, we can blame the producers of the Flip Wilson Show, who at least had the good taste to book Hicks and his Hot Licks for the program. Maybe I should give them a little more credit… the FCC probably required laugh tracks for all prime-time comedy/variety shows back in the '70s. But did they really have to press the button during the musical acts?
Anyway, these clips are still a joy to watch, mainly because nobody does this stuff anymore (well, I guess there's a certain amount of schtick appeal to a Britney Spears concert, but I'm talking about music that merits a second listen). You could argue that the modern rock equivalent is the gypsy punk band Gogol Bordello, which I caught on cable a few days ago (they were shown with other acts from Lollapalooza 2010). Virtually all of the other Lolla bands bored me to death, but at least the nutballs in GB took a tip from Mr. Hicks – when in doubt, just start dancing.
As long as we're still mired in schtick, I can't resist throwing in a video of The Mike Flowers Pops. During a recent vacation, I couldn't help but notice that lounge versions of hit rock songs are the new ambient music. Maybe I'm the last person on the planet to figure this out, and I might be a little late to the party in appreciating the less-than-subtle joys of the Pops. Who cares… now I'm completely hip to their groovy vibe, as Mike might say. I had a hard time choosing between this one and a pretty awesome version of Wonderwall by Oasis. Let me light yer fire instead (thanks to April at Now This Sound for tossing this one back to us on twitter):
What the hell… It's only bandwidth (and your time):