My wife and I just spent a week at one of these all-inclusive resorts in Mexico – the kind of place that makes you feel like an alcoholic baby in a really lush crib, constantly reaching out to grab food and blender drinks… and gently sobbing when someone doesn't show up.
Every afternoon at around 3, some well-tanned guy with a bandana around his head would drag a beat-up PA speaker out by the pool (safety… not a big issue in Mexico) and start playing this godawful music – usually some thumping, merengue-flavored pop confection – in a desperate attempt to get the party started. That was our cue to collect our stuff and find a remote stretch of beach for the rest of the afternoon.
On the last day of our visit, we saw bandana boy at the assigned hour and, like a couple of overstuffed lab rats, launched right into our newly learned response. Then something miraculous happened. As I was reaching for my SPF 185, I heard the big, bold and unabashedly romantic sound of Dexter Gordon caressing a timeless ballad… I think it was Don't Explain, a song usually associated with the great Billie Holliday: Don't Explain/Dexter Gordon
It was as if we'd been suddenly transported to a far more heavenly resort, free of whining children and overserved frat boys. The Land of Dex, where everyone is hip and sharply dressed and beautiful and the music springs from the very source of life eternal. The colors around us became more vivid; the sea and sky merging in a deep, electric blue.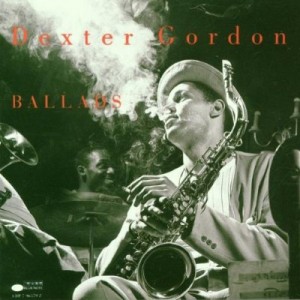 Then we were overcome by this great longing to stay… to lie in those lounge chairs and await The Rapture, when the Almighty Dex returns to earth and plays the three perfect notes that can save our wretched souls from an eternity in hell, where the house band is the Black Eyed Peas. Another blender drink? No thanks, I've had enough.
Once again, I digress. But while I'm at it… On the flight back, I started paging through Hemispheres (inflight magazine for Continental and United) and came across an article about this surfer dude who developed a specialty drink called Just Chill – "a lightly carbonated peach and citrus drink dosed with 100 milligrams of the FDA-approved tea-leaf compound L-theanine, which has been shown in clinical studies to reduce anxiety while keeping people attentive."
I was especially impressed with the thought process behind the product. "As you travel, you see a lot of stressed-out people," said Max Baumann, CEO of The Chill Group. "I just looked around and realized people don't need more energy drinks or caffeine; they need something to chill them out. Stress, nervousness and anxiety do not help you, as we've seen with all that jitter juice and snooze booze on the market." Amen, Brother Max. As the sign says…
So clearly, a higher force was guiding me to this post – a cheap opportunity to share with you a few of my favorite tunes for chilling the f#&k out.
As I've already demonstrated, any ballad featuring the wondrous Dexter Gordon will do just fine. And Dex didn't approach these tunes lightly. He felt it was essential to know every word of the song – not only to get the phrasing right, but also to play it with the respect it deserves. But not necessarily like someone would sing it either. For example, the opening line of Where Are You, by Harold Adamson and Jimmy McHugh: "Where are you, where have you gone without me… I thought you cared about me, where are you?" First, listen to Frank Sinatra work his magic, then Dexter. Are you starting to feel more relaxed? Where Are You? (Frank Sinatra, then Dexter)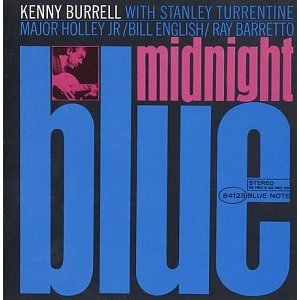 Jazz guitarist Kenny Burrell is another guy who really lays me out. Just staring at the cover of his album "Midnight Blue" makes me mellow. And whether he's playing a ballad or a mid-tempo blues with a Latin groove (Chitlins Con Carne), Burrell brings everything to a slow burn. Doesn't hurt to have a couple of Blue Note all-stars in your band – Stanley Turrentine on sax and Ray Barretto on congas. This one features Burrell with just his rhythm section, covering a tune first recorded by McKinney's Cotton Pickers back in 1930. As Burrell says in the liner notes, "It's a ballad, but essentially it's still the blues." Brother James plays this song with his band The House Cats down in St. Augustine, usually at a joint on Charlotte St. called Stogies. Stop in, get a glass of port, light up a cigar, sprawl out on the couch… if you're still wound tight, you may need professional help. Gee Baby, Ain't I Good To You/Kenny Burrell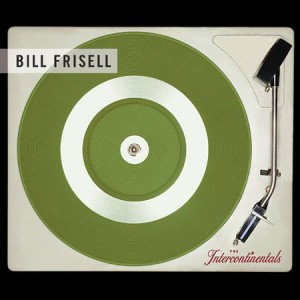 I'm skeptical of the term "world music," because it's often used to bring a little credibility to some fairly lame music. That's not the case with "The Intercontinentals," featuring a makeshift band of gypsies put together by guitarist Bill Frisell. The overall flavor is African, mainly inspired by Malian guitarists Ali Farka Toure and Boubacar Traore. "Intercontinentals" features another legend from Mali, percussionist Sidiki Camara. But Frisell delivers on the promise of the title by adding Brazilian guitarist, drummer and vocalist Vinicius Cantuaria and Greek oud and bouzouki virtuoso Christos Govetas – not to mention two other Yanks, violinist Jenny Scheinman and pedal steel player Greg Leisz (heard to great effect on Ray Lamontagne's Grammy-nominated "God Willin' & The Creek Don't Rise"). I know, sounds like a global trainwreck… but it works beautifully: Baba Drame/The Intercontinentals with Bill Frisell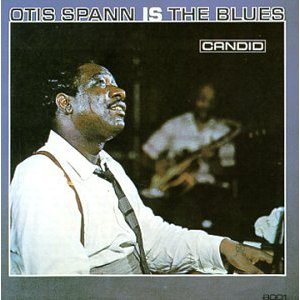 I even have a few straight-up blues albums that I slap on when I really want to chill. One of my favorites is a set of recordings featuring the great blues pianist Otis Spann, mostly joined by Robert Lockwood Jr. on guitar. These sessions from August 23, 1960, are actually compiled on two albums – "Otis Spann Is The Blues" and "Walking The Blues" – that were released on Candid, a boutique jazz label formed in New York City by writer and political activist Nat Hentoff. The sound on these recordings is amazing… It was Spann's first outing as a solo artist, and he never sounded better. And you'd be hard-pressed to find a more sympathetic partner than Lockwood, another bona-fide blues legend. He learned guitar at the feet of Robert Johnson (who lived with Lockwood's mother for several years), and he built his reputation with some classy fretwork on essential recordings by Little Walter and Sonny Boy Williamson II. Lockwood was a familiar fixture in Cleveland, where he lived and performed for 45 years. The Candid albums are so warm and intimate, they make you feel like you're right there in the room with Spann and Lockwood as they make blues history on songs like this (with vocals by Lockwood): I Got Rambling On My Mind #2/Otis Spann and Robert Lockwood Jr.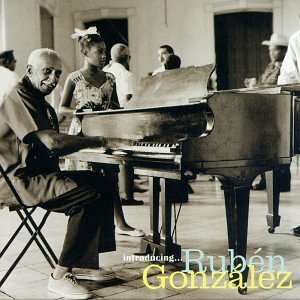 Another album that makes me feel like a very relaxed and content fly on the wall is the slyly named "Introducing… Ruben Gonzalez," which was released in 1996 when the Cuban piano master was 77 years old. Although he was "rediscovered" when guitarist Ry Cooder enlisted him to play on the Grammy-winning Buena Vista Social Club project (which also let to the sessions for "Introducing…"), Gonzalez had been playing in Cuban dance bands since the 1930s. He also was a member of Estrellas de Areito, an all-star group of musicians who created delirious Afro-Cuban jam sessions out of a few tired old island standards. Gonzalez's solo album is a more sedate affair, but with a living, breathing presence that can't be denied. In other words, it ain't background music. I'm trying not to overuse the word "timeless" in this blog… but I can't think of a better adjective to describe how Gonzalez effortlessly weaves his way through these beautiful arrangements. Tumbao/Ruben Gonzalez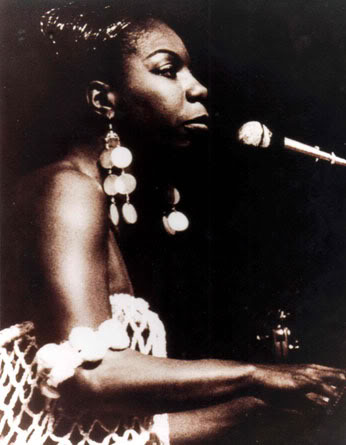 Speaking of timeless, let's close with the remarkable voice of Nina Simone. I melt almost every time I hear a great woman singer like Ella Fitzgerald, Sarah Vaughan, Billie Holliday, Dinah Washington, Dusty Springfield… but Nina Simone might have the most seductive voice of all. Deep, earthy, strong, sexy, soulful, spiritual… and incapable of sounding like anyone else. She also was a classically trained pianist who could lay down some serious jazz. Here's a cut from her very first recording – a trio session from 1957 with Jimmy Bond on bass and Albert "Tootie" Heath on drums. It features a lazy, loping rhythm that's specially designed to lower your blood pressure. On second thought, bring me that blender drink… My Baby Just Cares For Me/Nina Simone
What's your favorite album for kicking back? Share it as a comment… I'm far too relaxed to question your good taste.
Fabulous video of Peggy Lee with husband Dave Barbour on guitar – the very definition of cool.