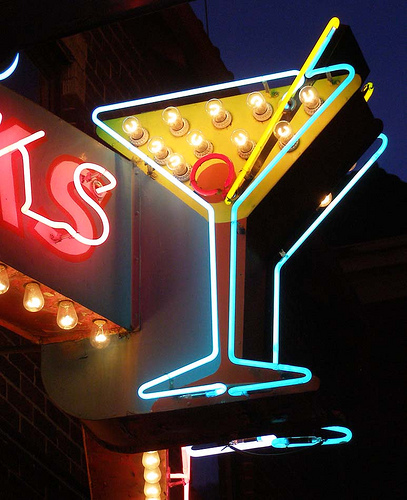 The election's over, so it's time to drink. Heavily.
Which brings us to the second installment of our tribute to the Great American Drinking Song. And we're using the same basic guidelines that applied to the first post:
No rugby songs or sea chanteys
Primary sources: honky tonk, R&B and blues
Extra points for referencing alcohol consumption in song title
Lyrics should convey hopelessness, denial and/or complete lack of higher cognitive activity
Accompanying music should be oddly uplifting to discourage impaired listener from blowing his/her brains out
So there you have it – five basic tips on how to write an effective drinking song. It also helps if the songwriter has firsthand knowledge of what it's like to spend several hours in a dimly lit honky tonk, staring at a bubbling beer sign while listening to the finest examples of first-generation drinking songs by the likes of Hank Williams, George Jones, Wynonie Harris, Dinah Washington, Louis Jordan, Merle Haggard, Amos Milburn… Oh, and downing crappy cocktails that somehow taste better when the bartender's yelling "Last Call!"
Of course, I'm assuming you have the time, inclination and energy to actually write a drinking song. If you're like me, you'd rather have someone else go through all the trouble of coming up with these hard-earned odes to a life well wasted.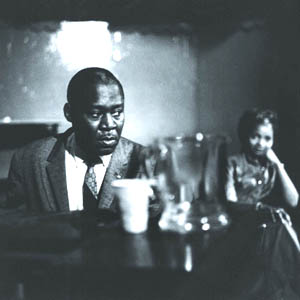 First up, a tune by the great blues piano player Memphis Slim. Apparently, Slim ended up with the beer-drinkinest woman in all of Chicago. We're talking $45 of beer in one sitting – and that was back in 1940! Now, either this woman had her hand in Slim's back pocket or he was slammin' a few himself. Regardless, I don't think this was a long-term relationship for Slim, who went on to record with numerous labels – Decca, King, Mercury, Vee-Jay and Folkways, to name a few – before making a permanent move to Paris (France, that is) in '62. And that's where he lived the good life for the next 26 years, far from the beer-drinking floozy who inspired this tune… Beer Drinking Woman/Memphis Slim
Guitar slinger Goree Carter came across a similar woman down in Texas. But instead of dumping her at the first opportunity, Goree realized that he loved his baby no matter how much she had to drink. I especially like the drunken rumba rhythm on this tune… Sounds like something the band decided to screw around with late at night, when they were sick of doing shuffles and just sober enough to play while sitting down. Goree's guitar is just right, with enough grit and grease to give fellow Texan Clarence "Gatemouth" Brown a run for his money. You can find both of them on an outstanding collection we featured a few posts back – "Boogie Uproar: Texas Blues and R&B, 1947-1954." Drunk or Sober/Goree Carter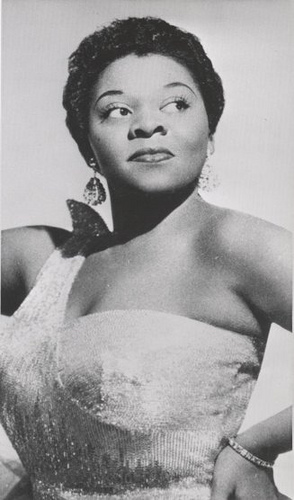 Now let's flip this around and look at it from a woman's perspective. Most women know that a man who's had too much to drink occupies roughly the same spot on the evolutionary scale as a brain-damaged chimp. And we know what chimps do when they're pissed off. That's why God made it difficult for drunks to walk upright (and God help the drunk who passes out in front of a woman done wrong). It's safe to say Dinah Washington dealt with more than a few over-consumptive men during her turbulent life – married eight times, divorced seven, and many lovers on the side. And she gave as good as she got, as evidenced by this nasty couplet: "He's a mess when he gets his head full of junk… and every time I kiss him he's smellin' like a skunk." I'm guessing this next one was an "answer song" to Juice Head Baby by Eddie "Cleanhead" Vinson. Another interesting side note: It features a young John Coltrane on sax. Juice Head Man of Mine/Dinah Washington
But just like the sad sack featured in that song, a hard-drinking woman can be a victim of her own doing. Take Helen Humes, for example. She was sitting in the corner just as high as she could be – so drunk, in fact, that the cops didn't even notice her when they raided the joint. So if there's a bright side to this cautionary tale, it's probably this: "When in doubt, just pass out." Hardly the stuff of self-help books… but it worked for Helen. They Raided the Joint/Helen Humes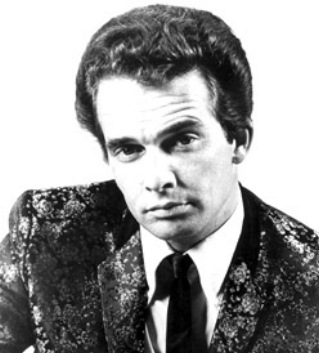 Speaking of self-help messages, Merle Haggard came up with a great one on this next song. Merle's baby just left him, so instead of wallowing in self-pity, he decided to act like a man and head straight to the nearest bar. Of course, the main reason to listen to this song is the masterful guitar of James Burton, who had just replaced another legend of hard twang, Merle's original string-bender Roy Nichols. Burton joined Merle and band in '66 to record "I'm a Lonesome Fugitive," which included the title cut, Life in Prison, this next tune and nine other prime examples of the classic Bakersfield Sound (even though the album was recorded at Capitol Studios in Hollywood). Merle's '60s albums inspired countless cowpunks and modern-day honky tonkers – from Dwight Yoakam and Steve Earle to Gretchen Wilson and Jamey Johnson. Long Live The Hag… Drink Up & Be Somebody/Merle Haggard
As long as we're doing the tonk thing, might as well walk around to the other side of the bar and see what it's like to serve these losers. Even though George Jones spent much of his life at the mercy of the man serving drinks, he probably had a good idea of what it must've been like staring into the glassy, vacant eyes of hard-core drinkers for hours on end. So here's George's sad take on the plight of the bartender… Bartender's Blues/George Jones
And while we're at it, let's look at what happens when the bartender has a little too much to drink himself. This guy ended up on the wrong side of the bar, cavorting with the very people he's supposed to babysit. A great tune from the unfortunately named Asleep at the Wheel: Tonight the Bartender is on the Wrong Side of the Bar/Asleep at the Wheel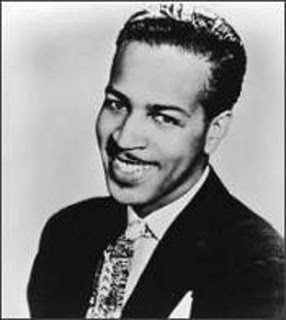 Bars don't just cater to cognitively impaired rednecks. Great thinkers like to drink too… Scholars and poets like Dylan Thomas and Charles Bukowski. Not to mention the notable barroom bard Wynonie Harris. Before you go searching for the collected writings of Mr. Harris, understand that most of his poetry remains criminally ignored and undocumented. But RCR did manage to find this recorded evidence of his urbane and erudite witticisms – a loving tribute to the timeless vessel from which all wisdom flows. Quiet Whiskey/Wynonie Harris
No matter how much you try to dress them up with ferns, plasma screens and Purell dispensers, most bars remain highly democratic institutions. And none of them are immune to the occasional fight breaking out. Especially when O'Reilly's at the bar. Must've been some character Dan Hicks came across when he was playing Bay Area clubs back in the late '60s with his band the Hot Licks. You can't really blame O'Reilly for wanting to smash someone's face – the guy stole his beer, for chrissakes! And assaulting a beer thief is a pardonable offense here in the Rubber City. O'Reilly at the Bar/Dan Hicks & His Hot Licks
Well, it's closing time for this here missive – and obviously I've had a little too much to drink myself… so I'll leave you with this six-pack to go:
A guy who plays a "guit-steel" double neck guitar is bound to apply the same dualism to other things, like party lights… Party Lights/Junior Brown
In our last drinking song post, we featured Ted Hawkins' powerful version of There Stands The Glass. This one's just as good… Happy Hour/Ted Hawkins
Sometimes, a great drinking song is simply a tribute to one's favorite brand of booze (with Keith Richards on guitar and background vocals)… Tanqueray/Johnnie Johnson
I'm not from Texas, but I can't resist a lyric like this: "Too much rum and rodeo got the better of your cowboy soul." Rum & Rodeo/Heather Myles
Before O'Reilly hit the bar, there was this tune by New Orleans musical wizard Dave Bartholomew. Apparently, beer thievery is a serious crime problem… Who Drank My Beer While I Was In The Rear/Dave Bartholomew
Hank Thompson recorded the original back in '52, but I think I prefer this version by rockabilly wildman Charlie Feathers… Wild Side of Life/Charlie Feathers
Here's visual evidence that Dinah Washington knew how to deal with a man gone astray…