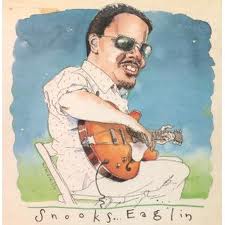 Put New Orleans guitarist Fird "Snooks" Eaglin, Jr. near the top of that long list of the criminally ignored.
Where do you start with this guy? Most accounts begin with the obvious, that he lost his sight before he turned two – the unintended result of an operation for glaucoma and a brain tumor. But that just started him down the same path as Ray Charles, Art Tatum, Arsenio Rodriguez, Stevie Wonder and other brilliant musical innovators to whom blindness seemed like more of an unfair advantage than a handicap. Easy for me to say, right? But someone who plays like this surely has a divine gift that's rarely offered to the optically endowed: Kiss of Fire
Snooks was a master of the New Orleans tradition, but could play virtually anything that anyone threw at him. He was referred to as "The Human Jukebox," and reportedly had a repertoire of more than 2,500 songs. And one of the many pleasures of the Snooks "songbook" is hearing his quirky, highly individual take on a wide range of styles – country, blues, rock, jazz, funk… even the occasional surf tune: Profidia
I suppose you could argue that his musical career started when he won a talent contest in 1947 at the age of 11. Before long, he was gigging with Crescent City legend Allen Toussaint as part of the Flamingoes, which competed with Art Neville's Hawketts for the crown of best local act in the early '50s. He also began recording with local standouts like Sugar Boy Crawford, and you can hear Snooks' rough and ready guitar on this Mardi Gras classic: Jock-A-Mo/Sugar Boy Crawford
Then Snooks got caught up in the folk music craze of the early '60s when he was "discovered" by Dr. Harry Oster, a folklorist from Louisiana State University. Oster recorded Snooks on acoustic guitar playing mostly country blues, with little accompaniment. Sort of like asking Paul Prudhomme to make a grilled cheese sandwich (although I'm sure it would taste great). But these reverently rendered standards – which ended up on the Folkways and Prestige labels – still have their little pleasures. After all, it is Snooks, who also had a wonderfully expressive voice that earned him the title "Little Ray Charles": Bottle Up and Go
Far more rewarding are the cuts that Snooks recorded with the New Orleans-based Imperial label from 1960 to 1963, mainly because they were produced by Rock Hall of Famer Dave Bartholomew and feature many of the city's top players, including the amazing James Booker on piano. You can find these sizzling cuts (if you're lucky) on a 26-track collection called "The Complete Imperial Recordings." If Snooks had ended his career with these tracks, he'd still be considered one of the city's greatest talents. Here's a taste: Is It True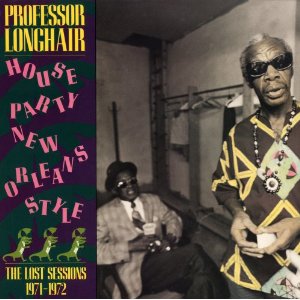 But his best stuff was still down the road, including his legendary sessions in the early '70s with Professor Longhair and the Wild Magnolias – musicians who practically define all that's good and right about New Orleans music.
The Professor Longhair recordings are referred to as "the Lost Sessions," but we can thank the Rounder label for resurrecting a fine sampling of the smoking-hot tunes that Snooks laid down with the piano master in '71 and '72. They were recorded in Baton Rouge, Memphis and Woodstock, NY (somehow, Jerry Wexler of Atlantic Records and Albert Grossman, manager of The Band, got involved at some point), and capture the two giants with a rotating cast of back-up musicians, including a couple of first-rate and flamboyantly named drummers: Joseph "Zigaboo" Modeliste of the Meters and Shiba (Edwin Kimbraugh). This is the real deal – raw, unvarnished, let-it-rip New Orleans soul. I love the way Snooks cranks up his amp as he tears into this solo… give me a slice of that: Cherry Pie/Professor Longhair
And you'd be hard-pressed to find better ambassadors of New Orleans culture than the Wild Magnolias. We're talking honest-to-god Mardi Gras social club Indians, but with a decidedly modern and funky take on that rich tradition. Basically, their first album was just a cheap excuse to put together an all-star band made up of New Orleans' finest (sensing a theme here?). The sessions were organized in '73 by pianist Wilson Turbinton – better known as Willie Tee, responsible for the "Carolina shag" hit Teasin' You. Throw into that spicy roux Willie's brother Earl on horns, a mighty rhythm section, Snooks, and the gritty, soulful voice of Big Chief "Bo" Dollis… dat's some serious gumbo, my friends: Smoke My Peace Pipe (Smoke It Right)/The Wild Magnolias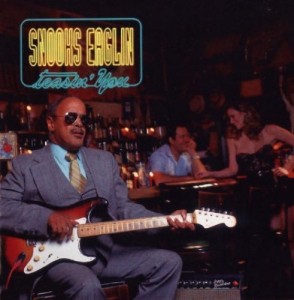 That very well could've been it for Snooks' recording career… but thankfully, Black Top Records' label heads Nauman and Hammond Scott stepped in about a dozen years later, brought Snooks back into the studio and introduced him to poor schlubs like, well, me. At the time, I was listening to just about any blues I could get my hands on as I tried to survive the music industry's most wretched years (Duran Duran, Wang Chung, Crock of Beagles… don't bring that MTV shit to my doorstep). Now I've heard all the criticisms about the Black Top sound – slick, over-produced, occasionally uninspired… all of which, for the most part, are true. But the Scott brothers will always have a special place in my heart for rescuing Snooks and Georgia-by-way-of-Dayton, Ohio bluesman Robert Ward from complete obscurity (maybe even abject poverty). And, like the shrimp my bro' gets in St. Augustine, it's very difficult to screw up Snooks and Robert Ward.
I could support this theory with many examples from Snooks' Black Top years… and I'll get around to one before we're through here. But I'll also point out that Snooks didn't exactly run away and hide from '73 to '85. He usually performed at the annual New Orleans Jazz Fest and held steady gigs in and around the city, either backing up other acts or doing his "human jukebox" thing, following through on a surprising number of requests from the crowd. So you could make the case that his best and nastiest stuff from the Black Top years were his live recordings. Let me enter into the record exhibit A, this blazing set opener from "Black Top Blues-A-Rama, Volume 6" – recorded live at Tipitina's in '89: I Cry, Oh!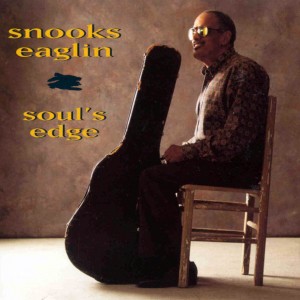 God bless the Scotts, the good folks at New Orleans Jazz Fest, and the proprietors of the Mid-City Rock 'n' Bowl club for giving Snooks a new lease on life that carried him all the way to his untimely demise in 2009, when he died of a heart attack at the age of 73.
How does one describe his legacy? Probably the most obvious tribute is that no one played like Snooks. He could toy with a delicate melody like Apache, and then flat-out shred. But everything he played had that indelible stamp of New Orleans soul filtered through a skewed, maybe even more than a little dirty, mind (with due respect for his late wife of 36 years, Dee).
By most accounts, he was an irascible, thorny guy who trusted virtually no one. But he sure left us with some awe-inspiring music… I'll close with this supremely funky number from "Soul's Edge," which also features Snooks' main musical foil during the Black Top years, former Meters bassist George Porter Jr.: Josephine
Snooks Eaglin on video… live at the former Lone Star Roadhouse in NYC, with George Porter Jr. and Kenneth Blevins (Sonny Landreth, John Hiatt) on drums. And how do you even begin to describe what he's doing on guitar? Most of my favorite pickers don't use picks, but I've never seen someone attack a guitar quite like Snooks. It's like someone pointed a gun to flamenco legend Carlos Montoya's head and made him play like Hendrix.
Here he's joined by piano man Jon Cleary on a Crescent City favorite, Red Beans. When Snooks stands up, you'd better watch out…