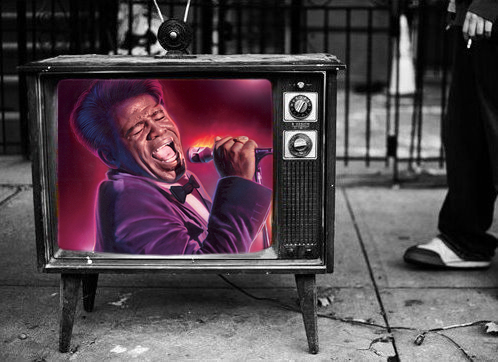 Last year, you couldn't avoid hearing The Black Keys on TV. And I have to admit, it started to annoy me a little bit. But I realize their marketing strategy is dead right.
I mean, who listens to the radio anymore, unless it involves sports talk or NPR? And with the music industry such a fragmented mess, TV is now the new Top 40. But it's more like a radio station programmed by a small army of ad agency geeks – which is a good thing, actually… far better than listening to something programmed within an inch of its life by so-called professionals sporting the latest Arbitron ratings.
And that means occasionally I get turned on to some pretty cool stuff just by watching my favorite TV shows. For a while I thought Mad Men was the best thing on cable. Turns out it's quite possibly the third-best show on AMC, which also is home to the incredibly tense and satisfying series The Killing as well as my new personal favorite, Breaking Bad.
The latter is really an extended exercise in "what would you do under the same circumstances?" Chemistry whiz with dead-end teaching gig finds out he has cancer – and his lame-ass health care plan threatens to make his wife and son indigent upon his demise. What to do? Why not team up with a former student – now a full-time homey – and put their chemistry chops to work cooking the best crystal meth in the tri-state area?
Of course this traps our hero in a web of lies that could tear his family apart – which, to him, is a far greater concern than spending his last months in prison. Trust me, there are few better ways to waste an hour each week than following this cancer-ridden teacher and his cartoony sidekick down one rabbit hole after another. And Breaking Bad's superb writing and direction have already earned it a boatload of Emmys (not that those haven't gone to far less deserving programs).
Back to the music… One episode included a beautifully disturbing sequence that gave viewers an inside look at the meth supply chain. The show's producers had the brilliant idea of juxtaposing the seedy footage against a jaunty little number by legendary New Orleans horn player Alvin "Red" Tyler: The Peanut Vendor. Actually, I didn't know what the song was or who performed it, so I took a lengthy side trip on google to find out. Guess I should've checked youtube first… Here's the clip:
My like/not so like relationship with the HBO series Treme continues with Season 2. The first season ended with John Goodman's seething character, a professor at Tulane, doing himself in by jumping off a ferry. Which was fine with me, because I found him annoying – and I'm secretly hoping a couple of other characters on the program follow Goodman's lead.
I keep coming back to Treme because of the one thing the program consistently gets right: the music. It's always been a life-affirming force in New Orleans, but even more essential post-Katrina as local musicians and entrepreneurs like Antoine Batiste (played by the wonderful Wendell Pierce) struggle with a number of indignities – both self-inflicted and otherwise – in their day-to-day lives.
I've been hooked on New Orleans music for quite some time, so I can't say the show has exposed me to a lot of songs and performers I wasn't aware of already. But they did throw me a curve in the finale of the first season with a tune by the Baby Dodds Trio. Dodds was a Crescent City drummer who played with Louis Armstrong and King Oliver, among others. Although he spent many years living outside of New Orleans, his stock in trade was a syncopated, improvisational style of drumming that owed everything to his hometown. My Indian Red also features singer and banjoist Danny Barker. It's an expression of pride and strength among Mardi Gras Indians: "We don't bow down on nobody's ground." Here's the scene from Treme that featured the song in its entirety:
The award for best use of a Black Keys song in a TV show or commercial goes to… Eastbound and Down – the ongoing saga of washed-up pitcher and part-time philosopher Kenny Powers. In this scene from the first episode, Powers makes his not-so-triumphant return to his old middle school in Shelby, North Carolina, to start a new job as a substitute physical education teacher. Gives me goose bumps every time I watch it:
As much as I try to avoid them, commercials are about 20 times more tolerable when they use the right soundtrack. This one has some powerful images, but the real star of the show is the Godfather of Soul, James Brown (then again, using Super Bad with an HR training video would still pack a wallop):
And of course the best music on TV is often saved for booze. I'm sure a few of you will tell me that there's something inherently wrong with a tune that's used to flog beer or liquor. I say bullshit. Listen to this steamy little number by Cold War Kids and tell me it doesn't stand on its own merits without the help of Heineken, which tagged it for a TV spot several years ago: Mexican Dogs/Cold War Kids
Love that opening riff… but it still doesn't match my favorite beer commercial soundtrack of all time – by the Master of the Telecaster, Albert Collins: Kool Aide/Albert Collins
I'll close with another alcohol-fueled number, this one prominently featured in a new TV spot promoting the hard stuff (Jack Daniels). It's a cover of Slim Harpo's King Bee by a nasty little garage band from the Bay Area called the Stone Foxes. I think these guys are onto something… even if it has the whiff of a certain two-piece from the Rubber City: I'm a King Bee/The Stone Foxes